Bottom Line Recommendation:
Birthstones are tremendous options for jewelry because they are both meaningful and beautiful. Go with a pendant, bracelet or a ring or choose a pair of earrings for a gift that'll be cherished for years to come. Remember that some months have more than one birthstone to choose from, while others just have one special stone.
Above all, be sure to purchase your birthstone jewelry from a highly reputable vendor like Blue Nile or Leibish & Co. Most importantly, jewelry made of high-quality materials will maintain its beauty and value over time.
What is a birthstone?
Birthstones are gemstones that represent the month a person was born. These gemstones range in color from red to blue to purple. They're often worn in jewelry, like in pendants, bracelets and earrings.
It's believed that birthstones were first mentioned in the Bible, in the book of Exodus, when Aaron's breastplate includes twelve gems to represent the twelve tribes of Israel. Over the years, various cultures and time periods have adapted their version of birthstones. Most commonly, there are certain birthstones associated with each month, and in some cases, there is more than one option, such as the three birthstones for June.
Many myths and legends about birthstones exist, detailing their healing power and therapeutic nature. According to these legends, each birthstone carries its own special meaning and powers.
Birthstone Chart by Month
When to give a birthstone
Birthstone jewelry makes for a meaningful, personalized gift for any occasion. Here are some of the popular times when people give gemstone jewelry as a gift:
Birthdays
Holidays (Christmas, Kwanzaa, Hanukkah)
Anniversaries
Graduations
Celebration of a special milestone or achievement
Job promotion or retirement
January Birthstone: Garnet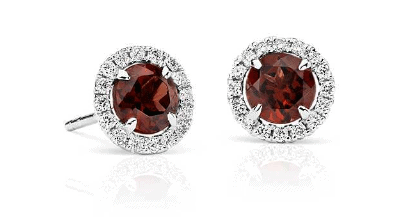 For a limited time save 30% on January Birthstones at James Allen. Use code JANUARY30 at checkout.
Garnet, the birthstone of January, resembles the rich red color of pomegranate seeds. The January birthstone symbolizes power and is thought to bring good fortune and truth.
Garnet is made of silicate materials and ranks a 6.5 to 7.5 on the Mohs scale of hardness, making it durable enough for everyday jewelry. Whether you have a January 3 or January 27 birthday, The vivid red gemstone makes for stunning jewelry, from stud earrings to pendants.
Learn more about the January birthstone here.
February Birthstone: Amethyst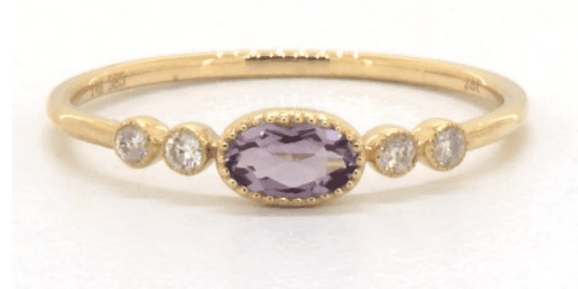 Amethyst, the birthstone of February, is a purple stone ranging from pinkish lilac to deep violet. The meaning of the February birthstone is strength and peace and is thought to bring a balanced mindset to those who wear it.
A variety of quartz, amethysts measure a 7 on the Mohs scale of hardness and are relatively durable gems. The purple gemstone is a beautiful focal piece for pendants, earrings, or rings—whether you have a February 13 or February 20 birthday.
Learn more about the February birthstone here.
March Birthstones: Aquamarine and Bloodstone

March is associated with two birthstones: aquamarine and bloodstone. Aquamarine is a blue gemstone, ranging from pale to deep blue. This March birthstone symbolizes tranquility, healing, and relaxation, as the blue-green colors evoke the beauty of a calm sea. Aquamarine comes from the beryl mineral family, made of aluminum silicate and beryllium. It's a durable gemstone that scores between 7.5 and 8 on the Mohs scale of hardness.
Bloodstone ranges from light to dark green with splashes of rusty red. This March birthstone symbolizes health and is thought to bring healing powers. Bloodstone ranks 6.5 to 7.0 on the Mohs scale of hardness due to being a variety of quartz.
Both aquamarine and bloodstone offer jewelry with plenty of character.
Learn more about the March birthstones here.
April Birthstone: Diamond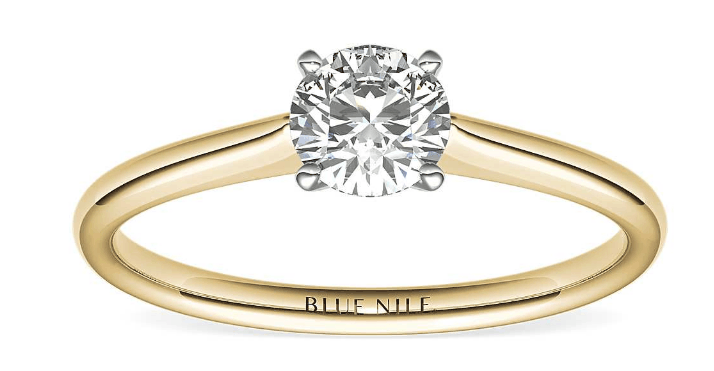 Diamond, the birthstone of April, is a white, colorless gemstone that offers brilliance and fire. The April birthstone symbolizes strength, victory, wealth, and abundance. As the world's hardest substance—ranking a 10 on the Mohs scale of hardness—it's a preferred gemstone for rings, necklaces, earrings and bracelets. Diamonds are made of pure carbon and form over billions of years.
Although the most popular diamonds are white and colorless, diamonds come in a range of colors including green, yellow, blue, purple, pink and red. However, the April birthstone is traditionally the white or colorless diamond.
Check out the brilliant options below for April birthstone jewelry, whether the birthday is on April 12 or April 22.
Learn more about the April birthstone here.
May Birthstone: Emerald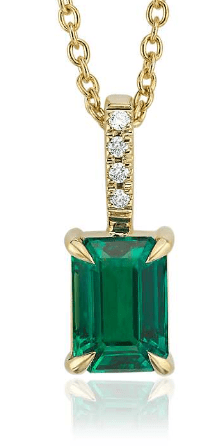 Emerald, the birthstone of May, is a beautiful green gemstone, ranging from light green to dark forest green. The meaning of the May birthstone is longevity, rebirth, and truth.
Coming from the beryl mineral family, it gets its color from small amounts of chromium. The darker the hue, the more rare and valuable the gemstone tends to be. Emeralds rate between 7.5 and 8.0 on the Mohs hardness scale, therefore making them a durable and stunning choice for everyday jewelry.
Learn more about the May birthstone here.
June Birthstones: Pearl, Alexandrite and Moonstone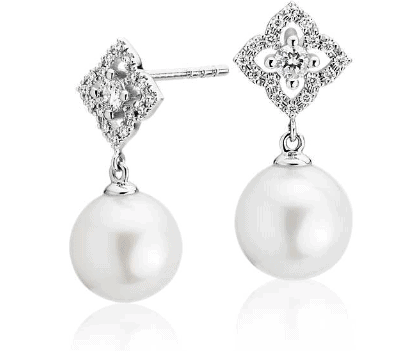 June has three birthstones: pearl, alexandrite, and moonstone. The main June birthstone, pearls, are usually white, but come in other colors such as blue, pink, cream, gold, green and black. Pearls symbolize purity, wisdom, and good health. These gemstones range in size and shape depending on how they're cultured and farmed. As one of the softer stones—rating between 2.5 and 4.5 on the Mohs hardness scale—pearls are best for necklaces, bracelets and earrings (instead of rings).
Alexandrite birthstones shift in color, appearing red under incandescent light and green in sunlight. This June birthstone symbolizes love and good luck. Alexandrite is a durable stone, rating 8.5 on the Mohs hardness scale.
The other June birthstone, moonstone, is a multi-colored gemstone that range from blues to oranges. Moonstones symbolize wisdom, fertility, and love. Coming in at 6.0 to 6.5 on the Mohs hardness scale, moonstones are relatively durable and can be found in a range of jewelry options.
Learn more about the June birthstones here.
July Birthstone: Ruby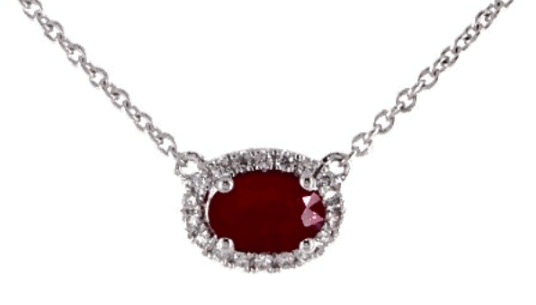 Ruby, the birthstone of July, are often royal red, but range in color from pink like this Pear Shape ruby from James Allen to dark red like this Cushion Cut stone from James Allen. A symbol of courage, passion and protection, rubies are beloved gemstones. Rubies are made of the red variation of mineral corundum or aluminum oxide. They rank a 9 on the Mohs durability scale, just one grade below the diamond.
As vibrant and sturdy gemstones, rubies are certainly a favorite for necklaces, earrings and rings. No matter if your birthday is July 11 or July 30, you'll have a stunning piece of jewelry.
Learn more about the July birthstone here.
August Birthstones: Peridot and Sardonyx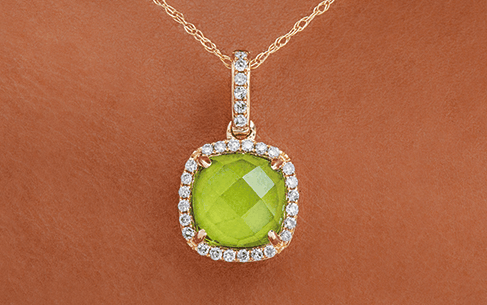 August is associated with two birthstones: peridot and sardonyx. Peridots are green gems ranging from yellowish green to brownish green. This August birthstone symbolizes calmness and serenity and is thought to offer protection from nightmares and negative emotions. Made of magnesium-rich mineral olivine, trace amounts of iron present in the stone's composition dictate the hue. Peridots are durable for everyday wear due to their 6.5 to 7 ranking on the Mohs scale of hardness.
Sardonyx ranges in color from a yellow-tinted red to a reddish brown, depending on how much iron oxide is present. This August birthstone's meaning is strength, protection, and courage. Sardonyx features a unique composition of layers of sard and onyx, varieties of mineral chalcedony, and ranks a 6.5 to 7 on the Mohs scale.
If you want to know more about Peridots, go to our guide to Peridot gemstone here.
Review the jewelry samples below to see which August birthstone catches your eye the most.
Learn more about the August birthstones here—for everyone from August 8 birthdays to August 27 birthdays.
September Birthstone: Sapphire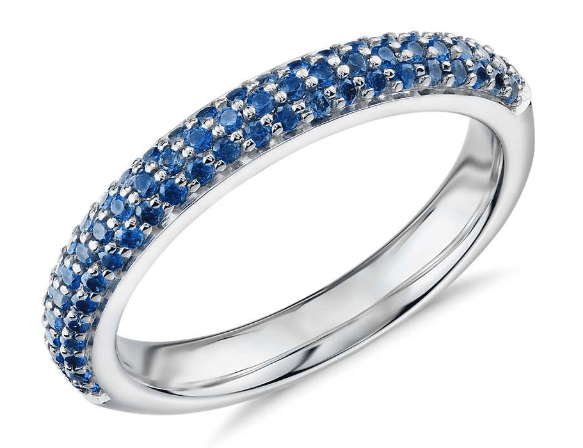 Sapphire, the birthstone of September, is a stunning blue gemstone. This September birthstone symbolizes nobility, wisdom, and enlightenment. Sapphires naturally occur in any color of the rainbow including green, pink and yellow, but blue is the color for September birthstones. As a member of the corundum family of minerals, sapphires contain small amounts of iron, titanium, copper, magnesium and chromium. Achieving a 9 on the Mohs scale of hardness, just one grade below diamonds, sapphires are a durable choice for everyday wear. No matter if your birthday is September 9 or September 19, check out these stunning birthstone options.
Learn more about the September birthstone here.
October Birthstones: Opal and Tourmaline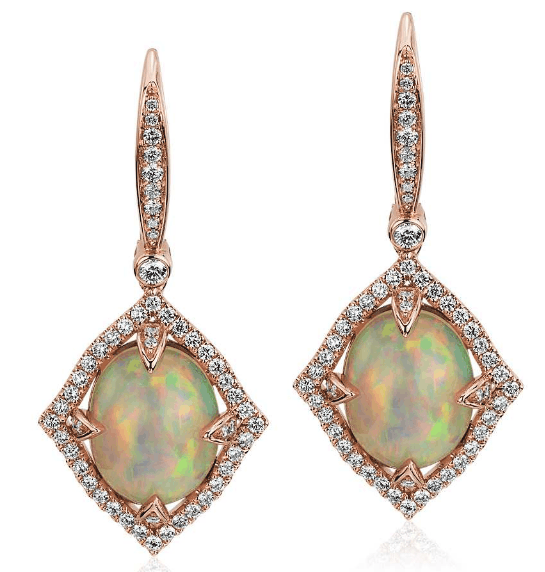 October is associated with two birthstones: opal and tourmaline. Opals are primarily either black or white and also showcase a kaleidoscope effect that radiates all the colors of the rainbow. This October birthstone symbolizes good luck and fortune. Opals rank a 5.5 to 6 on the Mohs scale of hardness, making them less durable than other stones like emeralds and diamonds, but are still hard enough for all types of jewelry. Avoiding extreme temperatures and direct sunlight helps keep the opal looking beautiful for years to come.
Tourmaline is another colorful October birthstone—ranging from pink to purple to green and blue. Trace amounts of certain elements dictate the color of a tourmaline stone. This October birthstone scores a 7 to 7.5 on the Mohs scale of hardness, hence making it a durable gemstone fit for everyday wear.
Learn more about the October birthstones here.
November Birthstones: Topaz and Citrine

November has two birthstones: topaz and citrine. Topaz is available in a range of colors, including green, blue, red, orange and pink, but is most popular as a golden gemstone. Topaz symbolizes healing and protection. The stone is made of the mineral silicate of aluminum and fluorine. Topaz crystallizes within lava flow or rocks that have solidified from lava. Even more, topaz is durable enough for everyday wear and all styles of jewelry because it achieves an 8 on the Mohs scale of hardness.
Citrine ranges in color from light yellow to brownish orange, based on trace amounts of iron in certain quartz crystals. This November birthstone symbolizes serenity, comfort, and new beginnings. Measuring a 7 on the Mohs scale of hardness, citrine is durable enough for all styles of jewelry.
Learn more about the November birthstones here.
December Birthstones: Tanzanite, Zircon and Turquoise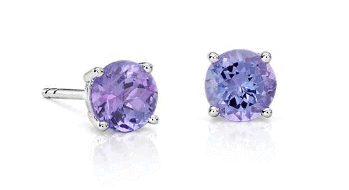 December is associated with three birthstones: tanzanite, zircon, and turquoise. Tanzanite is a vivid blue gem that normally includes shades of purple and lavender. This December birthstone symbolizes truth and wisdom. Tanzanite ranks between 6.5 and 7 on the Mohs scale of hardness. It can be worn daily in earrings and necklaces, but tanzanite rings are best kept for special occasions.
Zircon is available in a range of colors, the blue variety is recognized as a secondary December birthstone. This alternative December birthstone's meaning is prosperity, wisdom, and confidence. It rates a 7.5 on the Mohs scale of hardness and holds up well in everyday jewelry.
Turquoise, another December birthstone, ranges in color from soft to darker greenish blues. This December birthstone symbolizes wealth, health, and good luck. Because turquoise measures a 6 on the Mohs scale of durability, it's best worn on special occasions.
Learn more about the December birthstones here.
James Allen

James Allen is the leader in online diamond sales. Their imaging technology is the same as inspecting a diamond with a jeweler's loupe. They have the largest exclusive loose diamond inventory online and fantastic prices. They also have the nicest collection of lab created diamonds online. Now save 25% off settings AND 3% off Earth Diamonds during James Allen HUGE limited time sale!
What we love about them:
No questions asked returns within 30 days of shipment. James Allen will send you a paid shipping label to return the ring.
Lifetime Warranty
Free International Shipping
Free prong tightening, repolishing, rhodium plating and cleaning every 6 months
Provide insurance appraisals
One free resizing within 60 days of purchase
Free ring inscriptions
Best-in-class high quality imagery of all diamonds in stock
24/7 Customer Service
Best-in-class packaging

---
Blue Nile

Blue Nile is the largest and most well known internet jewelry seller. They have a very large exclusive online inventory. Their high quality images are catching up to James Allens' and their prices are amazing. Blue Nile have generously offered our readers an exclusive one-time use coupon.

(Click Here to save $100 off engagement ring settings)
What we love about them:
No questions asked returns within 30 days of shipment. Blue Nile will send you a paid shipping label to return the ring.
Lifetime Warranty
Free Shipping
Free prong tightening, repolishing, rhodium plating and cleaning every 6 months
Provide insurance appraisal
One free resizing within the first year of purchase
High quality images of about half of their diamonds
24/7 Customer Service
100% credit towards future upgrades (must be at least double in value)
Best in class fulfillment