Diamond Stud Earrings Guide: Build Your Own & Compare Prices
Scared of getting ripped off? Don't want to waste your money? Confused by all the choices? Contact us. For a limited time only, take advantage of James Allen's Valentine's Day sale and get 25% OFF!
We get commissions for purchases made from our affiliates through links in this article. Learn More.
How to Buy Diamond Stud Earrings
Here are the steps for how to buy diamond stud earrings:
Figure out your budget.
Choose a metal type and color.
Choose a setting style.
Decide whether to build your own or buy pre-set.
If building your own, make sure your two stones match.
If buying pre-set, follow our recommendations below.
Bottom Line Recommendation
Quality requirements for diamond stud earrings can be significantly relaxed when compared to diamonds to be set in engagement rings. This is due to the fact that the average distance at which they are viewed is notably farther than the distance at which engagement rings are viewed. Many stones for engagement rings that aren't considered eye-clean can be considered eye-clean for diamond studs.
As of the latest update of this article, we recommend Blue Nile for diamond stud earrings as they have the best overall mix of price, quality, and service.
Introduction
This article contains two main parts.  In Part I, I will present the results of my research I to determine which online diamond vendor offers the highest quality diamond earrings (studs) for the best value.
In Part II,  I will present general guidelines to be followed when buying diamond earrings in terms of the desired qualities (specific for studs) of color, clarity, and cut.
Building Your Own
If you are buying studs that are two carat total weight or higher (1.00ct each) you will probably want to "build your own pair." You do this buy choosing specific certified diamonds that match and having them put them in the setting of your choice. When going this route, you'll need some help making sure the two stones match, and making sure you're not spending too much on features that will go to waste.
Please don't hesitate to contact us with any questions.  I'll gladly look through inventory online and send you recommendations of specific stones.
When looking at stud earrings that are smaller than 2ctw (see the meaning of CTW abbreviation), it makes more sense to purchase a pair of non-certed preset diamonds. As we explained, the exact clarity and colors don't matter as much on stud earrings and you can get better value with non-certed diamonds in this case (the certification cost alone would add 35% to the cost of these pairs). Below I compare the diamond stud offerings of the five largest online diamond vendors: Blue Nile, Century Diamonds, Diamondstuds.com and Diamond Studs 4 Less.
Part I – Review of Diamond Stud Earrings from the Seven Best Diamond Stores Online
For those who want the bottom line right away, here is a quick summary of my research presented in a table, ranking the vendors.
Ranking of Pre-set Diamond Stud Earrings
Price Comparison of the Five Vendors
**Vendors may change prices at will so these prices might not be up to date
As I previously mentioned, most of the major online diamond vendors sell their studs blindly – without certification.  The reason for this is that generally, studs are a cheaper gift product and adding the cost of two certificates often knocks the product out of affordability.
While this benefits the consumer in that it keeps prices down, it also creates some major problems.
Consumer Concerns
How can the consumer trust what the vendor claims about the diamonds they are selling?
How can the consumer reliably compare prices across different vendors if no objective 3rd party can attest to the fact that they are comparing an equivalent product?
Customer reviews are great for giving the consumer confidence in a particular vendor, but how can the consumer compare customer service across different vendors?
The Diamond Vendors in Review
That's when I came up with the idea for the Complete Diamond Stud Earrings Review.  This report seeks to address the three issues just mentioned.
To accomplish this, a pair of studs from four leading diamond vendors online (Blue Nile, Diamondstuds.com, Diamondstuds4less.com and Century Diamonds) were purchased and inspected.
The Process:
I booked a ticket to visit my hometown of NYC and secret shopped all five vendors. I had my sister do it so they wouldn't know it was me. It was also nice to have her perspective as a first time stud diamond shopper.
SI/I1 Quality Diamonds
For our evaluation, we ordered 1/2 carat total weight (1/4 carat diamond in each ear) round diamond stud earrings from each of the above mentioned vendors.
Each vendor has at least two different quality levels.  To keep things consistent across each vendor, we tried to find comparable diamonds in the same SI2/I1 sweetspot. This is difficult as they were all over the map when it came to quality claims. For example, Blue Nile's 1/2ctw were the best diamonds in terms of clarity, yet they labeled them I1. Century Diamonds, on the other hand, claimed their studs were SI2, but they were horrific diamonds.
Given that, we tried to get earrings as comparable as possible. We'll comment on their quality and value to give you an accurate idea of which is the best bang for your buck.
We evaluated each pair of studs, and then returned them to their respective vendor when finished.  We documented every step of the process: ordering process, diamond quality, and ease of return. We also had the same photographer take the photos. Other than your typical touch ups, there was no photoshopping of the earrings to edit their appearance.
The results are presented below.
1) Blue Nile
Website and Ordering Process:
Well this one's the easiest of the bunch. Blue Nile is the largest online retailer (by a long-shot). Their website is first-rate and the ordering process was completely seamless. I've ordered from them multiple times (we've secret shopped them for engagement rings and for European readers) and the purchasing process was fast and smooth. They were the fastest to deliver the product of all the companies we worked with.
The Earrings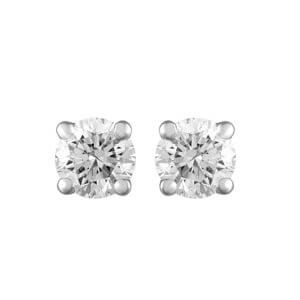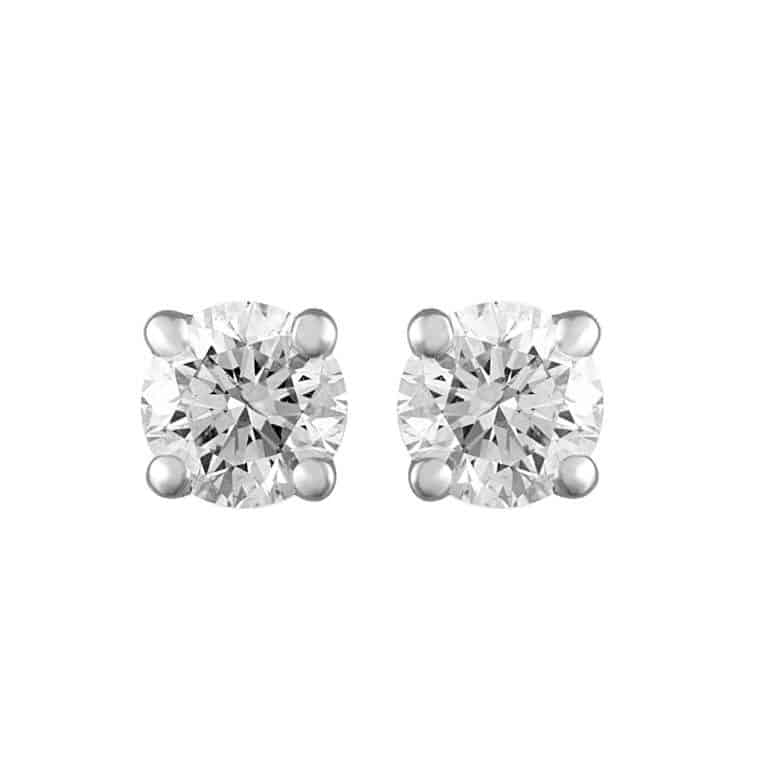 This is where Blue Nile really shines. The earrings were stunning. The diamonds were very well cut and were incredibly brilliant. The diamonds appeared white and none of the inclusions were visible at all.
I had a few people choose their favorite pair of the bunch and four of the five picked this pair without hesitation.
Ease of Return
Blue Nile's return process is super simple. You just need to send it back by registered mail. After sending it back, we received a confirmation email and our account was credited a few days later.
Website and Ordering Process
While their website is streamlined and easy to use, we found the customer service to be a bit lacking. My sister had some issues ordering a pair and it was not easy to get someone on the phone or answer an email. Eventually we managed to get the order placed. But the earrings did arrive promptly.
The Earrings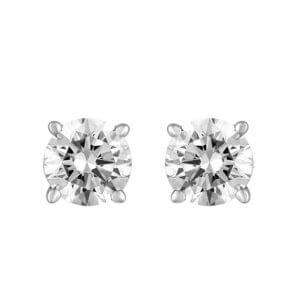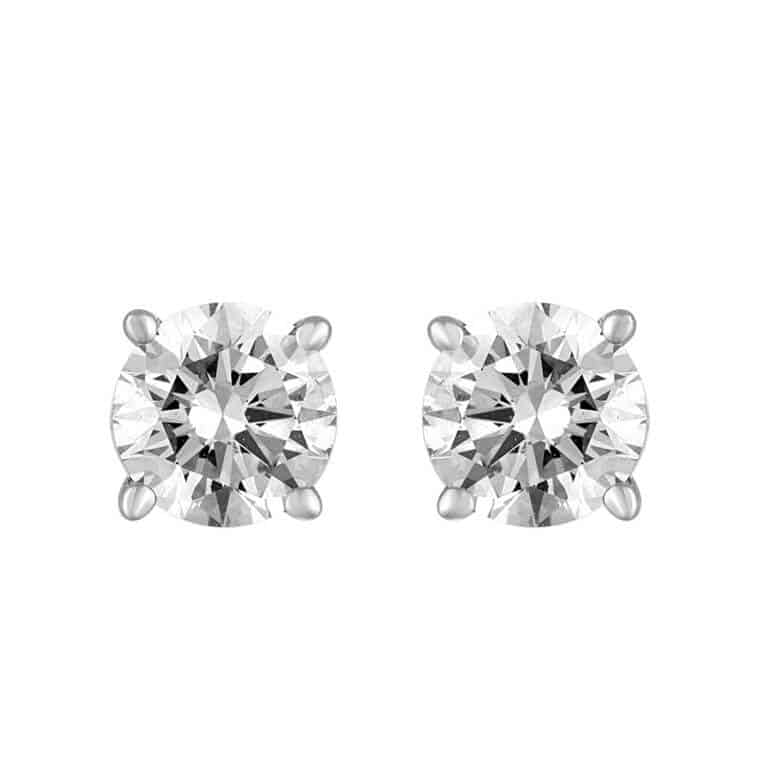 Unfortunately, this is where they fell a bit flat. The diamonds were by no means terrible. For the price-point they may be a good option.
But the cut on the diamonds were noticeably worse than the Blue Nile pair. They just didn't have that extra oomph in their sparkle that makes them standout (which is paramount in earrings).
They also were a bit deeper cut which made the pair look a little smaller. The craftsmanship was ok, the color was fine and the inclusions weren't terrible. While the quality was head and shoulders above the next two sites, it didn't quite reach the level we would like.
If you are really stretched on the budget, this is a good alternative to Blue Nile, but I do think you get nicer pairs of earrings by spending a little more on one of those sites.
Ease of Return
Again, it was a pain getting someone on the phone. However once we did speak to them, everything went smoothly. They also provided a return shipping label (they emailed it to us once we informed them it will be returned).
Website and Ordering Process:
Here you can see a noticeable drop in quality. The website is noticeably worse than the previous options. The site is not as easy to navigate and has discount banners all over.
You can tell that this is not a large company.
Eventually we ordered the diamonds, which wasn't too difficult on the site. Of all the sites, Diamonds Studs 4 Less was the last company we received a package from.
The Earrings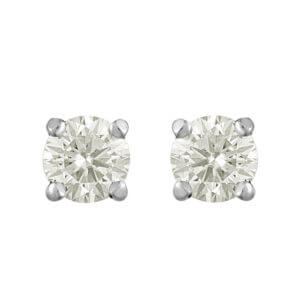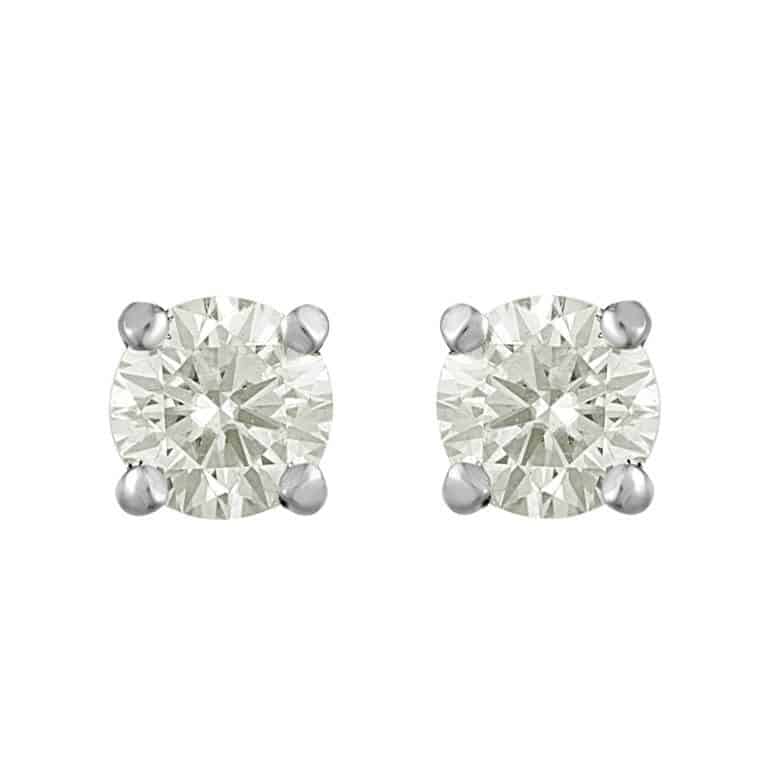 You can tell these are cheap. The diamonds were completely lacking in brilliance (there was no sparkle at all). Not only were the diamonds poorly cut, they were very cloudy.
They looked completely dead when you put them on. The craftsmanship was adequate (the diamonds were secure in the prongs), but nothing fantastic.
Everyone that looked at them had the same feeling of apathy when inspecting the pair (they all said that they wouldn't be interested in wearing them). Yes they are cheaper than the better quality companies we listed, but you are really sacrificing way too much. I wouldn't buy these at any price.
Ease of return
The return process wasn't too bad. You need to send it on your own (figuring out which labels, insurance to use etc), but it was a pretty smooth process. Unfortunately I never received any confirmation from them that it was returned.
The first time I called, I had a very rude experience with the most apathetic support person I ever encountered. The second time I called, the person was friendly and confirmed that my item was returned.
Website and Ordering Process
This is one terrible website.
The homepage looks promising, but their stud page is ridiculous. Instead of having quality ranges like every other site, they inundate you with a bunch of one-off offerings. There is no way to know which to buy. Why would they have a 1/4ctw H SI1 listed for cheaper than a 1/4ctw I SI1?
We'll get to that once we look at the earrings. The ordering process was ok, but their customer service was the worst, by far (see below).
The Earrings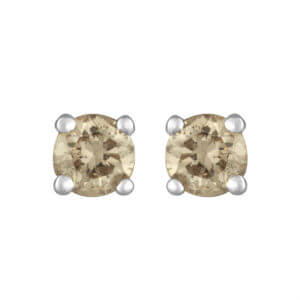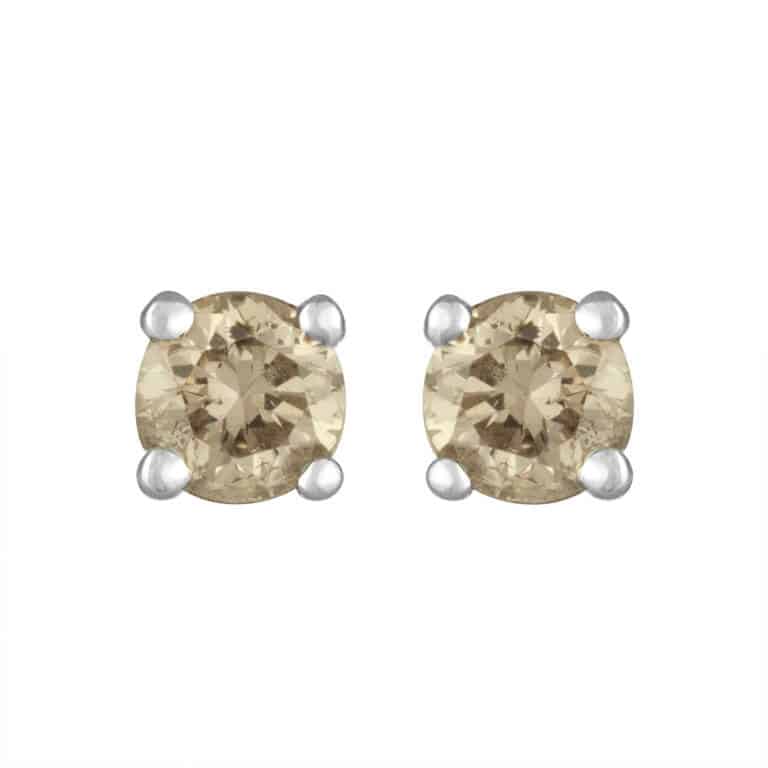 We ordered a pair of 1/2ctw I SI2 diamond earrings. While Diamond Studs 4 Less and Diamondstuds.com were both very generous in their quality claims, Century was laughably abhorent.
I was in the other room when the photographer was working. He came out with a stunned look on his face and said "are you sure you want photos of this XXXX?" There is a reason their prices are so cheap; their diamonds are horrific.
The diamonds were incredibly brown and the clarity was somewhere between I2 and I3. These diamonds aren't worth $50, let alone $300.
Ease of Return
This is where they really ticked me off.
They didn't answer their customer service line for three days and they ignored 3 separate emails.
I was only in town for a short time so my sister had to deal with the return. Additionally, they have the worst return policy out of all the companies. Because of the delay, we were subject to a 10% restocking fee (if you don't return it within two weeks).
We still haven't gotten an answer from them so I have no idea if I was charged this.
Part II – General Guidelines for Buying Diamond Earrings
Diamond stud earrings are the perfect gift.  Every woman needs them.  Every woman wants a pair.  They're probably the most versatile piece of jewelry out there. She can wear them with anything, for any occasion.  They're great for casual evenings, great for work, and great for formal occasions.
If you haven't yet given your girlfriend, wife, or fiancé a pair, you can always count on this simple gift to make her very happy (and make you look like a king).
If you have already given your girlfriend, wife, or fiancé a pair of diamond studs, then you can always buy her a larger pair.
General Guideline
Here's a general guideline of what to look for when buying studs online:
Color Quality – H-J is the right range for color.  No need to go higher than this;  you won't be able to appreciate the very high color from the normal distance from which you look at studs on someone's ears.
Clarity Grade – In theory, you should be able to buy a pair of studs that are graded I1 clarity without a problem.  But unfortunately, since most online vendors sell their studs uncertified, it's difficult to trust anyone selling something marked as I1.  The exception we found was Blue Nile. Otherwise, most of the time, these studs are a very low I1 or even I2, and most likely will have eye-visible inclusions.
Cut Quality – This is far more important when it comes to studs than color or clarity is. Really the only thing you notice about studs (unless the quality is very poor) is the sparkle and the size. Therefore it's imperative that the diamond is well cut. Not only will that make the diamond more brilliant, but you need to avoid deeply cut diamonds as they will end up looking small as well (as we explain here).
Author's Recommendations
If you are looking to buy large studs (one carat total weight or more – ie, at least 0.5 carat per ear), then feel free to contact us and we will help select a unique pair for you. We have found Blue Nile, and James Allen to be the best for building your own pair with GIA certified diamonds.
Review Conclusions
If you are spending less than $1,500 on the pair of studs, you are best off getting a pre-set pair. We found Blue Nile to have the best earrings in terms of quality and value.
If you are spending more than that, contact us and we will help pick out a pair from one of the sites we recommend.
If you're looking for a beautiful, timeless gift for Mother's Day, consider a set of diamond stud earrings. You can create a pair that match mom's style, or choose one of the unique options below.
The earrings we suggest here are from the best vendors in the industry. Their settings and jewelry are made with both care and precision.
Stud earring options:
For a full list of our ideas, visit our Mother's Day gifts article.
James Allen

James Allen is the leader in online diamond sales. Their imaging technology is at the point where it's almost the same as inspecting a diamond with a jeweler's loupe. Their customer experience is best in class, and they have recently upgraded their non-engagement jewelry inventory as well. They have the largest exclusive loose diamond inventory online and fantastic prices. For a limited time only, take advantage of James Allen's Valentine's Day sale and get 25% OFF!
What we love about them:
No questions asked returns within 30 days of shipment. James Allen will send you a paid shipping label to return the ring.
Lifetime Warranty
Free International Shipping
Free prong tightening, repolishing, rhodium plating and cleaning every 6 months
Provide insurance appraisals
One free resizing within 60 days of purchase
Free ring inscriptions
Best-in-class high quality imagery of all diamonds in stock
24/7 Customer Service
Best-in-class packaging

---
Blue Nile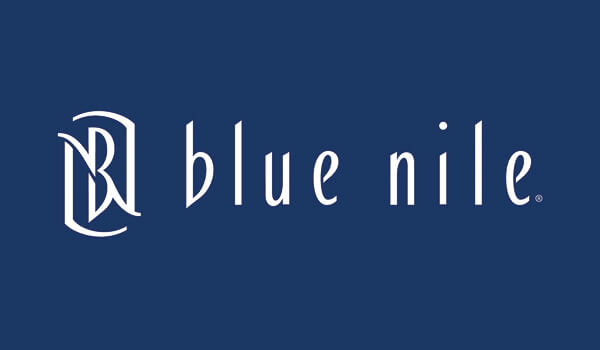 Blue Nile is the largest and most well known internet jewelry seller. They have a very large exclusive online inventory. Their high quality images are catching up to James Allens' and their prices are amazing.

(Pick Up a Blue Nile Coupon Here for $50 off)
What we love about them:
No questions asked returns within 30 days of shipment. Blue Nile will send you a paid shipping label to return the ring.
Lifetime Warranty
Free Shipping
Free prong tightening, repolishing, rhodium plating and cleaning every 6 months
Provide insurance appraisal
One free resizing within the first year of purchase
High quality images of about half of their diamonds
24/7 Customer Service
100% credit towards future upgrades (must be at least double in value)
Best in class fulfillment

---
Still afraid of getting ripped off?
Before you buy a diamond, get personal buying advice from industry veterans. We'll help you get the best diamond for the money.
Ask your diamond purchase question here
DISCLAIMER: We don't use your email for marketing. Period.