Diamond Pro is reader-supported. When you buy through links on our site, we may earn an affiliate commission. Learn More.
1/2 Carat Diamond Ring Prices: The Expert Buying Guide
When you start your search for a diamond engagement ring, one of the first things you should understand is that carat is not the be all and end all.
There are more factors in play when picking out the perfect engagement ring, and a smaller diamond can often make for a more beautiful ring than a bigger, yet lower-quality diamond (example of a bad diamond here).
For those on a budget, a half carat diamond, such as this one, may be the best choice, as going for a lower carat weight allows you to put more of your budget towards other areas, such as exemplary Color, Clarity and Cut grades.
If you're thinking about buying a half carat diamond engagement ring, or wondering whether a half carat diamond is big enough for the perfect ring, we're here to help. We'll explain all you need to know about 0.5 carat diamond rings, including the best places to shop for your ring and how to get the best value for money.
How Much is a 1/2 Carat Diamond Ring?
A half carat diamond can range in price from around $700, to as much as $3,500 or more for a flawless diamond.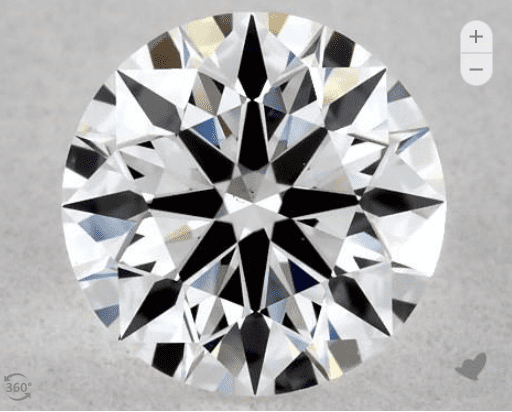 Diamond prices vary greatly depending on various qualities. Carat is one – higher carat diamonds almost always cost more per carat than smaller diamonds.
Other than carat, the price depends on a diamond's grade in Cut, Color and Clarity.
This 0.50 Carat, D Color, Flawless Diamond is about the best you can get for a half carat diamond, at $3,820. On the other end of the scale, a 0.50 Carat, K/I1 Diamond is just $450.
The difference in quality between these two diamonds is huge, and so is the price. Yet they are both the same weight, at 0.5 carats.
Realistically, it rarely makes sense to buy a totally flawless diamond at this carat weight – or any weight, really. Above a certain point, any increases in Color and Clarity are simply not noticeable to the naked eye. But they still come with a premium in price.
With the flawless example we mentioned above, you're basically paying extra to be able to say your diamond is flawless. It would be more practical to buy this H Color VVS2 Clarity Diamond, which will look the same to the naked eye, yet comes at a third of the price.
Alternatively, if you were looking to spend in the range of $3,800 on your ring, you could put the money saved by going down a few grades in Color and Clarity towards a larger diamond, such as a 0.93 Carat Diamond like this for the same price.
Ringo

™

Approved Eye Clean Diamonds
Load More
Half Carat Diamond Cut, Color and Clarity
When you're shopping for any diamond – 1/2 carat diamond or otherwise – it's important to find the right balance between grades, and avoid paying for grades that make little visible difference.
Cut is the one quality you don't want to compromise on. A poorly cut diamond, such as this one, is not going to have the brilliance and fire that diamonds are famous for. Only shop for diamonds with an Excellent or Ideal grade for Cut.
Other than that, it's about finding the sweet spot in terms of quality and value. Outside of professionals examining a diamond with specialized equipment, no one will be able to notice the difference between the highest grades in Color and Clarity or several grades lower.
Your intention should be to find a diamond that is Eye-Clean and Colorless. 

Eye-clean refers to Clarity, and means there are no inclusions or blemishes that are visible to the naked eye. The only way to tell for sure if a diamond is eye-clean or not is to inspect it. Generally speaking, a grade of SI2 or better is likely to be eye-clean. However, some diamond shapes mask inclusions better or worse than others, and similarly, inclusions in larger diamonds are likely to be more noticeable.
For Color, diamonds are graded from D (highest) to Z (lowest) based on how colorless they are. Lower grades have a clear yellow or brown tint, but once you get above a certain threshold, the diamond should appear colorless outside of intense examination.
As with Clarity, you'll want to examine the diamond yourself to determine whether or not it appears colorless. But in many cases, a grade of I and above should be enough. 
You'll also want to view the diamond in its setting, as the setting can often make a diamond's Color grade appear higher or lower than it really is. For example, a yellow gold or rose gold setting can effectively mask the yellow tint you're likely to find from a diamond with a low color grade, like an I or even a K.
How Big is a Half Carat Diamond?
A 0.5 carat round diamond is approximately 5.1mm in diameter. However, depending on the shape and how the diamond is cut, it may have a slightly larger or smaller appearance.
This is because carat refers to weight, not size. Half a carat is equivalent to 100 milligrams, or 0.1 grams.
While each 1/2 carat diamond has the same weight, some may appear larger or smaller. The table size, which is to say the visible area when you view a diamond from the top-down, is bigger with certain diamond shapes, such as oval, pear and marquise cut diamonds.
These shapes are longer and have a larger surface area, which makes them appear bigger at first glance.

On the other hand, asscher and princess cut diamonds have a smaller than average table size, and may appear smaller than a different shape of diamond at the same carat weight.
The cut quality can also affect the size of the diamond. For example, this diamond is graded Good for Cut, which is a lower grade than you would want. As a result, its length x width dimensions of 4.85mm x 4.88mm give it a significantly smaller diameter than the average for the carat weight (5.1mm).
A different 0.50 carat diamond, however, has an Ideal grade in Cut. This diamond's dimensions, 5.09mm x 5.10mm, are thus in line with what you would expect from a 0.5 carat round diamond. And despite being the same carat weight and the same shape, the second diamond measures larger than the first.
1/2 Carat Diamond Ring Shapes
As we touched on earlier, there are a number of different diamond shapes. There's no one shape that is "better" or "worse" than any other. This choice is largely down to personal preference.
You may prefer the classic look of a round brilliant diamond, or the unique elegance of an elongated shape like a pear or oval cut diamond. Some shapes look better with certain settings or on certain finger types or hand shapes.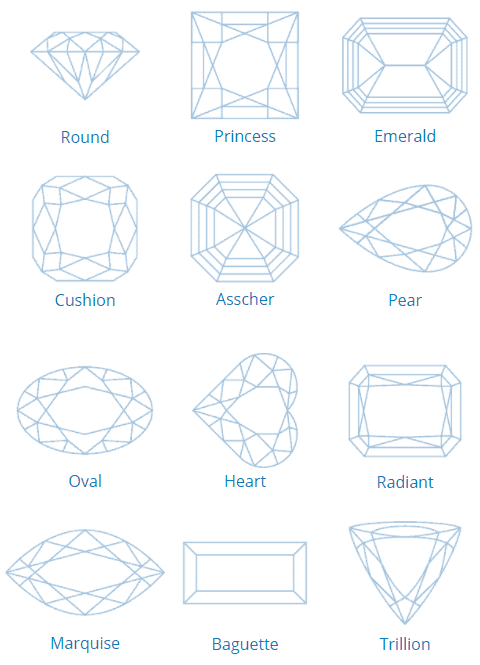 If it's visible appearance you're after, oval, marquise and pear shapes offer the largest surface area. On the opposite end of the scale, princess cut and asscher cut diamonds appear smaller than almost all other shapes, at the same carat weight.
Understand that size is not everything. But a 1/2 carat princess cut diamond ring, for example, will appear quite small. A round brilliant diamond is interchangeable with a princess cut in many settings, and may help you get more perceived value as it will appear slightly larger.
1/2 Carat Engagement Ring Settings
The setting is another important choice you have to make when buying a 1/2 carat diamond engagement ring. The right setting can accentuate the half carat diamond you picked out, it can mask or accentuate certain characteristics of the diamond, and in some cases can make a relatively small half carat diamond appear larger.
There is also an element of personal preference in play here. Some settings may simply appeal more or less to the wearer's style.
Here are some examples of 1/2 carat diamond rings in a few popular settings, to give you and idea of what you have to choose from:
1/2 Carat Solitaire Diamond Ring
The solitaire setting is perhaps the most classic diamond setting there is. Simple, elegant, timeless, it features a single diamond, with no side stones or accents, usually held in place by either four or six prongs.
Solitaire settings suit any diamond shape, and never go out of style. It's very hard to go wrong with a half carat solitaire diamond ring, like these examples: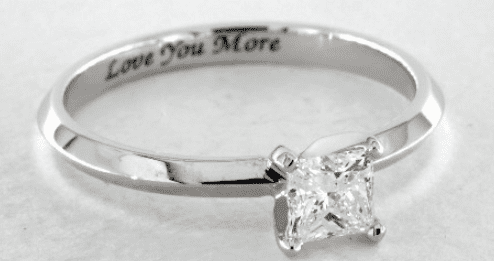 1/2 Carat Halo Diamond Ring
Halo settings feature a ring of smaller accent diamonds surrounding the center stone. This setting is a great way to make your half carat diamond ring stand out, and can create the illusion of a larger center diamond.
A halo setting can suit any diamond shape, however are best suited for round, oval and cushion cut diamonds. See below for inspiration: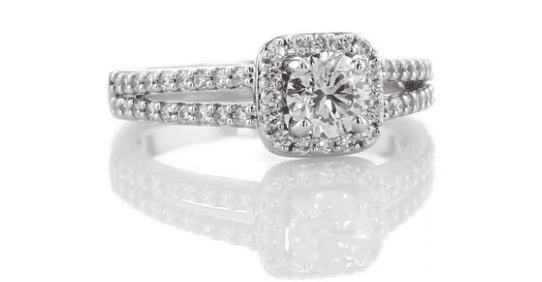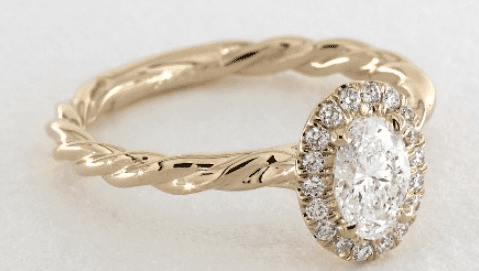 1/2 Carat Pavé Diamond Ring
Pavé settings again feature accent diamonds that create additional shine and brilliance for your 1/2 carat engagement ring. Like a solitaire setting, this style fits any shape of diamond, and is a simple yet stylish look that will never get old.
Here are some pavé settings for half carat diamond engagement rings to inspire you: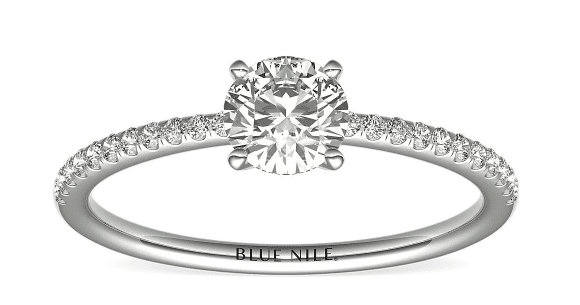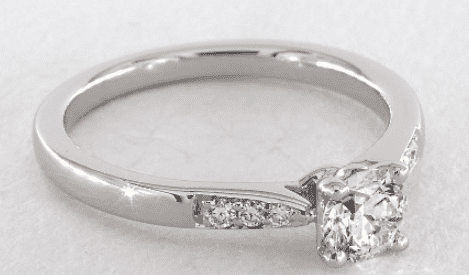 Engagement Ring Inspiration (Click a Ring for More Information)
Load More
Where to Buy a 1/2 Carat Diamond Ring
There are many places you can buy a half carat engagement ring, but not all where you can get the best value, and which have the range you need to get the perfect half carat diamond ring without having to compromise.
Online diamond vendors generally make for the best choice, as they can offer range and value that most brick and mortar stores cannot. Of the diamond stores we've vetted, several stand out for their range, value, attention to customer service, and overall great customer experience.
With any diamond vendor, there are some things to look for to ensure you don't find yourself purchasing a low-quality diamond, or worse, getting duped into overpaying.
You should only look at diamonds with a reputable certificate. Diamonds graded by the GIA or AGS can be trusted to be fairly and independently graded. If a diamond does not have one of these certificates (samples are shown below), or the vendor cannot provide one, this is a big red flag.
You should also compare multiple options before making a final decision. Compare diamonds from different retailers, as well as alternatives on the same site. Not all diamonds are the same, even if their grades are equal. Running comparisons will help you pick out a truly beautiful diamond at the right price.
Finally, a 1/2 carat diamond engagement ring is a big purchase, so don't be afraid to ask a diamond expert for help in picking out the right diamond for the perfect ring.
If you're in the market for a 1/2 carat diamond ring, we recommend these sellers:
This online jeweler was founded in 1999, and has the largest range of diamonds and settings you're likely to find. Diamonds at Blue Nile are graded with GIA or AGS certificates, and their high-quality images and commitment to customer service make it easy to find the perfect half carat diamond.
Like Blue Nile, James Allen is an online jeweler revolutionizing the industry by providing a huge range of GIA and AGS certified diamonds at great prices, with unparalleled customer service.
With over 20 years' experience, Brian Gavin is primarily known for one thing: the best diamond cuts in the business. Brian Gavin Signature Hearts & Arrows are as good as it gets when it comes to super-ideal cut diamonds.
If you're specifically in the market for a fancy colored diamond, Leibish & Co are the best around, with by far the best range and over 40 years' experience with high-quality colored diamonds and gemstones.
The Difference Between a 1/2 Carat Diamond and a 1 Carat Diamond
In terms of size, a round 1/2 carat diamond cut to ideal proportions measures 5.1mm in diameter, compared to 6.5mm for a 1 carat diamond. In terms of weight, a 1 carat diamond is obviously double the weight of a half carat diamond.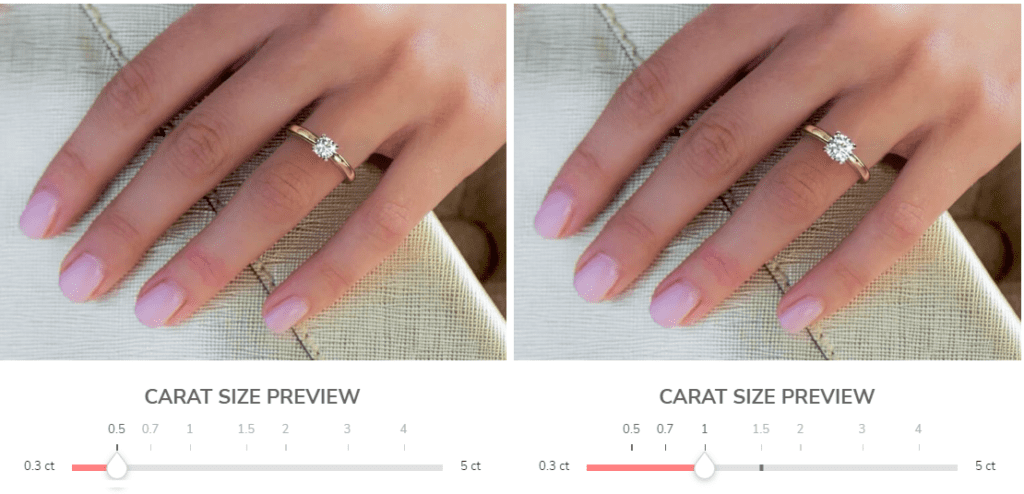 In price, however, a 1 carat diamond will almost always cost more per carat than an equivalent 1/2 carat diamond. That means despite being double the weight, the 1 carat diamond should be more than double the price.
Larger diamonds are in higher demand, and more rare, which is why the price per carat is higher as carat goes up. To illustrate this point, here's a 0.50 carat diamond with H/VS2 grades from James Allen, for $1,400.
This 1 carat diamond with exactly the same grades in Cut, Color and Clarity, also from James Allen, however, costs $5,490. Much more than double the price.
This is just one example. But in general, you should be prepared to spend progressively more as the carat weight goes up.
There is no easy answer to whether it's a good idea to go for a 1 carat or 1/2  carat diamond ring. It comes down to a variety of factors, and your own preference. In particular, you'll need to consider your budget. If you don't have much to spend on an engagement ring, don't blow your entire budget on the highest carat weight you can get. It may be a better idea to go a little smaller, with a 1/2 carat diamond ring, in order to get a more beautiful diamond.
If you're struggling to know how much your budget should be, this guide is here to help. You can always contact us at any time for personalized help. 
Half Carat Diamond FAQs
We'll finish up by answering some of the most common questions we see asked regarding 0.5 carat diamonds and 1/2 carat diamond engagement rings.
How Much is a 1/2 Carat Diamond Ring Worth?
You could pay anywhere from around $700 to over $3,500 for a 1/2 carat diamond ring. There are many factors, outside of carat weight, that influence the cost of a diamond, such as Color, Clarity and Cut quality.
In most cases, you should aim for between $1,000 and $1,500 for a half carat diamond. Lower than this may be below the minimum quality you want from your diamond, while anything significantly above this likely means you're overpaying for a grade that is not easily noticeable in a diamond of this size.
How Big is a Half Carat Diamond?
A 1/2 carat round diamond will measure, on average, approximately 5.1mm in diameter. Different shaped diamonds may have a larger or smaller physical appearance. Oval, pear and marquise shaped diamonds look the largest.
Be aware that carat refers to the weight of a diamond, rather than the size. 0.5 carats is always equal to 0.1 grams, but the shape and quality of cut may mean some 1/2 carat diamonds look a little bigger or smaller, despite being the same carat weight.
Is a Half Carat Diamond Too Small?
While a 1/2 carat diamond is towards the smaller end of diamonds used for engagement rings, it is by no means too small. With diamonds, size is not everything. A 0.5 carat diamond can still make for a beautiful and elegant engagement ring, while a larger diamond with poorer grades in other areas may not measure up to the same standard.
A 1/2 carat diamond sits at a perfect spot where value meets quality. You can save a lot by picking out a 0.5 carat diamond, compared to a 1 carat or larger, and have more money to spend towards ensuring the diamond has the ideal level of fire and brilliance.
If you're concerned about the visual appearance of a 1/2 carat diamond ring, consider setting it in a halo setting, which can amplify the center stone and give the illusion of a larger diamond.
What is a 50 Point Diamond?
In the diamond industry, diamond carat is sometimes referred to by a point system. A 1 carat diamond is 100 points, meaning a 0.50 carat diamond may also be called a 50 point diamond, or a 50 pointer.
Realistically, you're unlikely to see diamonds referred to this way. This language is not used very often, particularly in diamond engagement rings. However, if you hear the term "point" in relation to the weight of a diamond, know that this is what it means.
We're Here To Help, Contact Our Experts
A 0.50 carat diamond can make for a beautiful engagement ring, despite the small carat weight. The savings you can make from a smaller diamond can indeed let you pick out a truly exemplary diamond within your budget, which will outshine larger, yet lower quality diamonds.
Use this guide to help you during the process of shopping for a 1/2 carat diamond engagement ring, and feel free to contact our experts at any time for assistance in picking out the perfect diamond at the right value.
Related articles:
James Allen

James Allen is the leader in online diamond sales. Their imaging technology is the same as inspecting a diamond with a jeweler's loupe. They have the largest exclusive loose diamond inventory online and fantastic prices. They also have the nicest collection of lab created diamonds online. For a limited time Save 25% on settings and  Save 3% on Earth Diamonds and Save 10% off select Lab Grown Diamonds
What we love about them:
No questions asked returns within 30 days of shipment. James Allen will send you a paid shipping label to return the ring.
Lifetime Warranty
Free International Shipping
Free prong tightening, repolishing, rhodium plating and cleaning every 6 months
Provide insurance appraisals
One free resizing within 60 days of purchase
Free ring inscriptions
Best-in-class high quality imagery of all diamonds in stock
24/7 Customer Service
Best-in-class packaging

---
Blue Nile

Blue Nile is the largest and most well known internet jewelry seller. They have a very large exclusive online inventory. Their high quality images are catching up to James Allens' and their prices are amazing. Blue Nile have generously offered our readers an exclusive one-time use coupon.

(Click Here to save $100 off engagement ring settings)
What we love about them:
No questions asked returns within 30 days of shipment. Blue Nile will send you a paid shipping label to return the ring.
Lifetime Warranty
Free Shipping
Free prong tightening, repolishing, rhodium plating and cleaning every 6 months
Provide insurance appraisal
One free resizing within the first year of purchase
High quality images of about half of their diamonds
24/7 Customer Service
100% credit towards future upgrades (must be at least double in value)
Best in class fulfillment

---
Still afraid of getting ripped off?
Before you buy a diamond, get personal buying advice from industry veterans. We'll help you get the best diamond for the money.
Ask your diamond purchase question here
DISCLAIMER: We don't use your email for marketing. Period.