Diamond Pro is reader-supported. When you buy through links on our site, we may earn an affiliate commission. Learn More.
Antique & Vintage Engagement Rings: What You Need to Know
Bottom Line Recommendation
If you're looking for a stunning and unique engagement ring, a vintage ring like this one from Blue Nile or this antique style setting from James Allen might be a perfect choice. With options ranging from floral designs to cathedral settings, vintage engagement rings can be designed to fit the exact style of the one you love. Review our full guide below to learn more about vintage settings and what to know before you buy.
Our most important recommendation for purchasing vintage engagement rings is to buy one from a highly reputable vendor. Receive the quality and value you deserve by choosing Blue Nile, James Allen or Brian Gavin Diamonds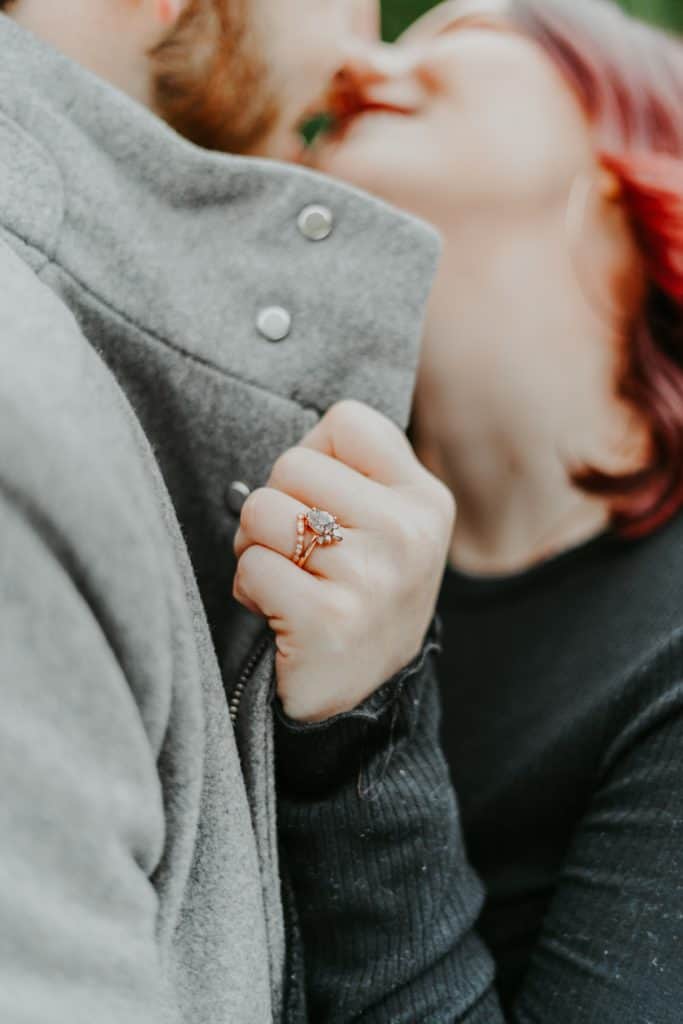 What is an Antique Engagement Ring?
An antique engagement ring is an engagement ring designed to resemble the ring style of a past era, such as the Victorian or Art Deco periods. Most diamond sellers offer an array of vintage style engagement rings to choose from, such as this rose gold diamond ring from James Allen. Some vintage engagement rings are actual antiques, meaning they are at least 50 years old. True antique rings are often recycled, passed down through generations or bought and resold through diamond resellers. 
In general, antique engagement rings often have beautiful detailing, such as milgrain or filigree features. This stunning Victorian vintage engagement ring from Blue Nile is an example of a halo engagement ring with an antique style.
What is a Vintage or Antique Engagement Ring Setting?
A vintage engagement ring is a ring with an antique style, such as one that's designed with inspiration from the Victorian, Edwardian, or Art Deco time periods. Vintage settings often feature beautiful intricacies, like milgrain and filigree.
There are several types of vintage engagement ring settings, offering you plenty of styles to choose from. Review the most popular vintage engagement ring settings below to find a ring that fits your unique style.
Halo vintage engagement rings
Halo vintage rings feature a center diamond surrounded by a concentric circle or square of smaller diamonds. Vintage halo ring styles range from hand-engraved milgrain rings like this one from Blue Nile to intricate, antique rings such as this navette halo ring from James Allen.
Floral vintage engagement rings
Vintage engagement rings often include a floral element, such as a halo formed in a flower shape or milgrain detailing that resembles petals. This floral marquise vintage ring from Blue Nile is full of character and beauty. This floral halo from James Allen is Art Deco inspired. You can also find vintage floral scalloped halo rings such as this ring from Blue Nile.
Cathedral vintage engagement rings
With a cathedral vintage ring, two arches support the center stone — mimicking the appearance of a cathedral building. This simple cathedral ring from Blue Nile provides a classic look, while this more intricate cathedral ring from James Allen features filigree detailing.
Art Deco vintage engagement rings
The Art Deco style was prominent in the 1920s and 1930s. The style involves geometric designs, abstract patterns, and contrasting colors.  This Art Deco inspired ring from Blue Nile features two prongs and intricate detailing. The tapered design in this six-prong ring from Blue Nile offers a polished Art Deco style, while this yellow gold vintage geometric design on James Allen is as stunning as it is unique. 
Milgrain vintage engagement rings
Milgrain engraving is an embellishment that gives the ring an "antique" look—with tiny metal balls decorating the sides of the band and the crown of the ring. This infinity halo ring from James Allen, for example, features milgrain around the edges of the halo. The milgrain design in this engagement ring from Blue Nile and this halo ring from James Allen are on the front parts of the bands.
Filigree vintage engagement rings
Filigree is another kind of delicate metalwork that features metal beads or twisted metal threads throughout the setting. The antique engagement ring below showcases an example of yellow gold filigree embellishments on the shank and around the bezel set diamond.  You can find similar filigree designs in vintage engagement rings, like this white gold engagement ring from James Allen and this cathedral ring from James Allen.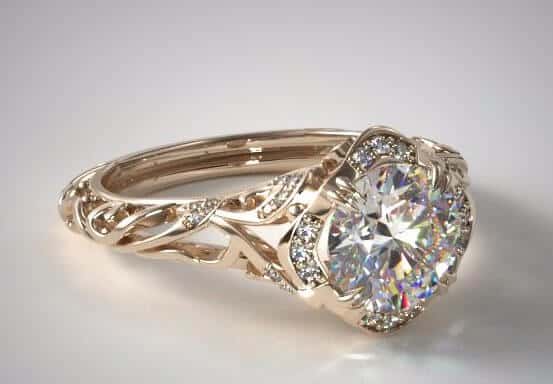 Check out recently purchased diamond engagement rings from our top rated retailers to see more examples of vintage style settings.
Why Choose a Vintage Style Engagement Ring?
Antique style engagement rings are eye-catching because of their non-traditional design, intricate details and classic look. As a timeless piece of jewelry, a vintage engagement ring is well-cherished and often passed down for generations.
You can even personalize vintage engagement rings to fit the exact style and desires of the wearer. Simply put, they stand out from the crowd.
From a gorgeous floral starburst on Blue Nile to a fancy milgrain design on James Allen, the options are truly endless. Antique rings can also be made with any precious metal: yellow gold from James Allen, white gold from Blue Nile, platinum from Blue Nile or rose gold from James Allen.
How Much Do Vintage Engagement Rings Cost?
Vintage engagement rings cost anywhere from $900 to $20,000 and more, depending on your setting, your diamond and its 4Cs. Prices for vintage engagement rings are similar to other engagement rings but can cost more if there's more intricacy in the design.
For example, this regal frame engagement ring setting on James Allen costs $1,080. When paired with a 0.90 carat excellent round cut H SI1 diamond from James Allen, the ring's total cost is $4,170. 
As another example, this vintage cathedral milgrain diamond engagement ring setting on Blue Nile costs $1,150. When paired with a 0.61 carat round diamond with I color and VS2 clarity from Blue Nile, the ring's total cost is $2,470.
Antique engagement rings are not cheaper than other rings, and in general, you can find vintage styles in every price range. That's because many factors impact an engagement ring's price, including the setting, center diamond and side stones. 
On average, couples spend between $5,000 and $7,500 for engagement rings. Choosing a vintage engagement ring is more about style preference than paying more or less.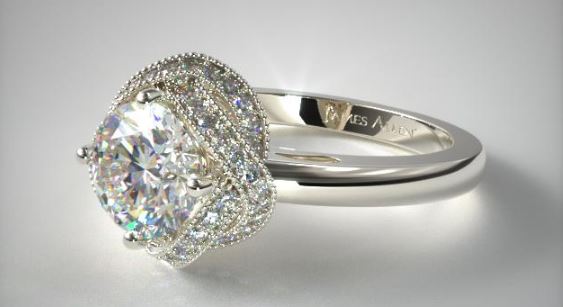 How to Buy Actual Vintage and Antique Settings — What to Know
You may be interested in purchasing an actual vintage ring—one that's several decades old. While these can be unique and stunning rings with a special history, buying an older ring is a risky approach—and here's why.
First, actual antique rings rarely come with a legitimate certificate from the GIA or AGS, giving you no real validation as to the quality of the diamond. The seller may promise that it's an Excellent Cut with G Color and VS2 Clarity, but they often have no way of proving it.
Second, it's challenging to understand the actual condition of the setting. Is it securely holding the diamond? Will it deteriorate over time? Again, without proof of the materials used and who made the ring, it's nearly impossible to understand the quality you're receiving.
Third, when it comes to cost, an actual vintage ring may not give you the best value. Are you paying solely for the fact that it's 40 years old? Are you paying for 18K gold when the setting is actually made of 14K gold? The uncertainties with an actual vintage ring are certainly real.
That's why we highly recommend purchasing a new vintage or antique style from a vendor you can trust. Many high-quality vendors offer stunning rings in these motifs, like this hexagon engagement ring on Blue Nile and this white gold filigree ring on James Allen. You can achieve the same beautiful, vintage look without the concerns of going with an actual antique.
You can buy an old engagement ring, though, from an estate sale, auction, friend or family member. If possible, we recommend getting a certificate to go along with your engagement ring. That way you can verify what it is you're buying. You can also shop with Abe Mor to find a beautiful recycled diamond engagement ring. Abe Mor is a trustworthy vendor that many of our readers have worked with.
Recycled Diamonds on Abe Mor
Vintage diamonds are generally not worth more than newly cut diamonds and tend to be equal in value or slightly less. While antique diamonds are increasingly rare and environmentally-friendly, they are often warmer in color. This could reduce their value up to 20% compared to a similar modern cut diamond. 
A diamond's value is based on the combination of its color, cut quality, clarity and carat weight. Getting a diamond appraisal on a vintage diamond can help you determine its value and worth. The appraiser should consider aspects such as the craftsmanship, rarity and condition.
Where to Buy Vintage and Antique Diamond Engagement Rings
Because you'll want to buy your antique or vintage style ring from a highly reputable vendor, choosing a jewelry company is of the utmost importance. Throughout our years in the diamond industry, we've closely vetted sellers to determine the best and most reliable in the business.
The diamond dealers below are highly reputable (for more detailed guide to the best places to buy vintage/antique rings, click here). They offer extensive collections of beautiful diamonds and vintage style settings. All diamonds come with an AGS or GIA certificate—giving you confidence in what they're selling you.
If you have questions about these vendors, please don't hesitate to contact us.
Offers a superb selection of diamonds and settings
Maintains the largest online inventory of any diamond dealer
Focuses on high-quality settings
Provides incredible imagery for all diamonds
Emphasizes excellent customer service
Offers appealing prices on their high-quality jewelry
Is the best vendor for true antique rings and diamonds
Provides a unique service for custom rings and specialty orders
Offers collection of fancy cut diamonds and large diamonds you can't find anywhere else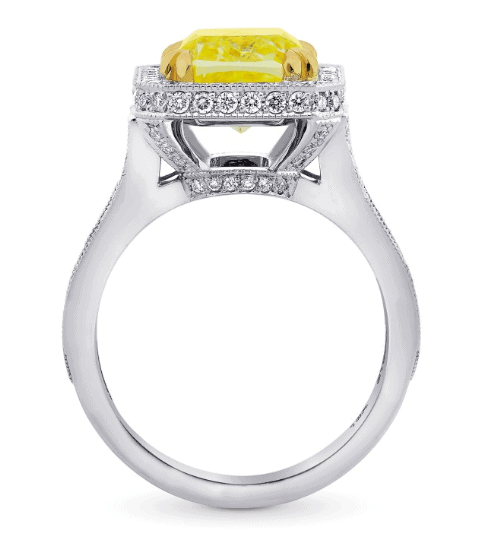 Pros and Cons of a Vintage Setting
A vintage style ring provides immense beauty and unique details. Before making your purchase, review the pros and cons to see if it's the right option for you.
Pros
Provides remarkable beauty and character
Enhances the prominence of the center stone when well-designed
Matches a time period or personal style preference
Unique and intricately built
Cons
Can require more cleaning and maintenance due to intricate details and crevices
The setting can distract from the beauty and sparkle of the stone (if poorly designed)
With an actual vintage setting (different than a new vintage style ring), additional time and expertise is necessary to ensure it's well-maintained and securely holds the diamond
Best Antique and Vintage Settings for the Most Popular Shapes
Vintage style settings can be crafted for any Diamond Shape because of their classic design and ability to customize the setting. Popular diamond shapes for vintage rings include Round Brilliant, Princess Cut, Cushion Cut and Oval.
Antique and vintage engagement rings examples:
Engagement Ring Settings for a Round Cut:
Engagement Ring Settings for a Princess Cut:
Engagement Ring Settings for a Cushion Cut:
Engagement Ring Settings for an Oval Cut: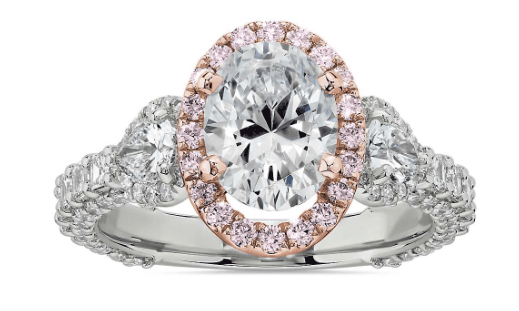 Evaluating a Diamond Ring for Beauty and Value
Be sure to choose the most beautiful engagement ring for your budget.
Review our Diamond Pro resources to help select the perfect ring for the one you love.
Shop for vintage diamond engagement rings here.
Send our experts an email with any questions on diamonds, rings or jewelry.
James Allen

James Allen is the leader in online diamond sales. Their imaging technology is the same as inspecting a diamond with a jeweler's loupe. They have the largest exclusive loose diamond inventory online and fantastic prices. They also have the nicest collection of lab created diamonds online. For a limited time Save 25% on settings and  Save 3% on Earth Diamonds and Save 10% off select Lab Grown Diamonds
What we love about them:
No questions asked returns within 30 days of shipment. James Allen will send you a paid shipping label to return the ring.
Lifetime Warranty
Free International Shipping
Free prong tightening, repolishing, rhodium plating and cleaning every 6 months
Provide insurance appraisals
One free resizing within 60 days of purchase
Free ring inscriptions
Best-in-class high quality imagery of all diamonds in stock
24/7 Customer Service
Best-in-class packaging

---
Blue Nile

Blue Nile is the largest and most well known internet jewelry seller. They have a very large exclusive online inventory. Their high quality images are catching up to James Allens' and their prices are amazing. Blue Nile have generously offered our readers an exclusive one-time use coupon.

(Click Here to save $100 off engagement ring settings)
What we love about them:
No questions asked returns within 30 days of shipment. Blue Nile will send you a paid shipping label to return the ring.
Lifetime Warranty
Free Shipping
Free prong tightening, repolishing, rhodium plating and cleaning every 6 months
Provide insurance appraisal
One free resizing within the first year of purchase
High quality images of about half of their diamonds
24/7 Customer Service
100% credit towards future upgrades (must be at least double in value)
Best in class fulfillment

---
Still afraid of getting ripped off?
Before you buy a diamond, get personal buying advice from industry veterans. We'll help you get the best diamond for the money.
Ask your diamond purchase question here
DISCLAIMER: We don't use your email for marketing. Period.