We are reader-supported. Buying through links on our site may earn us commissions. Learn More.
Deal Alert! Huge James Allen Sale- 3% off Earth Diamonds AND 25% off settings or

15% off at Blue Nile!



Lab-Created Diamond Pendant: Buying Guide
What is a lab-created pendant?
A lab-created pendant is a necklace with a lab-grown diamond attached to a jewelry chain. The chains are usually made of gold or platinum. Styles range from simple and classic to ornate vintage designs. With lab-created pendants, the main difference is that it showcases a lab-grown stone instead of a natural diamond. 
Diamond pendant necklaces symbolize love. They're often given to partners, mothers, sisters and other loved ones.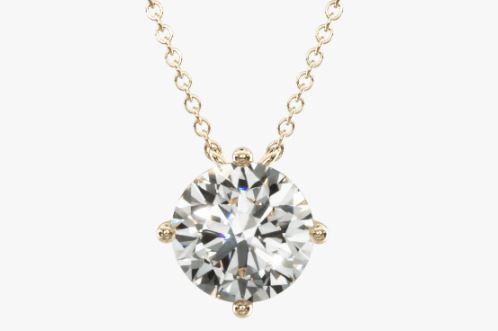 Where to buy lab-created pendants
Like lab-created diamond rings, it's important to buy a pendant from a reputable vendor. In our experience, many companies offer lower quality diamonds to achieve lower price points. You're better off getting a good quality lab-created diamond for a higher price over purchasing a poor quality product. That's why we recommend James Allen for lab-grown diamonds, including lab-created pendants (You can also check out other recommended vendors for lab-created diamonds here.). They have a build your own pendant option that allows you to design the exact necklace you want.
For preset pendant options, scroll down or click here.
James Allen offers high-quality IGI certified lab-grown diamonds. Their high-resolution photos and videos help you select the most stunning lab-grown diamonds for sale. They also have an extensive collection of well-crafted pendants. 
8 Step Guide to Design a Lab-Created Diamond Pendant
Create your own lab-grown diamond necklace by choosing your pendant style and precious metal. You'll then select your lab-grown diamond. Follow this 8 step guide to designing a stunning pendant that will last for years and even generations. 
1. Select your pendant style
Choose the pendant you like the best — from bezel designs to wire basket solitaires. This choice is your personal preference. It's the launching point for your necklace design.
Review the various designs to determine which one suits you or your partner. 
2. Choose your precious metal
Lab-created pendants are often made of white gold, yellow gold, rose gold or platinum. All these precious metals are durable enough for everyday wear. 14K gold gives you the best value, as it's beautiful and sturdy, but costs less than 18K gold and platinum. 
Opt for the color that matches her other jewelry or choose the tone that will stand out. The dropdown menu gives you your precious metal options for the pendant you selected.
3. Check out the 360° view 
Online vendors like James Allen provide high-quality HD imagery with a 360° view of your jewelry. Review all angles of your design to ensure it's what you want. If you don't like what you see, go back and select a different pendant design. 
4. Add a lab-created diamond 
Once you've selected your pendant, it's time to pick out your lab-created diamond to go in the necklace. As with a natural diamond, you'll have the chance to pick the exact stone you want.
5. Narrow down the specs
To get the most beauty for the best price, it's critical that you hone in on a lab-created diamond with excellent features without overpaying. 
Shape: Depending on your vendor, choose anything from a lab-grown oval pendant to a classic round cut. The diamond shape you select is based on personal preference. Round diamonds are the most popular, especially for pendants.
Carat: A diamond's carat refers to its weight, not its size. You may have a certain carat in mind, but if not, leave the range open so you can see different options and prices. In general, a 0.9 carat diamond will look very similar in size to a 1.0 carat diamond, but could cost a significant amount less.
Cut: A diamond's cut quality impacts its beauty more than any other feature. We recommend limiting your search to diamonds graded as Excellent or Ideal. 
Color: For lab-created diamonds, those within the G-J color range will appear white, but cost far less than D, E and F graded diamonds.
Clarity: Narrow your search to SI1 to VS1 lab-created diamonds. They will be eye-clean (meaning no inclusions can be seen with the naked eye) and cost much less than better-graded diamonds. But don't forget to check the inclusions anyway. Don't take the clarity grade for granted.

Adjust the filters as you want, but the above image is what we recommend for lab-created diamond pendants. Increase the carat weight as you wish, knowing the price will increase too.
6. Compare lab-grown diamonds 
After you've narrowed down your diamond specs, compare similar stones to figure out which one to buy. Look at the 360° photo to see the diamond from all angles. Consider aspects like how brilliant the diamond is, if it appears white, and the cost.
Other details like polish, fluorescence, and symmetry affect a diamond's appearance to some degree, but much less than the 4 Cs. In general, you won't need to worry about these features with a diamond pendant.
7. Select your diamond
Check out the loose lab-created diamonds in detail before choosing the one you'll put in your pendant. Ensure that it's IGI certified — the only certificate we recommend for lab-created diamonds. 
Once you feel confident with your diamond, select it for your pendant.
8. Review your pendant
Before making the purchase, check out your pendant and diamond together. Does it look how you want? Do you want to change anything? Now is your time to make adjustments and admire your handiwork.
If you want an expert's eye, reach out to us. We'll review the diamond you're considering and the pendant to ensure it's a high-quality purchase.
Lab-created pendants inspiration
Pendant styles range from lab-grown oval diamonds to classic rounds. Here we share a variety of styles to help you decide which one is best for you.
Modern: 
Classic:
Unique: 
Here are some curated Lab-grown Diamond Pendants from our favorite jewelry retailers:
Lab-created pendant prices
In general, lab-created pendants will be less expensive than natural diamond pendants. Lab-created diamond pendants range from $700-7,000 or more, depending on the style, carat weight and precious metal. 
It's important to note that lab-grown diamonds don't have any resale value. So while they cost less, they're usually less desirable and less valuable than natural diamonds. For those looking for an affordable alternative, a lab-grown diamond necklace is a fine choice. More people are open to a lab-created diamond for a pendant necklace than they are for an engagement ring. 
Preset Jewelry
Blue Nile has recently partnered with DeBeers to bring you their Lightbox Lab-Created fashion jewelry line. They have an amazing selection of white, pink and blue jewelry pieces to choose from. Check out what Blue Nile has to offer here.
Clean Origin is a company that focuses strictly on lab-created diamonds. From single pendants of various diamond shapes to three-stone or eternity pendants. The choice is yours. You can find all the above in their preset diamond pendant collection.
Frequently asked questions about lab-created diamonds
Most people are familiar with natural diamonds, not as many know about lab-grown diamonds. Here are some answers to common questions about lab-created diamonds. 
Are lab-created diamonds worth anything?
No, lab-created diamonds aren't worth anything after you buy them, because they have no resale value. For instance, if you bought this 1.20 Carat lab-created diamond from James Allen, you'd have a beautiful diamond, but no jeweler will rebuy it. If you try to sell it on Craigslist or eBay, you'll get pennies on the dollar. 
Are lab diamonds real diamonds?
Yes, lab diamonds are 100% real diamonds. They consist of carbon atoms structures and display the same chemical and optical characteristics of a natural diamond crystal. They don't grow in natural conditions, as they're made in a laboratory instead of found beneath the earth's surface. Lab diamonds can be grown in a matter of weeks, while natural diamonds take billions of years to form.
Why do labs grow diamonds?
Labs grow diamonds because they mirror the same visual and chemical characteristics of natural diamonds. These diamonds are placed in jewelry, including lab-grown diamond necklaces and earrings. The process for creating lab-grown diamonds is much cheaper than mining natural diamond crystal. Some people also enjoy the engineered quality of lab-grown diamonds and prefer them to natural diamonds.
Does GIA certify lab-created diamonds?
The GIA certifies lab-created diamonds, but IGI is the recommended certificate for lab-created diamonds. They are more wide-spread and offer the same exact details that you need to make an informed decision.
How much are lab-grown diamonds?
The prices of lab-created diamonds can vary greatly. A lab-grown diamond can be priced as low as this 1.01 Carat G/VS2 for $1,770 from James Allen or this 0.70 Carat H/VS2 for $621 from Clean Origin or as high as this 5.23 Carat for $72,130 from James Allen. Keep in mind that lab-created diamonds have no resale value. 
Lab-grown diamond prices depend on a few main factors: Cut, Carat Weight, Color and Clarity. The better grades a diamond has, the higher the price. 
James Allen

James Allen is the leader in online diamond sales. Their imaging technology is the same as inspecting a diamond with a jeweler's loupe. They have the largest exclusive loose diamond inventory online and fantastic prices. They also have the nicest collection of lab created diamonds online. Now save 25% off settings AND 3% off Earth Diamonds during James Allen HUGE limited time sale!
What we love about them:
No questions asked returns within 30 days of shipment. James Allen will send you a paid shipping label to return the ring.
Lifetime Warranty
Free International Shipping
Free prong tightening, repolishing, rhodium plating and cleaning every 6 months
Provide insurance appraisals
One free resizing within 60 days of purchase
Free ring inscriptions
Best-in-class high quality imagery of all diamonds in stock
24/7 Customer Service
Best-in-class packaging

---
Blue Nile

Blue Nile is the largest and most well known internet jewelry seller. They have a very large exclusive online inventory. Their high quality images are catching up to James Allens' and their prices are amazing. Blue Nile have generously offered our readers an exclusive one-time use coupon.

(Click Here to save $100 off engagement ring settings)
What we love about them:
No questions asked returns within 30 days of shipment. Blue Nile will send you a paid shipping label to return the ring.
Lifetime Warranty
Free Shipping
Free prong tightening, repolishing, rhodium plating and cleaning every 6 months
Provide insurance appraisal
One free resizing within the first year of purchase
High quality images of about half of their diamonds
24/7 Customer Service
100% credit towards future upgrades (must be at least double in value)
Best in class fulfillment

---
Still afraid of getting ripped off?
Before you buy a diamond, get personal buying advice from industry veterans. We'll help you get the best diamond for the money.
Ask your diamond purchase question here
DISCLAIMER: We don't use your email for marketing. Period.