Diamond Cuts Guide: Overview, Grades, Quality and Price
Scared of getting ripped off? Don't want to waste your money? Confused by all the choices? Contact us.For a limited time, take advantage of James Allen's 25% OFF Pre-Black Friday Sale!
Bottom Line Recommendation
If you are buying a round diamond, limit your selections to "Excellent" cut diamonds (if graded by GIA) or "Ideal" cut diamonds (if graded by AGS). If you are buying any other shape diamond, it is essential that you see a high quality image of the diamond before deciding to buy as fancy shape cut quality cannot be deciphered using certificate stats alone. Because of this, we recommend you stick with Blue Nile or James Allen
When it comes to round diamonds, despite them all being uniform in shape, the difference between a well cut diamond and a poorly cut diamond is enormous. You can have something like this ridiculously brilliant diamond that runs circles around a poor cut like this one.  Despite the second one being a higher color grade, the first one is a much prettier diamond.
As always, if you are unsure about any aspect of the process, please feel free to contact us with your questions.
What is a "Diamond Cut"?
Diamond Cut refers to how well proportioned a diamond is. For example, what percentage of a diamond's diameter is its depth? What are its various angles and how do they interact with one another? While these may seem like esoteric questions, these are the essential factors that determine how beautiful your diamond will be.
Differences in Diamond Cut greatly impact sparkle, aesthetic appeal and value of a diamond. It's the most important of the 4Cs.
The factors affecting the price of a diamond include:
Proportions (table, width, depth)
Symmetrical facets (the mirrors, windows and steps of a diamond)
Brilliance (brightness of white light reflection)
Fire (dispersion of colored light)
Scintillation (the flashes of sparkle when light moves)
Finishing details (permanent treatment and polishing)
To further understand the factors impacting Diamond Cut quality, let's examine a diamond's proportions, primarily its table, width and depth. These elements are universally measured and are excellent indicators of a diamond's cut quality.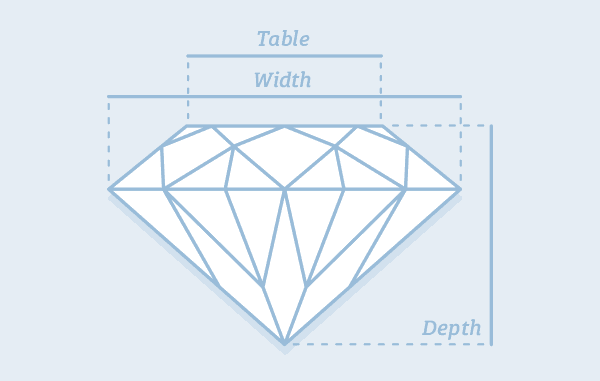 How Cut Grade Affects Price
The precision and quality of a Diamond's Cut, namely its proportions and symmetry, greatly impact a diamond's beauty and price.
If the facets (the glossy flat surfaces of a diamond) are proportional, for instance, they will refract and reflect light back to the eye in tremendous fashion. Diamonds that are not as precisely cut will have facets and pavilions that do not refract and reflect light as spectacularly.
The amount of light return and brilliance found in an exceptionally cut diamond is worth the extra cost. Without brilliance and fire, a diamond is less than radiant — no matter the Carat weight or table size.
Spending more on a diamond's Cut rather than its Color or Clarity will significantly impact the beauty of your diamond.
For example, Brian Gavin offers a Signature collection called Hearts & Arrows which includes some of the best Cut diamonds on the market. For example, this diamond has tremendous brilliance at an excellent price point. It would be perfect for a 1 carat diamond engagement ring.
If you are working within a budget, we recommend forgoing a GIA grade in Color and Clarity to ensure you are selecting an ideal cut diamond.
Diamond Cut Proportions
Diamond Cut Proportions directly affect a diamond's ability to reflect light and provide brilliance. Proportions are based on the ratios between size, angle and shape of each diamond facet. Various combinations of these elements impact how the diamond will interact with light, which determines its overall beauty and lasting appeal (as well as its GSI grading).

Factors for Determining Diamond Cut Quality
Because Diamond Cut is an enormous element in determining the beauty and brilliance of any diamond, there are some complexities.
The main factors impacting Diamond Cut Quality are:
Proportions: the ratios and sizes of the diamond's depth, width and table
Symmetry: precision of the facets, mirrors, windows and steps
Polish: the shine and glow of the diamond surface
When you're looking to see how well cut a diamond is, take note of how its facets and angles reflect light. Specifically, note how bright and sparkly the light return is when placed under a normal lamp.
You'll want to gauge the diamond's fire (the rainbow light of reflection) and its brilliance (colorless light and sparkle of the diamond). Be sure to also watch for any dark spots within the piece.
When a diamond is poorly cut (even if it has a high Color or Clarity grade), light will not reflect as well back to your eyes, making it a duller, more lifeless diamond.
Be sure to review the GIA cut grade on a diamond's report, which will include ratings of Poor, Good, Very Good or Excellent.
What's the difference between Diamond Cut and Diamond Shape?
The terms Diamond Cut and Diamond Shape have distinct meanings.
Diamond Shape describes the outline or figure of the diamond. For example, Pear Shaped and Round Brilliant refer to the shape appearance of the diamond.
Cut refers to the facets, symmetry, dimensions and reflective qualities of the diamond. A Heart Shaped Diamond, for instance, may be cut shallow or deep, dull or brilliant. The Heart Shape remains, while the Cut may differ significantly. The finer the cut, the greater the brilliance and fire of the diamond.
Our Recommendations For Buying The Right Diamond
When it comes to selecting an ideal diamond, we recommend a quality Diamond Cut over anything else. For GIA Certified Diamonds, we recommend choosing an Excellent cut grade. For AGS Certified Diamonds, choose an Ideal cut. When we search for a diamond, we filter more heavily on Cut. You can see our parameters by looking at this James Allen diamond search.
For Maximum Brilliance: Consider a Brian Gavin Signature cut. Brian is a leading industry expert in the field of cut optimization. His Signature cuts are on par with the famed Hearts on Fire brand—only far cheaper.
For Round Brilliant Cut Diamonds, don't give any credence to an online vendor's cut grade. Only focus on the GIA or AGS cut grade on the certificate.
In addition to reviewing a GIA or other grading report, be sure to look at the diamond yourself or have an expert assist you. Most importantly, ensure the diamond is appealing to you and your personal style and desires.
Our primary focus is making sure your diamond search is easy, simple and accurate. We want you to find the highest quality diamond while staying within your budget.
If you'd like assistance with finding and selecting a diamond, we'll be happy to filter through the cuts and make recommendations for you.
About Diamond Table
Diamond table % is determined by dividing the width of the table (top surface area) by the width (diameter) of the diamond. For example, if the table facet is 3.5mm wide, and the diamond is 5mm wide, the table % is 70%.
If the table percentage is too large, light won't reflect off of the diamond's crown angles and facets. Vibrant reflections of color won't be seen as the light will escape from the top of the diamond instead of reaching the eye.
If the table percentage is too low, light will remain trapped inside the diamond and be emitted through other parts of the diamond instead of to the eye.
The ideal table % depends heavily on the Diamond Shape. If you're unsure of an excellent table % for your diamond, please
contact us and we will walk you through the options and factors.
About Diamond Width
A diamond's width is determined by measuring from one end of its girdle (the diameter at its widest point) to the other end of the girdle.
The width is most important when it comes to determining length to width ratio, which signifies how proportionate the diamond is along with its intended shape (i.e. square vs. rectangular).
Length to width ratio is measured by dividing the length of the diamond by the width. For example, if a diamond has a length of 5mm and a width of 3mm, the length to width ratio is 1.67.
About Diamond Depth
Depth % refers to the height of the diamond, from the culet to the top of the table. Depth is measured in millimeters and percentage. By dividing the depth by the width, the depth % is achieved.
As an example, if a diamond is 4mm in depth and 4.5 mm in width, the depth percentage is 88.8%.
In most cases, a lower depth % of two equal carat diamonds will appear larger due to the increased width. On the other hand, a depth % that is too low can create a darker appearance as it will not reflect light as powerfully.
What happens when a Diamond Cut is too shallow?
When a Diamond Cut is too shallow, light hits the pavillion at a low angle. The light travels through the diamond and exits through the sides, instead of reflecting through the table and to your eyes.
While shallow cut diamonds may seem large based on their table size (they are also called Spready Diamonds), the escape of light at the bottom significantly reduces the diamond's brilliance, sparkle and fire.
What happens when a Diamond Cut is too deep?
When a diamond is cut too deep, light hits the pavilion at a sharper angle, causing it to immediately reflect to another pavilion. The light is forced to retract and pass through the bottom of the diamond. As this happens, light is dulled and the diamond becomes less vibrant and radiant.
A Diamond Cut that is too deep also tends to look smaller than those of an ideal cut.
What is the best cut for a Diamond?
Simply put, a well cut diamond maximizes the light that strikes each pavilion. Instead of escaping through other parts of the diamond, light reflects back through the crown and table.
When it comes to determining the highest grade possible, GIA uses the term "excellent" while AGS (the inventory of the cut grade) uses the word "ideal." These cuts are well proportioned with optimal facet angles, allowing the brilliance and fire to pass through the table for all to see.
For these reasons, excellent cuts are more valuable and more luminous. When buyers have a budget, we often advise choosing a smaller, well cut diamond as opposed to a larger carat that is poorly cut.
If you're unsure of an ideal cut for your diamond, speak to an expert to walk you through the process.
How GIA Grades Diamond Cuts
The GIA (Gemological Institute of America) is a renowned and well-respected diamond grading entity that issues reports for diamonds.
As an independent entity, GIA does not have a financial stake in the sale of the diamond. When you are in the market for diamonds, it's advisable to seek a GIA certificate to view the Diamond's Cut grade.
The following scale is how GIA claims to grade Diamond Cut. Unfortunately our experience has been that this is far from reality:
| | |
| --- | --- |
| Excellent | Excellent Cut Diamonds provide the highest level of fire and brilliance. Because almost all of the incoming light is reflected through the table, the diamond radiates with magnificent sparkle. |
| Very Good | Very Good Cut Diamonds offer exceptional brilliance and fire. A large majority of the entering light reflects through the diamond's table. To the naked eye, Very Good diamonds provide similar sparkle to those of Excellent grade. |
| Good | Good Cut Diamonds showcase brilliance and sparkle, with much of the light reflecting through the table to the viewer's eye. These diamonds provide beauty at a lower price point. |
| Fair | Fair Cut Diamonds offer little brilliance, as light easily exits through the bottom and sides of the diamond. Diamonds of a Fair Cut may be a satisfactory choice for smaller carats and those acting as side stones. |
| Poor | Poor Cut Diamonds yield nearly no sparkle, brilliance or fire. Entering light escapes from the sides and bottom of the diamond. |
The reality is that 55% of all round diamonds receive an excellent cut grade. Even with excellent cut grades, about 25-30% of these "excellent" diamonds are rejected when our consultants search for diamonds due to bad specs (depth, table and angles).
To make sure you don't end up with a mediocre excellent cut, contact us and one of our consultants will guide you through the process.
James Allen

James Allen is the leader in online diamond sales. Their imaging technology is at the point where it's almost the same as inspecting a diamond with a jeweler's loupe. Their customer experience is best in class, and they have recently upgraded their non-engagement jewelry inventory as well. And for a limited time, take advantage of their 25% Off pre-Black Friday Sale!
What we love about them:
No questions asked returns within 30 days of shipment. James Allen will send you a paid shipping label to return the ring.
Lifetime Warranty
Free International Shipping
Free prong tightening, repolishing, rhodium plating and cleaning every 6 months
Provide insurance appraisals
One free resizing within 60 days of purchase
Free ring inscriptions
Best-in-class high quality imagery of all diamonds in stock
24/7 Customer Service
Best-in-class packaging

---
Blue Nile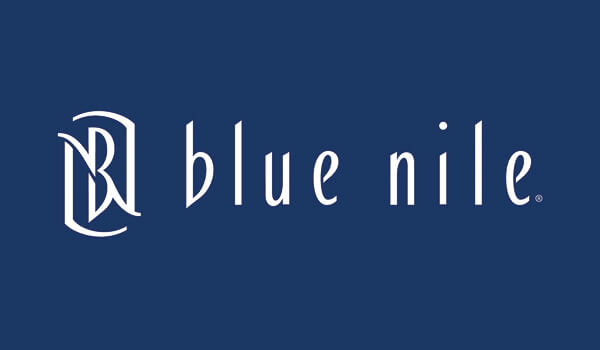 Blue Nile is the largest and most well known internet jewelry seller. They have the industry-leading largest available exclusive online inventory. Their high quality images are catching up to James Allens' and their prices are amazing.
What we love about them:
No questions asked returns within 30 days of shipment. Blue Nile will send you a paid shipping label to return the ring.
Lifetime Warranty
Free Shipping
Free prong tightening, repolishing, rhodium plating and cleaning every 6 months
Provide insurance appraisal
One free resizing within the first year of purchase
High quality images of about half of their diamonds
24/7 Customer Service
100% credit towards future upgrades (must be at least double in value)
Best in class fulfillment

---
Still afraid of getting ripped off?
Before you buy a diamond, get personal buying advice from industry veterans. We'll help you get the best diamond for the money.
Ask your diamond purchase question here
DISCLAIMER: We don't use your email for marketing. Period.