We are reader-supported. Buying through links on our site may earn us commissions. Learn More.
Deal Alert! Huge James Allen Sale- 3% off Earth Diamonds AND 25% off settings or

15% off at Blue Nile!



9 Carat Diamond Ring Buying Guide: All You Need to Know
Bottom Line Recommendation:
9 carat diamonds are exceptionally rare. This means a premium in price. It also means poor grades in cut, color and clarity are more noticeable.
Your aim when buying a 9 carat diamond ring should be to find the sweet spot between price and quality. At this price point, you can easily pay tens of thousands too much for grades that don't have any clear difference to the naked eye.
We recommend looking for a diamond with grades between G and I for color, VS1 for clarity, and Excellent or Ideal cut. This 9.05 Carat Round Brilliant Diamond at James Allen is a great example of a beautiful 9ct diamond that is also excellent value.
To increase the chances of getting an exceptional diamond for a fair price, make sure you look for a diamond with a certificate from the GIA or AGS. Feel free to contact us, and we'll help you settle on the perfect ring for your budget.
Where To Buy 9 Carat Diamond Rings
Due to their rarity, your options for buying a 9 Carat diamond are pretty limited. You're not going to find a diamond of this weight in any old jewelry store. If you did, it's unlikely you'd get one with the minimum grades in color and clarity we're looking for.
In most cases, shopping online is the best way to get proper value for your purchase. Online jewelry vendors James Allen, Blue Nile and Brian Gavin Diamonds are the gold standard when it comes to buying diamonds online. All three offer quality service and top quality diamonds, carrying certifications from the GIA or AGS.
These retailers also offer an impressive range of diamonds, more than any brick and mortar store will. The range is obviously a lot smaller for rare diamonds of 9ct and above, however, you can expect to find a selection of decently graded diamonds. Check this 9.00ct E VS1 princess diamond from James Allen.
One physical retailer that we do recommend is Abe Mor Diamonds in New York City. They offer personalized services to help you pick out the perfect diamond, and their specialty is large, rare diamonds. And even though you can make an appointment and meet them in person, they will also work with you remotely from anywhere in the States.
Fancy Colored 9 Carat Diamonds
If you're in the market for a colored 9 carat diamond, Leibish & Co is the place to find it. Leibish are simply the best when it comes to fancy colored diamonds. They offer the best range, and their expertise in the area of colored diamonds is unmatched.

Check out this beautiful 9.01 Carat VVS1 Clarity Fancy Intense Yellow Diamond from Leibish & Co.: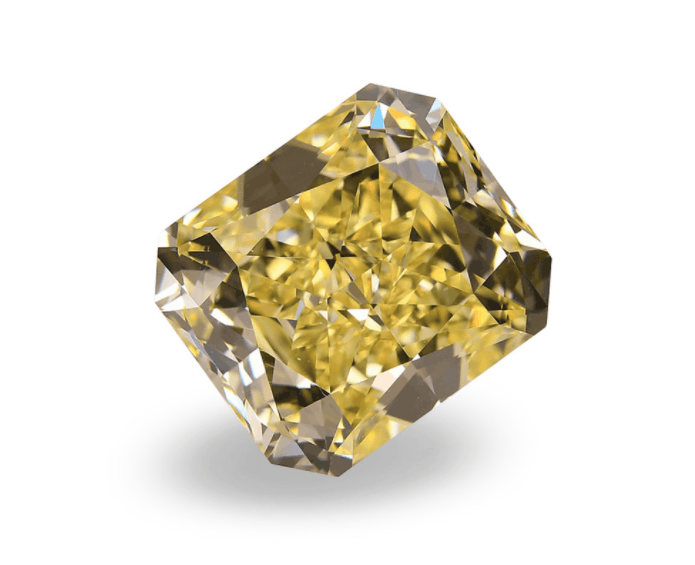 9 Carat Diamond Ring Price
The price of a 9ct diamond starts around $19,000 per carat, taking into account minimum grades of K/SI2 in color and clarity. Realistically you can expect to spend between $20,000 and $40,000 per carat for a decent quality 9 carat diamond. Significantly more even for an extremely high-grade diamond (like this 9.03ct F VS1 Emerald cut from Blue Nile that costs almost 55k per carat).
Diamonds of this carat weight are extremely rare, so you can expect a 9 carat diamond ring to be quite expensive. Anything cheaper than $19,000 per carat is likely to be too good to be true. You're probably looking at a poorly graded diamond.
A low color diamond, such as this 9.03ct K color cushion from James Allen is an exception. If you're looking for K and lowe colors, the price, of course, goes down.
The higher up you go in color and clarity, the bigger the difference in price. You can save a lot by sacrificing a few grades, and still come out with a diamond that looks stunning to the naked eye.
We wouldn't recommend going any lower than the grades above, however. You'll save a lot in price, but the diamond is likely to be dull and lifeless. In that case, it would be better to drop down to a little lower carat weight, but pick out a stone that shines like a diamond should.
Diamond Size vs Carat: How Big is a 9 Carat Diamond Ring?
One common misconception is that carat refers to the size of a diamond. Carat is actually a measurement of weight. Each carat is equal to 0.2 grams. Thus a 9 carat diamond weighs 1.8 grams.
There is obviously a correlation between carat weight and size. Any 9ct diamond is going to be extremely large. But the exact size depends on how the diamond is cut. A 9 carat round brilliant cut, the most common diamond shape, will be approximately 13.20 mm in diameter. Different shapes – such as an oval or pear shape – have a larger table and thus a larger appearance.
You can check out our comparison image below where we lined up the average sizes of the most common shapes in 9ct next to a US quarter: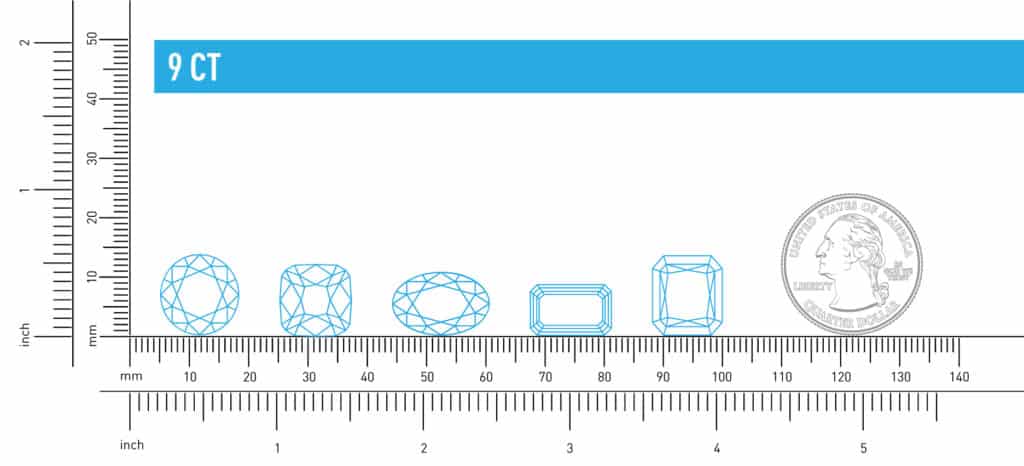 Clarity Rating for 9 Carat Diamond Rings
Clarity is an important grade to pay attention to when picking out a 9 carat diamond ring. A diamond's clarity grade refers to how clean the diamond's appearance is. A high grade indicates the diamond is clear of any noticeable imperfections or inclusions. While a low grade in clarity means the diamond has flaws that are clear and obvious to the naked eye.
The clarity grades given by the GIA are as follows (highest to lowest):
Flawless (FL)
Internally Flawless (IF)
Very Very Small Inclusions 1 (VVS1)
Very Very Small Inclusions 2 (VVS2)
Very Small Inclusions 1 (VS1)
Very Small Inclusions 2 (VS2)
Small Inclusions 1 (SI1)
Small Inclusions 2 (SI2)
Inclusions 1 (I1)
Inclusions 2 (I2)
You should know that it's not necessary to buy a diamond with the highest clarity grade possible. Above a certain threshold, there is no difference to the naked eye in one grade to the next. So a diamond with a FL grade won't appear any different to a VVS1 or VVS2 unless you inspect it closely with specialized equipment. You will, however, pay a premium in price for the higher grade.
For diamond clarity, you want to make sure the diamond you're buying is eye-clean – which means there are no blemishes you can see with the naked eye. Generally, a VS1 or VS2 diamond should have an eye-clean appearance. The larger the diamond, however, the easier it is to spot inclusions, so you would want to err a little on the higher side than if you were buying a 1 or 2 carat diamond.
In any case, it's important to closely inspect the diamond before making a purchase, to ensure it actually is eye-clean.
9 Carat Diamond Ring Colors
Along with clarity, color is a majorly important grade for a diamond (particularly one as large and rare as a 9 carat diamond).
Diamonds are given a color grade from D to Z, showing how much color is noticeable in the diamond's appearance. A D grade is the highest, indicating the diamond is completely clear and colorless. While a diamond with a Z grade in color has an obvious yellow or brown tint.
Color grades make a big difference to the beauty of a diamond. A white or colorless diamond is much more radiant and sought-after than one with a touch of discoloration. As with clarity, though, you can get away with a little under the highest grade.
We suggest aiming for somewhere between G and I for color. In this range, your diamond should appear colorless to the naked eye. Diamonds graded from D to F are significantly more expensive, but won't have an obvious improvement in quality.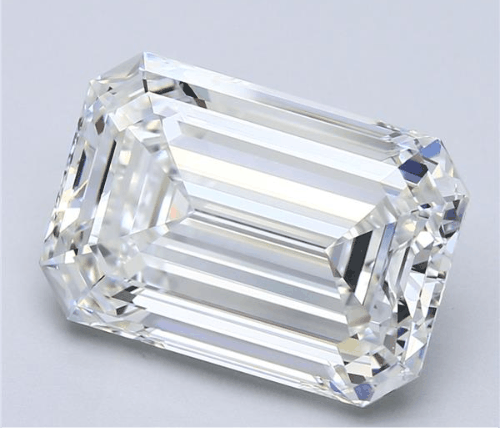 Another thing to consider with color when buying a 9 carat diamond ring is the ring's setting. Your intention should be to get a diamond that appears white or colorless. The setting can affect this – a ring made from darker metals, such as rose gold or yellow gold, will make a diamond with a lower color grade appear whiter. You put the same diamond on a platinum or white gold setting, and the color becomes much more noticeable.
9 Carat Diamond Ring Shapes
Stunning diamonds are available in a variety of unique shapes. With rare 9 carat diamonds, though, your choices for diamond shape are likely to be a bit more limited. But if you choose to shop at a high-quality online store like James Allen, there should still be a small range of shapes to pick from.
Your decision on diamond shape should be based on the taste, style and finger shape of the wearer. One shape is not better or worse than another, as with grades like color and clarity.
Round brilliant diamonds like this one from James Allen are classic, timeless, and should fit anyone's taste. They're also the most common, so give you the widest choice for a beautiful 9 carat diamond at fair value. Otherwise, a longer shaped diamond, such as a marquise or pear shape, offers a larger "face-up" area, and thus a bigger appearance for the same carat weight (and price).
How to Get the Best Value for a 9 Carat Diamond Ring
9 carat diamond rings are rare, and thus generally quite expensive. However, at this price bracket, you can save a lot on the final price of your ring by prioritizing certain grades in the 4 C's.
On the other hand, you can easily end up spending tens of thousands too much by putting your budget towards the wrong areas, or buying a diamond from an unknown or untrustworthy source.
To start with, the best advice we have for getting top value out for your diamond ring is to buy a diamond that comes with a GIA or AGS certificate. This is to give you confidence that the diamond is worthy of the grades it's been advertised with, and these grades have not been inflated to drive up the price.
It's also important to inspect the diamond closely before making a decision, or having an expert inspect it for you.
We recommend looking for these grades when you buy a 9 carat diamond ring:
Cut: only buy a 9ct diamond with an Ideal or Excellent cut (for a round cut) or ideal proportions for other shapes.
Clarity: aim for a VS1 grade for clarity, to find the sweet spot between price and appearance.
Color: look for a diamond graded between G and I in color.
Finally, shop from a respected vendor like James Allen, Blue Nile, Brian Gavin or Abe Mor to increase your chances of coming away with a gorgeous 9ct diamond within your budget.
Famous 9 Carat Diamond Engagement Rings
A 9 carat diamond ring is the kind you'd expect from celebrity proposals. One example is actress Kate Hudson's engagement ring, marking her engagement to musician Matthew Bellamy. The ring features a 9 carat emerald cut diamond, flanked by tapered baguette diamonds and set on a platinum band. Her beautiful diamond ring is estimated to have cost $200,000.
Final Thoughts
A 9 carat diamond ring is going to command attention anywhere it goes. A diamond of this size and beauty is incredibly rare. Most people will never see a diamond of this carat weight in their life.
Carat is not everything when it comes to diamonds, however. You need to pay close attention to the diamond's grades in cut, color and clarity to ensure you come out with a truly beautiful diamond. The downside of buying a ring this large is that imperfections will be more noticeable. You don't want to pay a premium price for a 9 carat diamond, only for it to have clear and obvious flaws.
If you're ready to start your search, contact us and we'll be happy to help you pick out the perfect 9 carat diamond ring.
Related articles:
James Allen

James Allen is the leader in online diamond sales. Their imaging technology is the same as inspecting a diamond with a jeweler's loupe. They have the largest exclusive loose diamond inventory online and fantastic prices. They also have the nicest collection of lab created diamonds online. Now save 25% off settings AND 3% off Earth Diamonds during James Allen HUGE limited time sale!
What we love about them:
No questions asked returns within 30 days of shipment. James Allen will send you a paid shipping label to return the ring.
Lifetime Warranty
Free International Shipping
Free prong tightening, repolishing, rhodium plating and cleaning every 6 months
Provide insurance appraisals
One free resizing within 60 days of purchase
Free ring inscriptions
Best-in-class high quality imagery of all diamonds in stock
24/7 Customer Service
Best-in-class packaging

---
Blue Nile

Blue Nile is the largest and most well known internet jewelry seller. They have a very large exclusive online inventory. Their high quality images are catching up to James Allens' and their prices are amazing. Blue Nile have generously offered our readers an exclusive one-time use coupon.

(Click Here to save $100 off engagement ring settings)
What we love about them:
No questions asked returns within 30 days of shipment. Blue Nile will send you a paid shipping label to return the ring.
Lifetime Warranty
Free Shipping
Free prong tightening, repolishing, rhodium plating and cleaning every 6 months
Provide insurance appraisal
One free resizing within the first year of purchase
High quality images of about half of their diamonds
24/7 Customer Service
100% credit towards future upgrades (must be at least double in value)
Best in class fulfillment

---
Still afraid of getting ripped off?
Before you buy a diamond, get personal buying advice from industry veterans. We'll help you get the best diamond for the money.
Ask your diamond purchase question here
DISCLAIMER: We don't use your email for marketing. Period.