We are reader-supported. Buying through links on our site may earn us commissions. Learn More.
Deal Alert! Huge James Allen Sale- 3% off Earth Diamonds AND 25% off settings or

15% off at Blue Nile!



Why GIA Certification is the Best in Evaluating Diamonds
Bottom Line Recommendation:
We recommend every buyer purchase a diamond with a GIA or AGS Certificate only. The GIA is the most respected and most consistent of all of the grading entities. In addition to a GIA or AGS certificate, be sure to purchase a diamond from a reputable vendor, such as James Allen or Blue Nile. For assistance in reading a report or choosing the best diamond, contact our experts.
History of GIA
Robert M. Shipley, a successful jeweler in the 1920s, noticed a lack of expertise in the jewelry trade. With a desire to bring trust to the industry, he completed the Great Britain National Association of Goldsmiths gemological course. Then, he launched his own gemology course to certify jewelers. He also started a jewelers' guild.
In 1931, the first GIA gemological laboratory was established, creating standards for evaluating gemstones. As a nonprofit organization, the GIA offers gemology and jewelry research and education, along with grading gemstones worldwide. The GIA is based out of Carlsbad, California with office locations in 13 countries.
The GIA is the respected entity when it comes to diamond and jewelry grading and certificates. They're the most consistent lab in the business.
GIA Diamond Grading Report
As an independent grading entity, the GIA has no stake in the sale of a diamond. They evaluate each gemstone based on various qualities and components.
Grading Results and Scales
The 4 C's of a diamond (Cut, Color, Clarity and Carat) represent the four main components of its beauty and structure. Each C is graded on a scale. The gradings help determine the value of a diamond and indicate its quality.
Diamond Cut refers to the quality of a diamond's proportions, angles, symmetrical facets, fire, brilliance, scintillation and finishing details.
The GIA grades Cut on the scale of Ideal, Excellent, Very Good, Good, Fair and Poor. The Ideal and Excellent grades, depending on Diamond Shape, signify proportions and angles cut for maximum brilliance and fire.

A top grade designation, like Excellent, doesn't necessarily indicate an outstanding diamond cut. Almost 55% of all GIA diamonds sold online are Excellent cuts. Some are mediocre, while others are stunning like this 1.5 Carat Round Brilliant from James Allen.
Because Cut is so important to a diamond's fundamental beauty, it's crucial to review Cut carefully and ask for the
eye of an expert.
A diamond is graded on how white or colorless it is. The GIA grades diamonds from D to Z, with D being the most colorless and Z containing noticeable yellow or brown.
In most cases, the naked eye is unable to tell the difference between two adjacent graded diamonds, though the price difference may be significant. While it's important to know the GIA color grade of a diamond, the most important aspect is to determine if the diamond looks colorless to the naked eye in relation to its setting.
Note: Diamonds with a distinguished color, like a fancy green or pink diamond, are valued stones. Grades for these diamonds are distinct from those given to traditional "white" diamonds.
Clarity grade dictates how clean a diamond is from blemishes and inclusions. The GIA grades clarity on the following scale:
FL (Flawless)
IF (Internally Flawless)
VVS1 (Very, Very Slightly Included 1)
VVS2 (Very, Very Slightly Included 2)
VS1 (Very Slightly Included 1)
VS2 (Very Slightly Included 2)
SI1 (Slightly Included 1)
SI2 (Slightly Included 2)
I1 (Inclusions 1)
I2 (Inclusions 2)
When it comes to Clarity, we recommend finding a diamond that is eye clean, so inclusions do not interfere with light reflection.
Carat doesn't refer to the size of a diamond, but the weight of it. A 1 Carat Diamond equals 200 milligrams, or 0.2 grams—weighing about the same as a quarter of a raisin. Depending on Diamond Shape and how the stone is cut, two 1 Carat Diamonds can actually be quite different in size.
While Carat weight must be considered, the overall appearance and beauty of a diamond should carry more importance.
Proportions
In addition to the 4 C's, a GIA report provides information about the depth, width and table size of a diamond.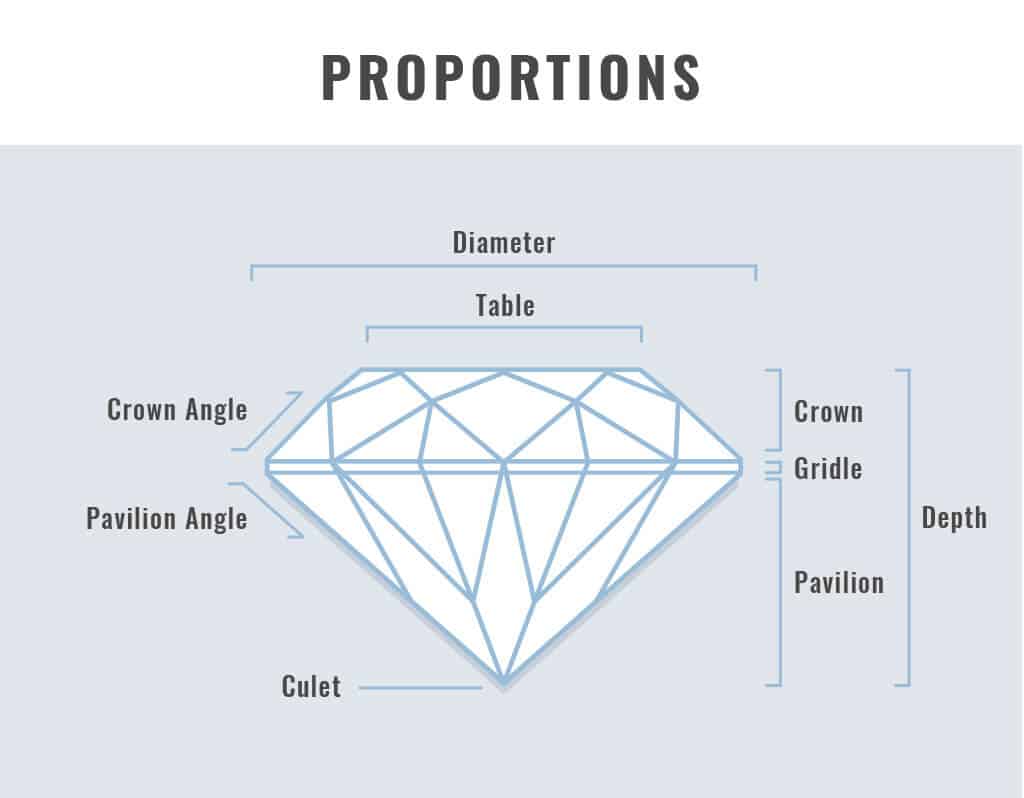 Diamond Table Percentage
Diamond table % is calculated by dividing the width of the table (top surface area) by the width (diameter) of the stone. If the table facet is 4mm wide, and the diamond is 5mm wide, the table % is 80%.
The ideal table % largely depends on the diamond's shape. If you're unsure of an excellent table % for your diamond, please contact us and we'll be happy to assist.
Diamond Width
A diamond's width is the length from one end of its girdle (the diameter at its widest point) to the other end of the girdle. The width is most important when it comes to determining length to width ratio, which demonstrates how proportionate a diamond is.
Depth Percentage
Depth % refers to the height of the diamond from the culet to the top of the table. Depth % is calculated by dividing the depth by the width and is measured in millimeters and percentage. For example, if a diamond is 4 mm in depth and 4.5 mm in width, the depth percentage is 88.8%.
A lower depth % of two equal carat diamonds usually appears larger due to increased width. A depth % that is too low, though, can create a darker appearance because the diamond will not reflect light as well.
Additional Grading Information
A GIA report will include further details, like clarity characteristics, polish, symmetry and fluorescence.
While these aspects do play a role in the quality of a diamond, they are not the larger components to consider when making your purchase decision.
If you want to review the specifics of a diamond, reach out to one of our experts, and we will be happy to walk you through a report.
How GIA Certification Impacts Cost
Even though the GIA is the gold standard in the lab grading world, a diamond with a GIA certificate doesn't necessarily mean it's more expensive.
Because the GIA is consistent and grades diamonds more rigidly than other labs, though, a diamond with a certificate from an entity other than GIA might appear as a better deal. The GIA certificate, however, is far more valid and reflects the true value and beauty of a diamond. Overall, it is best not to compare prices by two equally graded diamonds from different entities.
Advantages of GIA Certification
The most well-respected diamond grading entity
The most consistent grading entity
Long history in the diamond industry
Rigorous grading (ensuring the diamond is what the certificate says it is)
Disadvantages of GIA Certification
Not a flawless lab entity, although it comes the closest
Unique Reports and Additional Services
In addition to the standard grading report for a diamond, the GIA offers the following:
No matter your location, you can submit diamonds and colored gemstones directly to any GIA lab location worldwide for quality service and consistent grading.
When looking at a GIA graded diamond, what remains most important is how the diamond appears to the naked eye. To assist with reading a GIA report or choosing the most beautiful diamond for your budget, contact our experts.
If you would like to know more about diamond certificates, read our guide on diamond certification.
The articles for other diamond certificates are:
James Allen

James Allen is the leader in online diamond sales. Their imaging technology is the same as inspecting a diamond with a jeweler's loupe. They have the largest exclusive loose diamond inventory online and fantastic prices. They also have the nicest collection of lab created diamonds online. Now save 25% off settings AND 3% off Earth Diamonds during James Allen HUGE limited time sale!
What we love about them:
No questions asked returns within 30 days of shipment. James Allen will send you a paid shipping label to return the ring.
Lifetime Warranty
Free International Shipping
Free prong tightening, repolishing, rhodium plating and cleaning every 6 months
Provide insurance appraisals
One free resizing within 60 days of purchase
Free ring inscriptions
Best-in-class high quality imagery of all diamonds in stock
24/7 Customer Service
Best-in-class packaging

---
Blue Nile

Blue Nile is the largest and most well known internet jewelry seller. They have a very large exclusive online inventory. Their high quality images are catching up to James Allens' and their prices are amazing. Blue Nile have generously offered our readers an exclusive one-time use coupon.

(Click Here to save $100 off engagement ring settings)
What we love about them:
No questions asked returns within 30 days of shipment. Blue Nile will send you a paid shipping label to return the ring.
Lifetime Warranty
Free Shipping
Free prong tightening, repolishing, rhodium plating and cleaning every 6 months
Provide insurance appraisal
One free resizing within the first year of purchase
High quality images of about half of their diamonds
24/7 Customer Service
100% credit towards future upgrades (must be at least double in value)
Best in class fulfillment

---
Still afraid of getting ripped off?
Before you buy a diamond, get personal buying advice from industry veterans. We'll help you get the best diamond for the money.
Ask your diamond purchase question here
DISCLAIMER: We don't use your email for marketing. Period.