We are reader-supported. Buying through links on our site may earn us commissions. Learn More.
Deal Alert! Huge James Allen Sale- 3% off Earth Diamonds AND 25% off settings or

15% off at Blue Nile!



Buying Guide For A $25,000 Engagement Ring
$25000 Engagement Rings
When you're shopping for engagement rings, your budget is always going to dictate to an extent the quality of ring you can buy and the range of options at your disposal.
That's not to say you can't find a beautiful diamond ring for as low as $1,000-$2,000. But with a larger budget, you're going to be able to afford bigger, more beautiful diamonds, and a more extensive choice of setting styles.
The average amount spent on an engagement ring is around $3,000. So, with a $25000 engagement ring budget, you'll be able to afford something far above average.
It's difficult to go wrong when you've got this much to spend on an engagement ring. Read on and we'll give you an idea of what kind of diamonds and settings you can look at for $25k, and we'll share some tips on maximizing value for money.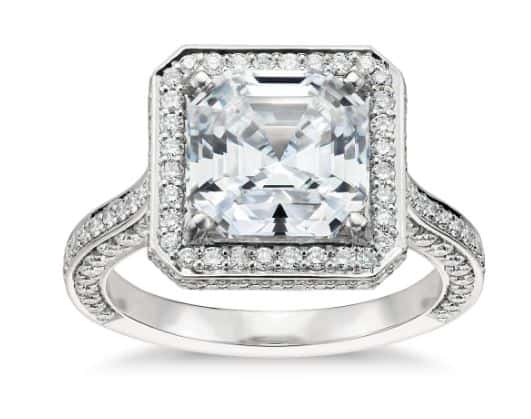 What Kind of Engagement Ring Can $25,000 Buy?
Short of an enormous rock fit for a princess – or a Kardashian – a $25,000 engagement ring budget is enough to afford just about anything.
You've got the choice of ornate, designer settings; multiple-carat diamonds; flawless diamonds; fancy colored diamonds – and anything in between. You'll be limited by carat weight to a certain degree, but you will be able to afford a larger than average diamond, while splashing out on a fancy setting or a diamond with rare qualities in other areas.
As such, your choice for a $25k diamond ring comes down to style and preference, rather than scraping to see what fits within your budget.
A $25k engagement ring budget can get you an elaborate and flashy setting, like this beautiful crafted Blue Nile Studio Asscher Cut Royal Halo Diamond Engagement Ring with a 2 Carat Asscher cut diamond. It can also allow you to pick out a flawless diamond, such as this 1.42 Carat, D Color Flawless Diamond in a Platinum Solitaire Setting.
Choosing a flawless diamond may not be the best use of your budget, as we'll expand on later. However, if you want to be able to tell people that your fiancé is sporting a flawless diamond, a budget of this level allows you to do that.
What Does a $25000 Engagement Ring Look Like?
A $25,000 ring can take any number of forms, such is the range of choices you have with this much to spend.
A $25,000 engagement ring can feature a simple solitaire setting, fit with an enormous diamond, such as this 2.52 Carat, H/SI1 Cushion Cut Diamond with a Comfort Fit Solitaire Setting in White Gold from Blue Nile.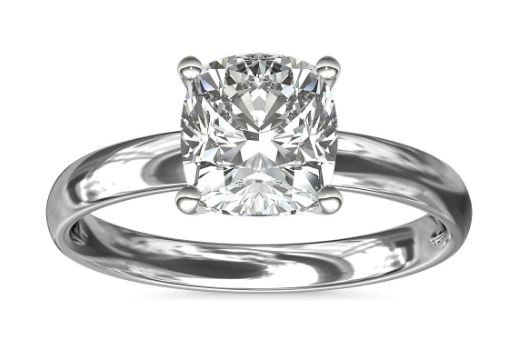 More commonly, rings in this price range will have their budget spread across more areas than just carat weight. Going a little lower in carat allows you to pick out a cleaner diamond and a more interesting setting, while still allowing you enough to choose a diamond 2 carats and above, which will be more impressive than 99% of diamonds most people will ever see in their lives.
An example of a $25k diamond ring with more all-round beauty is this 2.12 Carat, H/VVS1 Cushion Cut Diamond with a White Gold Double Shank Halo Setting from James Allen.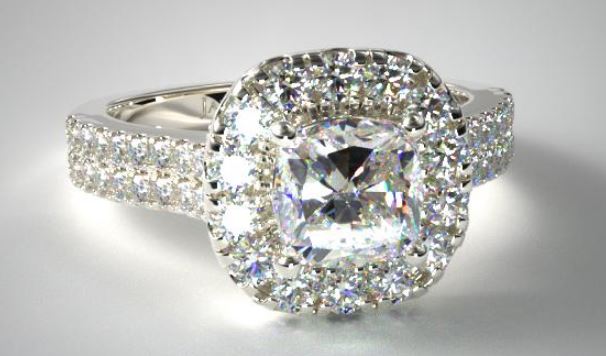 How Many Carats are in a $25k Diamond?
You'll generally be looking at a diamond around 2 and a half carats in this price range.
The carat weight of a $25,000 diamond will vary greatly depending on the diamond's other characteristics. This $25,000, D Color Flawless Diamond, for example, weighs just 1.30 Carats. Yet accepting lower grades in color and clarity may allow you to get a diamond double the carat weight, such as this 2.60 Carat, K/VS2 Round Diamond.
Looking for a diamond around 2.30 Carats or slightly higher is likely to be the sweet spot, where you don't have to sacrifice too much in other areas. 
If you want to max out the carat weight you can afford within your budget, consider a fancy shaped diamond, as less popular shapes are often cheaper per carat than classic round diamonds. Choosing certain shapes may allow you to find a diamond as big as 2.70 Carats.
Here are some examples of diamonds and their carat weight you'll be able to afford with a $25,000 budget:
Differences Between a $25000 Engagement Ring and $20000 Engagement Ring
Both $25,000 and $20,000 price points allow you a huge amount of freedom with what you can afford.
The biggest difference, as with any price point, is going to be the total carat weight you can afford. The price of a diamond rises a lot as its carat weight goes up, so the more you have to spend, the higher carat you can afford.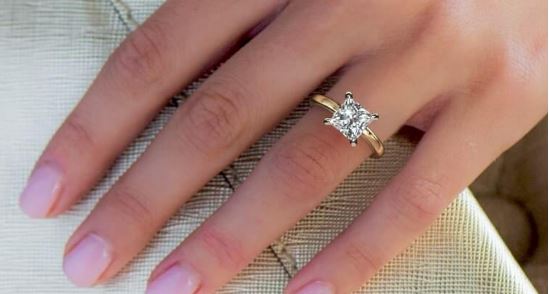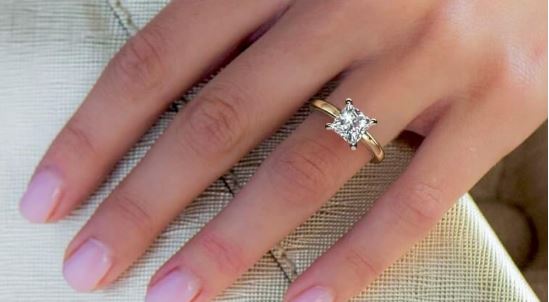 For example, at $25,000 you could afford this 2.21 Carat, G/VS1 Cushion Cut Diamond. Yet for a $20000 engagement ring budget, you're looking at a 2.03 Carat Diamond if you're to stick with the same grades in other areas.
The extra money to spend can also allow you to go bigger with the setting. With this 2 Carat Round Diamond, you'll be looking at a simple solitaire setting like this to keep the price under $20,000. For a $25,000 engagement ring, however, you can pair the same diamond with your choice of elaborate settings, such as this designer ring by Danhov. 
$25000 Engagement Ring: Cut, Color, Clarity, Shapes
When it comes to grades on cut, color clarity and color, you won't be limited at all with what you have to choose from for a $25000 diamond ring. 
$25,000 gives you enough that you can afford a D Color, Flawless Diamond or a super ideal cut. You're not going to be priced out of any option, aside from especially high carat diamonds.
If you want to maximize value for money, however, it's important to know which grades are going to have the biggest visible impact on an engagement ring's beauty, and which can actually be a bit of a trap.
Here are some tips on getting the most for your money when buying a $25,000 ring.
Cut
A diamond's cut grade is one you never want to compromise on. Well-cut diamonds are perfectly proportioned, and exhibit intense fire and brilliance, the likes of which we associate diamonds with. Poorly cut diamonds are going to end up looking rather dull and lifeless in comparison.
Look for Ideal or Excellent cut grades for round diamonds. You could also consider a diamond from the Brian Gavin Hearts & Arrows Collection, which features super-ideal cuts that really stand out in a crowd.

Color
With a diamond's color grade, your objective should be to pick out a diamond that appears colorless. What's important to understand is that this does not always mean you need the highest grade possible.
While a D Color diamond is going to look completely colorless, an H Color diamond won't look much different to the naked eye. Yet the D Color comes with a hefty jump in price.
Diamonds in the range of G to K for color are likely to be enough that you don't notice any discoloration. By opting for a slightly lower grade within this range, you may be able to save a good amount of money, which can instead be put towards a higher carat diamond or a more elaborate setting.

Clarity
Like color, clarity is a grade that's easy to overspend on, giving no visible difference, yet coming with a big jump in price.
A flawless diamond is great as a conversation starter, but in reality, no one will be able to tell the difference between a flawless diamond and one several grades lower. You can save a lot by focusing on a diamond that is "eye-clean", meaning it has no inclusions or blemishes visible to the naked eye.
The best way to tell for sure what is eye-clean and what is not is to inspect a diamond and its inclusions yourself. Generally you should be looking at a VS1/VS2 grade, particularly for larger diamonds, with which inclusions are going to be more easily visible. Anything significantly higher, you're probably overpaying for a grade with no visible difference.

Shapes
A diamond's shape is not a grade, the way cut, color and clarity are, but it's worth thinking about all the same. Shape is more of a personal preference than anything. Some people prefer the classic, timeless appearance of a perfectly proportioned round diamond, yet for others, the unique look of an emerald or pear shaped diamond may appeal.
A lot of the time, non-traditional shapes are cheaper per carat than round diamonds, so opting for one of these shapes can be a way to afford a larger diamond within the same budget.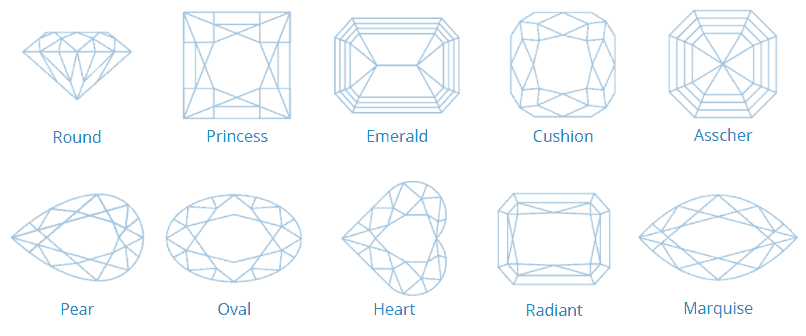 Where to Buy a $25k Engagement Ring
Shopping with the right vendor is important if you're to get a good deal on your $25,000 engagement ring. You want to shop somewhere with a large range, with diamonds that carry a grading certificate from reputable entities like the GIA or AGS. For this, there are several online vendors that we recommend as the best choice:
For range, no one beats Blue Nile's inventory. Their range of over 400,000 loose diamonds means you're spoiled for choice, even with diamonds 2ct and above, where options can be a little more limited. They offer everything that makes up a great customer experience, including close-up 360 degree images and helpful service.
James Allen offers the best customer experience there is when it comes to buying diamonds and diamond jewelry. They provide high-quality imagery and software to help you inspect diamonds online, strong attention to customer service, on top of a huge range of diamonds and settings at competitive prices.
Brian Gavin Diamonds is known for the highest quality cuts in the diamond industry. If you want a diamond with unparalleled fire and brilliance, a Brian Gavin Hearts & Arrows diamond is an excellent choice.
Click to shop on Brian Gavin Diamonds.
With a budget as high as $25k, you've got enough to afford something unique, like a fancy canary yellow diamond. For all fancy colored diamonds, Leibish is the best. They have an extensive range of diamonds in an array of unique colors, and their expertise helps greatly when it comes to building an engagement ring around a fancy colored stone.
Click to shop on Leibish & Co.
$25k Diamond Ring Inspiration
A $25,000 engagement ring budget is enough to give you an extensive choice of different ring styles, from classic round diamonds of the highest caliber, to unique shapes or colors and eye-catching settings.
To help you start your search, here are some $25,000 engagement rings in a few different styles to offer up some inspiration.
Solitaire Engagement Rings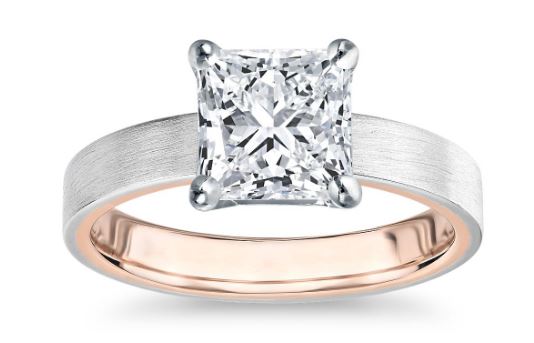 This budget allows you to pair a large, high-quality diamond with a simple solitaire setting. This lets you showcase the diamond in all its glory, and put the majority of your budget towards the best diamond you can find.
Halo & Pavé Engagement Rings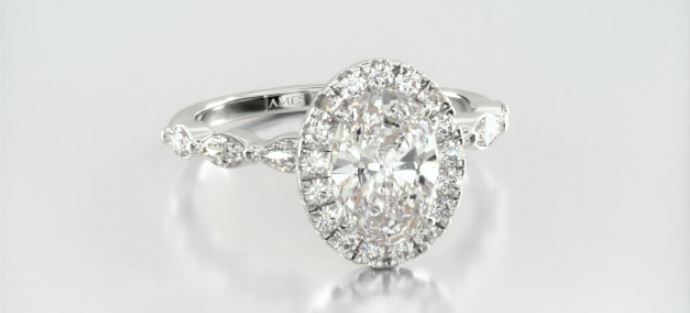 A halo or pavé setting is great at adding more overall brilliance to your ring, with smaller accent diamonds supporting the center stone. These setting styles provide greater overall flair and personality to the ring, without taking the focus away from the center diamond.
Vintage & Designer Engagement Rings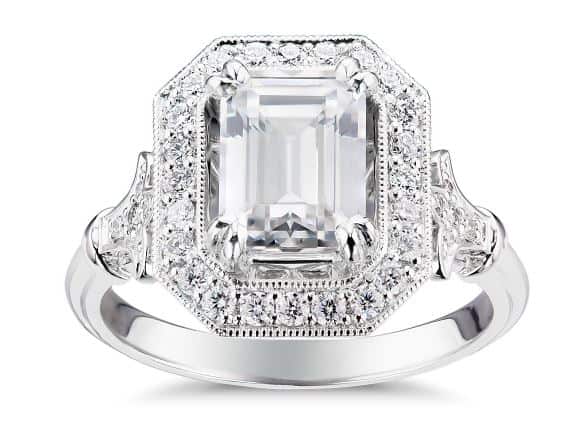 A $25,000 budget is enough that you can really splash on a unique setting. Vintage style settings and designer engagement rings can be a great way to truly make the ring on your fiance's finger stand out.
Fancy Colored Diamond Engagement Rings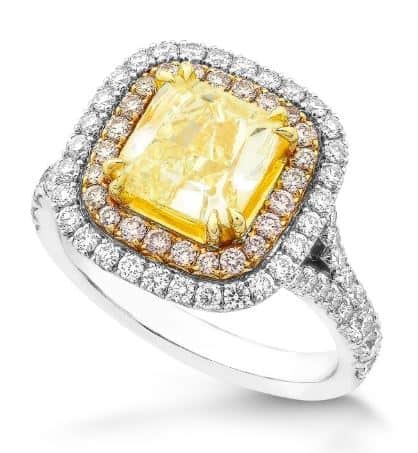 Fancy color diamonds are a surefire way to stand out. An engagement ring with a beautiful Canary Yellow Diamond in its center is going to give you a unique look, the likes of which you're unlikely to see anywhere else.
Email Our Experts For Assistance With Engagement Rings
We understand the search for an engagement ring can be daunting. It's a big decision to make, and the higher your budget, the more choices you have to sift through.
Contact our team of experts is here to help you work through these choices and come away with the perfect diamond ring. We'll help you evaluate the beauty, quality and value of any diamonds you're looking at, and work with you in picking out the perfect setting to match.
A $25,000 engagement ring budget is a lot to play with, but by following the recommendations outlined in this article, you should have an easier time ensuring you get the ultimate value for your purchase.
James Allen

James Allen is the leader in online diamond sales. Their imaging technology is the same as inspecting a diamond with a jeweler's loupe. They have the largest exclusive loose diamond inventory online and fantastic prices. They also have the nicest collection of lab created diamonds online. Now save 25% off settings AND 3% off Earth Diamonds during James Allen HUGE limited time sale!
What we love about them:
No questions asked returns within 30 days of shipment. James Allen will send you a paid shipping label to return the ring.
Lifetime Warranty
Free International Shipping
Free prong tightening, repolishing, rhodium plating and cleaning every 6 months
Provide insurance appraisals
One free resizing within 60 days of purchase
Free ring inscriptions
Best-in-class high quality imagery of all diamonds in stock
24/7 Customer Service
Best-in-class packaging

---
Blue Nile

Blue Nile is the largest and most well known internet jewelry seller. They have a very large exclusive online inventory. Their high quality images are catching up to James Allens' and their prices are amazing. Blue Nile have generously offered our readers an exclusive one-time use coupon.

(Click Here to save $100 off engagement ring settings)
What we love about them:
No questions asked returns within 30 days of shipment. Blue Nile will send you a paid shipping label to return the ring.
Lifetime Warranty
Free Shipping
Free prong tightening, repolishing, rhodium plating and cleaning every 6 months
Provide insurance appraisal
One free resizing within the first year of purchase
High quality images of about half of their diamonds
24/7 Customer Service
100% credit towards future upgrades (must be at least double in value)
Best in class fulfillment

---
Still afraid of getting ripped off?
Before you buy a diamond, get personal buying advice from industry veterans. We'll help you get the best diamond for the money.
Ask your diamond purchase question here
DISCLAIMER: We don't use your email for marketing. Period.