We are reader-supported. Buying through links on our site may earn us commissions. Learn More.
Deal Alert! Huge James Allen Sale- 3% off Earth Diamonds AND 25% off settings or

15% off at Blue Nile!



VVS1 Diamonds: What Is There to Know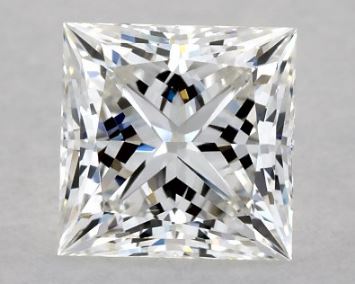 VVS1 diamonds are absolutely stunning from a clarity perspective, but does that make them the right choice for you? Take a look at this VVS1 diamond from Blue Nile and compare it to this VS1 diamond. Can you tell the difference between the two? If you can, is that difference worth $2,000 more?
Keep in mind that buying a diamond is a zero sum game. If you decide to pay for a VVS1 clarity grade, you may be sacrificing on something far more important. Say you have to keep that same 1.50ct diamond under 12k. You can find one like this from Blue Nile, but this diamond has a far more fatal flaw (never buy an H color diamond with Strong Blue Fluorescence).
What are VVS1 Diamonds?
A VVS1 diamond is a diamond with inclusions so tiny they can't be seen even under 10x magnification (a standard jeweler's loupe). That makes VVS1 diamonds eye-clean, so blemishes and inclusions can't be seen by the naked eye. Only under a powerful microscope can trained professionals spot inclusions in VVS1s.
On the Diamond Clarity scale, VVS1 diamonds are a grade higher than VVS2 diamonds and a grade lower than internally flawless (IF) diamonds. VVS2 diamonds are more included than VVS1 diamonds and usually cost slightly less. Inclusions in VVS2s are barely visible under a standard jeweler's loupe and are eye-clean.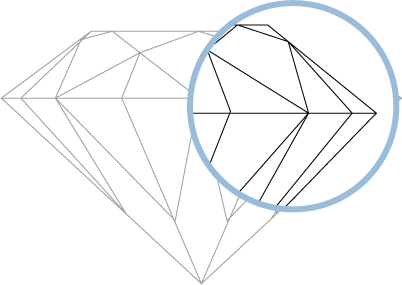 Internally Flawless (IF)
Internally Flawless / Flawless – No internal or external imperfections. Flawless diamonds are extremely rare.
Here's an example of an FL/IF diamond
When a lab professional determines Clarity grade, they look at the location, size, number, and nature of the inclusions. For VVS1 diamonds, the inclusions are too small or too faint to be seen at 10x magnification. This VVS1 sample diamond from James Allen shows that VVS1 inclusions aren't visible at this level of magnification.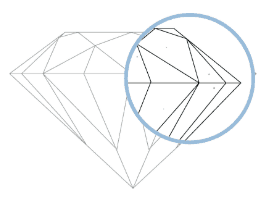 While it may seem important to buy a diamond with such small or few blemishes, a VVS1 diamond isn't the wisest choice. Here's why: a VVS1 diamond is eye-clean, just like lower graded—and far less expensive—diamonds are. There's no need to pay more for a characteristic that will go unnoticed. 
We recommend steering away from VVS1 diamonds because you're paying more than you need to. Depending on the shape, we generally recommend looking for a diamond that's in the VS1–SI1 range. Just be sure that the diamond is eye-clean.
VVS1 Diamond Price
The VVS1 diamond price ranges from $1,136 for a well-cut 0.50 Carat diamond like this one from Blue Nile to $17,132 for a 1.9 carat diamond and higher. Like any diamond, the price of a VVS diamond depends on the Cut, Color, Shape and Carat Weight. The "VVS1" designation just refers to the Clarity grade. 
The average price of a round 1 Carat VVS1 diamond with an H-I color is $5,500. For example, this 1 carat round cut with VVS1 clarity and H color from Blue Nile costs $6,543, while this 1 carat round VVS1 with I color is priced at $5,523. The average cost of a round 2 Carat VVS1 round diamond with an H color is $23,447. As an example, this stunning 2 carat VVS1 diamond from Blue Nile is priced at $23,866. 
VVS diamonds are more expensive than VS diamonds and significantly more expensive than SI diamonds. We don't believe it's worth buying a VVS1 diamond ring because the prices are significantly higher. They give you the same result as lower graded diamonds: eye-clean diamonds.
Where you can find a VVS1 Diamond
VVS1 diamonds are available at most jewelers, depending on inventory and the diamond shape you're looking for. Reliable online vendors like Blue Nile and James Allen offer high-quality imagery of all diamonds so you can review them up-close before purchase. James Allen and Blue Nile are more affordable because their overhead costs are low. They both carry a large selection of high-quality diamonds and engagement rings.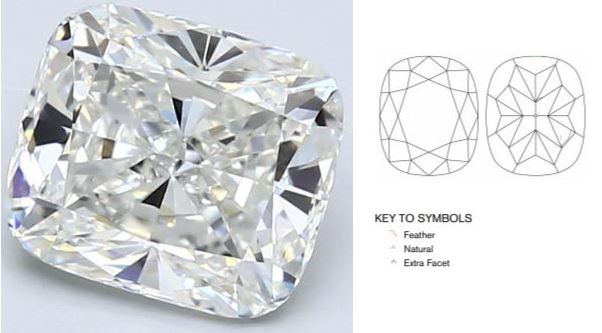 Examples of VVS1 Diamonds
You can find VVS1 diamonds in all shapes and carat weights. Here are a few examples of VVS1 diamonds that are well-cut.
Should I Buy a VVS1 Diamond?
The most important aspect when considering Diamond Clarity is finding a diamond that's eye-clean. While VVS1 diamonds are always eye-clean, you can find eye-clean stones in lower clarity grades for much lower prices. For instance, this VVS1 1.4 carat H color diamond from James Allen costs $10,290, while this VS1 1.4 carat H color costs $9.080. The VVS1 Diamond costs $1,210 more than the VS1 Diamond. Choosing the VS1 clarity gets you the same result as far as beauty, but costs a whole lot less. You're better off putting your budget toward the most important diamond feature: Cut quality. Cut dictates a diamond's beauty and brilliance more than any other characteristic.
For diamonds under 2 carat, we generally recommend a clarity grade in the range of VS1-SI1 depending on the shape.
When it comes to 2 carat diamonds and greater, an SI1 or VS2 might not be eye-clean. Due to the size, it's easier to see inclusions in the stone. Still, with these larger carat weights, you can typically find a VS1 – VVS2 diamond that's eye clean, like this beautiful 3.80 carat VS1 from Blue Nile. 
Conclusion
The most common mistake people make is purchasing a diamond with a clarity grade that's too high to appreciate—thinking they're getting a "good investment." Diamonds are a retail product like any other, and—based on their resale value—shouldn't be considered an investment.
That's why it's best to always look for a diamond with the lowest clarity grade that's still clean to the naked eye. If you need help reviewing diamonds, contact us and we'll provide you with a personal recommendation.
James Allen

James Allen is the leader in online diamond sales. Their imaging technology is the same as inspecting a diamond with a jeweler's loupe. They have the largest exclusive loose diamond inventory online and fantastic prices. They also have the nicest collection of lab created diamonds online. Now save 25% off settings AND 3% off Earth Diamonds during James Allen HUGE limited time sale!
What we love about them:
No questions asked returns within 30 days of shipment. James Allen will send you a paid shipping label to return the ring.
Lifetime Warranty
Free International Shipping
Free prong tightening, repolishing, rhodium plating and cleaning every 6 months
Provide insurance appraisals
One free resizing within 60 days of purchase
Free ring inscriptions
Best-in-class high quality imagery of all diamonds in stock
24/7 Customer Service
Best-in-class packaging

---
Blue Nile

Blue Nile is the largest and most well known internet jewelry seller. They have a very large exclusive online inventory. Their high quality images are catching up to James Allens' and their prices are amazing. Blue Nile have generously offered our readers an exclusive one-time use coupon.

(Click Here to save $100 off engagement ring settings)
What we love about them:
No questions asked returns within 30 days of shipment. Blue Nile will send you a paid shipping label to return the ring.
Lifetime Warranty
Free Shipping
Free prong tightening, repolishing, rhodium plating and cleaning every 6 months
Provide insurance appraisal
One free resizing within the first year of purchase
High quality images of about half of their diamonds
24/7 Customer Service
100% credit towards future upgrades (must be at least double in value)
Best in class fulfillment

---
Still afraid of getting ripped off?
Before you buy a diamond, get personal buying advice from industry veterans. We'll help you get the best diamond for the money.
Ask your diamond purchase question here
DISCLAIMER: We don't use your email for marketing. Period.