Cluster Settings: Brilliant, Unique and Beautiful
Scared of getting ripped off? Don't want to waste your money? Confused by all the choices? Contact us.Blue Nile is one of our favorite vendors and they have generously offered our readers an exclusive one-time use coupon.

(Click Here to get $50 off)
We get commissions for purchases made from our affiliates through links in this article. Learn More.
Bottom Line Recommendation:
Cluster settings offer extraordinary style: they form the appearance of a larger stone with a cluster of smaller diamonds. Cluster engagement rings often feature unique shapes, like this starburst engagement ring or this floral cluster ring.  
When designing your cluster ring, we highly recommend choosing a highly reputable vendor. Ensure you receive the best quality of diamonds and jewelry by going with James Allen, Blue Nile or Brian Gavin Diamonds.
What is a Cluster Engagement Ring Setting?
In a cluster setting, smaller diamonds are set closely together to resemble a larger diamond. A cluster ring can contain a large center stone or a group of stones of equal size. The diamonds in a cluster ring often form a geometric shape like a square or a unique design like a flower or starburst.
The image below features a cluster setting that gives the impression of a 1.5 Carat center stone. The actual center stone in this ring is much smaller than 1.5 Carat. The cluster of diamonds offers the ring more character, size and sparkle.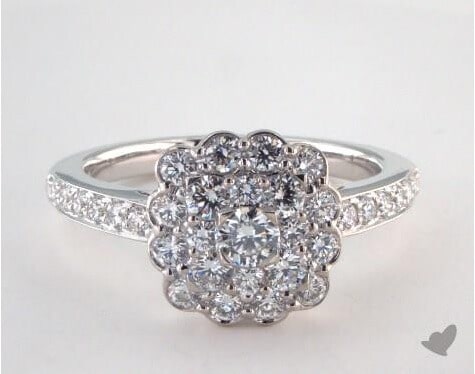 Why Choose a Cluster Engagement Ring?
Cluster engagement rings often receive plenty of attention. The smaller stones compliment each other and offer extra sparkle. The additional character and style of a cluster ring make them a popular choice for those seeking a unique design.
Cluster settings also tend to carry an antique or vintage feel, like this platinum blossoming halo. In other words, cluster rings are timeless and can be passed down for generations.
Cluster Settings for Every Style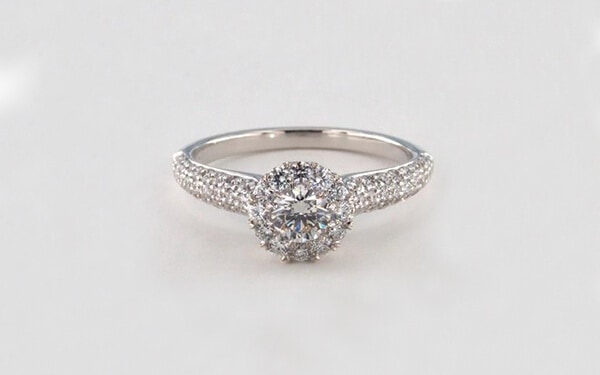 Cluster settings usually feature round diamonds, as they're the most common shape in the smaller carat weights. Round diamonds are also easy to group together to form other shapes.
With cluster engagement rings, the designs range from extravagant to simple and classic. Review a few styles before creating your own cluster ring.
Cluster engagement ring examples:
Pros and Cons of a Cluster Setting
Review the pros and cons of a cluster set ring to help decide if it's right for you. Consider the overall appeal of the setting along with its cleaning and maintenance requirements.
Pros
Offers a unique look full of dimension and texture
Gives the appearance of a larger center stone
Can be designed to form a festive shape, like a flower or sunburst
Provides a lower cost option to purchasing a larger diamond
May complement smaller hands and fingers
Cons
Usually requires more time and effort to clean due to multiple stones and crevices
Smaller stones may become loose and fall out if not properly maintained
Where to Buy Cluster Diamond Engagement Rings
With a cluster setting, a specific level of craftsmanship is required. The smaller diamonds need to be set securely and evenly to form a symmetrical design.
Therefore, it's important to choose a highly reputable vendor for your cluster engagement ring. Above all, you want a dealer who will offer you excellent craftsmanship and quality at an excellent price.
Throughout our experience in the industry, we've closely vetted diamond sellers to determine the most reliable jewelers. The diamond dealers we recommend below are reputable and trustworthy. All diamonds come with a GIA or AGS certificate—allowing you to trust what they're selling you.
Focuses on high-quality diamonds and jewelry
Features the largest online inventory of diamonds and settings
Provides excellent prices and return policies
Presents high-tech imagery so you can view each diamond up-close before purchase
Known for their exceptional customer service
Offers appealing prices and hassle-free returns
Features some of the best cut diamonds in the world
Evaluating a Diamond Ring for Beauty and Value
At Diamond Pro, we want to help you find the best diamond at the best price. Our online library of diamond educational resources can help you select the most beautiful ring for your budget.
Want help in selecting the most stunning ring? Contact our diamond experts.
James Allen

James Allen is the leader in online diamond sales. Their imaging technology is the same as inspecting a diamond with a jeweler's loupe. They have the largest exclusive loose diamond inventory online and fantastic prices. They also have the nicest collection of lab created diamonds online.
What we love about them:
No questions asked returns within 30 days of shipment. James Allen will send you a paid shipping label to return the ring.
Lifetime Warranty
Free International Shipping
Free prong tightening, repolishing, rhodium plating and cleaning every 6 months
Provide insurance appraisals
One free resizing within 60 days of purchase
Free ring inscriptions
Best-in-class high quality imagery of all diamonds in stock
24/7 Customer Service
Best-in-class packaging

---
Blue Nile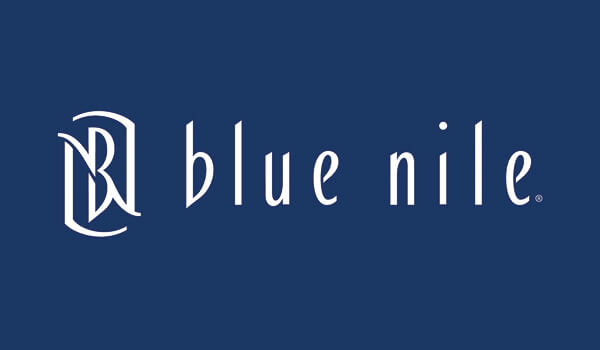 Blue Nile is the largest and most well known internet jewelry seller. They have a very large exclusive online inventory. Their high quality images are catching up to James Allens' and their prices are amazing.

(Pick Up a Blue Nile Coupon Here for $50 off)
What we love about them:
No questions asked returns within 30 days of shipment. Blue Nile will send you a paid shipping label to return the ring.
Lifetime Warranty
Free Shipping
Free prong tightening, repolishing, rhodium plating and cleaning every 6 months
Provide insurance appraisal
One free resizing within the first year of purchase
High quality images of about half of their diamonds
24/7 Customer Service
100% credit towards future upgrades (must be at least double in value)
Best in class fulfillment

---
Still afraid of getting ripped off?
Before you buy a diamond, get personal buying advice from industry veterans. We'll help you get the best diamond for the money.
Ask your diamond purchase question here
DISCLAIMER: We don't use your email for marketing. Period.