Tension Settings: Truly Unique Engagement Rings
Scared of getting ripped off? Don't want to waste your money? Confused by all the choices? Contact us. James Allen has begun their Black Friday sale early this year offering a whopping 25% OFF your setting!
Bottom Line Recommendation:
Tension settings are sleek, modern rings with a unique system for securing the diamond. Custom-made metal bands hold the diamond with pressure. This white gold tension ring, for example, secures the diamond without prongs or metal surrounding the stone.
Additional tension-style rings exist, which look like tension settings but don't hold the diamond through suspension. This yellow gold solitaire ring, for instance, has similarities of a tension setting but adds extra security and design with its prongs.
Whether you decide on a full tension ring or a tension style ring, ensure you purchase one from a highly reputable vendor. Throughout our years of experience, we've learned that a few select diamond dealers are the most reliable and trustworthy. We recommend Blue Nile, James Allen and Brian Gavin Diamonds for the best value and quality.
What is a Tension Setting?
In a tension setting, the tension of the metal band secures the diamond in place. As a result, the diamond appears suspended between the two sides of the shank, like in this rose gold setting.
With the help of lasers to calibrate the exact dimensions of the diamond, the jeweler expertly cuts tiny grooves into the sides of the band or shank, so the diamond is literally held by the pressure of the custom metal band pushing into the sides of the stone.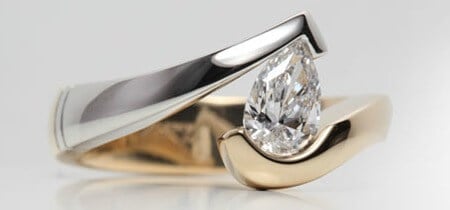 But tension settings go beyond just those that use the suspension to hold the diamond in place. Tension-style settings offer a comparable look but are less expensive and complicated to make.
Curious as to what the difference looks like? This rose gold tension engagement ring uses the suspension to hold the diamond in place, while this princess cut ring has the extra support of four prongs.
The tension-style settings also add an extra dose of security since a prong or bezel setting anchors the stone firmly in place either on the side or underneath the diamond.
Why Choose a Tension Engagement Ring?
Tension settings and tension style rings are popular for engagement rings because they feature a unique design. Whether the diamond is held by suspension or simply looks like it does, it creates immediate appeal and intrigue. Because not much metal surrounds the diamond, like in other settings, the diamonds in tension engagement rings reflect more light, offering more brilliance and sparkle.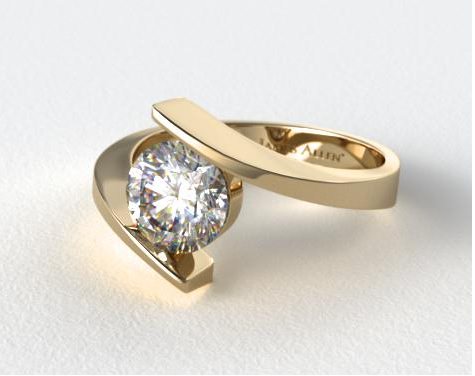 With a modern feel and a custom-made setting, tension engagement rings are special and unique. Whether it's a princess cut pave ring or a tension engagement ring with bezel support, it'll be a keepsake for years to come.
Tension Settings for Every Shape
Almost any Diamond Shape can function within a tension setting, but these settings often work best with Round Cut and Princess Cut diamonds. The secure support and modern feel of tension settings make them a stylish choice—no matter the type of precious metal.
Tension engagement ring examples:
Pros and Cons of a Tension Setting
Every setting style has its advantages and disadvantages. Because the tension setting is a unique design, review the pros and cons before making your final decision.
Pros 
Holds the diamond securely in place
Enhances light reflection (brilliance and fire), due to minimal metal surrounding the diamond
Offers a unique appearance
Involves less maintenance than prong settings
Features a modern, stylish look
Cons 
Often expensive and difficult to resize
May cause a small Carat weight diamond to appear smaller, especially when thick metal is used
Although highly unlikely, there's a possibility the stone could become loose if an extreme pressure from an outside force strikes a tension setting
Where to Buy Tension Diamond Engagement Rings
Because your tension engagement ring will be custom-made, it's essential that you choose a highly reputable vendor. Your tension setting should be made with the utmost care, ensuring that your diamond is secure.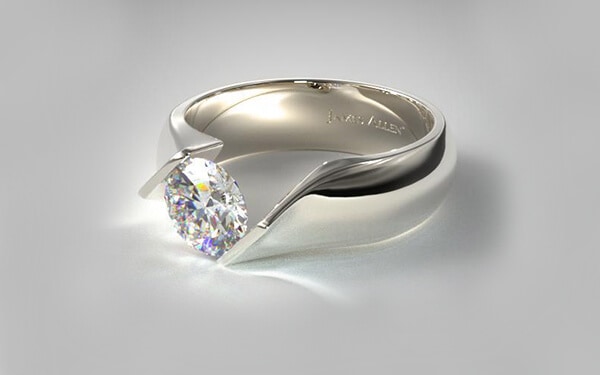 Luckily, there are several vendors that offer trustworthy craftsmanship and care for tension settings. Throughout our years of experience, we've vetted several diamond vendors.
The dealers we list below are the most reliable in the business. They offer extensive collections of diamond rings and settings at excellent prices. All diamonds come with an AGS or GIA certificate—allowing you to trust what they're selling you.
If you have questions about these vendors, send us an email.
James Allen carries a large inventory of tension style rings and other settings as well. They're known for their excellent customer service and their incredible diamond imagery. You can view each diamond up-close before making your purchase.
Brian Gavin offers a range of custom engagement rings, including unique tension styles. With their "Brian Gavin Signature" Hearts & Arrows collection, they feature some of the best cut diamonds in the world.
Blue Nile maintains the largest online inventory of diamonds and settings, giving you a superb selection for your engagement ring. They're known for remarkable diamonds and high-quality jewelry settings.
Looking for a colorful alternative to a diamond? Consider the rings at Leibish & Co.. They offer tension settings for colored diamonds and colored gemstones. Leibish designs all of their jewelry and rings with high-quality settings.
Evaluating a Diamond Ring for Beauty and Value
At Diamond Pro, our goal is to help you find the most stunning diamond at the best price. Our library of Diamond Pro resources can help you make a well-informed decision on your engagement ring purchase.
Want guidance on selecting a diamond? Email our experts.
James Allen

James Allen is the leader in online diamond sales. Their imaging technology is at the point where it's almost the same as inspecting a diamond with a jeweler's loupe. Their customer experience is best in class, and they have recently upgraded their non-engagement jewelry inventory as well. They have the largest exclusive loose diamond inventory online and fantastic prices. For a limited time, take advantage of their huge 25% OFF holiday sale!!
What we love about them:
No questions asked returns within 30 days of shipment. James Allen will send you a paid shipping label to return the ring.
Lifetime Warranty
Free International Shipping
Free prong tightening, repolishing, rhodium plating and cleaning every 6 months
Provide insurance appraisals
One free resizing within 60 days of purchase
Free ring inscriptions
Best-in-class high quality imagery of all diamonds in stock
24/7 Customer Service
Best-in-class packaging

---
Blue Nile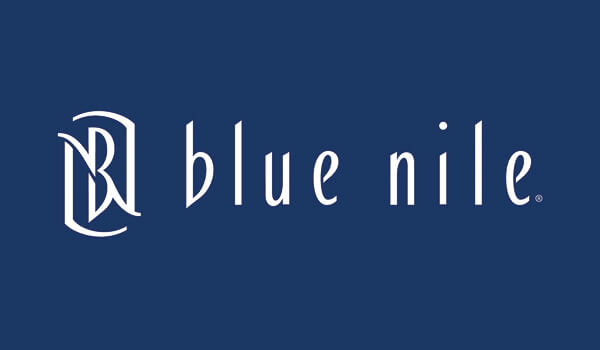 Blue Nile is the largest and most well known internet jewelry seller. They have a very large exclusive online inventory. Their high quality images are catching up to James Allens' and their prices are amazing.

(Pick Up a Blue Nile Coupon Here for $50 off)
What we love about them:
No questions asked returns within 30 days of shipment. Blue Nile will send you a paid shipping label to return the ring.
Lifetime Warranty
Free Shipping
Free prong tightening, repolishing, rhodium plating and cleaning every 6 months
Provide insurance appraisal
One free resizing within the first year of purchase
High quality images of about half of their diamonds
24/7 Customer Service
100% credit towards future upgrades (must be at least double in value)
Best in class fulfillment

---
Still afraid of getting ripped off?
Before you buy a diamond, get personal buying advice from industry veterans. We'll help you get the best diamond for the money.
Ask your diamond purchase question here
DISCLAIMER: We don't use your email for marketing. Period.