We are reader-supported. Buying through links on our site may earn us commissions. Learn More.
Deal Alert! Huge James Allen Sale- 3% off Earth Diamonds AND 25% off settings or

15% off at Blue Nile!



EGL: What You Should Know Before Purchasing a Diamond
Bottom Line Recommendation
We never recommend buying a diamond with an EGL certificate. The reason you buy a diamond with an independent certificate is that you have peace of mind you are getting the quality you are paying for. EGL does not do that. In fact, its the opposite. EGL is only used to fool consumers into overpaying for an inferior product.
If you're buying online, use James Allen's highly recommended cutting edge diamond viewing tool or Blue Nile's 360° Videos and stick with the GIA or AGS certification—the most consistent lab available. Keep in mind that you are buying a diamond, not a piece of paper. If you feel at all hesitant about the paperwork—or anything else for that matter—don't hesitate to contact our experts and run it by us.
EGL Diamond Certification
You can read the longer breakdown below. In short, EGL vastly (and inconsistently) inflates their quality claims. You may stumble across something like this on Amazon, and think you're getting a good deal. After all, it comes with a certificate. In reality, you are likely getting overcharged for an inferior product. It always kills me when people message us after they already purchased thinking they got a great deal only to see that they fell for one of these tricks. I wish they had hit the contact us button sooner.
For example, I found an EGL certified 1.00ct H VS1 ideal cut online for $4,450. You may think that is a fantastic deal. In reality though when EGL claims its an H VS1, 50% of the time it's a J SI1 and 50% of the time it's a J SI2 or K SI1.
Compare that to these diamonds.
Here is a 1.06ct J SI1 excellent cut from Blue Nile with legitimate certification for $3,785. So at the best cast scenario, you are overpaying 18% for the EGL certified diamond. But you are just as likely to be getting an even worse diamond.
Here is a 1.18ct K SI1 excellent cut from James Allen for $3,640. If you are unlucky with the EGL stone, you end up overpaying by 35%.
You may be in for a rude surprise as well if you buy what you think is a nice diamond. Then you try to put it into a beautiful halo setting like this one from James Allen and the diamond looks yellow despite a high color grade on the EGL certificate.
You can see more in the video Ira created that really digs deep into this issue.
The European Gemological Laboratory Organization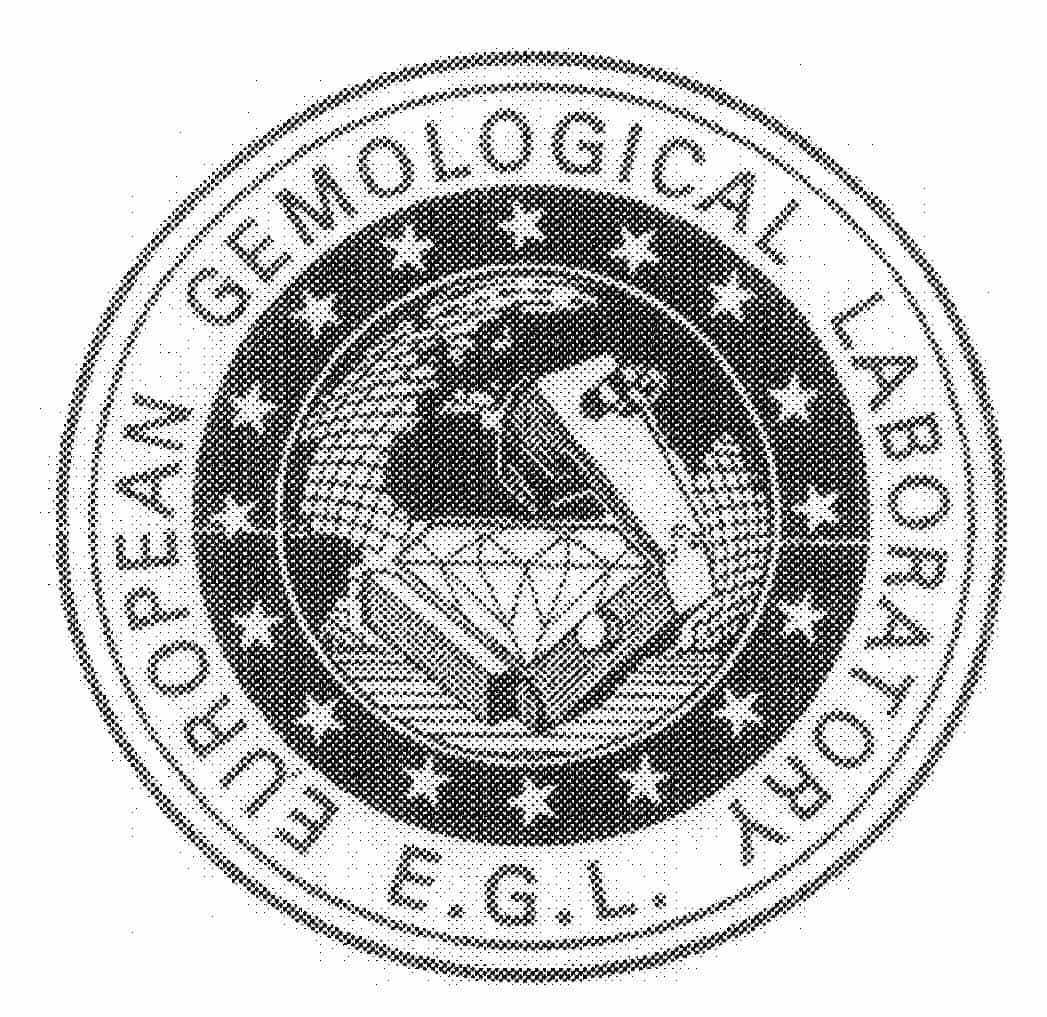 Unlike the GIA and AGS, The EGL (European Gemological Laboratory) is a for-profit organization.  Not coincidentally then, the EGL is consistently "looser" than the GIA.
I used to call on a very shrewd jeweler in Pittsburgh named Michael Kurtz.  He owned a nice little shop called Goldstock Jewelers.  He used to keep a 5 carat pear shape displayed in his showcase with two certificates on either side of the diamond.
One was from the GIA and one was from the EGL.  If I recall correctly (it was a long time ago!), the GIA certificate graded the stone as a "J" color with a "VS1" clarity.  The EGL graded the stone with an "H" color and a "VVS2" clarity!
EGL vs GIA
The difference between EGL and GIA is that EGL is inconsistent and loose in its diamond grading, while GIA is consistent and reliable. When comparing EGL to GIA, GIA has higher standards and is more uniform in how they grade. In general, an EGL certified diamond compares to a GIA certified diamond of 3-4 grades lower (depending on the particular EGL lab).
That's why James Allen and Brian Gavin Diamonds don't stock any diamonds certified by EGL. They limit their inventory to diamonds certified by GIA and AGS.
You may wonder why EGL has a place in the market at all, then. As a for-profit organization, EGL made a few shrewd observations in the market and delivered effective solutions.
First of all, the GIA and AGS are expensive (a 1 carat diamond can cost around $100 to certify!). Secondly, the two labs offer poor service. GIA and AGS used to take a long time to grade diamonds. That's when EGL swooped in and offered cheaper grading with a faster turnaround. Some jewelers use EGL USA or International for diamond grading, but reputable vendors stick with GIA and AGS labs. GIA is the gold standard lab, respected by the entire industry, while EGL is unreliable and known for inflating grades.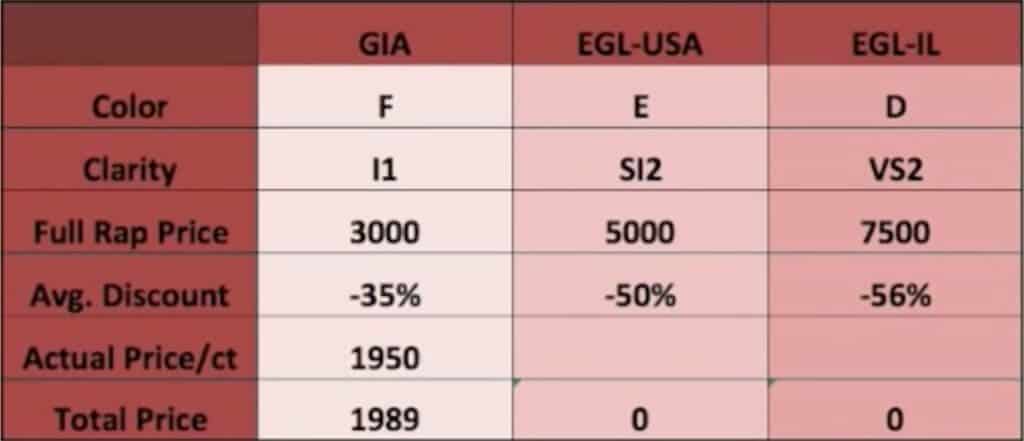 Pre-Cert Options 
Furthermore, both the GIA and AGS don't offer "pre-cert" options – this basically allows the company sending in the diamond for certification to only pay for the grading service and not for the certificate and only decide after receiving the results if they want to pay for the certificate to be printed.
EGL Benefits
Also, as I mentioned in my article about clarity, the GIA's "I1" grade covers too much ground.  There are some "I1" clarity diamonds that just barely miss an "SI2", and there are some that are not even close to an "SI2." For example, this is a stunning I1 diamond from James Allen that some jewelers would prefer to get an SI2 grade for.
EGL solved all of these problems.  They are cheaper, they offer better service, they are quick, they offer pre-certs, and they invented a new in-between clarity grade of "SI3."
This explains why EGL became as popular as it did for diamond merchants, but the fact remains that as a consumer you have to be extremely careful buying an EGL graded diamond.
EGL Upgrades
If I had to estimate the average "upgrade" received from EGL for an identical diamond versus the GIA, I would estimate 2.5 upgrades either from color or clarity or both.
For example, if the GIA would grade a diamond an "I" color and "SI2" clarity, receiving an "H" color and "SI1" clarity would be consider two upgrades (one color + one clarity).
But if that same diamond received a "G" color and "SI1" clarity, it would be considered three upgrades (two color + one clarity).
EGL Discounts
The entire diamond market is aware of this, of course, and therefore EGL graded diamonds sell at a significant discount when compared to diamonds of equivalent grades certified by the GIA.
EGL USA vs. EGL International 
One more important note: the different EGL locations are all separately run businesses. EGL Los Angeles, and EGL New York have the best reputations.  EGL Europe and EGL Israel are known to be so loose that they are bordering on fraud.
What I've explained in this article until this point is from the point of view of the diamond manufacturer. But what should you do, as the diamond consumer?
Consumer Advice
Almost without exception, you should never buy an EGL certified diamond.
Firstly, lets dispose of the obvious – EGL certificates originating from Israel, Europe, or elsewhere other than New York and Los Angeles are for all intents and purposes fraudulent.
EGL USA Certified Diamonds from New York and Los Angeles
As for NY and LA – I believe you can break down EGL certified diamonds into two groups:
GROUP 1
GIA I1 Range
Diamonds that would obviously be graded GIA I1 – The Rapaport price list gives very low prices for I1 clarity diamonds.  This is a significant problem because the GIA I1 clarity grade has a very wide range.
Within that grade, there are stones that just barely missed getting the SI2 grade, and there are stones that are really strong I1s that are in a completely different class than the nice GIA I1s.
From a GIA I1 to an EGL SI2 or SI3
Because of this discrepancy, diamond companies will almost never send their nice I1s to GIA.  They will either sell them as loose diamonds, or they will send them to EGL to receive either an SI2 or SI3 clarity grade.
Even though these stones will be sold at a much steeper discount to the Rapaport price than their GIA equivalent, the diamond manufacturer will still make more money this way versus selling the diamond loose or selling the diamond as a GIA I1 with a smaller discount to the I1 Rapaport price.
If you're considering an EGL SI2 or SI3, you need to realize that while most companies don't certify GIA I1s, some do. And those are by definition a better value for you.
The Choice Between GIA I1 and EGL SI2
The companies who do use EGL for these stones are only doing it to make more money on the same stone.  So you have a choice.  You're buying one stone.
Would you rather that stone have a GIA certificate that says I1 and the price will be less, or would you rather that stone have an EGL certificate that says SI2 and the price will be more?
Remember, it's the same stone! The answer is obvious.
Inspect First
Furthermore, the majority of stones at this quality level aren't eye clean anyway – so most definitely even if you're considering buying an EGL SI2 or SI3, you can never do this blind.
You must be able to inspect the stone first.  The odds of a stone like this being truly eye clean are remote at best.
Group 2
GIA SI2 Range
Diamonds that would receive SI2 or better from GIA – The modus operandi for the vast majority of diamond manufacturers is that they first send their productions to GIA.
When they get the results back from the lab, they review their stones one by one to see how they can squeeze out more profit.  Recheck a stone here. Recut a stone there (either to improve clarity or cut).
Ringo™ Approved Eye Clean Diamonds
Deciding on an Upgrade from EGL
Another popular way to squeeze every bit of juice out of a diamond production is to review the results from GIA and decide which stones have the potential to receive enough of an upgrade from EGL to offset the higher discounts to the list prices and therefore make more money.
There's little risk in doing this, since EGL offers pre-certs – meaning that the company sending the diamond for inspection only pays the full amount if they OK the results (as opposed to the GIA where you have to pay the full amount regardless of the results).
Replacing Certificates
And you know what the company will do if the diamond gets enough of an upgrade to make the stone worth more as an EGL certified stone? They simply throw away the GIA cert and pretend it never existed.
So I ask you again – The same stone is certified by GIA as I SI2 and certified by EGL as G SI1.  Would you rather pay more for the stone buying it as an EGL, or would you rather pay less buying the stone as a GIA?  Again, it's the same stone!
As you can see, in pretty much every case across the board, the very presence of an EGL cert almost invariably implies that the stone is certified this way to make more money for the vendor vs keeping the stone's original GIA certificate.
Less is More
You're better off searching for a GIA certified stone that's two or three color grades lower and one or two clarity grades lower and most importantly – cheaper.
Bottom line is, don't buy an EGL certified diamond.  No matter how "cheap" it seems to you compared to GIA certified diamonds, it's all a game.
Any EGL certified stone in the market is, by definition, more expensive than itself as certified by the GIA.
If you're looking for more information about diamond certificates, read our guide on diamond certification.
The articles for other diamond certificates are:
James Allen

James Allen is the leader in online diamond sales. Their imaging technology is the same as inspecting a diamond with a jeweler's loupe. They have the largest exclusive loose diamond inventory online and fantastic prices. They also have the nicest collection of lab created diamonds online. Now save 25% off settings AND 3% off Earth Diamonds during James Allen HUGE limited time sale!
What we love about them:
No questions asked returns within 30 days of shipment. James Allen will send you a paid shipping label to return the ring.
Lifetime Warranty
Free International Shipping
Free prong tightening, repolishing, rhodium plating and cleaning every 6 months
Provide insurance appraisals
One free resizing within 60 days of purchase
Free ring inscriptions
Best-in-class high quality imagery of all diamonds in stock
24/7 Customer Service
Best-in-class packaging

---
Blue Nile

Blue Nile is the largest and most well known internet jewelry seller. They have a very large exclusive online inventory. Their high quality images are catching up to James Allens' and their prices are amazing. Blue Nile have generously offered our readers an exclusive one-time use coupon.

(Click Here to save $100 off engagement ring settings)
What we love about them:
No questions asked returns within 30 days of shipment. Blue Nile will send you a paid shipping label to return the ring.
Lifetime Warranty
Free Shipping
Free prong tightening, repolishing, rhodium plating and cleaning every 6 months
Provide insurance appraisal
One free resizing within the first year of purchase
High quality images of about half of their diamonds
24/7 Customer Service
100% credit towards future upgrades (must be at least double in value)
Best in class fulfillment

---
Still afraid of getting ripped off?
Before you buy a diamond, get personal buying advice from industry veterans. We'll help you get the best diamond for the money.
Ask your diamond purchase question here
DISCLAIMER: We don't use your email for marketing. Period.