We are reader-supported. Buying through links on our site may earn us commissions. Learn More.
Deal Alert! Huge James Allen Sale- 3% off Earth Diamonds AND 25% off settings or

15% off at Blue Nile!



Everything You Need to Know About GIA Diamonds
When you're shopping for a diamond, it's vital to check the certification before buying. If you're not an expert at examining and grading diamonds, the certificate is the only way to be sure you're paying the right price for the grades advertised.
Any diamond from a reputable vendor will come with a certificate from a 3rd party laboratory, outlining qualities such as color grade and clarity grade, as well as the proportions of the diamond, such as table, depth and width. 
Let's say you're looking at this 1.01 carat, H color VS1 clarity round cut diamond or this 1.70 carat, H color VS1 clarity cushion cut. The GIA certification gives you the peace of mind that it has been independently graded, and you're not overpaying for a diamond that should actually be an I Color, VS2 Clarity.
It's important to note that not all labs grade diamonds exactly the same way. Some labs can be a little more or less generous with their grades, and lower quality labs may even be inconsistent in their grading practices. 
One of the most widely used and trusted certifications is the GIA. Read on and we'll share all you need to know about GIA certified diamonds and where to find them.
GIA Diamond Certification
A GIA diamond certification is a report given by the Gemological Institute of America (GIA for short), grading a diamond on several key characteristics. The GIA's report grades on the 4 C's – Carat, Color, Clarity and Cut – as well as Polish, Symmetry and Fluorescence. The report also gives details on the diamond's shape and style (Round Brilliant, for example), its proportions, and any inscriptions or noticeable inclusions.
What Are GIA Certified Diamonds?
When we refer to GIA certified diamonds, we're talking about diamonds that have been graded by the GIA, and come with a report to show for it.
This 0.86 Carat. G VS1 Round Brilliant is an example of a GIA certified diamond, as it carries a grading report from the GIA, which verifies its grades in Cut, Color, Clarity and Carat.
The term GIA certified diamond is actually not completely accurate, as the GIA grades diamonds, rather than certifying them. However, you may see jewelers and people in the industry talking about "certified diamonds", so know that this is what they mean.
GIA certified diamonds are a much safer purchase than diamonds graded by almost any other grading entity. This is because the GIA is renowned as one of the most trustworthy and consistent grading labs, meaning their grade is more likely to be a fair representation of the diamond's quality.
Some labs have a reputation for inconsistent grades, or for grading some aspects (like color or clarity) more generously. This can end up costing you a lot of money on your purchase, as the difference in price from one grade to another is often steep.
How Do the GIA Grade Diamonds?
The GIA exists as an independent, third-party laboratory for grading diamonds. They have no financial stake in the diamonds that go through their lab, and steps are taken to ensure anonymity and complete objectivity with their reports.
That means with a GIA grading report, you can be confident you're getting a fair and honest representation of the diamond's qualities.
The most important part of the grading process is the 4 C's – Cut, Color, Clarity and Carat. The GIA report gives a grade on each of these qualities, with several graders working independently to ensure a fair and accurate assessment.
The GIA certificate also gives information on the diamond's proportions, most notably the depth, width and table size, as well as further details such as polish, symmetry, fluorescence, any laser inscription, and a plot of all blemishes or inclusions.
If you check the GIA certificate for this 1.02 Carat Cushion Cut Diamond, you'll see it mentions a "Medium Blue" Fluorescence, as well as the characteristics of its inclusions and blemishes.
These additional qualities are less important than grades like Cut, Color and Clarity, but can still have an impact on the beauty of the diamond.
This article has a deeper look at the qualities and components of the GIA's grading report.
Is Every Diamond GIA Certified?
Not every diamond has a GIA certificate. A large number do, thanks to the GIA's reputation as the gold standard in diamond grading, however there are many other grading entities that exist today.
You can find out more about the different labs that do diamond certification, such as the AGS, IGI, EGL, GSI, HRD, and obviously the GIA, in this article.
When you shop for a diamond, the vendor should provide information on which entity the diamond has been graded by. The GIA certificate also features a unique number, which you can use to verify the report on the GIA's website.
Where to Buy GIA Diamonds
Here are some of the best places to buy GIA certified diamonds:
James Allen is one of the best online diamond retailers, known for their commitment to customer satisfaction, great range and excellent value. They offer a huge selection of loose diamonds, with the technology to allow you to inspect diamonds in detail online.
A large number of James Allen's inventory come with a GIA certificate. However, they also carry diamonds graded by the AGS and IGI, so be sure to check which lab has provided the grading report when inspecting a diamond. If you want to stick to GIA diamonds only, they give you the option to filter by a specific lab when shopping.
Here are some examples of the GIA certified diamonds you can find at James Allen: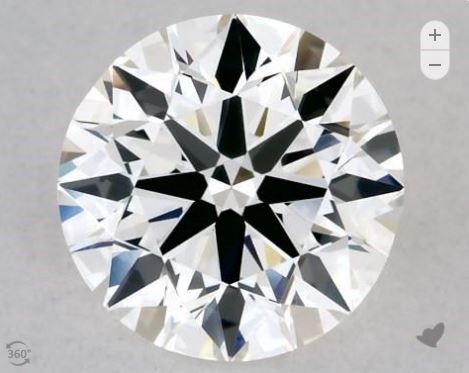 Browse James Allen's selection of GIA certified natural diamonds here.
Featuring one of the largest inventories of any online diamond retailer, Blue Nile's selection of over 250,000 loose diamonds is hard to beat. They offer just about any shape or style of diamond you'd likely be looking for, many of which have 360° viewing technology for easy inspection.
Unlike James Allen, all Blue Nile's inventory is graded by the GIA, which makes it easier to compare diamonds on their site, knowing they've all been through the same lab's grading process.
Take a look at some of Blue Nile's best GIA certified diamonds: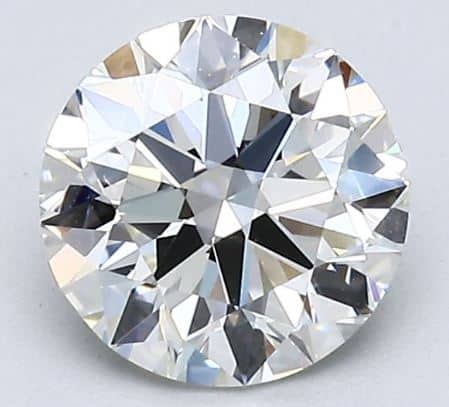 Browse Blue Nile's range of GIA diamonds here.
GIA Diamonds FAQs
Let's answer some of the most common questions surrounding the GIA and GIA certified diamonds.
Are GIA diamonds more expensive?
GIA diamonds can seem more expensive, when compared to diamonds graded by other labs. You may be able to find diamonds with a similar grade (as per the certificate) at a cheaper price with other labs' grading reports. However, the grades of some of them tend to be looser, meaning you may be paying for what you think is an H Color VS2 Clarity diamond, when in reality it should be a J SI2.
The GIA's grading process is slightly more expensive than some other labs, and the grades they give are stricter than low-quality labs like the EGL. However, this is a small price to pay to ensure you're buying a diamond with a fair and accurate certificate.
Which is better, GIA or IGI?
The GIA is regarded as a higher quality grading entity than the IGI. IGI certified diamonds tend to be graded significantly looser than GIA diamonds, meaning the same diamond is likely to have an inflated grade (and thus price, too), from the IGI.
The IGI also has different labs around the world, which provide inconsistencies in the strictness of their grades. 
For more, read our guide on the IGI certification process and why it doesn't stack up to the GIA.
Is AGS as good as GIA?
The AGS is another trustworthy grading entity, as the GIA is. Their grading report covers the same qualities and characteristics as the GIA's, with only slight differences in how they express their grades. Cut, for example, is graded on a scale of 0 to 10, along with descriptive wording. 0, or Ideal (here is an example of such a diamond), is the highest, while 8-10, or Poor, is the lowest.
As far as the quality of the AGS grading process goes, there is little to separate theirs and the GIA's. You would be best served sticking with either of these two certificates when shopping for a diamond.
You can learn more about the AGS certification and how it compares to the GIA in this article.
Are lab-grown diamonds GIA certified?
The GIA does grade lab-grown diamonds. Since lab-grown diamonds are identical, chemically and visually, to natural Earth-grown diamonds, the GIA grades them on the same scale of the 4 C's.
The only difference with GIA diamond grading reports for lab diamonds is that it specifies that the diamond is laboratory-grown, and comments note whether the diamond was produced via CVD (Chemical Vapor Deposition) or HPHT (High Pressure High Temperature). Check out this beautiful 1.28ct I VS2 round diamond from Clean Origin.
How much does it cost to get a diamond GIA certified?
The cost of a GIA diamond grading report varies depending on the weight of the diamond (see their schedules here). A 1 Carat diamond costs $110 to grade, along with an extra $15 to have the GIA report number inscribed on the diamond's girdle.
Final Thoughts
A diamond grading report from the Gemological Institute of America is one of the best ways to ensure you've not been duped into paying for a diamond that doesn't live up to its grades.
For example, if you're spending over $10,000 on a beautiful, near-flawless diamond like this, you need to know the grades shown are accurate.
Just one grade up or down in Color, Clarity and Cut can have a huge difference in the price. That's why it's vital that the grades you're looking at have been given by a trustworthy and reputable grading lab, who are recognized in the industry for giving fair and accurate reports.
We always recommend buying diamonds that have either a GIA or AGS grading report. If you have any questions, our team of experts will be happy to answer them and help you find a well cut and priced diamond.
James Allen

James Allen is the leader in online diamond sales. Their imaging technology is the same as inspecting a diamond with a jeweler's loupe. They have the largest exclusive loose diamond inventory online and fantastic prices. They also have the nicest collection of lab created diamonds online. Now save 25% off settings AND 3% off Earth Diamonds during James Allen HUGE limited time sale!
What we love about them:
No questions asked returns within 30 days of shipment. James Allen will send you a paid shipping label to return the ring.
Lifetime Warranty
Free International Shipping
Free prong tightening, repolishing, rhodium plating and cleaning every 6 months
Provide insurance appraisals
One free resizing within 60 days of purchase
Free ring inscriptions
Best-in-class high quality imagery of all diamonds in stock
24/7 Customer Service
Best-in-class packaging

---
Blue Nile

Blue Nile is the largest and most well known internet jewelry seller. They have a very large exclusive online inventory. Their high quality images are catching up to James Allens' and their prices are amazing. Blue Nile have generously offered our readers an exclusive one-time use coupon.

(Click Here to save $100 off engagement ring settings)
What we love about them:
No questions asked returns within 30 days of shipment. Blue Nile will send you a paid shipping label to return the ring.
Lifetime Warranty
Free Shipping
Free prong tightening, repolishing, rhodium plating and cleaning every 6 months
Provide insurance appraisal
One free resizing within the first year of purchase
High quality images of about half of their diamonds
24/7 Customer Service
100% credit towards future upgrades (must be at least double in value)
Best in class fulfillment

---
Still afraid of getting ripped off?
Before you buy a diamond, get personal buying advice from industry veterans. We'll help you get the best diamond for the money.
Ask your diamond purchase question here
DISCLAIMER: We don't use your email for marketing. Period.