Diamond Pro is reader-supported. When you buy through links on our site, we may earn an affiliate commission. Learn More.
Deal Alert! 10% off sale on select Lab Grown Diamonds at James Allen.
Lab-Created Yellow Fancy Diamonds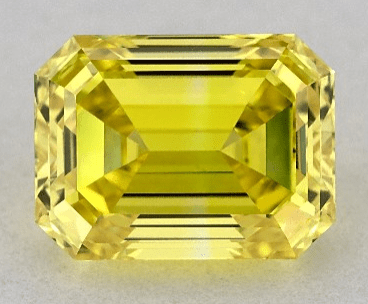 Fancy colored diamonds offer a unique, high-fashion look to your engagement ring. Fancy yellow diamonds, sometimes referred to as canary yellow diamonds, can be particularly stunning, especially with the perfect hue and setting.
While, with naturally mined fancy color diamonds, we're resigned to the hue produced by the natural processes, lab-created diamonds give greater ability to produce a truly captivating color of diamond – and at a much lower price than a natural diamond. Natural fancy yellow diamonds are also quite rare, while fancy yellow lab diamonds can be made on-demand.
This can make lab-created fancy yellow diamonds a desirable choice for a one-of-a-kind ring on a budget.
How are Yellow Lab Diamonds Created?
Fancy colored diamonds get their hue when trace elements of certain chemicals are present when the diamond crystal develops. When nitrogen is present, it turns the diamond a shade of yellow. The more nitrogen present, the more intense the color.
Thus, lab-created diamonds are created by introducing nitrogen during the growth process. The amount of nitrogen used will determine the final shade of yellow – from a light yellow to an intense, vivid yellow.
The Quality of Lab-Created Yellow Diamonds
Yellow diamonds have a distinctive look that make them stand out in a way that a colorless diamond of similar cut, carat and price often cannot. While some prefer the timeless allure of a classic colorless diamond, a vibrant colored diamond is a modern look that more couples are opting for today.
Lighter yellow diamonds are most common and thus are often quite affordable. However, it's less common to find lab-created diamonds on the lighter end of the color scale, as vivid yellow diamonds are in higher demand, and therefore produced more. These vivid shades are referred to as canary yellow diamonds.
Canary yellow diamonds, or canary diamonds, are fancy yellow diamonds with an intense, vivid hue. These are the rarest and most sought-after type of fancy yellow diamond.
High-end vivid yellow or canary yellow diamonds are very rare in nature but can be much more easily produced by a lab. Thus, synthetic fancy yellow diamonds allow you to buy a stunning vivid yellow diamond ring at a fraction of the price.
As an example of the price difference between vivid yellow natural diamonds and lab-created alternatives, this 1.04 carat, fancy vivid VS1 lab-created cushion diamond is $2,590 at James Allen. While a comparable natural diamond, this 1.01 carat, fancy vivid VS1 natural cushion diamond from James Allen is $9,390.
How are Fancy Color Lab Diamonds Graded?
Fancy yellow lab diamonds are graded on the same 4 Cs as other diamonds – Cut, Color, Clarity and Carat.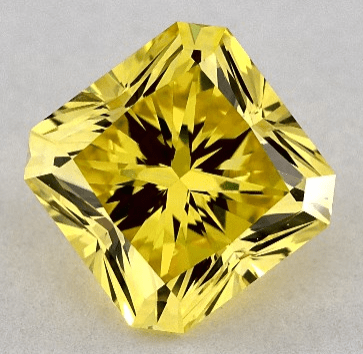 The only difference for fancy yellow diamonds is the color grade. While regular diamonds are given a grade from D to Z, depending on how much of a tint it has, yellow diamonds are essentially just diamonds that are past Z in the scale. Thus the color scale for fancy yellow diamonds gives a grade on the intensity of its color.
The scale goes as such:
Faint
Very Light
Light
Fancy Light
Fancy
Fancy Intense
Fancy Vivid, Fancy Deep or Fancy Dark
Fancy vivid yellow diamonds, also known as canary yellow diamonds, are the rarest and also the most sought after. 
As for grading of lab-created diamonds and natural diamonds, the grading is the same. Lab-created diamonds are, technically, "real" diamonds, so they are graded as such. The same goes for fancy color lab diamonds. They are graded on the same color scale, as well as the rest of the 4 C's, as a natural fancy color diamond.
You can buy a lab diamond with an IGI (International Gemological Institute) certification. The IGI certificate will ensure you get the highest quality possible.
Price of Lab-Created Diamonds
Lab diamonds, especially fancy color lab diamonds, can be found much cheaper than natural diamonds. This is because they are much less rare. A natural diamond takes billions of years to form, whereas a lab diamond can be created over the course of a couple of weeks. Natural diamonds with intense, vivid yellow color are even rarer and come with a premium price as a result.
This is where the biggest saving comes in for buying lab-created diamonds. When you can create a diamond with a deep, canary yellow color on demand, the price is naturally going to be lower.
See this 2.08-carat fancy vivid yellow diamond from James Allen. A natural diamond with such an exquisite grade and hue is extremely rare, which is why it's priced at $31,140. On the other hand, this lab diamond also from James Allen with the same color, intensity, clarity and carat is just $13,210.
In general, smaller diamonds or fancy color diamonds with lighter hue are much more common and cheaper as a result. However, it's less common to see low-grade lab-created diamonds, as they are created to fill the higher demand for high-grade, vivid yellow diamonds.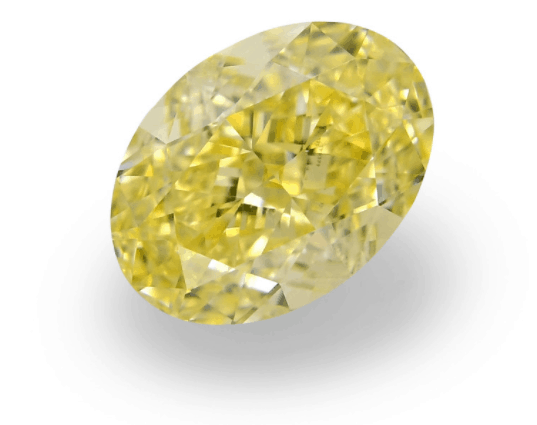 Though lab-created diamonds cost less to buy, be aware that they also have significantly lower resale value. A lab-created diamond essentially carries no inherent value after purchase. A natural diamond tends to retain around 50% of its value, however. Natural diamond prices also traditionally rise, while lab diamond prices are falling at a quite alarming rate.
Tips for Buying Fancy Color Lab Diamonds
As with any diamond purchase, the most important thing to consider is shopping with a reputable jeweler who sells diamonds certified by a top grading institute. We recommend looking for an IGI certification for lab diamonds. James Allen has a range of high-quality lab-created fancy color diamonds, which all come with an IGI certification.
Buying from a reputable dealer, as well as having your diamond inspected by an expert first, will ensure you get a lab-created diamond that is of the highest quality. Many lab-created fancy color diamonds can be overly saturated, giving a color that is closer to bright orange and doesn't have the same appeal as a vivid canary yellow.
Finally, if you're going to go with a lab-created fancy yellow diamond, be aware that it will be worth very little on resale. Lab-created diamonds lose almost all their value right after purchase, so ensure you're comfortable with this before making a decision.
How to Choose the Best Lab-Created Yellow Diamond Engagement Ring
Fancy yellow lab diamonds can be an eye-catching, modern take on an engagement ring, at a much lower cost than if you were buying a natural diamond.
If you're buying a ring with a fancy yellow lab diamond, consider how the setting will influence the appearance (particularly the color) of the diamond. Diamonds are reflective and can appear darker when reflecting color from the setting. With a fancy yellow diamond, you can often save by buying a lighter shade of diamond and pairing it with a yellow gold basket that reflects through the diamond and makes it appear darker.
As lab-created yellow diamonds are commonly a darker shade already, you likely won't need to rely on the setting to produce more vivid color. But do be aware of how your setting will contrast or blend in with the color of the diamond.
For a stark contrast, pair a vivid, canary yellow lab diamond with a white gold ring, or clear diamond accents. If you want a more complementary look, pairing a fancy yellow diamond with a rose gold or yellow gold ring will give it a warmer, classic appearance.
5 Lab-Created Fancy Yellow Engagement Ring Examples
Looking for examples of some beautiful lab-created yellow diamonds engagement rings? Check these out.
These are all engagement rings we created using James Allen's mix and match ring design tool.
1) Lab-created fancy vivid yellow 1.02 carat emerald diamond from James Allen with a 14K white gold split shank solitaire setting.
2) Lab-created 1.09 carat fancy vivid yellow round cut diamond from James Allen with a 14K yellow gold claw prong solitaire setting.
3) Lab-created 1.19 carat fancy vivid yellow princess cut diamond from James Allen with a 14K white gold petite pavé setting.
4) Lab-created 1.65 carat emerald diamond from James Allen with a 14K yellow gold halo pear shaped side stone setting.
5) Lab-created 1.28 carat asscher cut diamond from James Allen with a 14K white gold twisted pavé shank setting.
James Allen

James Allen is the leader in online diamond sales. Their imaging technology is the same as inspecting a diamond with a jeweler's loupe. They have the largest exclusive loose diamond inventory online and fantastic prices. They also have the nicest collection of lab created diamonds online. For a limited time Save 25% on settings and  Save 3% on Earth Diamonds and Save 10% off select Lab Grown Diamonds
What we love about them:
No questions asked returns within 30 days of shipment. James Allen will send you a paid shipping label to return the ring.
Lifetime Warranty
Free International Shipping
Free prong tightening, repolishing, rhodium plating and cleaning every 6 months
Provide insurance appraisals
One free resizing within 60 days of purchase
Free ring inscriptions
Best-in-class high quality imagery of all diamonds in stock
24/7 Customer Service
Best-in-class packaging

---
Blue Nile

Blue Nile is the largest and most well known internet jewelry seller. They have a very large exclusive online inventory. Their high quality images are catching up to James Allens' and their prices are amazing. Blue Nile have generously offered our readers an exclusive one-time use coupon.

(Click Here to save $100 off engagement ring settings)
What we love about them:
No questions asked returns within 30 days of shipment. Blue Nile will send you a paid shipping label to return the ring.
Lifetime Warranty
Free Shipping
Free prong tightening, repolishing, rhodium plating and cleaning every 6 months
Provide insurance appraisal
One free resizing within the first year of purchase
High quality images of about half of their diamonds
24/7 Customer Service
100% credit towards future upgrades (must be at least double in value)
Best in class fulfillment

---
Still afraid of getting ripped off?
Before you buy a diamond, get personal buying advice from industry veterans. We'll help you get the best diamond for the money.
Ask your diamond purchase question here
DISCLAIMER: We don't use your email for marketing. Period.