Diamond Pro is reader-supported. When you buy through links on our site, we may earn an affiliate commission. Learn More.
Disney Rings & Enchanted Jewelry
Over the years, we've reviewed countless diamond jewelry vendors and product lines. If you or your spouse-to-be are fans of Disney, you might have heard of the Enchanted Disney collection of engagement rings, earrings and other jewelry.
Below, we've explained what to look for when buying a Disney engagement ring or other type of jewelry, as well as how Disney engagement rings stack up compared to the offerings from other diamond jewelry vendors.
Disney Enchanted Jewelry Collection
The Enchanted collection is made up of rings, earrings, pendants and other jewelry inspired by Disney's classic movies. The range is perfect for Disney fans looking for something special for an engagement or as a gift to mark any other special occasion. 
What's This? A Disney Engagement Ring
Arguably the centerpiece of the Enchanted collection is the collection of engagement rings, all of which are themed around Disney characters.
The Enchanted collection includes rings styled after characters such as Tinkerbell, Aurora, Elsa, Belle, Rapunzel, Jasmine, Snow White and several others, with a mix of colored gemstones and diamonds to choose from. 
Disney Princess Engagement Ring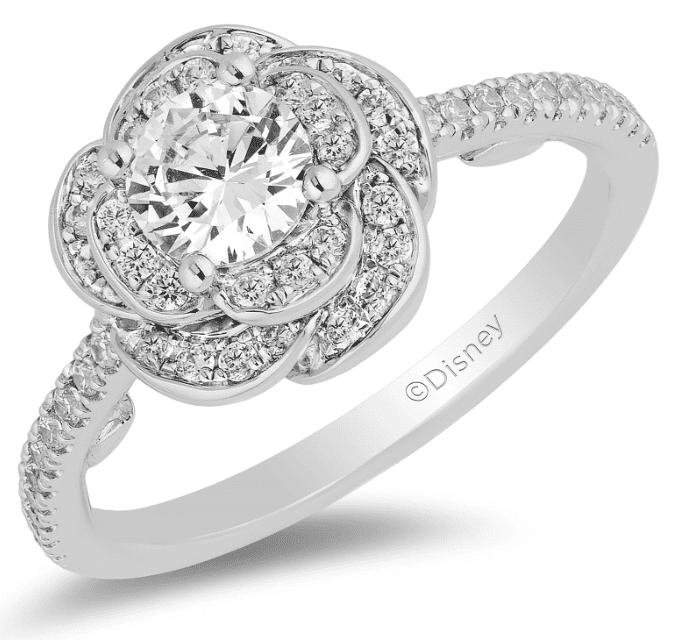 Most of the engagement rings in the Disney Enchanted collection are themed around Belle from Beauty and the Beast, but Elsa, Snow White, Cinderella and other princesses also make an appearance. The selection of engagement rings includes several beautiful halo, pavé and side-stone settings, some of which have a floral theme. 
Examples of Belle engagement rings:
Disney Villain Engagement Rings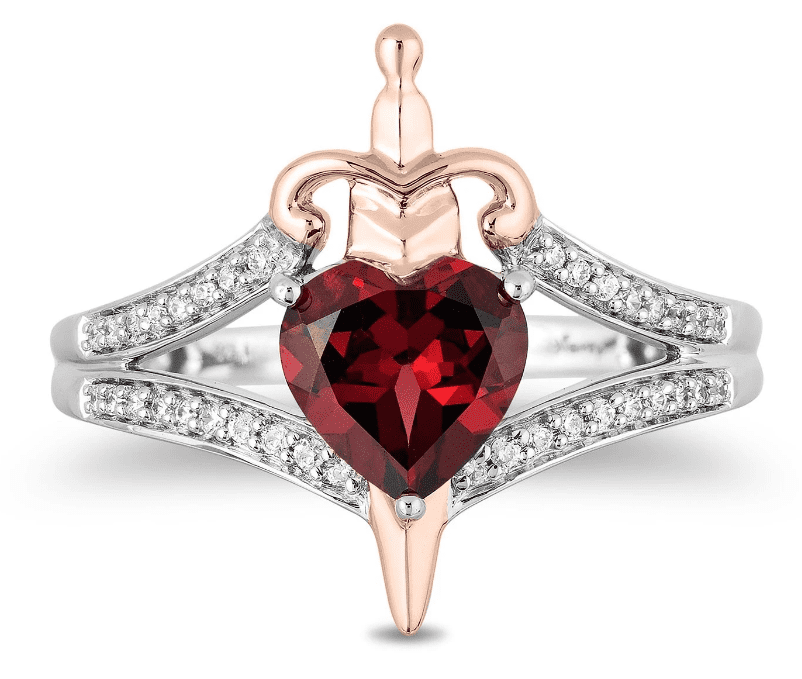 The Enchanted collection also includes rings themed around Disney villains, such as Ursula, the Evil Queen and Maleficent. Many of these rings feature colored stones and are coated in black rhodium for a darker, more villain-like appearance.  
Examples of engagement rings of Disney villains:
Disney Princess Engagement Rings: What You're Getting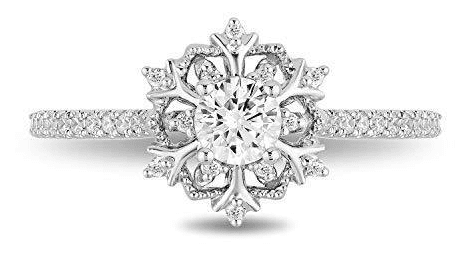 When it comes to Disney's engagement rings, the focus is on unique styles that have meaning. 
Most of the engagement rings in the Enchanted collection come in sterling silver or 10K gold. As we've covered in our guide to gold types, 10K gold is extremely durable, but due to its low purity level, doesn't have the rich color of 14K or 18K gold.
As for the diamonds and gemstones used in Disney jewelry, most are chosen with good pricing in mind rather than optimal light performance or clarity.
We've explained this in more detail further down the page. Overall, Disney's jewelry collection is focused on offering a quintessentially Disney experience, with interesting designs, lots of unique personality and a large collection of rings to choose from.
Where To Buy Disney Engagement Rings
You can buy Disney engagement rings online. We recommend shopping from Jewelili, who offer the entire Disney jewelry collection, along with the option to sort the products by price, character or type. 
Disney's Jewelry Collection Includes More Than Just Rings
In addition to engagement rings, Disney's jewelry collection includes many other Disney-themed items, including necklaces, earrings, bracelets and other products.
Disney Necklaces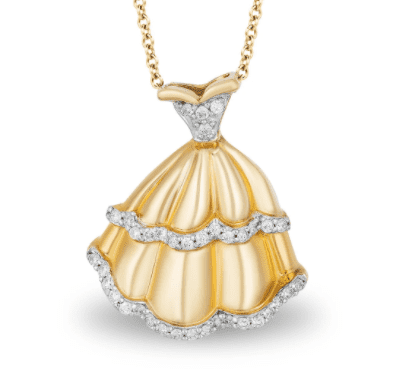 The Enchanted collection features more than 70 necklaces based on famous Disney characters, such as Anna, Cinderella, Mulan and Snow White. Many of the necklaces come in gold or silver and feature colored gemstones and Disney-themed designs. 
Examples of Disney necklaces:
Disney Earrings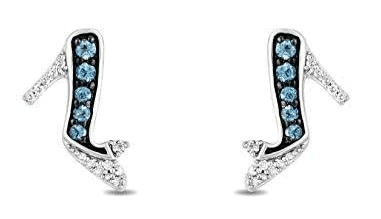 Likewise, the collection includes a diverse variety of stylish earrings, most of which are inspired by Disney princesses. Eye-catching colored gemstones and fun designs make these great gifts for people who have a favorite Disney character. 
Examples of Disney earrings:
Disney Bracelets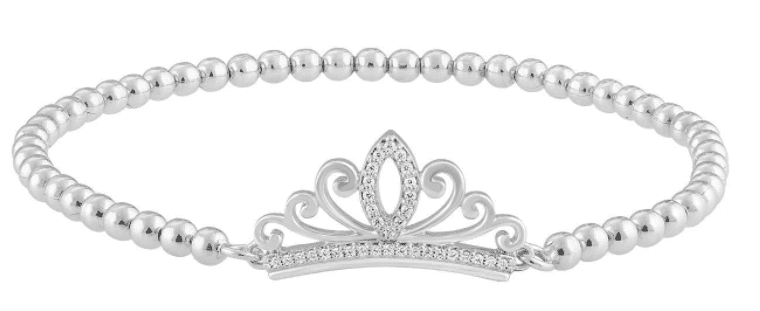 Finally, the Enchanted collection includes lots of impressive bracelets and bangles that make for excellent birthday gifts for Disney enthusiasts. Like with Disney's earrings and other jewelry, the designs are creative, fun and perfect for the young or young at heart.
Examples of Disney bracelets:
Don't Be Fooled: What to Look for in a Diamond
When it comes to buying a diamond engagement ring, we always suggest prioritizing objective measures of quality over brand names. 
This means prioritizing the four Cs — cut quality, carat weight, clarity and color — and looking for objective signs that a diamond is worth the money, such as a certificate from a trusted diamond grading entity like the GIA or AGS. 
With this said, buying a Disney themed ring is about getting a stylish and beautiful piece of jewelry that represents what you love. There's definitely a fun personal aspect to picking out a ring that's designed with your favorite Disney princess in mind.
Similarly, the earrings, bracelets and other jewelry can make for excellent birthday or Christmas gifts.
Need More Help With Diamonds?
From the four Cs to fluorescence, certification and numerous other factors, buying a diamond is often a stressful process. As specialists in diamonds, we can make things easier by helping you find the ideal ring, necklace, bracelet or other jewelry for your budget.
You can learn the basics of buying an engagement ring or other jewelry in our guide to shopping for a diamond, or contact us to get personalized help from our team of diamond jewelry experts.
James Allen

James Allen is the leader in online diamond sales. Their imaging technology is the same as inspecting a diamond with a jeweler's loupe. They have the largest exclusive loose diamond inventory online and fantastic prices. They also have the nicest collection of lab created diamonds online. For a limited time Save 25% on settings and  Save 3% on Earth Diamonds and Save 10% off select Lab Grown Diamonds
What we love about them:
No questions asked returns within 30 days of shipment. James Allen will send you a paid shipping label to return the ring.
Lifetime Warranty
Free International Shipping
Free prong tightening, repolishing, rhodium plating and cleaning every 6 months
Provide insurance appraisals
One free resizing within 60 days of purchase
Free ring inscriptions
Best-in-class high quality imagery of all diamonds in stock
24/7 Customer Service
Best-in-class packaging

---
Blue Nile

Blue Nile is the largest and most well known internet jewelry seller. They have a very large exclusive online inventory. Their high quality images are catching up to James Allens' and their prices are amazing. Blue Nile have generously offered our readers an exclusive one-time use coupon.

(Click Here to save $100 off engagement ring settings)
What we love about them:
No questions asked returns within 30 days of shipment. Blue Nile will send you a paid shipping label to return the ring.
Lifetime Warranty
Free Shipping
Free prong tightening, repolishing, rhodium plating and cleaning every 6 months
Provide insurance appraisal
One free resizing within the first year of purchase
High quality images of about half of their diamonds
24/7 Customer Service
100% credit towards future upgrades (must be at least double in value)
Best in class fulfillment

---
Still afraid of getting ripped off?
Before you buy a diamond, get personal buying advice from industry veterans. We'll help you get the best diamond for the money.
Ask your diamond purchase question here
DISCLAIMER: We don't use your email for marketing. Period.