Fancy Canary Yellow Diamonds: How to Buy and Avoid Overpaying
If you're out there looking for the best diamond for your money, then please contact us and let us know your budget and what you're looking for. We'll sift through thousands of diamonds online and send you suggested stones to choose from that fit your needs the best.
Bottom Line: It is absolutely essential that you only buy a yellow diamond from a vendor with high quality photos. Color can vary greatly even within a specific GIA color grade. In our experience, Leibish & Co. has the best prices and overall customer experience in the Fancy Color Diamond market.  Furthermore, nobody can top Leibish & Co's expertise in bringing out the maximum color of a diamond when set in a ring.
Yellow diamonds are very popular in halo settings like this stunning set but also go well with elegant solitaire settings like this one from James Allen.
Yellow Diamonds – The Perfect Intro to Fancy Colors
Canary Diamonds
For someone looking for an affordable introduction into the world of fancy color diamonds, fancy yellow diamonds, or canary diamonds as they are often called, are the perfect alternative.
As you probably already know, the color scale for white diamonds runs from D to Z.  But when you think about it, there is really a continual scale all the way from D color pure white all the way through to a Fancy Vivid Yellow diamond.
On one end of the spectrum you have completely white without any traces of yellow whatsoever, and on the other end of the spectrum you have a diamond fully saturated with yellow and no traces of whiteness whatsoever.
Yellow Diamonds Are Common and Affordable 
The reason I'm mentioning this is simply to drive home the point that yellow diamonds are quite common.  Other colors, such as pink diamonds, are so rare because they don't fall within this color scale I described above which covers 99% of all the gem quality diamonds mined in the world.
Because of their commonality, relative to other fancy colors, yellow diamonds can be rather affordable.
Light Yellow Diamonds
Fancy Light Yellow diamonds, for example, will price out similar to a J color white diamond.  Take these two stones as examples:
1) 1.21 Carats, Fancy Light Yellow, VS2 Clarity, Radiant Cut, GIA Certified – $4460
2) 1.21 Carats, I Color, VS1 Clarity, Radiant Cut, GIA Certified – $4300
Yellow Diamonds
Fancy Yellow diamonds, on the other hand, will price out similar to G color white diamonds.  See these two examples:
1) 1.24 Carats, Fancy Yellow, VS1 Clarity, Radiant Cut, GIA Certified – $6300
2) 1.13 Carats, G Color, VVS1 Clarity, Radiant Cut, GIA Certified – $5790
Similarly, its possible even to find a Fancy Intense Yellow Diamond that compares in price to an F or G color white diamond.
Intense Yellow Diamonds
At their strongest, though, fancy vivid yellow diamonds can become rather expensive.  A fancy vivid yellow diamond with a decent color and eye clean clarity will cost the same approximately as a similar sized D Color Flawless diamond of the same shape.
But a fancy vivid yellow diamond with a really special and uniquely strong and saturated color can go for much more than that.  As discussed in my article about fancy color diamonds in general, it's all about the color!
See the diamond pictured to the right, for example.  It is a 1.02 carat, fancy vivid yellow, VS2 clarity, GIA Certified Cushion Cut.  This stone is priced at $19,850 due to its unusually strong and beautiful color.  A 1 carat cushion cut diamond with a D color and Flawless Clarity costs in the vicinity of $10,000 to $12,000.
Modifying Colors on Certificates 
Aside from the strength of the color, another factor that can have a major affect on the price of a yellow diamond is the modifying color on the certificate.
Brownish-Yellow diamonds, for example, will be heavily discounted from a pure Yellow diamond.  Orangey-Yellow diamonds and Greenish-Yellow diamonds, on the other hand, will be significantly more expensive then a pure yellow diamond.
The Importance of Images
Leibish & Co and James Allen are not the only two vendors that sell Fancy Color diamonds. In the last few years, Blue Nile has also become a major supplier online of Fancy Color diamonds.
While you might be tempted to consider them considering their reputation as the biggest online diamond dealer, I would strongly suggest you reconsider.
As I've mentioned in many other places on this site, high quality images are extremely important when shopping for a diamond.  With white diamonds, this is generally because you want to be able to see the diamond's unique inclusion layout.
Grading Fancy Color
A GIA inclusion plot doesn't tell the full story – it won't tell you whether or not a diamond's "crystal" is clear or stark black. It won't tell you how translucent a diamond's feather is.
But with Fancy Colors, the issue is really about color – not clarity.  So you might wonder, what's the big deal?  A Fancy Yellow is a Fancy Yellow, right?  Wrong.
Firstly, GIA is not infallible.  Grading fancy color is a difficult task, and often there are differences in opinion.  Secondly, and more importantly, each Fancy color grade isn't simply a point along a line – each grade is a range.
Yellow Territories and Range
You might be surprised just how much territory each range covers.  It's possible to find a Fancy Yellow that just barely made it over the border from Fancy Light territory, and it's possible to find a Fancy Yellow that just missed the border into Fancy Intense territory.
Take a look at these two stones that sat right next to each other in a search I just performed on James Allen:
Clearly, the stone on the right is far superior to the stone on the left, but if these two stones were presented on Blue Nile, you would have certainly chose the one on the left because:
1) It's heavier
2) It has a better clarity
3) It seemingly has the same color
4) It's cheaper!
But with James Allen's imagery, it's 100% clear that the stone on the right is a far superior choice.
How to Save Money Buying Fancy Color Diamonds
As you can see, there are many choices you will be faced with once you decide to buy a yellow diamond.
You need to consider your budget, how large of a stone you want, what kind of color intensity you're hoping to buy, and finally you'll have to decide what your tolerance is for modifying colors.
But with yellow diamonds, as with anything else, there is a well known trick you can employ to really get your money's worth.
Assuming you are buying a yellow diamond to set in jewelry, and not sit loose in a safe as part of a collection, you can have the diamond set by a professional who understands fancy yellow diamonds and have the diamond surrounded by bright yellow gold.
Basket Colors Enhance the Diamond
Even if you prefer white gold or platinum, it's possible to have just the basket that holds the diamond in the setting made out of yellow or rose gold.  I have personally seen many fancy light yellow diamonds set in this way that end up looking like very strong Fancy Yellow diamonds.
So one strategy you might want to employ would be to specifically look for one intensity grade lower (in order to save money, or use the money towards a larger diamond) and have it set in this way to maximize its color.
Take the ring to the right as an example.  This diamond is a 1.53 carat fancy light yellow diamond from Leibish & Co that, set in this ring, looks like a strong fancy yellow.
The Trick of Baskets
The trick is that the basket underneath the diamond is made from a bright yellow gold. You can see hints of this with the tiny yellow prongs on the corners of the diamond.
James Allen also has a very nice selection of platinum and white gold settings with yellow gold baskets.
Sources Matter
And, of course, the most obvious way to save money when buying a yellow diamond is to buy it from a source that is as high up on the diamond supply ladder as possible.
In most circumstances, people like you don't really have access to high-level diamond wholesalers who trade on much lower margins than your typical retail store (which should be avoided at all costs when shopping for fancy color diamonds).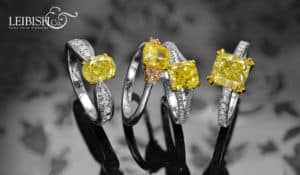 Buying Yellow Diamonds Online
Luckily for the yellow diamonds shopper, one of the world's largest and most respect fancy color wholesale dealers has opened the internet's best destination to shop for fancy color diamonds.
I'm speaking of Leibish & Co Fancy Diamonds.  Leibish Polnauer is known the world over as one of the top suppliers of fancy color diamonds to wholesalers and retail stores alike.
Many of the most expensive pieces at Graff and other ultra-high-end jewelry stores were sourced through Leibish & Co.
Why Choose Leibish & Co.?
Leibish & Co. is higher on the supply ladder than any other online shop for fancy color diamonds.  And it's because of this that they are able to offer the best prices on the internet for fancy color diamonds.  So take advantage of this fact, and shop there first before you go anywhere else.
Why Choose James Allen?
Recently, though, James Allen has also emerged as a very strong contender in the Fancy Color market.  While they are not wholesalers like Leibish & Co, they are still able to sell at the lower possible prices in the Fancy Color market because they do not own their own inventory.
Since they don't have millions sunk into an inventory that needs to be constantly financed, they are able to sell at very low margins.
Likewise, this enables them to carry one of the largest (virtual) inventories of Fancy Colors in the world.  And since the quality of their imagery is so incredibly high, the fact that the inventory is virtual is meaningless.
Leibish & Co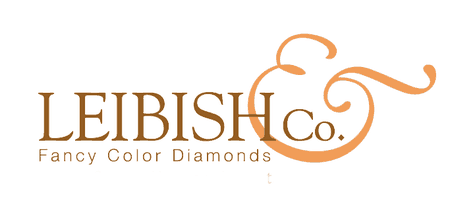 Leibish & Co is the industry leader in the world of Fancy Color Diamonds. Their inventory size and prices are the best in the business, and their expertise in this highly specialized field will ensure that your diamond is set in a way to maximize its color.
What we love about them:
Largest and best inventory of fancy color diamonds
Best prices for fancy color diamonds
Industry leading expertise will ensure the color of your diamond is maximized in its setting
Leading bidders in the annual Argyle auction
Highest quality jewelry available online
Free shipping
Free resizing within first 2 years of purchase
Items comes with professional appraisal for insurance
30 day no questions asked free return policy

---
Still afraid of getting ripped off?
Before you buy a diamond, get personal buying advice from industry veterans. We'll help you get the best diamond for the money.
Ask your diamond purchase question here
DISCLAIMER: We don't use your email for marketing. Period.