We are reader-supported. Buying through links on our site may earn us commissions. Learn More.
Deal Alert! Huge James Allen Sale- 3% off Earth Diamonds AND 25% off settings or

15% off at Blue Nile!



Abe Mor Diamond Cutters Review
Visit Site

Overall Score:

4

Price:

5

Selection:

3.5

Customer Service:

3.5

Pros

Best place to sell your diamond
Great for upgrades and trade-ins
Interesting option for $50,000+ customers

---

Cons

Not a full service e-retailer
Not the right place for the majority of our readers

Other Recommended Retailers
Bottom Line Recommendation: Abe Mor is a fantastic company, though they may not be the best fit for the majority of our readers.
If you are looking to sell your diamond or diamond jewelry, Abe Mor is the best option by far. Based on feedback from our readers, and our own secret testing, Abe Mor offers the highest amount for your jewelry to go along with a quick and easy process.
If you are looking to buy a rare diamond and have a budget over $50,000, Abe Mor is one of the options you may want to consider. Their status as a connected wholesaler and importer on 47th street gives them a unique edge in sourcing hard-to-find diamonds.  If you think this is right for you, contact one of our experts and we'll help guide you through the process.
Their strength in both these fields makes them the perfect option when looking to trade-in or upgrade your diamond. Not only do you get top dollar on one end, you also have one of the best sources for larger diamonds on the market.
About Abe Mor
Abe Mor is not the typical kind of company that we review. Traditionally, we've focused on online retailers and physical stores. Abe Mor is an actual diamond wholesaler; someone who normally supplies diamonds to retailers. This gives you a chance to work directly with a wholesaler and cutting out a middleman.
Abe Mor's story is as much the American dream as can be. Abe Mor grew up in Israel in a much different time. At the age of 13, he needed to start working full time to put food on the table. He started working on "the bench" polishing diamonds. Abe worked tirelessly and mastered all aspects of the diamond industry.
Abe Mor moved to the US in the late sixties and his diamond business grew steadily. In more recent years, the business has been run by his son Eric. Abe Mor has a strong presence in NYC and has decade-long relationships with hundreds of small retailers around America.
As long as they have been in the business, Abe Mor has worked wonders for private customers as well. While not a traditional retailer, Abe Mor is able to offer a unique experience for a consumer. The ability to peel back the curtain a bit on the industry adds a level to the sentimental experience that is buying a diamond.
Always the place to sell your diamond, sometimes the place to buy your diamond.
For years, we have been looking for a company that would help our readers that are looking to sell a diamond that they own. This is usually a frustrating process and people always end up feeling like they've been ripped off. We talk about that at length in this article.
Fortunately, we stumbled on Abe Mor. After some discussions back and forth, we tested the waters with them. Our readers came back with rave reviews. Since then, hundreds of our readers have found that Abe Mor was the best company to sell their diamond to, offering them peace of mind and the top dollar.
A pleasant by-product of this relationship has been finding a wholesaler that can work directly with consumers. Obviously, we feel that James Allen and Blue Nile offer the best value when it comes to purchasing a diamond ring for the overwhelming majority of diamond buyers. But there are occasions, especially for larger purchases ($50,000+) where a consumer can benefit from working directly with a wholesaler. Abe Mor has done a fantastic job in this department.
The Test
We recently did a secret test (we normally call it secret shopping, but this time we were selling) of the major online options for selling your ring. Abe Mor was the clear winner, with no one else coming close. We have the results listed in our "Selling Your Diamond" article.
A Different Level of Customer Service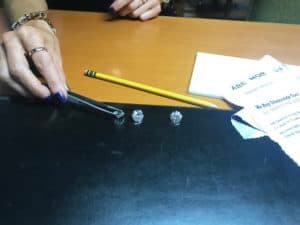 Customer service is a hard nut to crack. The diamond industry is very complex and your contact person isn't just there to make sure they get the shipping info right or to process the returns. Despite the best efforts, it's very difficult for a typical retailer to retain educated and knowledgeable service staff.
While Abe Mor may be lacking when it comes to a full-service retailer (warranties, free maintenance, 24 customer service call, long return policies etc), their level of experience shines through when finding the perfect diamond.
Selling Your Diamond on Abe Mor
In our eyes, Abe Mor doesn't even have any competition on this front. We have reviewed the other major online sites that you can sell your ring to, and they didn't come close. Abe Mor offers to pay for the insured shipping of the ring in order for them to inspect it and consistently offer higher prices than any of their competitors. Combining that with their professionalism is a winning combo.
The best way to sell your diamond is to contact Abe Mor directly. They are your best bet for getting top dollar with the least amount of headaches. Be sure to read our Selling Your Diamond article to be as prepared as possible.
We actually put Abe Mor to the test against their top competition on the internet. We had purchased a Tiffany diamond ring for research regarding other reviews. Instead of returning it to Tiffany, we decided to see which of the on-line options came out on top. 
Abe Mor blew away the competition. Not only were they the easiest to deal with, they offered significantly more money for the exact same ring.
Offers on 1/2ct Tiffany & Co Classic Solitaire
Abe Mor vs. Worthy
This one wasn't too bad unless you dig a little deeper. Worthy has a different business model. They do not actually buy the ring, rather they auction it off to diamond wholesalers and retailers. We are not fans of this model as we explain in our review of Worthy.
After a couple of weeks (time to send the ring, get it inspected by GIA and auctioned) the highest bid was $1,458. That was BEFORE they took their commission. After the commission, the offer would have been somewhere around $1,200.
Abe Mor vs. White Pine
This was the lowest offer by far. After reaching out to them via their website, I received a pithy estimate of $900-1,000. I responded mentioning that it was brand new and had all the Tiffany paperwork. The door was slammed shut by Mark who said there is no way they would go higher than that. Given the other offers we had, it was a waste of our time to send it to them.
Abe Mor vs. Local Jewelers or Pawn Shops
Local Jewelers are usually not a good place to sell your ring. Most retailers have a very narrow line of products that are their 'bread and butter' which accounts for the overwhelming majority of their business. They manage to turn that product into sales very quickly. The chances of your jewelry being right in their wheelhouse are slim to none.
If they think they will sit on the product for a long time, they will need to make an exorbitant profit to make up for that. That means less money to you.
Pawn Shops are even worse. The majority of the jewelry purchases don't get sold to other consumers. In fact, they usually turn around and sell their jewelry back to wholesalers like Abe Mor. All you are doing is adding in another middle man that squeezes the amount of money you receive. 
Buying a Diamond from Abe Mor
Abe Mor has been a fantastic option for those looking for a more unique experience. Working directly with a New York City diamond importer, you are able to find certain options in the higher price range you can't normally find online. Especially when it comes to larger fancy shapes, they are sometimes able to find amazing diamonds at a better value than could be found elsewhere.
If you are looking for a larger diamond (or something that is harder to find), your best bet is to speak with one of our experts that will help guide you through the process. You can contact Abe Mor directly, but you are probably better off having one of our experts show you the other options available. This will help you determine whether it is worth going the Abe Mor route.
Great Option for Larger Diamonds
Some of our readers have had phenomenal experiences with Abe Mor. The process for finding a larger diamond is a bit arduous. Abe Mor does a fantastic job narrowing down your options and guiding you through the process. Here are a few examples of what they found.
We first realized Abe Mor's potential when he found an eight and a half carat diamond that blew me away. Our reader was coming in to look at it a few days after I happened to visit their offices and I had a chance to look at the diamond. It was breathtaking. The cut was superb and Eric managed to find the perfect SI2 that was eye-clean despite the size (incredibly rare).
Abe Mor recently helped one of our readers find a gorgeous 3.61ct asscher cut diamond and built a fantastic three stone ring for them. The reader was particular when it came to qualities but was blown away when seeing the perfectly cut E VVS2 for the first time. As impressed with the diamond as they were, they were equally impressed with the stunning ring that was built around the center stone.
Trading in or Upgrading Your Diamond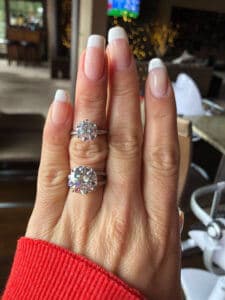 Abe Mor is uniquely positioned to handle diamond upgrades or trade-ins. If you follow the guidelines on our site for trading in or upgrading your diamond, you know that you will be buying a diamond at the best value. Trading in with Abe Mor also allows you to maximize the value of your current diamond.
One of the first trade-in customers we sent to Abe Mor found the perfect fit. They upgraded their 4ct diamond and Eric found a gorgeous 8.50ct diamond for them. They also built a stunning ring for the diamond.
Wrapping Up: Not an Online Retailer
As incredible as they are to work with, we would not recommend them for most of our readers. As we explain throughout our website, Blue Nile and James Allen are fantastic options for the majority of our readers. When you are looking for a 1ct diamond for example, James Allen or Blue Nile have ten thousand options with great images and razor-thin margins. Pair that with their streamlined business model and full-service website make it hard to beat.
Abe Mor is not a full-service online retailer. Their strengths don't play well for the majority of our readers. That said, for those that fall in their niche (as described above), they are an amazing option.
FAQs
Is Abe Mor legit?
It is completely understandable that people are hesitant to send their jewelry to a company on the internet. We can assure you that hundreds of our readers (closing in on a thousand) have sent their jewelry to Abe Mor and have had fantastic experiences with them.
How quickly does Abe Mor pay for the jewelry?
They usually send out a check via priority mail or send a bank wire that typically appears in 2-4 business days.
How do I ship the diamond safely?
Abe Mor will send you a kit for mailing and will direct you how to schedule a pick up. All shipments are either through insured FedEx or Brinks armoured cars.
James Allen

James Allen is the leader in online diamond sales. Their imaging technology is the same as inspecting a diamond with a jeweler's loupe. They have the largest exclusive loose diamond inventory online and fantastic prices. They also have the nicest collection of lab created diamonds online. Now save 25% off settings AND 3% off Earth Diamonds during James Allen HUGE limited time sale!
What we love about them:
No questions asked returns within 30 days of shipment. James Allen will send you a paid shipping label to return the ring.
Lifetime Warranty
Free International Shipping
Free prong tightening, repolishing, rhodium plating and cleaning every 6 months
Provide insurance appraisals
One free resizing within 60 days of purchase
Free ring inscriptions
Best-in-class high quality imagery of all diamonds in stock
24/7 Customer Service
Best-in-class packaging

---
Blue Nile

Blue Nile is the largest and most well known internet jewelry seller. They have a very large exclusive online inventory. Their high quality images are catching up to James Allens' and their prices are amazing. Blue Nile have generously offered our readers an exclusive one-time use coupon.

(Click Here to save $100 off engagement ring settings)
What we love about them:
No questions asked returns within 30 days of shipment. Blue Nile will send you a paid shipping label to return the ring.
Lifetime Warranty
Free Shipping
Free prong tightening, repolishing, rhodium plating and cleaning every 6 months
Provide insurance appraisal
One free resizing within the first year of purchase
High quality images of about half of their diamonds
24/7 Customer Service
100% credit towards future upgrades (must be at least double in value)
Best in class fulfillment

---
Still afraid of getting ripped off?
Before you buy a diamond, get personal buying advice from industry veterans. We'll help you get the best diamond for the money.
Ask your diamond purchase question here
DISCLAIMER: We don't use your email for marketing. Period.