Diamond Pro is reader-supported. When you buy through links on our site, we may earn an affiliate commission. Learn More.
Deal Alert! 25% off James Allen settings
and
15% off Blue Nile settings!
Worthy.com Review – Selling Your Diamond With Worthy
Overall Score:

3

Price:

2.5

Selection:

3

Customer Service:

3.5

Pros

Nice website
Streamlined service

---

Cons
Other Recommended Retailers
Worthy is an interesting company with a hybrid business model. Before they came around, there were two options for selling your diamond. You can go the direct-to-consumer route via sites like eBay or you can go the local route (retailer, pawn shop etc) that will purchase the diamond.
There are fundamental flaws with both of these business models. We explain why eBay is a terrible business model for diamonds in our review. Going the traditional route of finding a diamond dealer and selling it to them is fine. The problem is finding the right diamond dealer. For people who find our site, we've done that research and testing for you.
As you can see from the test we did for our Worthy.com/review (you can read about it here), there was a wide array of responses. If you are searching on your own and find one of the dealers that low-balls every offer, you are flat out of luck.
Worthy's unique approach is to take your diamond ring and auction it to many diamond dealers, wholesalers and retailers. This way you get the highest bid from all of them instead of having to go to each of them, one at a time.
Fundamentally Flawed Business Model
While this sounds nice in theory, there is one "minor" problem with this model that seems to get left out of the discussion.
Worthy needs to make money on your diamond as well.
As we explain in our "Selling Your Diamond" article, you are already behind the eight ball when trying to unload your ring. There is no way you will get back as much money as you think.
By going through Worthy you may be increasing your exposure when trying to sell your ring, but any gains in the offer are offset by the fee Worthy charges for being the middle-man. For the majority of people, the fee that worthy charges is 20%.
Keep in mind that the people bidding from Worthy are industry insiders and experienced at purchasing diamonds. It's not like there is going to be one person looking at their screen saying "screw it, I'll pay 50% more than anyone else is bidding" and make your day.
How Worthy.com Works
How does Worthy work? You head over to Worthy's site, put in basic information (type of ring, diamond etc) and they give you an estimated range of bids you would receive. If you decide to proceed, they send you a shipping label and you send them your jewelry.
The forms are clear and easy to use. There are clear filters that you put in your information on. There are two sections, one for diamond engagement rings and for other jewelry.
If you are looking to sell your diamond engagement ring, they ask you basic questions about the size, color, clarity and source of the ring. If you are looking to sell other types of jewelry they don't ask for much more info (which makes sense as there is no way to narrow down all the thousands of types of jewelry into an easy to use filter).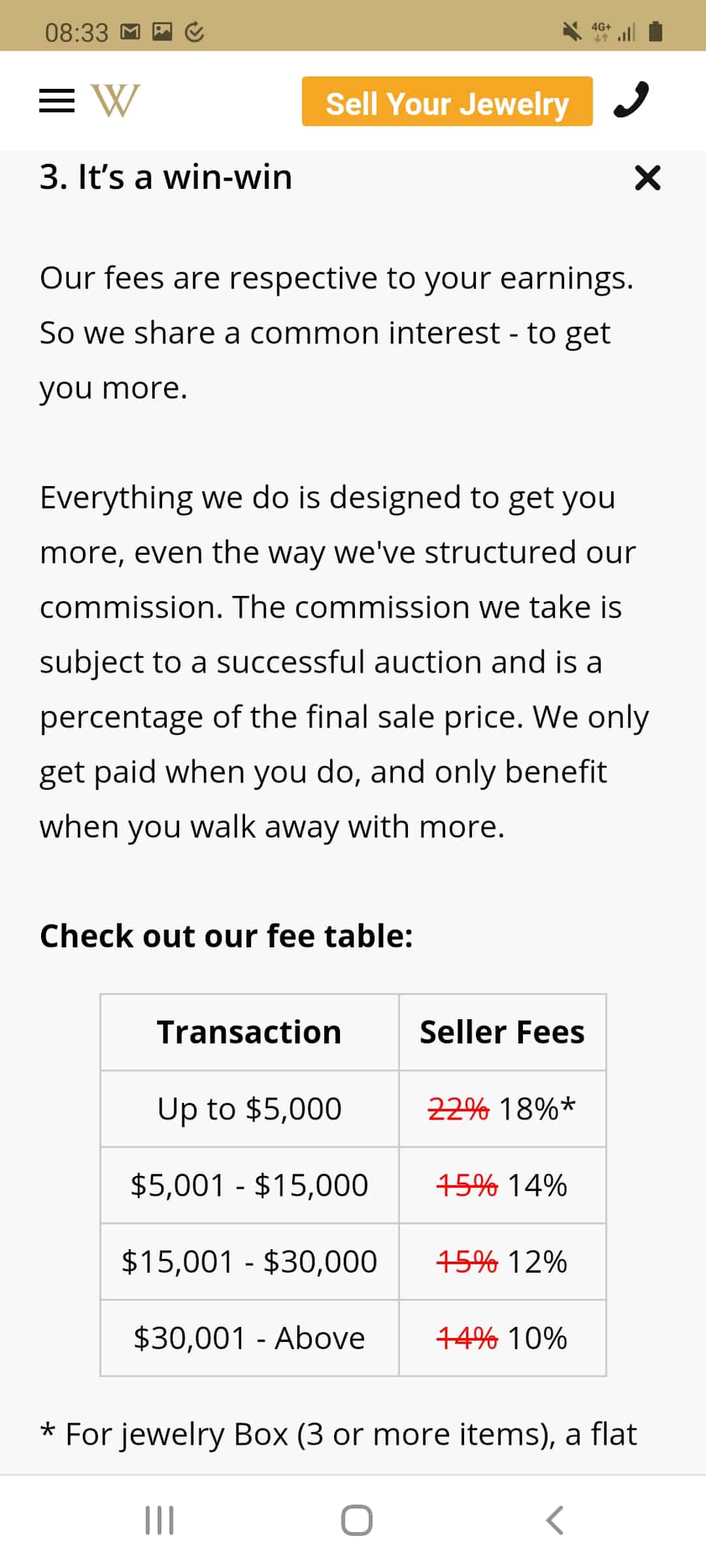 Worthy.com Fees
Worthy does an excellent job of burying their fees. If you look at last section of the "how it works" section, you will find the fee schedule. It looks like the overwhelming majority of their customers pay between 14 and 22% at the time of this update.
I should also point out that in every conversation and email I had with Worthy, they did not mention their fees. Whenever they would quote their estimates (of how much the ring would go for in auction) they would quote the sale price, not how much I would actually receive. It wasn't until I specifically asked that I was told how much they would take off the top.
How Long is the Worthy.com Process
It can be difficult to know just how long the process will take as it varies depending on what type of jewelry you are selling. For us, the process took two and a half weeks (not including the discussions I had prior to sending the ring).
Worthy.com Pros
Excellent website. Very thorough and easy to use interface.
Auction style allows you to reach multiple buyers at one time.
Worthy.com Cons
Long and convoluted process.
Worthy's fees make it unlikely you will end up getting the best deal.
Certification/Appraisal
This is the biggest bonus working with Worthy. Every ring they auction off will have a GIA or IGI certificate. If your ring doesn't have one currently, they will send it to the lab at no cost to you (I don't know how they operate, I'd imagine that they will reject some items as it's not worth the money to certify them). This is very useful as local appraisals don't really tell you what the quality is.
The Test
Getting Things Started
So we were looking to sell a Tiffany ring that we had purchased for our updated review. It was a 0.53ct I color, VVS2 clarity round diamond in the classic Tiffany platinum solitaire setting. We purchased the ring for $4,500 (yes, we know that's overpriced).
After filling out their form, I started a conversation with someone at Worthy. At that point, I already had the offer (pending inspection) from Abe Mor for $1,850. The estimate that popped was only $1,100ish.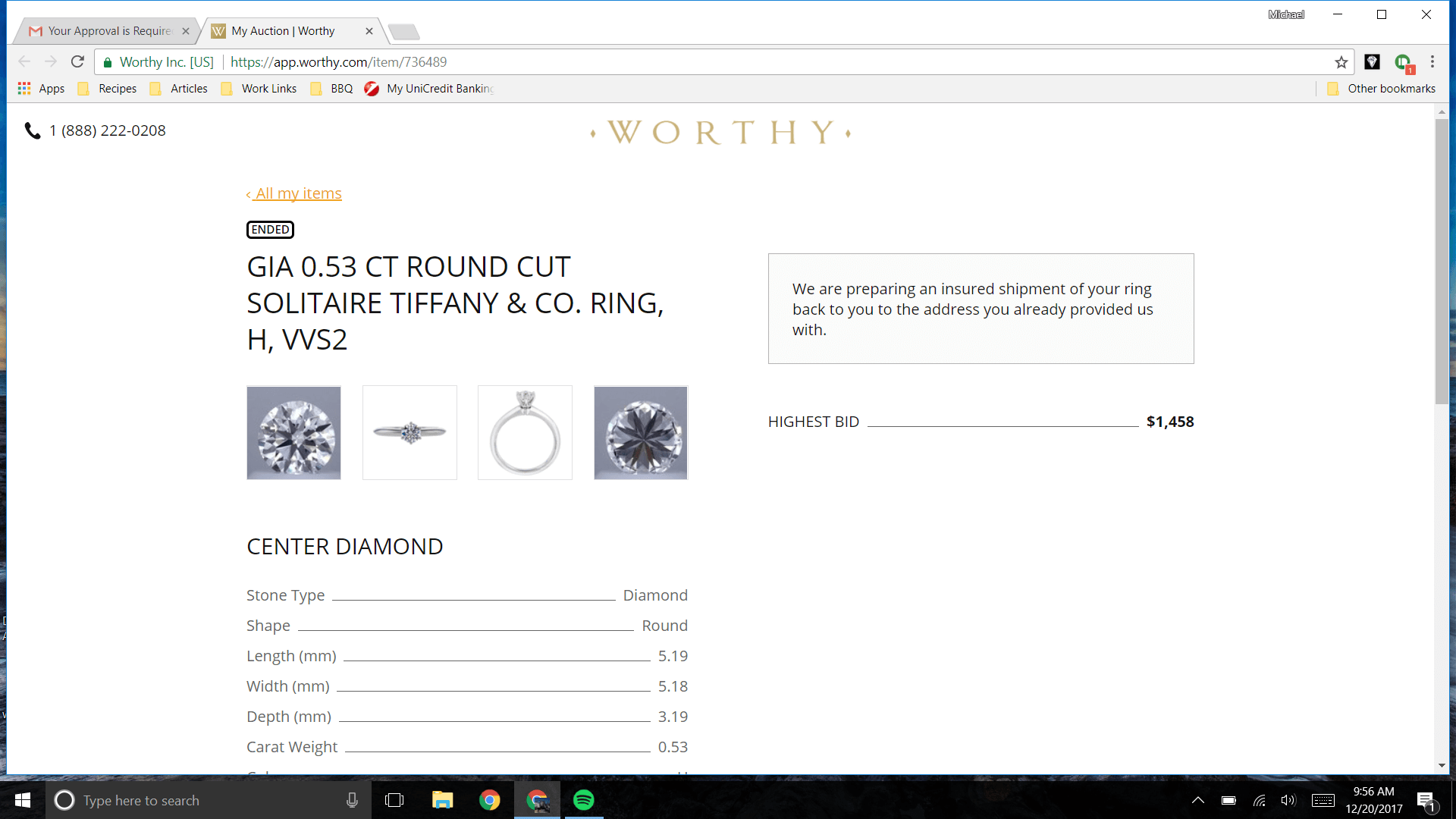 I mentioned that I had a significantly higher bid and didn't want to waste their time (and mine) if they didn't have a chance of beating that bid. Due to their commission, they would need to get a bid over $2,100 to beat my current offer.
The sales rep for Worthy said they would reach out to some of the bidders (companies that usually purchase Tiffany rings and are willing to pay a premium). A couple of days later he got back to me saying he thought there was a good chance to make that number.
I sent them the ring. A few days later, the ring was ready for auction. Unfortunately, the bids were far more inline with their initial estimate. The final bid was $1,458. After their 20% fee (they have since adjusted their fees as we mention above), the final amount I would receive was $1,165.
I was kind of disappointed that the sales rep pushed hard for me to send it in (despite not getting any bids remotely close to what I told him I needed). Maybe he didn't believe me when I said I had another offer, or maybe some of the people he spoke to didn't bid near what they said they would. But it did feel like a waste of time to me.
Worthy vs. Abe Mor
If you've been around our site you may know that the company we recommend to help you sell your jewelry is Abe Mor. Hundreds of our readers have reached out to Abe Mor and successfully sold their diamond rings and reported back to us that they had a fantastic experience. If you are interested in a more thorough comparison, you can read this article.
Bottom Line Recommendation
While Worthy's business model is interesting, I don't think it offers people the best value when trying to sell your diamond jewelry. Our secret test reinforced my opinion. We got a much better offer from Abe Mor for the same ring and the process was much simpler.
---
Still afraid of getting ripped off?
Before you buy a diamond, get personal buying advice from industry veterans. We'll help you get the best diamond for the money.
Ask your diamond purchase question here
DISCLAIMER: We don't use your email for marketing. Period.