GSI Certification: What You Should Know Before Purchasing a Diamond
Scared of getting ripped off? Don't want to waste your money? Confused by all the choices? Contact us.
For the first time in our memory, James Allen is offering sales on both loose diamonds (10% off select Lab Grown Diamonds) and settings (25% on your setting) at the same time. What makes this sale HUGE is that James Allen is allowing you to double dip and save on both the diamond and setting in the same purchase. If you were considering Lab Grown Diamonds, this combination can save you thousands of dollars.
Blue Nile, one of our favorite vendors, is running an "Anniversary Sale" and offering savings of 15% on select engagement ring settings. Use code 2021NILE at checkout.
We get commissions for purchases made from our affiliates through links in this article. Learn More.
Bottom Line Recommendation:
We do not recommend buying a diamond with a GSI certificate. We've found that GSI grading is not only looser than the gold standards (GIA and AGS labs), but weaker than the next level down (IGI and HRD) as well. Unfortunately, GSI does not even carry the consistency to purchase a lower graded diamond and adjust the value accordingly. You should only buy diamonds with an GIA or AGS certificate from a reputable vendor like Blue Nile or James Allen. You will actually know what you're getting from a value perspective and you can compare apples to apples. Retailers don't use inaccurate certificates like GSI in order to give the consumer a better deal; they do it to make more money off of those consumers.
History of GSI
Gemological Science International (GSI) is a recently established for-profit organization. This commercial laboratory has been around for a few years, not decades like other lab organizations. It's the only major gemological lab to be founded in the 21st century. Unfortunately, they didn't come to the industry with fresh ideas or innovative technology. They built their business by appealing to big retail chains in the United States, like Jared The Galleria of Jewelry, Kay and Zales. GSI primarily grades diamonds for large chain stores, and their service is usually speedy.
With locations all over the world, GSI provides gemstone identification as well as grading and appraisal services in the fine jewelry industry. Overall, like EGL and IGI certifications, GSI is consistently looser in their grading than GIA.
Emerald Cut Engagement Rings for Inspiration (Click a Ring for More Information)
Load More
GSI Diamond Grading Report
A GSI report shows the evaluation of a gemstone based on its structure and quality. The scales and measurements are intended to provide a reference point when purchasing.
Grading Results and Scales
The 4 C's (Cut, Color, Clarity and Carat) of a diamond represent its four main components. Each C is graded on a scale to help determine the quality and value of a diamond.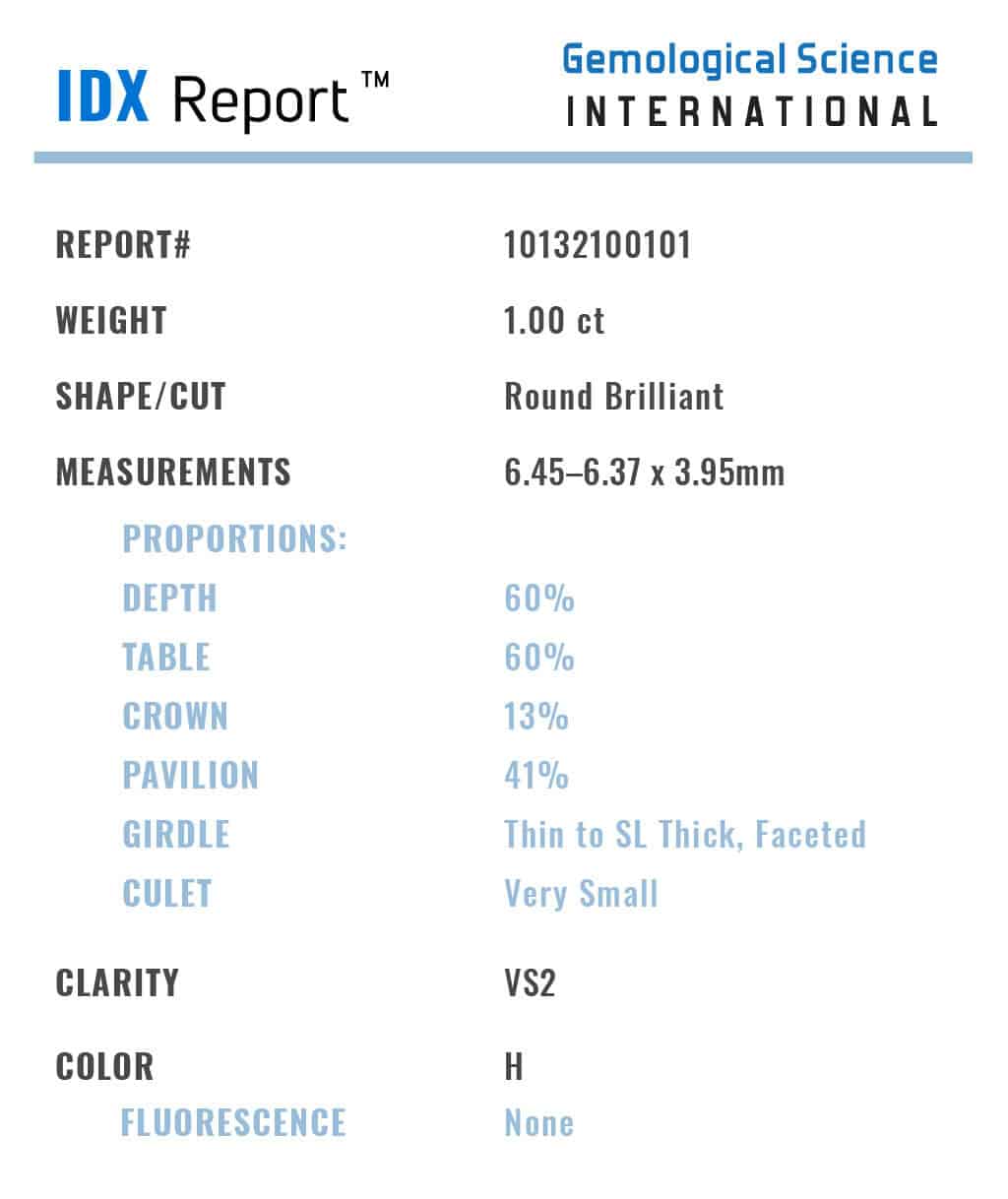 Diamond Cut refers to the quality of a diamond's proportions, angles and symmetrical facets.
GSI designates Cut grade on the following scale:
Ideal
Excellent
Very Good
Good
Fair
Poor
A diamond is evaluated for how white or colorless it is. The GSI grades diamonds from D to Z: D being the most colorless and Z containing noticeable brown or yellow tinting. It is difficult for the naked eye to distinguish two diamonds of adjacent color grades, especially ones graded by the GSI. It is best to seek a more reliable certificate, like one from the GIA or AGS, and ensure that the diamond looks colorless to the naked eye.
Clarity grade determines how clean a diamond is from inclusions and blemishes. We recommend purchasing a diamond that is eye clean, so inclusions do not interfere with natural light reflection.
Carat is measured in standard fashion across all grading entities, as it is based on weight. A 2 Carat Diamond equals 400 milligrams or 0.4 grams—weighing approximately the same as a quarter of a raisin. A GSI report will disclose the Carat of a diamond, though Cut quality remains the most important of the 4 C's.
Proportions
A diamond's proportions can help determine the quality of the Cut, although it is difficult for someone without diamond expertise to make a judgment based on the measurements provided in a GSI report.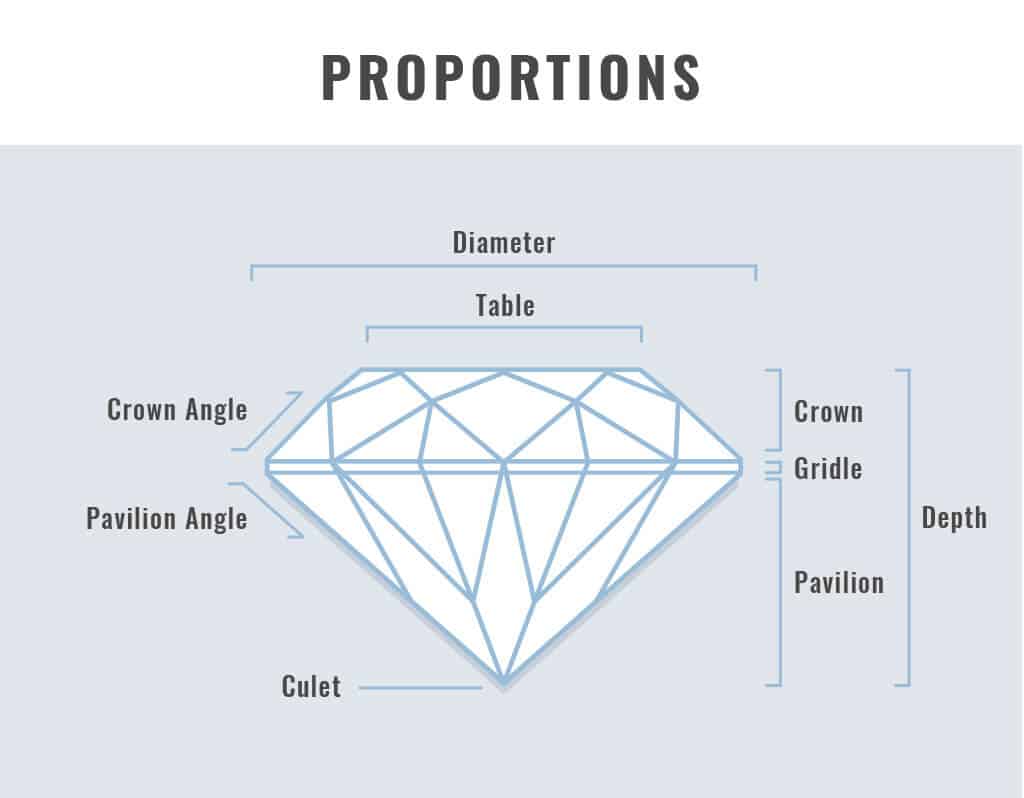 Additional Grading Information
Other details, like symmetry and polish, will also appear on a GSI certification. While these aspects contribute to the beauty of a diamond, the more important factors are the 4 C's.
How GSI Certification Impacts Cost
Because GSI primarily works with large chain jewelers like Zales and Jared The Galleria of Jewelry, it is difficult to assess how truly objective they are in grading diamonds. While a diamond graded by the GSI will be less expensive than a diamond who achieves the same grades on a GIA scale, the GSI diamond will be worth much less. The inconsistency and looseness in grading make a GSI certified diamond a risky purchase at best.
Advantages of GSI Certification
Provides an indication that you should look for another diamond (one certified by the GIA or AGS)
Offers a grading discount to diamond vendors
Provides fast grading services to diamond vendors
Disadvantages of GSI Certification
Very loose grading
Lacks quality and consistency in grading
Does not allow you to compare two diamonds due to weak grading
Unique Reports and Additional Services
The GSI provides full reports for their diamonds along with:
IDX and MDX (smaller versions of a full certificate)
Trade Consultation Report
Hearts and Arrows Report
Light Performance PSX Report
Metal Engraving
Laser Inscription
Virtual Vault (a consumer security service)
Overall, we do not recommend buying a diamond that has a GSI certificate. We strongly encourage only buying diamonds that have a GIA or AGS certificate. By pursuing a more reliable certificate, you actually know what you are purchasing and you can compare diamonds fairly. Retailers don't use inaccurate certificates like GSI in order to give the consumer a better deal; they do it to make more money off of those consumers.
If you have questions about lab certifications or want assistance in ensuring you purchase only a high-quality diamond, please don't hesitate to contact us.
If you're looking for more information about diamond certificates, cheack out our guide on diamond certification.
The articles for other diamond certificates are:
James Allen

James Allen is the leader in online diamond sales. Their imaging technology is the same as inspecting a diamond with a jeweler's loupe. They have the largest exclusive loose diamond inventory online and fantastic prices. They also have the nicest collection of lab created diamonds online. Save 25% off Engagement Rings during James Allen Summer Vibes Sale.
Save 10% off select Lab Grown Diamonds
What we love about them:
No questions asked returns within 30 days of shipment. James Allen will send you a paid shipping label to return the ring.
Lifetime Warranty
Free International Shipping
Free prong tightening, repolishing, rhodium plating and cleaning every 6 months
Provide insurance appraisals
One free resizing within 60 days of purchase
Free ring inscriptions
Best-in-class high quality imagery of all diamonds in stock
24/7 Customer Service
Best-in-class packaging

---
Blue Nile

Blue Nile is the largest and most well known internet jewelry seller. They have a very large exclusive online inventory. Their high quality images are catching up to James Allens' and their prices are amazing. Blue Nile have generously offered our readers an exclusive one-time use coupon.

(Click Here to save $100 off orders of $1000 or more)
What we love about them:
No questions asked returns within 30 days of shipment. Blue Nile will send you a paid shipping label to return the ring.
Lifetime Warranty
Free Shipping
Free prong tightening, repolishing, rhodium plating and cleaning every 6 months
Provide insurance appraisal
One free resizing within the first year of purchase
High quality images of about half of their diamonds
24/7 Customer Service
100% credit towards future upgrades (must be at least double in value)
Best in class fulfillment

---
Still afraid of getting ripped off?
Before you buy a diamond, get personal buying advice from industry veterans. We'll help you get the best diamond for the money.
Ask your diamond purchase question here
DISCLAIMER: We don't use your email for marketing. Period.