We are reader-supported. Buying through links on our site may earn us commissions. Learn More.
Deal Alert! Huge James Allen Sale- 3% off Earth Diamonds AND 25% off settings or

15% off at Blue Nile!



Valentine's Day Jewelry Guide: Make Her Feel Extraordinary
Bottom Line Recommendation:
For a meaningful Valentine's Day gift, choose a piece of jewelry that matches his or her unique style. Whether you decide on a pendant, bracelet or set of earrings, you're giving a gift that they'll cherish forever. Check out all of the options and Valentine's Day gift ideas below.
Most importantly, we recommend purchasing any fine jewelry from a highly reputable vendor. For diamond jewelry, opt for James Allen, Blue Nile or Brian Gavin. For colored gemstone jewelry, consider Blue Nile, Leibish & Co. and James Allen. These vendors will give you the best value and beauty for your budget.
Here's what we'll cover in this article:
What are the current sales for Valentine's Day?
What are the best jewelry gifts to buy for Valentine's Day?
How can I buy the best Valentine's Day jewelry gift?
Where should I purchase my Valentine's Day gift from?
Current Valentine's Day Jewelry Sales:
James Allen is offering a 25% discount on fine jewelry, wedding rings and engagement ring settings (sale ends on February 3rd). Now it's the perfect time to make a purchase.
Blue Nile is giving you up to 30% off Valentin's Day Gifts. Browse their inventory and get an amazing gift in time for the big day.
Valentine's Day is a beautiful time to celebrate the one you love. Show your appreciation for her with an unforgettable Valentine's Day gift. From earrings to cuff links to pearl necklaces, we're providing gift ideas for every style and personality.
If you're dating your significant other and not planning to propose on Valentine's Day, we suggest steering clear of purchasing a ring. Sending a mixed message could end up being more detrimental than thoughtful. But if you're married or already engaged, then gifting a ring is fair game. Consider commemorating your love with a diamond or gemstone eternity ring such as this one from Blue Nile.
No matter which gift you choose, let your beloved know how they special are. Look through our Valentine's Day gift ideas to select something truly extraordinary. We also put together tips on buying a Valentine's day gift and what to stay away from:
Valentine's Day Jewelry Gifts
Jewelry is a classic Valentine's Day gift, and for good reason — it's a timeless choice that shows your affection for your loved ones.
Diamonds are stunning, classic gifts that can be set in any precious metal.  Design or choose a piece that fits his or her personality. Not only will they feel special on Valentine's Day, but they'll feel your love every time they wear it.
Diamond Earrings
Whether she prefers to wear drop earrings or studs, diamond earrings are a timeless gift that can look stunning in any environment. Besides that, they're highly versatile and can be worn with almost any outfit.
Look for high quality diamonds and make sure to select a metal that nicely complements the person's skin tone.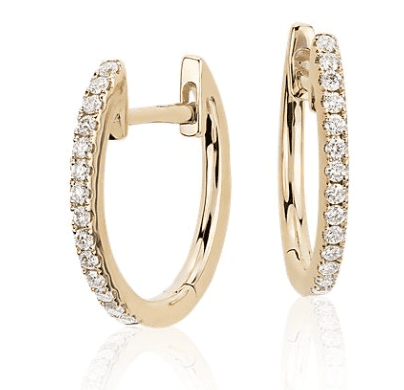 Diamond earring gift ideas:
Diamond Pendants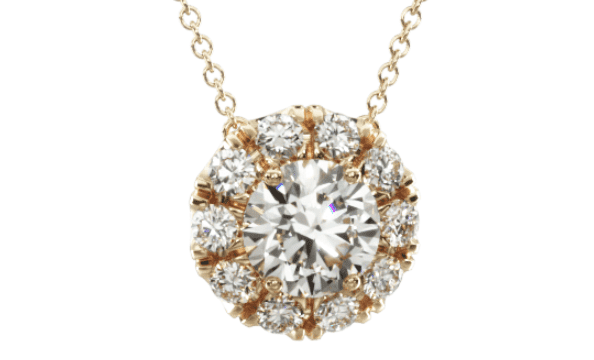 Pendants are special gifts that will be worn close to the heart. Just like a diamond ring, there's lots of variety when it comes to pendants. A solitaire pendant is a great choice for people who love elegant simplicity, while a halo pendant offers a more dazzling, eye-catching look.
Find a simple pendant like this wire basket diamond pendant from James Allen or something more ornate like this vintage teardrop pendant from Blue Nile.
Pendant and necklace gift ideas:
Valentine's Day Necklaces
Necklaces can look stunningly beautiful, especially when they combine diamonds and colored gemstones with beautiful white, rose or yellow gold. Like pendants, necklaces come in a wide range of styles, from elegant and minimalistic to ornate and dramatic.

Valentine's day necklace ideas:
Diamond Bracelets
Make her wrist sparkle this Valentine's Day with a diamond bracelet or diamond tennis bracelet. Available in several styles and metals, bracelets can complement any look and stand out on any occasion.
Choose from designs like this bar bracelet featuring 13 diamonds from Blue Nile or a tennis bracelet with 54 diamonds.

Diamond bracelet gift ideas:
Diamond Rings and Eternity Bands
A diamond ring doesn't just have to be for engagement. It can be a symbol of your love and many special years spent together. Or, it can be a statement of your commitment to your partner before a formal engagement in the way of a promise ring.
Eternity rings offer a versatile style because they easily can be paired with an engagement ring or worn separately. Eternity bands represent endless love and partnership, making them a great Valentine's Day gift idea for your wife, especially during an anniversary year.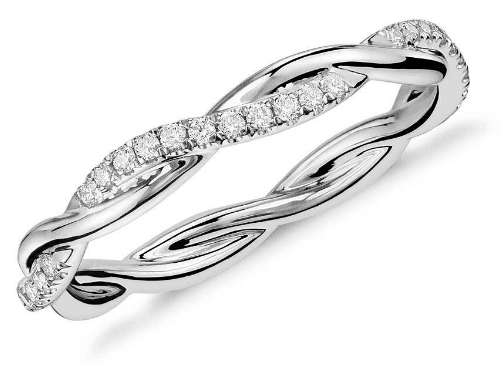 Eternity rings offer a versatile style because they can be paired with an engagement ring or worn separately. Eternity bands represent endless love and partnership.
Diamond eternity ring gift ideas:
Disney Jewelry Collection
If you and your partner are Disney fans, giving Disney jewelry as a fun Valentine's Day gift can be a great idea. Disney offers a large range of jewelry items at affordable prices, including rings, necklaces, earrings and more.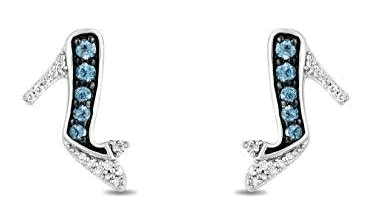 Disney jewelry ideas:
Colored Gemstone Jewelry for Valentine's Day
Interested in vibrant, eye-catching jewelry? Consider colored gemstones for your Valentine's Day gift. Ranging from sapphire pendants like these from Leibish & Co. to emerald earrings, gemstones offer personality and unique style.
Favorite gemstones for jewelry include emerald, ruby, sapphire, amethyst, aquamarine, opal, garnet, citrine and blue topaz. Our guide to precious gemstones discusses what to look for if you're considering buying a gemstone Valentine's Day gift or other gemstone jewelry. 
Many gemstones are significantly more affordable than diamonds, making gemstone jewelry worth considering if you're looking for a more affordable Valentine's Day gift.
Gemstone Earrings
Let her stand out this Valentine's Day with a pair of gemstone earrings. Choose a color that matches her eyes or compliments her skin tone.
There's plenty of variety when it comes to gemstone earrings, with emeralds, sapphires in a variety of colors and other gemstones available. As such, it pays to look into a wide range of options before selecting the final pair.
Since gemstone earrings usually feature small stones, they're often quite affordable and can make for great Valentine's Day gifts.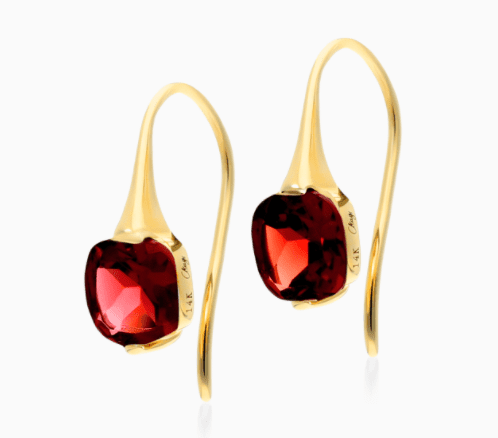 Gemstone earring gift ideas:
Gemstone Pendants and Necklaces
A colorful pendant brightens any outfit, especially when it features an eye-catching sapphire or other gemstone. Gemstone pendants range in price from just a few hundred dollars to tens of thousands of dollars for pendants featuring high-end, rare stones.
To make the biggest impact, consider designing a necklace with her birthstone, favorite color or another gemstone of special significance. A stunning necklace like this from James Allen is a gift that comes from the heart and can be worn for years to come.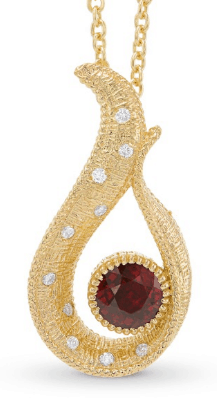 Pendant and necklace gift ideas:
Gemstone Bracelets
Dazzle her with a beautiful bracelet. Like earrings and pendants, bracelets are versatile gifts that can look beautiful in any environment and with any outfit. Choose a single gemstone for your design or opt for a multi-colored style like this round rope bracelet from Blue Nile.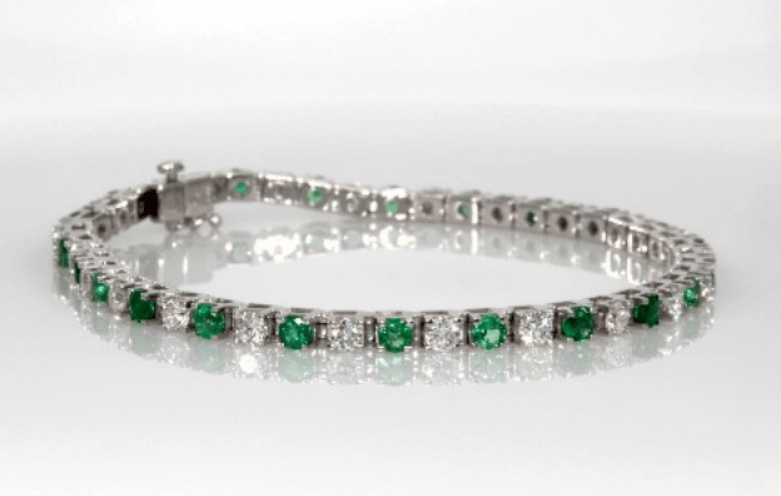 Gemstone bracelet gift ideas:
Gemstone Rings and Eternity Bands
Symbolize your love this Valentine's Day with a gemstone eternity band. Gemstones can look truly stunning in an eternity band, especially when they're paired with a metal that emphasizes their natural beauty. 
For the most impressive look, choose a full or half eternity ring that matches her engagement ring or other fine jewelry.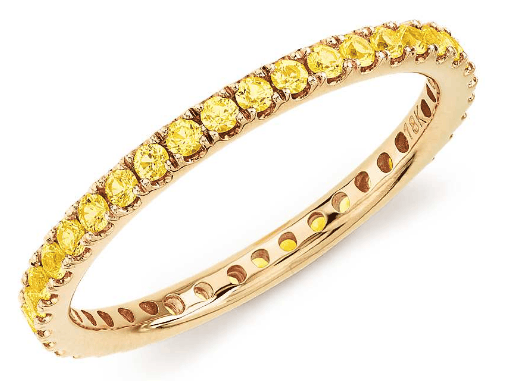 Gemstone eternity ring gift ideas:
How to Buy Valentine's Day Jewelry
Giving your loved one a diamond ring, bracelet or a pair of diamond earrings for Valentine's Day is an incredible way to show how much you care about them.
As we've covered in detail across this website, buying diamond jewelry as a non-expert can be like navigating a minefield. From huge retailer profit margins to sales that aren't quite as good a deal as they seem, there are countless issues that you could run into.
Below, we've shared our expert tips for buying diamond jewelry as a Valentine's Day gift, from understanding the 4 Cs of a diamond's beauty and quality to avoiding vendors that charge too much for their diamond jewelry.
Make Sure You Buy From the Right Vendor
The first, and easiest, step in buying diamond jewelry for Valentine's Day or any other occasion is limiting your search to diamond jewelry vendors that offer good pricing.
As we've covered in our guide to the best places to buy an engagement ring, we think you're far better served if you buy diamonds online rather than visit a jewelry store at your local mall or a department store.
Here's why: operating a brick-and-mortar jewelry store is expensive. There's rent for the retail store itself. There are employee salaries. Then there are extra costs, like utilities, maintenance for the store, advertising and more.
Finally, there's a huge cost simply to purchase all of the inventory that's displayed in the store and sold to customers.
These costs all mean that a brick-and-mortar jewelry store needs to add a significant margin to its products in order to make a profit. As you can see in our reviews of diamond jewelers, this often means that the price you'll pay is 40% higher (or more) than what you'd pay online.
We generally recommend buying diamond jewelry from Blue Nile, James Allen, Leibish & Co. or Brian Gavin Diamonds. All of these vendors offer high quality jewelry at prices significantly lower than what you'd pay for an equivalent diamond from a brick-and-mortar vendor.
We've covered these vendors in more detail a little further down the page, with links to our more detailed reviews and shopping guides.
Know What to Look for in a Diamond
While they may look similar in a display case, not all diamonds are equal when it comes to pure quality. 
Learning what to look for in a diamond will help you get the best deal on a ring, necklace, pair of earrings or any other diamond jewelry. 
Although there are numerous factors that go into determining a diamond's quality and value, the four that are most important are the four Cs: cut, color, clarity and carat weight.
Each of these factors dictates a diamond's quality, from how much brilliance it will have when exposed to light to its clarity and level of colorlessness. These factors also play a major role in dictating a diamond's price (in general, the better the cut, color and clarity, the more it will cost).
Getting a great deal on diamond jewelry is all about striking the right balance between its quality and its price. We've explained how the four Cs affect this, as well as what you should look for, in our detailed guide to the four Cs of diamonds. 
Consider Valentine's Day Gift Ideas for Him
Buying a gift for your boyfriend or husband? From tie clips to cuff links, Valentine's Day is also a great opportunity to give eye-catching and practical jewelry to your male partner. 
Good Valentine's Day gift ideas for him include these round onyx cufflinks or this elegant hinged sterling silver money clip, both of which are available on Blue Nile.
Stick to GIA or AGS Certified Diamonds
All diamonds sold by reputable jewelry vendors will come with a certificate. This certificate is an independent lab report that lists the diamond's cut quality, clarity, color grade, carat weight and a range of other important factors that determine its quality and value.
Unfortunately, not all diamond certifications are equally reliable. While some, like GIA or AGS, provide an accurate evaluation of a diamond's quality, others use looser standards that often make a diamond look better on paper than it is in reality. 
Because of this, we recommend only buying diamonds that come with certification from the GIA (Gemological Institute of America) or AGS (American Gem Society). These grading entities are the two most respected in the industry and can be trusted to provide an accurate report.
For Rings, Make Sure You Know Their Size
As a general rule, we recommend steering clear of rings as Valentine's Day gifts if you and your significant other aren't married. However, if you're already married or already engaged, giving a ring can be a great idea.
Likewise, if you're planning to propose, Valentine's Day can be a memorable, romantic time to pop the question. 
To avoid having to resize your ring after buying it, it's important to know your partner's ring size before you buy anything. This is especially important if you're thinking of buying an eternity ring, which usually can't be resized. 
Likewise, pavé and tension rings, as well as rings made from brittle metals like rose gold, can be difficult or impossible to resize. 
Not sure about your partner's ring size? We've listed four ways to do this, from borrowing your partner's existing jewelry to asking her directly, in our guide to ring resizing.
Where to Purchase Your Valentine's Day Gift
The most important recommendation we can give you for purchasing Valentine's Day gifts is to shop with a highly reputable vendor. Rather than choosing jewelry that's overpriced—or jewelry that won't stand the tests of time—choose quality from the very beginning. As a result, you'll have beautiful, well-made jewelry that can be passed down for generations.
Throughout our years of experience, we've vetted many jewelry companies. We've learned which vendors are trustworthy and which ones should be avoided. Because of our expertise, we give readers peace of mind knowing that they're receiving top-notch jewelry at an excellent price.
The vendors below offer stunning options for diamond and gemstone rings, necklaces, earrings and more. All jewelry is made with high-quality metal and stones. Most importantly, these are vendors you can trust.
Because Blue Nile maintains the largest online inventory of diamonds, you'll have an excellent selection to choose from. They build all of their jewelry with high-quality materials. Read our full Blue Nile review.
Due to their focus on customer experience, many of our readers enjoy shopping with James Allen. They offer incredible imagery on their website, so you can view each diamond thoroughly before purchase. Check out our James Allen review here.
We recommend Leibish because of their solid reputation for fine gemstone jewelry. Leibish designs all of their jewelry with high-quality settings. Read our Leibish & Co. review here.
Brian Gavin carries some of the most beautifully cut diamonds in the world. They offer super-ideal cuts through their "Brian Gavin Signature" Hearts & Arrows collection.  We specifically recommend them for 3 Carat, 4 Carat and 5 Carat diamond rings, because Cut quality is especially important in these sizes. Read our Brian Gavin review here.
Buying Valentine's Day Rings
If you're thinking of proposing on Valentine's Day, buying an engagement ring ahead of time can help you take advantage of special offers and discounts.
While there's no perfect time of year to buy an engagement ring, many brick-and-mortar jewelry retailers offer discounts around Valentine's Day. Often, these discounts are quite significant, with as much as 50% marked off some jewelry.
In general, it's good to be skeptical when you see a huge discount offered on engagement rings or other diamond jewelry. As we mentioned above, brick-and-mortar jewelers tend to add huge markups to their diamonds, meaning they're often overpriced even after the discount.
Instead of buying from a brick-and-mortar jewelry store, look at online vendors such as the four listed above.
While Blue Nile and James Allen don't discount their diamonds, they often run promotions for discounted settings. This can help you save a few hundred dollars when purchasing an engagement ring. 
Our guide to the best times of year to buy a diamond goes into more detail on when you should start shopping, as well as what you can do to make sure you get the best deal.
Why You Shouldn't Purchase Substandard Valentine's Day Jewelry
Many jewelers seem to offer great gift options for holidays like Valentine's Day and Mother's Day. Their advertisements often target a particular line of jewelry and even specific items.
While these may seem like excellent gift ideas, the jewelry is often poorly made and of low quality. In other words, the jewelry won't maintain its beauty or value in the long run.
As a result, we only recommend high-quality jewelry from reputable vendors (see our list above). By purchasing something from a trusted vendor, you'll give a truly remarkable gift that will last for generations.
Need Help With Valentine's Day Jewelry?
Above all, no matter which bracelet, ring, pendant or set of earrings you choose, know that a thoughtful gift from the heart is what matters most.
If you need help choosing Valentine's Day jewelry, feel free to contact us to talk to our team of diamond jewelry experts. We've helped thousands of readers buy beautiful jewelry, and we're happy to help you find something special that matches your tastes and budget.
James Allen

James Allen is the leader in online diamond sales. Their imaging technology is the same as inspecting a diamond with a jeweler's loupe. They have the largest exclusive loose diamond inventory online and fantastic prices. They also have the nicest collection of lab created diamonds online. Now save 25% off settings AND 3% off Earth Diamonds during James Allen HUGE limited time sale!
What we love about them:
No questions asked returns within 30 days of shipment. James Allen will send you a paid shipping label to return the ring.
Lifetime Warranty
Free International Shipping
Free prong tightening, repolishing, rhodium plating and cleaning every 6 months
Provide insurance appraisals
One free resizing within 60 days of purchase
Free ring inscriptions
Best-in-class high quality imagery of all diamonds in stock
24/7 Customer Service
Best-in-class packaging

---
Blue Nile

Blue Nile is the largest and most well known internet jewelry seller. They have a very large exclusive online inventory. Their high quality images are catching up to James Allens' and their prices are amazing. Blue Nile have generously offered our readers an exclusive one-time use coupon.

(Click Here to save $100 off engagement ring settings)
What we love about them:
No questions asked returns within 30 days of shipment. Blue Nile will send you a paid shipping label to return the ring.
Lifetime Warranty
Free Shipping
Free prong tightening, repolishing, rhodium plating and cleaning every 6 months
Provide insurance appraisal
One free resizing within the first year of purchase
High quality images of about half of their diamonds
24/7 Customer Service
100% credit towards future upgrades (must be at least double in value)
Best in class fulfillment

---
Still afraid of getting ripped off?
Before you buy a diamond, get personal buying advice from industry veterans. We'll help you get the best diamond for the money.
Ask your diamond purchase question here
DISCLAIMER: We don't use your email for marketing. Period.