Our Expert Guide to Buying an Eternity Band
Scared of getting ripped off? Don't want to waste your money? Confused by all the choices? Contact us.
Bottom Line Recommendation: Eternity bands make meaningful gifts for anniversaries, birthdays and other special celebrations. We highly recommend purchasing your eternity band from a reputable vendor like James Allen or Blue Nile—to ensure both the diamonds and jewelry are of high quality. The style and setting you choose is mostly based on personal preference with options ranging from platinum pavé settings like this one to white gold rings like this eternity band. If the ring will be worn next to an engagement ring or wedding band, you'll want to match the style and metal as closely as possible.
Eternity Bands: The Fundamentals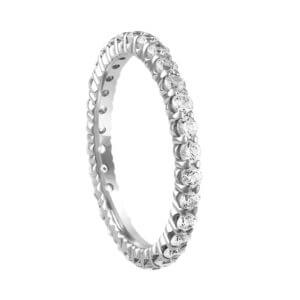 An eternity band, also called an infinity ring, is made of precious metal set with a complete loop of diamonds or gemstones. With its endless circle of diamonds, the eternity band represents never-ending love. Alternative styles contain diamonds set across only the face of the ring—and are referred to as half-eternity bands.
No matter the style chosen, eternity bands are commonly worn on the left hand ring finger. If given as a milestone anniversary gift, the band may be worn between the wedding and engagement ring, or in any other arrangement attractive to the wearer. Eternity bands offer extra sparkle as diamonds circle the entire finger.
Where to Buy an Eternity Band
Similar to when buying an engagement ring, you want to purchase an eternity band from a reputable and proven jewelry vendor. Based on our extensive experience, we recommend the following vendors for eternity bands, engagement rings and other fine jewelry.
Blue Nile: Over the last 17 years, Blue Nile has developed strong relationships with diamond and jewelry vendors, giving them the largest selection of diamonds and settings. Their jewelry craftsmanship is exceptional, and their prices competitive.
Eternity bands from Blue Nile:
James Allen: With over 18 years of experience, James Allen offers superior customer service and stunning jewelry craftsmanship. Their website utilizes high resolution photography and videography—giving you the necessary tools to confidently buy jewelry online. Their extensive collection of well-crafted settings make them an exceptional choice for fine jewelry.
Eternity bands from James Allen:
Brian Gavin Diamonds: Brian Gavin is known for offering the best cut diamonds in the business—meaning their diamonds offer unparalleled brilliance. Review their collection to find exceptional jewelry at competitive prices.
Eternity bands from Brian Gavin:
Boutique options: If you are looking for something unique and willing to pay extra, please contact us.
Determining the Quality of an Eternity Band
When it comes to evaluating the quality and beauty of an eternity band, you'll want to consider three important aspects: the diamonds, the setting and the precious metal used.
Because the diamonds in an eternity band are much smaller than the center stone of an engagement ring, assessing these diamonds requires a different process. The diamonds are simply too small for the expense of grading the diamonds to be worthwhile. For example, if you were to certify 14 diamonds in an eternity band, the certifications would cost nearly a thousand dollars alone.
With no diamond certifications, it's especially important to buy an eternity band from a thoroughly vetted, reputable vendor like James Allen or Blue Nile. Much of what you are paying for in an eternity band is craftsmanship and style. The way the jewelry is formed and how the stones are set make a tremendous difference in the beauty and quality of the ring. For example, the level of the jeweler's expertise and the amount of time and care invested will be greater with a vendor like James Allen and Blue Nile versus others.
When reviewing diamonds yourself, watch for the level of brilliance (how much the diamonds sparkle and reflect white light). You'll also want to ensure the diamonds are eye clean (meaning they don't have glaring blemishes). To evaluate Color, ensure the diamonds appear white in relation to the setting. For example, these F to G colored diamonds look white in their 14K white gold setting. With a yellow gold setting, the diamonds can be less white than what's necessary with a white gold setting.
If you'd like assistance in reviewing diamonds, contact our experts.
Eternity Band Styles and Settings
Eternity rings are available in prong, channel, bezel and flush settings. If you're looking to pair the band with an engagement or wedding ring, match the style and metal as closely as you can.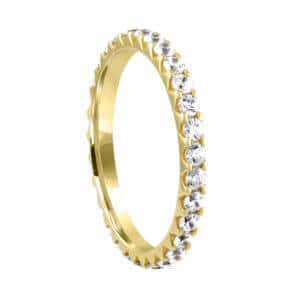 Many eternity bands use prongs for their settings, ensuring more light can reach the diamond. This 14K white gold ring is an example of a prong style setting, while this ring uses a pavé setting. The most popular Diamond Shape for eternity bands is the round diamond, though unique styles are available, like this Asscher cut eternity band.
The type and color of metal you choose—usually platinum, white gold, rose gold or yellow gold—is based primarily on personal preference. Both 18K and 14K gold are durable enough for everyday wear, as is platinum. Review our guide to gold and platinum for more information, or learn about 14K gold here.
When to Buy Eternity Bands
Diamond eternity bands make for meaningful and stunning gifts. Because of their classic design and popular appeal, eternity bands are often regarded as family heirlooms and are passed down for generations.
Commonly given for milestone wedding anniversaries (i.e. 5th, 10th, 20th, 25th), eternity bands can also be a gift for:
Special birthdays
The birth of a child
Valentine's Day
Celebrations of an exciting milestone
Retirements
Christmas, Hanukkah and other holidays
How to Determine Sizing for Eternity Bands
The easiest way to determine the size for an eternity band is to match the size of the wearer's existing wedding or engagement ring. You can measure the inner diameter of a ring and compare it to a ring sizing chart. You can also determine ring size by placing a thin piece of paper around the ring finger. Mark the spot where the paper overlaps with a pen or pencil then measure the length with a ruler. You can also find printable ring sizers online or head to a jewelry store for a professional measurement.
If you're unable to obtain the size and want the ring to be a surprise, consider having a close friend or family member sneak the information.
Famous Eternity Bands
Dating back to ancient Egypt, eternity bands have likely been worn for nearly 4,000 years. Notable eternity bands have popped up throughout history and have been worn by many celebrities and royalty.
Joe DiMaggio gave Marilyn Monroe a platinum eternity band with 35 Baguette diamonds for her wedding ring in 1954.
Elizabeth Taylor received two Emerald Cut eternity rings from Richard Burton: one for their first marriage in 1964 and one for their second marriage in 1975.
Princess Letizia of Asturias received a white gold eternity band with 16 diamonds from Prince Felipe of Spain in 2004.
Other celebrities known to wear eternity bands: Jennifer Garner, Blake Lively, Jessica Biel and Mariah Carey.
Finding an Eternity Band
To purchase a beautiful eternity band that will match the style and personality of your someone special, look for one from a reputable vendor like James Allen or Blue Nile.
Contact our experts at any time for assistance in reviewing and assessing diamonds.
James Allen

James Allen is the leader in online diamond sales. Their imaging technology is at the point where it's almost the same as inspecting a diamond with a jeweler's loupe. Their customer experience is best in class, and they have recently upgraded their non-engagement jewelry inventory as well. For a limited time, take advantage of their 25% OFF Valentine's Day Sale!
What we love about them:
No questions asked returns within 30 days of shipment. James Allen will send you a paid shipping label to return the ring.
Lifetime Warranty
Free International Shipping
Free prong tightening, repolishing, rhodium plating and cleaning every 6 months
Provide insurance appraisals
One free resizing within 60 days of purchase
Free ring inscriptions
Best-in-class high quality imagery of all diamonds in stock
24/7 Customer Service
Best-in-class packaging

---
Blue Nile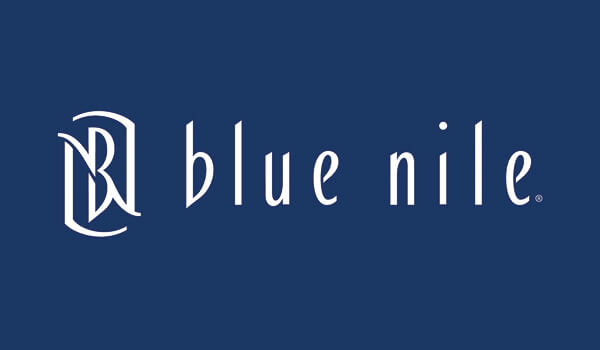 Blue Nile is the largest and most well known internet jewelry seller. They have the industry-leading largest available exclusive online inventory. Their high quality images are catching up to James Allens' and their prices are amazing.
What we love about them:
No questions asked returns within 30 days of shipment. Blue Nile will send you a paid shipping label to return the ring.
Lifetime Warranty
Free Shipping
Free prong tightening, repolishing, rhodium plating and cleaning every 6 months
Provide insurance appraisal
One free resizing within the first year of purchase
High quality images of about half of their diamonds
24/7 Customer Service
100% credit towards future upgrades (must be at least double in value)
Best in class fulfillment

---
Still afraid of getting ripped off?
Before you buy a diamond, get personal buying advice from industry veterans. We'll help you get the best diamond for the money.
Ask your diamond purchase question here
DISCLAIMER: We don't use your email for marketing. Period.