We are reader-supported. Buying through links on our site may earn us commissions. Learn More.
Deal Alert! Huge James Allen Sale- 3% off Earth Diamonds AND 25% off settings or

15% off at Blue Nile!



Buying Guide For A $20,000 Engagement Ring
$20000 Engagement Rings
Make no mistake, it's possible to find a beautiful engagement ring at just about any budget. And the more you have to spend, the more flexibility you have to pick out a perfect, one-of-a-kind diamond ring for your future bride.
If a $20,000 engagement ring fits within your budget, you'll be able to afford a diamond significantly above average in carat weight, with no compromise in Cut, Color or Clarity grades. You'll also have the freedom to choose from any style of setting you want, from a simple solitaire setting to a vintage or designer ring.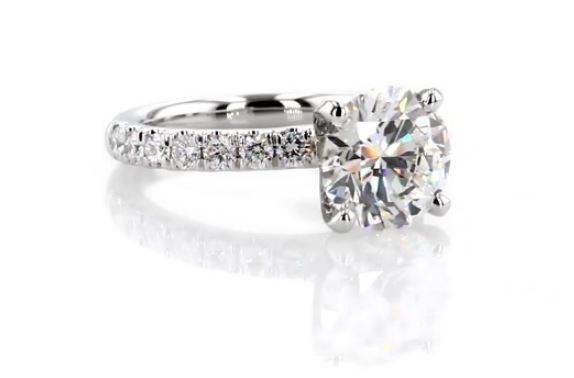 A $20k diamond ring budget will allow you to look at diamonds 2 carats and above, which are guaranteed to steal the show in just about any room they're in. For example, this stunning 2.14 Carat Asscher Cut Diamond. Alternatively, you can dip a little below 2 carats for a super ideal cut diamond, like this 1.828 Carat Round Diamond from the Brian Gavin Signature range.
However, while this budget gives you a lot of flexibility, it's worth knowing how to make the most of it. It's possible to overspend in certain areas, and end up with a ring that doesn't quite live up to its price tag.
In this article, we'll offer up some recommendations to help you maximize the value you get for your $20,000 engagement ring, and we'll show you a few examples of what you can buy at this price range.
What Kind of Engagement Ring Can $20,000 Buy?
There's quite a variety with what you can get with a budget of this size. A $20,000 engagement ring budget is far above the median amount spent on a diamond ring, which is around $3,000 – $5,000.
You'll have nothing off-limits in terms of setting style, metal, and Cut, Color and Clarity of the diamond in your ring. It's up to you where you want to put the money towards, and what style of ring suits your partner's tastes best.
$20,000 can get you a 2ct round diamond in a beautiful setting, such as this 2.00 Carat Round Brilliant Diamond paired with an 18K White Gold Pavé Cathedral Setting from James Allen.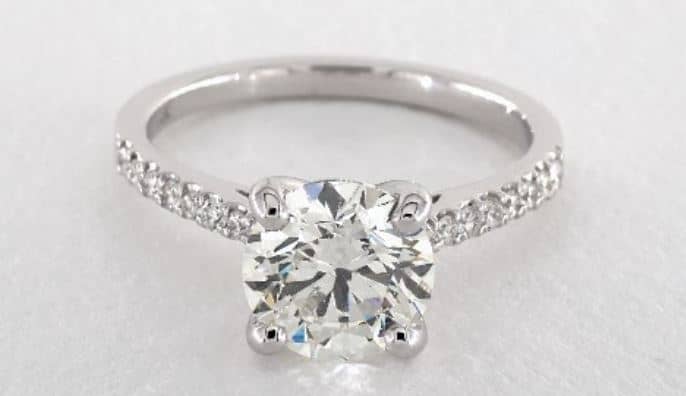 You can also go big, in terms of the diamond or the setting. Take this huge, and beautiful, 2.50 Carat Emerald Diamond in a 14K Yellow Gold Petite Solitaire Setting from Blue Nile as an example. Or, for a standout setting, this 0.45 Carat Halo Setting, set with a 1.70 Carat Round Diamond, from James Allen.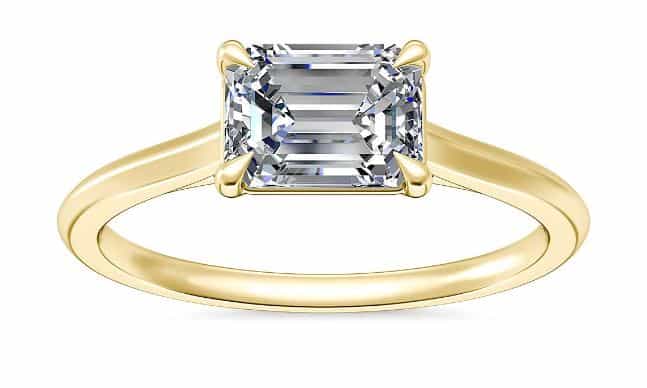 You've got the choice of what style you want to go with, which diamond shape, and how grand the setting will be.
What Does a $20000 Engagement Ring Look Like?
A $20k engagement ring should, if you get proper value for money, look bigger and more beautiful than any ring most people have ever seen in person.
1. A $20,000 engagement ring may feature a large, high-quality center stone with a setting designed to elevate and display this diamond in full glory. Take these rings for example: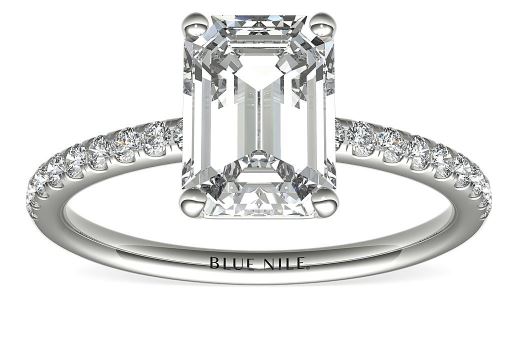 2. Other $20000 rings may go heavier on the setting, to come up with a diamond ring with more all-round brilliance. Here are some examples: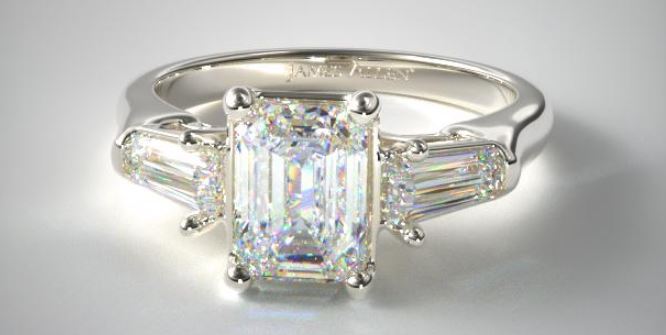 3. There is also the choice of designer settings, which at a lower budget may mean you're under-investing in the center diamond. But for a $20,000 engagement ring, you can afford to splash out on the setting and still have money left over for a beautiful diamond.
See these designer engagement rings: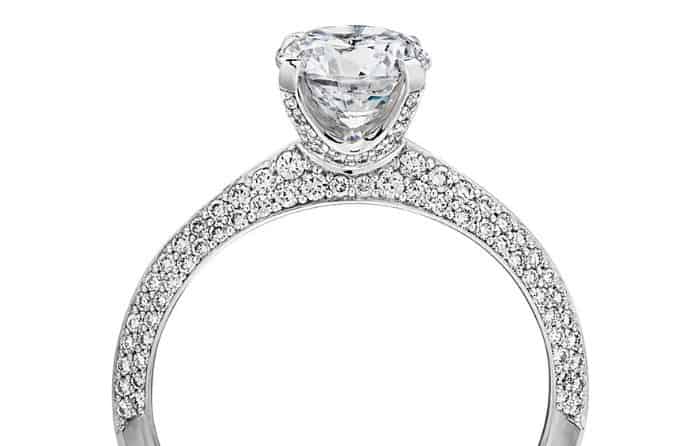 How Many Carats are in a $20k Diamond?
A $20k diamond can be from 2 to 2.50 carats, or even higher, depending on the shape, and how it's graded in other areas.
$20,000 may even be able to get you a diamond as large as 3 carats, however, going as big as this, while staying within a $20,000 budget, means sacrificing significantly on other qualities like cut, color and clarity that can often lead to a dull, lifeless diamond.
That's why between 2 and 2.50 carats is the sweet spot, where you can not only buy a diamond that's significantly above average in weight and size, but one that appears completely colorless and without imperfections.
If you want to get as big a diamond as possible without sacrificing too much in color or clarity, try a fancy shaped diamond, as these traditionally cost less per carat than the more common Round Brilliant cut.
See these diamonds as examples for what you can get with $20,000:
Differences Between a $20000 and $15000 Engagement Ring
If your budget for an engagement ring is $20,000 or $15,000, you're going to have a lot of freedom either way.
The biggest difference between a $20k engagement ring and one for $15k and under is in carat weight. For $20,000, you'll be able to afford a diamond between 2-2.50 carats, without sacrificing much in any other areas. 
For a $15,000 engagement ring, however, you're looking at 1.50-1.80 carats as the sweet spot for all-round beauty and value, and to be able to pair with a gorgeous setting.
For example, here are two identical engagement rings at each price point: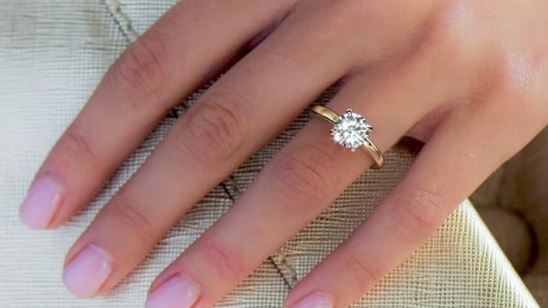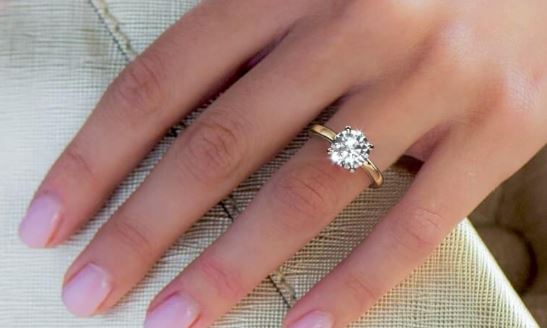 A $20,000 engagement ring budget may also give you the flexibility to pick out a more beautiful diamond at the same carat weight, by putting more of your budget towards color and clarity. For example, this ($15,508), versus an H/VVS2 Emerald Shaped Diamond of the same carat weight ($18,115).
$20000 Diamond Ring: Cut, Color, Clarity and Shapes
To get the most value out of your $20,000 engagement ring, you'll want to understand what to look for in the various categories in which diamonds are graded. 
If you pick out a diamond that grades too low in Cut, Color and Clarity, while you'll be able to afford a larger diamond, it will end up being quite mediocre in terms of fire, brilliance and overall beauty – despite its size.
On the other hand, going too high in certain areas can leave you paying a premium for no visible difference to the naked eye.
Here's a summary of what you should look for in order to maximize the value you get for your budget.
Cut
Diamond's cut is the one grade that should not be compromised on. A poorly cut diamond won't have the fire and brilliance diamonds are renowned for, and you'll be left with a dull or poorly proportioned stone.

Look for Ideal or Excellent grades in cut as a starting point. At this budget, you may also wish to splash out on a super ideal cut from the Brian Gavin Hearts & Arrows collection, like this 1.827 Carat Round Diamond.
Color
With color, your aim should be to pick out a diamond that appears colorless. This doesn't mean you need to go with a grade near the top of the scale, such as a D or E Color diamond. Generally, you should be able to find a diamond that looks colorless to the naked eye in the G to K range of the scale.

The difference from one color grade to another is often hard to spot, despite coming with a fairly significant price difference. For example, the difference between this 2 Carat, H Color Diamond and this 2 Carat, J Color Diamond is quite minimal – yet the first is almost $4,000 more expensive.
Dropping a few grades lower, as in the second example, may be a great way to save money on your ring, which can be put instead towards a higher carat weight or a more stunning setting.
Clarity
Like color, there is a point at which any difference in clarity grades is not noticeable to the naked eye. While it's nice to be able to say you bought a "flawless" diamond, the truth is it will look no different under normal viewing conditions to a diamond 4-5 grades lower.

You want to look for a diamond that appears "eye-clean". Meaning the diamond has no noticeable inclusions or blemishes. Generally VS1-VS2 is the sweet spot for this. However, it's important to examine each diamond individually to be sure. Also, take into account that inclusions will be more noticeable in larger diamonds, as well as certain shapes, such as Emerald Diamonds.
Shape
Diamond shape is not a grade as such, but it still has an effect on the price you're going to pay.
Round Brilliant diamonds are the most common shape, and also in most cases the most expensive per carat. So if you're looking to afford a higher carat diamond or a more extravagant setting, you may wish to go for a fancy shape.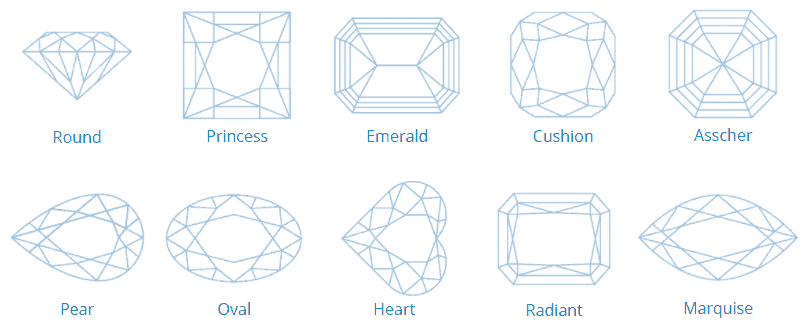 Ultimately, the decision of which shape to go with is one of personal preference. There is no "best" or "worst" diamond shape, so go with one that fits your partner's style and taste. 
Where to Buy a $20k Engagement Ring
You're likely to get the best value by shopping at an online jewelry store. Online vendors are able to offer the best value and widest range, and generally also provide the best customer experience.
Here are some trusted online vendors we recommend:
The customer experience at James Allen is difficult to beat. They offer great customer service and high-quality diamond inspection tools, to go along with a huge range of diamonds and settings, at great prices. All the diamonds sold by James Allen are graded by the GIA or AGS, and they offer peace of mind with a 30-day return policy and lifetime warranty.
Shop James Allen's diamonds here.
Blue Nile is also known for providing a superb customer experience, but even more so, they are renowned for having the largest inventory of loose diamonds. Their range of settings is equally diverse, and they too offer free returns and a lifetime warranty. They are another fantastic company to consider.
Shop Blue Nile's diamonds here.
Brian Gavin Diamonds' specialty is super-ideal diamond cuts. If you want a diamond that stands out and displays a higher level of brilliance and fire than your average stone, a diamond from the Brian Gavin Signature Hearts & Arrows range can be an excellent choice.
Shop Brian Gavin's diamonds here.
$20k Diamond Ring Inspiration
With all the options you have for a $20,000 diamond engagement ring, it's difficult to know where to start. 
Here are some ideas for inspiration on some different choices open to you for a $20,000 engagement ring budget: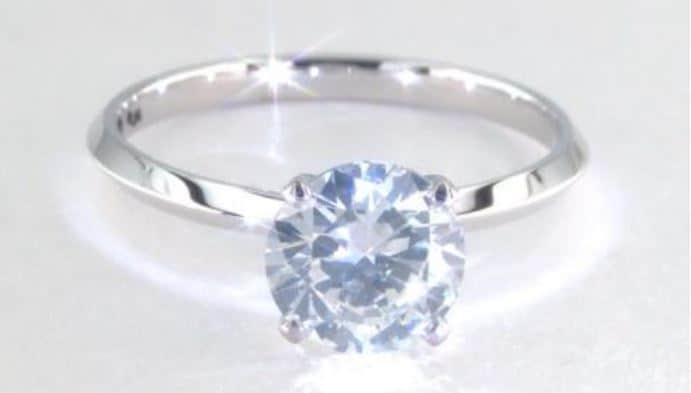 This ring is simple and classic, relying on nothing but a single beautiful diamond. An eye-clean 2 carat diamond with a high-quality white gold solitaire setting gives you a ring that will never go out of style.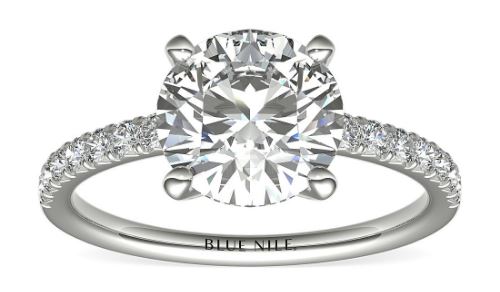 A huge 2.30 Carat Emerald Diamond makes this ring really stand out, and is complemented beautifully by the tiny round accent diamonds set along the band.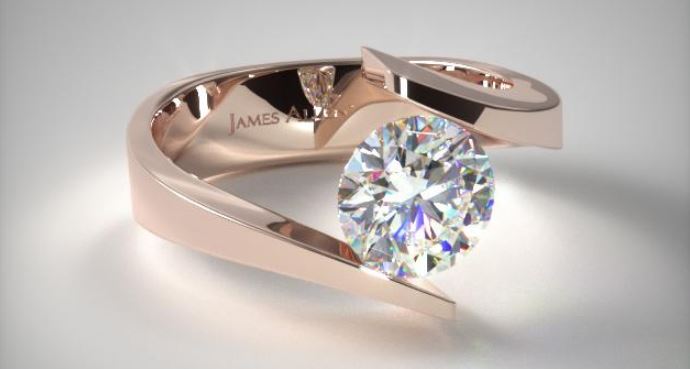 This tension setting is bold and unique, combined with a beautiful 1.85 carat diamond that is sure to stand out in any room.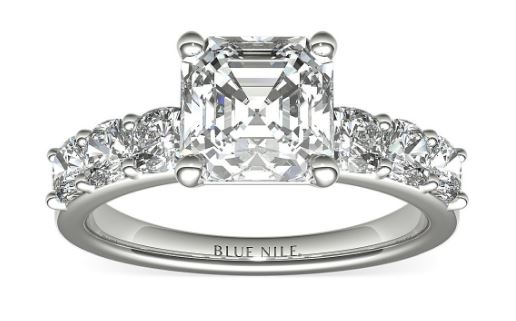 This setting displays incredible all-round fire. 6 Cushion Cut Accent Diamonds, adding up to 1 Carat in total, support the stunning contrast of a 1.90 carat Asscher Cut Diamond in the center.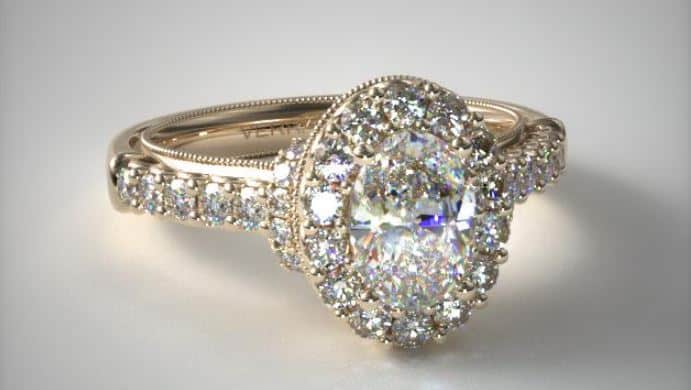 Here we have a truly spectacular designer setting from Verragio. Paired with a stunning Oval Shaped Diamond, the result is an extravagant engagement ring you're not going to see anywhere else.
Email Our Experts For Assistance With Engagement Rings
When you have the budget for a $20,000 diamond ring, you're going to be able to afford a more beautiful engagement ring that 99% of those you'll see in your day-to-day life. This budget is more than enough to splash on a flashy setting, a one of a kind super ideal cut diamond, or a huge diamond 2ct or higher.
The recommendations laid out in this post should give you the knowledge you need to understand what $20,000 can get you, and where your money could be best spent.
And if you're willing to spend a little more, check out our $25000 engagement ring guide for inspiration.
For help starting your search, feel free to contact our experts. We'll help guide you through the options, and help you pick out the perfect ring, whether you're thinking about a large diamond in a simple solitaire setting, or something more extravagant.
James Allen

James Allen is the leader in online diamond sales. Their imaging technology is the same as inspecting a diamond with a jeweler's loupe. They have the largest exclusive loose diamond inventory online and fantastic prices. They also have the nicest collection of lab created diamonds online. Now save 25% off settings AND 3% off Earth Diamonds during James Allen HUGE limited time sale!
What we love about them:
No questions asked returns within 30 days of shipment. James Allen will send you a paid shipping label to return the ring.
Lifetime Warranty
Free International Shipping
Free prong tightening, repolishing, rhodium plating and cleaning every 6 months
Provide insurance appraisals
One free resizing within 60 days of purchase
Free ring inscriptions
Best-in-class high quality imagery of all diamonds in stock
24/7 Customer Service
Best-in-class packaging

---
Blue Nile

Blue Nile is the largest and most well known internet jewelry seller. They have a very large exclusive online inventory. Their high quality images are catching up to James Allens' and their prices are amazing. Blue Nile have generously offered our readers an exclusive one-time use coupon.

(Click Here to save $100 off engagement ring settings)
What we love about them:
No questions asked returns within 30 days of shipment. Blue Nile will send you a paid shipping label to return the ring.
Lifetime Warranty
Free Shipping
Free prong tightening, repolishing, rhodium plating and cleaning every 6 months
Provide insurance appraisal
One free resizing within the first year of purchase
High quality images of about half of their diamonds
24/7 Customer Service
100% credit towards future upgrades (must be at least double in value)
Best in class fulfillment

---
Still afraid of getting ripped off?
Before you buy a diamond, get personal buying advice from industry veterans. We'll help you get the best diamond for the money.
Ask your diamond purchase question here
DISCLAIMER: We don't use your email for marketing. Period.