Buying Your Wedding Bands: Everything You Need to Know
Scared of getting ripped off? Don't want to waste your money? Confused by all the choices? Contact us. James Allen has begun their Black Friday sale early this year offering a whopping 25% OFF your setting!
Bottom Line Recommendation: 
Design a wedding band that you'll be excited to wear for a lifetime.
For her, choose a band that compliments her engagement ring. This halo engagement ring, for instance, pairs well with a pavé wedding band. For him, opt for a durable band with personal style, like this white gold wedding band or this platinum ring with a rose gold inlay. 
No matter which styles you choose, we highly recommend purchasing your wedding band from a reputable vendor like James Allen or Blue Nile—to ensure the diamonds and jewelry are of high quality.
Review the guide below for more buying tips and wedding band ideas. 
Wedding Bands: The Fundamentals
Where to Buy a Wedding Band
Similar to when you buy an engagement ring, you want to purchase your wedding band from a reputable jewelry vendor. From our extensive experience in the industry, we recommend the following online vendors.
James Allen: James Allen offers superior customer service and stunning jewelry craftsmanship. Their website provides high-resolution photography of every ring, so you can confidently buy online. Their beautiful collection of well-crafted settings make them an excellent choice for fine jewelry.
Wedding bands from James Allen:
Blue Nile: Blue Nile has developed strong relationships with diamond and jewelry vendors—giving them the largest online selection of diamonds and settings. Their prices are competitive and their jewelry craftsmanship is exceptional.
Wedding bands from Blue Nile:
Brian Gavin Diamonds: Known for selling some of the best cut diamonds in the world, Brian Gavin diamonds offer unparalleled brilliance. Their collection is full of exceptional jewelry at competitive prices.
Wedding bands from Brian Gavin:
Boutique options: If you're looking for something unique and willing to pay extra, please contact us. We have connections with boutiques who can provide this extra level of service to you.
Wedding Bands for Her
Wedding bands range in setting style from prong to pave to bezel. Even eternity bands are commonly purchased as wedding rings.
If you're looking to pair your band with your engagement ring, aim to match the style and metal as close as you can.
The amount of diamonds and specialty details (or lack thereof) is entirely up to you. Some women prefer the extra sparkle on their wedding band, while others want to keep the attention on their engagement ring.
Review several styles before making your final decision.
Wedding band ideas:
Wedding Bands for Him
Wedding bands for men tend to be simpler than those for women, but some include beautiful detailing and intricacies. For example, you can have diamonds embedded into your band. Or your metal can be polished, brushed, hammered or hand-braided.
Choose a style that matches your personality, but also fits your lifestyle. If you use your hands frequently for work or recreation, you'll want to keep any diamonds flush within the band.
Wedding band ideas:
Determining the Quality of a Wedding Band
You and your spouse-to-be will be wearing your wedding bands forever. Make sure they're made of high-quality materials so they last for many years to come. Consider these three important aspects when shopping for a wedding band: the type of precious metal used, the diamonds and the setting quality.
Most wedding bands for both men and women are made with durable materials, like yellow gold, white gold, platinum or tungsten carbide. Just be sure to choose a reputable vendor who provides some type of verification of the precious metal used, so you know exactly what you're getting.
As far as the diamonds in a wedding band, they'll be much smaller than the center stone of an engagement ring. In short, the diamonds are simply too small for the expense and time involved with grading the diamonds. For instance, if you were to certify 14 diamonds in a wedding band, the certifications would cost nearly a thousand dollars alone.
Without diamond certifications, it's especially important to buy wedding bands from thoroughly vetted, reputable vendors like Blue Nile and James Allen. In a wedding band, much of what you're paying for is craftsmanship and style. The way the band is formed and how the stones are set significantly impact the ring's beauty and quality. For instance, the level of the jeweler's expertise and amount of time invested will be significantly greater with vendors like Blue Nile and James Allen—versus other companies.
Overall, when reviewing diamonds in a wedding band, watch for the level of brilliance (how much the diamonds sparkle and reflect white light). Brilliance is the best indicator of beauty and quality in smaller diamonds.
If you'd like assistance in reviewing diamonds or wedding bands, contact our experts.
How to Determine Sizing for Wedding Bands
The simplest way to determine the size for a wedding band is to match the size of the wearer's engagement ring or another existing ring in their jewelry collection. Read our full guide here to find your ideal ring size.
Finding a Wedding Band
For a beautiful, timeless wedding band, match the style and personality of your someone special. Choose a reputable vendor like Blue Nile or James Allen for your purchase.
Email our experts for help in finding a stunning engagement ring or wedding band.
James Allen

James Allen is the leader in online diamond sales. Their imaging technology is at the point where it's almost the same as inspecting a diamond with a jeweler's loupe. Their customer experience is best in class, and they have recently upgraded their non-engagement jewelry inventory as well. They have the largest exclusive loose diamond inventory online and fantastic prices. For a limited time, take advantage of their huge 25% OFF holiday sale!!
What we love about them:
No questions asked returns within 30 days of shipment. James Allen will send you a paid shipping label to return the ring.
Lifetime Warranty
Free International Shipping
Free prong tightening, repolishing, rhodium plating and cleaning every 6 months
Provide insurance appraisals
One free resizing within 60 days of purchase
Free ring inscriptions
Best-in-class high quality imagery of all diamonds in stock
24/7 Customer Service
Best-in-class packaging

---
Blue Nile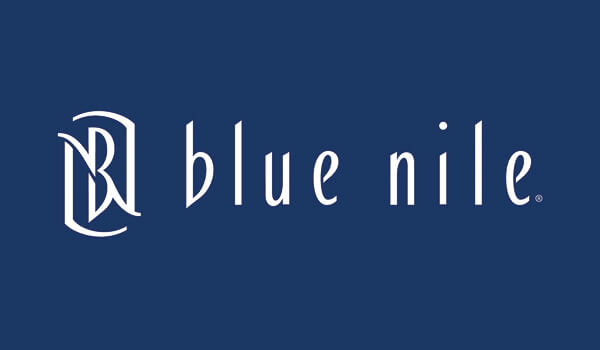 Blue Nile is the largest and most well known internet jewelry seller. They have a very large exclusive online inventory. Their high quality images are catching up to James Allens' and their prices are amazing.

(Pick Up a Blue Nile Coupon Here for $50 off)
What we love about them:
No questions asked returns within 30 days of shipment. Blue Nile will send you a paid shipping label to return the ring.
Lifetime Warranty
Free Shipping
Free prong tightening, repolishing, rhodium plating and cleaning every 6 months
Provide insurance appraisal
One free resizing within the first year of purchase
High quality images of about half of their diamonds
24/7 Customer Service
100% credit towards future upgrades (must be at least double in value)
Best in class fulfillment

---
Still afraid of getting ripped off?
Before you buy a diamond, get personal buying advice from industry veterans. We'll help you get the best diamond for the money.
Ask your diamond purchase question here
DISCLAIMER: We don't use your email for marketing. Period.