We are reader-supported. Buying through links on our site may earn us commissions. Learn More.
Deal Alert! Huge James Allen Sale- 3% off Earth Diamonds AND 25% off settings or

15% off at Blue Nile!



Wedding Bands For Halo Engagement Rings: Buying Guide
What kind of wedding band goes with a halo ring?
Five kinds of wedding bands pair well with halo rings: contoured, notched, guarded, straight, and custom-designed. Based on your halo ring, select the type of band that works best and matches your style. Most people prefer a wedding band that sits flush with their engagement ring, so the rings fit closely together and don't rub against each other. If the rings move and cause friction, certain spots can get worn over time, requiring repair. It's also important to find a wedding band style that compliments your engagement ring — the two should act as a duet.
Depending on your halo ring and personal style, you'll want to review a few options to determine the best wedding band for your engagement ring. You may also want to check with your engagement ring vendor to see if they offer a matching wedding band.
Contoured Wedding Bands
Contoured wedding bands, also called curved wedding bands, mirror the curve of your engagement ring and halo. A contoured band can help your two rings rest flush, so they're snug and parallel when worn together. If your halo is supported by metal on more than two sides, a contoured wedding band is the best match, because it allows your band to wrap around the halo. A straight wedding band won't sit flush with a halo that has metal supports on more than two sides. The supports prevent the straight wedding band from resting closely beside the engagement ring.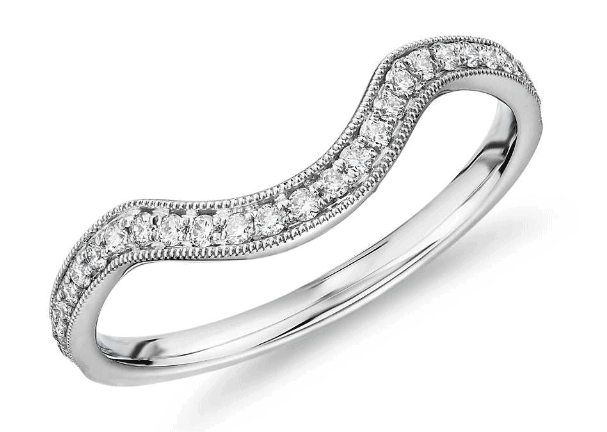 Notched Wedding Bands
Notched wedding bands feature a notch for the halo to rest in, while the remainder of the band is straight. A notched wedding band has a small nook that looks like a half circle for the halo to rest in. When a notched wedding band is paired with the right halo, the two rings fit together like a puzzle. Notched wedding bands are best for halos with multiple metal supports, because the notch fits around them and allows the rings to sit flush.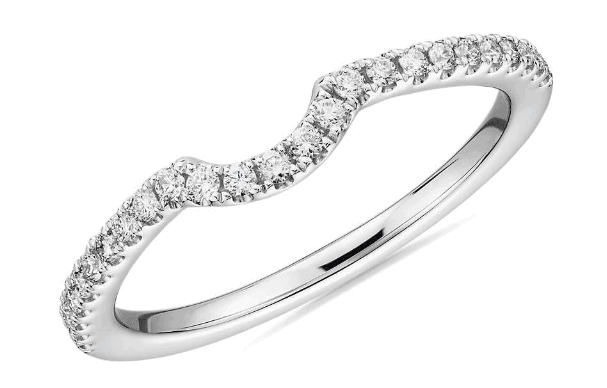 Straight Wedding Bands
Straight wedding bands don't have curves or notches — they are even circles all the way around. Straight wedding bands work well if your halo is suspended with two metal supports. Because the halo and center diamond are lifted off of the finger on two supports, a straight wedding band can slide underneath and be flush with the engagement ring. Before buying a straight wedding band, test to see if this type of ring will slide underneath your halo and sit snug against your engagement ring.

Guarded Wedding Bands
A guarded wedding band is all one piece but features two bands, one that fits above the halo and one that fits below. In most cases, guarded bands are custom-made for an engagement ring, but not always. With a guarded band and your engagement ring, you'll have three rows of metal or pavé diamonds.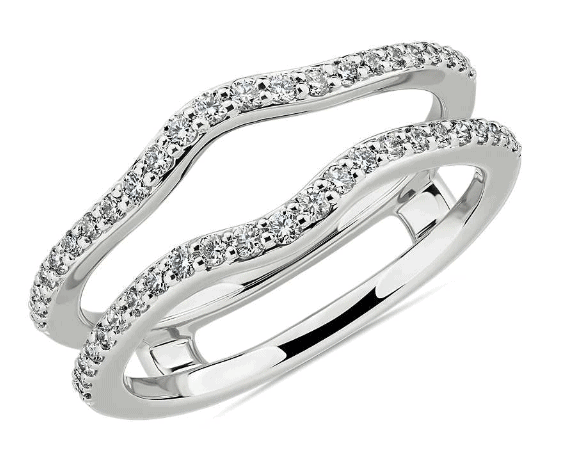 Custom-Designed Wedding Bands
Custom-designed wedding bands are crafted specifically for your halo engagement ring. They might feature a curve, notch, guard, or be straight. With custom-made rings, the band fits perfectly against your engagement ring, reducing any rubbing or friction. Custom wedding bands can also feature specific design requests, such as pavé bands, unique milgrain detailing, or different shaped diamonds. Be sure to order a custom-made wedding band at least two months prior to your wedding to ensure it arrives in time.
11 Best Wedding Bands for Halo Engagement Rings
The best wedding bands for halo engagement rings complement the design and allow the rings to sit flush together. Here are the best wedding bands for halo rings, including a range of styles from antique to modern.
Petite Twist Curved Diamond Wedding Ring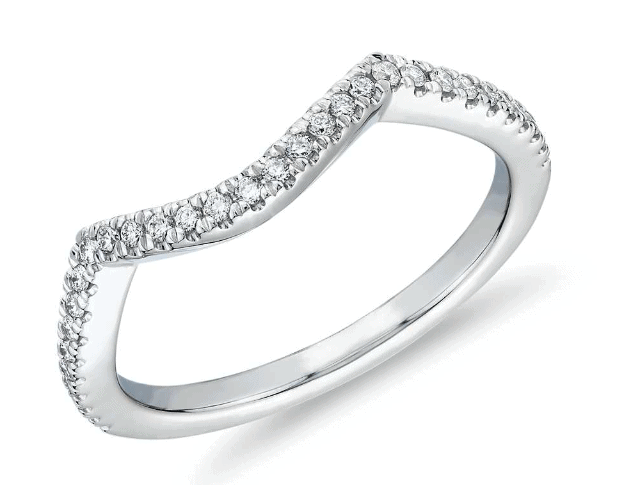 This pavé wedding band curves around the Twisted Halo Diamond Engagement Ring from Blue Nile allowing for the rings to fit securely together. With 25 diamonds, this band offers both brilliance and style.
Curved Sapphire and Diamond Ring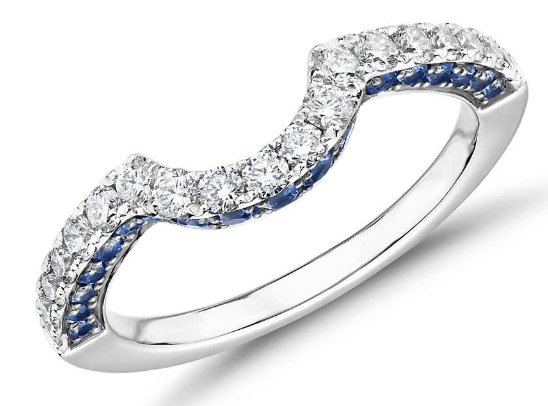 Line your diamond engagement ring with a deep blue hue with this curved sapphire and diamond ring. Not only will you have extra brilliance with this wedding band, but extra color as well.
Petite Micropavé Diamond Wedding Ring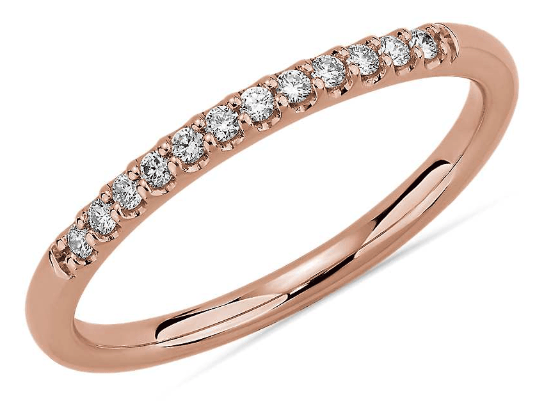 This rose gold micropavé wedding band matches the stunning hidden halo engagement ring from Blue Nile. The petite prong setting offers sophistication without being overpowering.
Round and Marquise Diamond Wedding Ring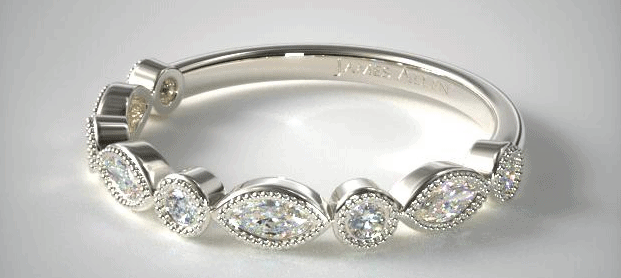 With varying diamond shapes along the band, this round and marquise wedding ring offers character to the one-of-a-kind halo from James Allen. The two fit together to offer charming detail and unmatched personality.
Curved Diamond Guard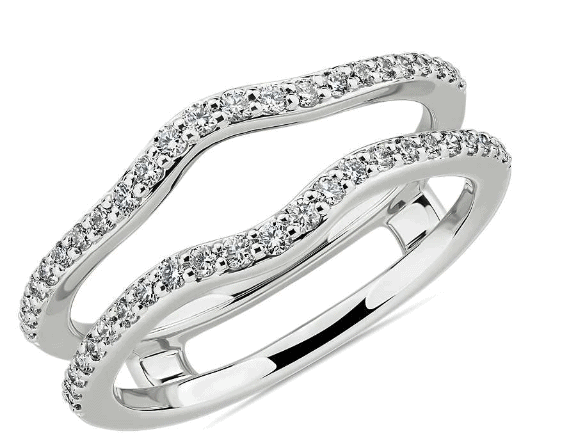 Hugging your engagement ring on both sides, this guarded wedding band offers security while providing extra brilliance. Paired next to the classic halo engagement ring from Blue Nile your pair will have three rows of diamonds.
Slightly Rounded Wedding Ring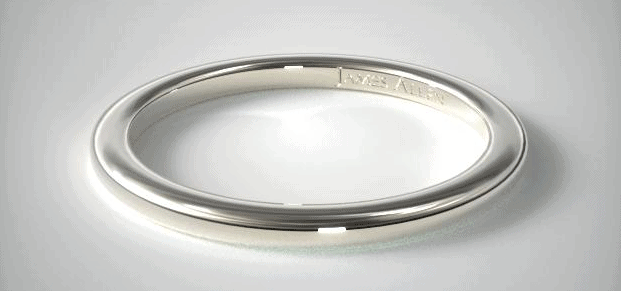 This sleek modern wedding band offers elegance and versatility. It can be paired with halos such as this princess cut halo or this engagement ring with a pear shaped center diamond from James Allen.
Sapphire and Diamond Wedding Band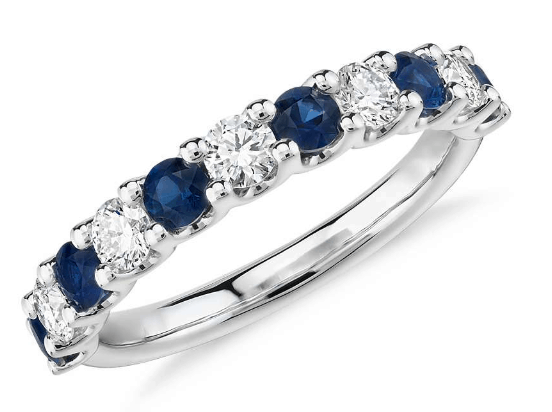 Add color and character to your engagement ring with a sapphire and diamond band. Pair this wedding band with a diamond halo for a set that's bound to garner attention.
Art Deco Wedding Band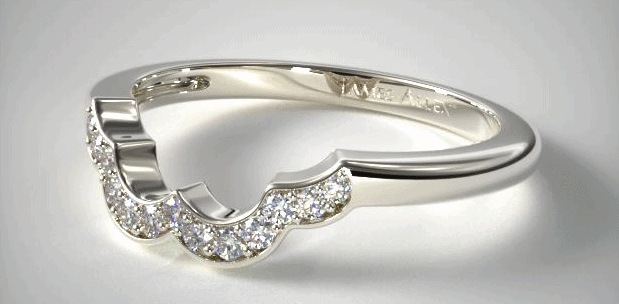 Even the most unique antique rings like this flower halo from James Allen can have wedding bands that match perfectly, as showcased in this art deco pair. The striking design is both beautiful and original.
Channel Set Wedding Band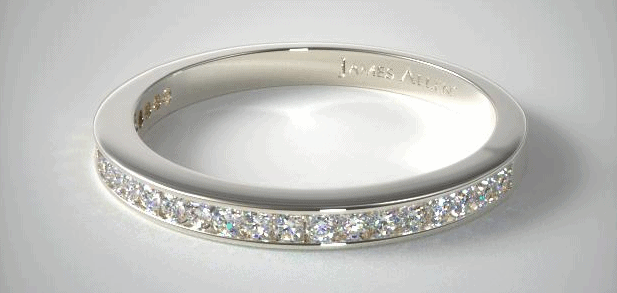 This channel set band securely holds 28 round diamonds, offering brilliance and flair to any modern halo engagement ring. Pair this band with a suspended halo that's held up by two metal supports to ensure that it sits flush with the engagement ring.
Cabled Wedding Ring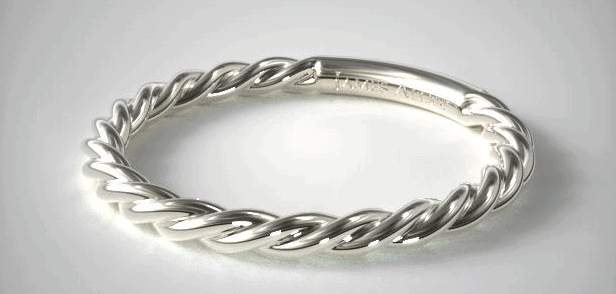 The cabled style of this wedding ring pairs perfectly with a cabled halo, like this diamond halo in 14K white gold from James Allen. As a custom pair, the two rings are a dynamic duo that offers character and texture.
Navette Leaf Diamond Ring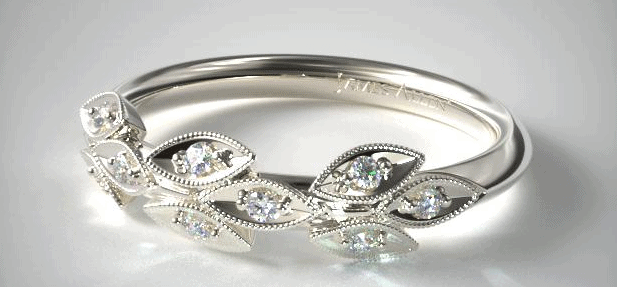 Looking for a unique wedding band and engagement ring pair? Consider this nature-inspired motif wedding band that compliments this vintage style halo engagement ring from James Allen.
5 Design Elements to Consider When Choosing a Wedding Band for Your Halo Ring
Because your wedding band will be worn alongside your halo ring for many years, there are important factors to consider, such as the color of your metal and gemstones. Review these five elements before making a final decision on your wedding band.
1. Band thickness
Most people prefer their engagement ring and wedding band to be the same width, such as both being 1.7mm or 1.9mm like this ring from Blue Nile. With the same band thickness, the .pair looks cohesive, like the two rings belong together. Some, however, choose a different width for their wedding band, such as a ring that's slightly thicker. The choice on width and symmetry is purely personal preference.
2. Style
Do you want your band to feature pavé diamonds or be purely metal? Do you prefer vintage flair or a more classic style? Some choose a wedding band that's simple, while others want their wedding band to add extra character and brilliance to their set. Check out various styles such as multi-row pavé rings to fishtail wedding rings to see what you like best.
3. Metal color
In most cases, people match the metal color of their wedding band to their engagement ring, such as both being made of yellow gold. Some, though, choose to have differing metal colors, such as this rose gold wedding band from Blue Nile paired with a white gold halo engagement ring.
4. Gemstones
Though the most popular choice for an engagement ring is a white diamond, there are alternatives. For instance, with a diamond engagement ring, you could choose to pair it with a diamond pavé band for consistency. You could also choose to add color to your wedding band, such as this ring from Blue Nile that features diamonds and rubies. You might also choose a colored gemstone for the center stone of your halo, such as an emerald, and pair it with a diamond pavé wedding band. If you're wanting some color in your rings, look at various gemstone options to create a winning combination that matches your personal style.
5. Soldering
No matter the wedding band you choose, you'll want to decide if you'll solder your engagement ring and wedding band together. Soldering them prevents movement and wear and tear because the two rings won't spin and rub against each other. Still, some people prefer to keep their rings separate so they have the option of wearing either ring by itself.
For help with selecting the perfect wedding band for your halo engagement ring, reach out to our experts.
James Allen

James Allen is the leader in online diamond sales. Their imaging technology is the same as inspecting a diamond with a jeweler's loupe. They have the largest exclusive loose diamond inventory online and fantastic prices. They also have the nicest collection of lab created diamonds online. Now save 25% off settings AND 3% off Earth Diamonds during James Allen HUGE limited time sale!
What we love about them:
No questions asked returns within 30 days of shipment. James Allen will send you a paid shipping label to return the ring.
Lifetime Warranty
Free International Shipping
Free prong tightening, repolishing, rhodium plating and cleaning every 6 months
Provide insurance appraisals
One free resizing within 60 days of purchase
Free ring inscriptions
Best-in-class high quality imagery of all diamonds in stock
24/7 Customer Service
Best-in-class packaging

---
Blue Nile

Blue Nile is the largest and most well known internet jewelry seller. They have a very large exclusive online inventory. Their high quality images are catching up to James Allens' and their prices are amazing. Blue Nile have generously offered our readers an exclusive one-time use coupon.

(Click Here to save $100 off engagement ring settings)
What we love about them:
No questions asked returns within 30 days of shipment. Blue Nile will send you a paid shipping label to return the ring.
Lifetime Warranty
Free Shipping
Free prong tightening, repolishing, rhodium plating and cleaning every 6 months
Provide insurance appraisal
One free resizing within the first year of purchase
High quality images of about half of their diamonds
24/7 Customer Service
100% credit towards future upgrades (must be at least double in value)
Best in class fulfillment

---
Still afraid of getting ripped off?
Before you buy a diamond, get personal buying advice from industry veterans. We'll help you get the best diamond for the money.
Ask your diamond purchase question here
DISCLAIMER: We don't use your email for marketing. Period.