We are reader-supported. Buying through links on our site may earn us commissions. Learn More.
Deal Alert! Huge James Allen Sale- 3% off Earth Diamonds AND 25% off settings or

15% off at Blue Nile!



Where to Buy Matching Wedding Bands
Your wedding bands are a symbol of your love and togetherness — from now until forever. They can be worn next to an engagement ring or stand by themselves. Some couples like separate ring styles. Others enjoy matching and coordinating their wedding bands for extra cohesion and style.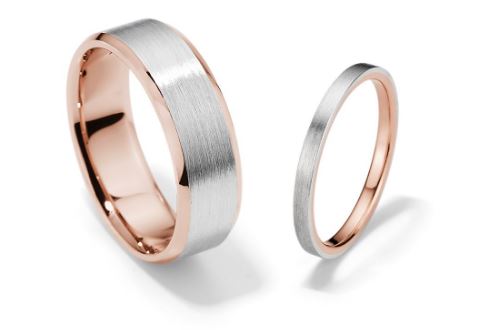 Matching wedding bands work well for couples who have similar tastes in style or color, or who love the idea of a unifying touch to their rings. When worn on separate hands but side by side, matching wedding bands look like a harmonious pair and can even be a fashion statement. You can match everything from metal color to setting styles to gemstones. 
Enjoy the process of designing your matching pair and sharing with loved ones the story of how you created your set. Our guide covers how to match wedding bands and the best places to buy them. 
Are his and hers wedding bands supposed to match?
His and her wedding bands or bands for any couple don't need to match, but matching wedding bands can offer extra style, cohesion, and significance. With matching wedding bands, your rings look like a set, such as this yellow gold knife edge ring from James Allen with this yellow gold domed comfort ring. In the end, it's up to you and your spouse-to-be if you like coordinating features on your rings.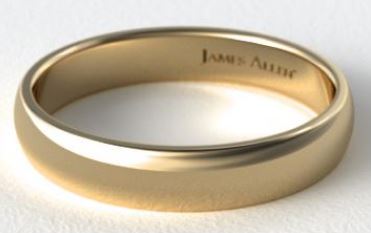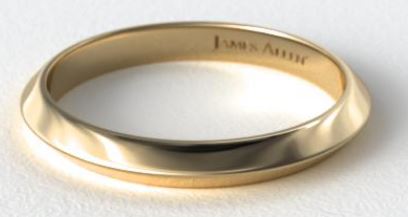 How to match wedding bands
You can match wedding bands in a variety of ways, depending on your style and what you like. You can match based on the color of the metal, the patterns or engravings, the gemstones, or even the metal shank design. Your rings can be as simple or as intricate as you want. 
Check out all the ways you can create a matching set. 
Pair your metal colors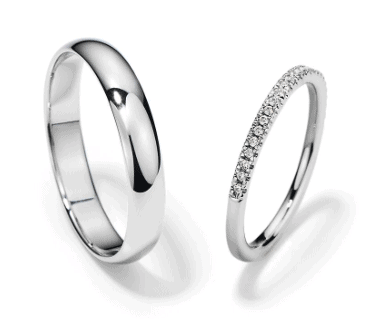 By choosing the same precious metal, your wedding bands will have an immediate sense of harmony and cohesion. You can find wedding bands in yellow gold, white gold, rose gold, platinum, tungsten carbide, and more — or a combination of metals. Your bands can still differ in style, finish, and design if you want, but will have the unifying element of metal color.  
Here are some examples of wedding bands matching in metal color:
Yellow Gold Sleek Accent Diamond Ring from James Allen with Yellow Gold 6mm Beveled Comfort Fit Wedding Band
White Gold Hand-Engraved Wedding Ring with Milgrain Detailing from Blue Nile with White Gold Milgrain Comfort Fit Wedding Ring
Pair your finishes and patterns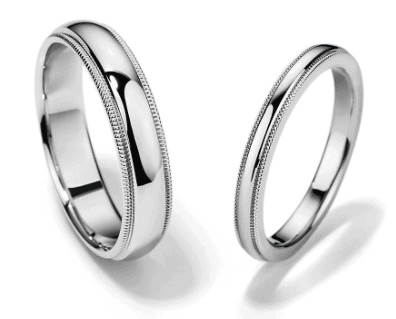 With many finishes and patterns available, you can match your wedding bands to have the same detailing. You could choose a hammered look, a polished finish, or even a pattern that includes floral elements. 
Want to add even more character to your set? Match the same pattern or finish with rings of different metal colors, such as hammered rings in both white gold and yellow gold.
Modern Hammered Wedding Ring from Blue Nile with Hammered Inlay Wedding Band 
White Gold (3mm) Bezel Set Diamond Wedding Ring from James Allen with White Gold (6mm) Etched Bezel Set Diamond Wedding Ring
Pair your diamonds or gemstones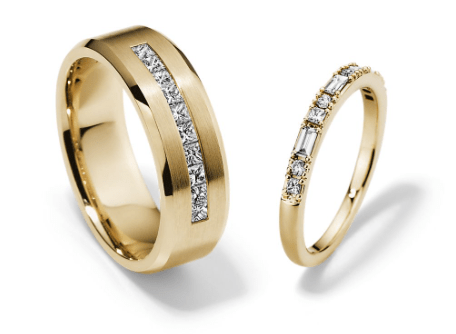 The same gemstones can help bring a harmonious look to your wedding bands. Whether it's one stone or several stones, you can choose from diamonds, sapphires, emeralds, or other colored gemstones. You can even choose a combination of gemstones that you both love, such as sapphires mixed with diamonds. 
Here are some gorgeous sets that show what you can do with coordinating gemstones.
White Gold Blue Sapphire And Diamond Ring from James Allen with White Gold Comfort-Fit Channel Set Sapphire Ring 
Platinum Round Brilliant Diamond And Marquise Sapphire Wedding Ring from James Allen with White Gold Diamond And Sapphire Baguette Milgrain Ring 
Pair design features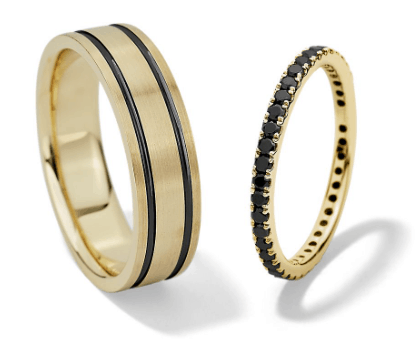 Match up your design elements to form a wedding band set, such as including two twisted rings like this from Blue Nile or two channel set rings like this. There are several setting types and design elements that you can find to fit your unique tastes. 
Here are some examples of wedding bands with matching features or detailing.
Fancy Yellow Mix and Collection Diamonds Band Ring from Leibish & Co. with Fancy Yellow Mix Shape Band Ring
East West Single Baguette Diamond Ring from Blue Nile with Brushed Finish Baguette Diamond Ring 
Yellow Gold Cable Accent Ring from James Allen with Yellow Gold Cable Insert Satin Finish Comfort Fit Band
Matching Engraving
Choose the same words or numbers to engrave on the inside or outside of your rings, such as your wedding date, names, or a favorite song lyric. Engravings can be done on almost any ring and is a custom order you can place when buying your wedding bands. 
Where to buy matching wedding bands
While wedding bands may seem identical across all vendors, there are significant differences in quality and price. 
Through our decades of comparing jewelers and consulting on diamonds, we've found the best vendors to buy matching wedding bands. These online vendors will be a fraction of the price of bricks and mortar stores, without sacrificing quality. Their selections are extensive and include options for every couple and style.  
If you're shopping for matching wedding bands or engagement rings, we can't recommend these vendors enough. They are trustworthy and focused on giving customers an excellent experience. You'll get a beautiful product at a great price. 
From classic styles to modern flair, James Allen offers a massive inventory of wedding bands. James Allen is known for their high-quality jewelry and diamonds, but also their excellent customer service and attention to detail. Due to low overhead costs, James Allen offers competitive pricing, free shipping, and hassle-free returns. 
James Allen's Best Matching Wedding Bands
The best matching wedding bands from James Allen can be found on their blog post about couple ring sets. You can also design your own pair by choosing styles from their women's ring and men's ring collections. 
Blue Nile carries one of the largest inventory of wedding bands and engagement rings. They maintain phenomenal relationships with diamond suppliers and jewelry manufacturers — giving you access to some of the most beautiful and best priced rings on the market. They also offer free shipping and hassle-free returns. 
Blue Nile's Best Matching Wedding Bands
Blue Nile's hand-selected collection of couple rings are beautifully crafted, from simple designs to intricate styles. Their inventory of matching bands is easy to navigate, and you won't have to spend time matching styles or colors — they do it for you. 
You can also create your own matching wedding bands with Blue Nile by selecting from their men's wedding bands and women's wedding bands. 
Known for their signature designs and some of the best cut diamonds in the world, Brian Gavin offers unique, stunning matching wedding band options. Many of our readers have worked with Brian Gavin over the years and have been very pleased with their experiences and results. 
Brian Gavin's Best Matching Wedding Bands
To find and create the best matching wedding bands from Brian Gavin, search their wide selection of wedding bands. Choose rings that complement each other in style, color, or gemstone.
The best place to buy wedding bands with colored gemstones or fancy color diamonds is Leibish. They have a collection of beautiful stones you won't find anywhere else. Their wedding bands are crafted with the utmost care —and your rings will last a lifetime and beyond. 
Leibish's Best Matching Wedding Bands
In Leibish's collection, you can find complementary bands, like rings with the same gemstone or precious metal. Check out their wedding band collection here to design your set.
Clean Origin is one of our top vendor recommendation for lab-created diamond rings. They are committed to ethical and environmental rings that still have plenty of style and creativity. They offer different settings and styles, so you can choose wedding bands that match your unique desires. 
Clean Origin's Best Matching Wedding Bands
Clean Origin offers a selection of both men's wedding rings and women's wedding rings. Look through their collection to create your own matching set. 
If you have questions or concerns as you're shopping for the perfect match, reach out to us for personalized ring advice.
James Allen

James Allen is the leader in online diamond sales. Their imaging technology is the same as inspecting a diamond with a jeweler's loupe. They have the largest exclusive loose diamond inventory online and fantastic prices. They also have the nicest collection of lab created diamonds online. Now save 25% off settings AND 3% off Earth Diamonds during James Allen HUGE limited time sale!
What we love about them:
No questions asked returns within 30 days of shipment. James Allen will send you a paid shipping label to return the ring.
Lifetime Warranty
Free International Shipping
Free prong tightening, repolishing, rhodium plating and cleaning every 6 months
Provide insurance appraisals
One free resizing within 60 days of purchase
Free ring inscriptions
Best-in-class high quality imagery of all diamonds in stock
24/7 Customer Service
Best-in-class packaging

---
Blue Nile

Blue Nile is the largest and most well known internet jewelry seller. They have a very large exclusive online inventory. Their high quality images are catching up to James Allens' and their prices are amazing. Blue Nile have generously offered our readers an exclusive one-time use coupon.

(Click Here to save $100 off engagement ring settings)
What we love about them:
No questions asked returns within 30 days of shipment. Blue Nile will send you a paid shipping label to return the ring.
Lifetime Warranty
Free Shipping
Free prong tightening, repolishing, rhodium plating and cleaning every 6 months
Provide insurance appraisal
One free resizing within the first year of purchase
High quality images of about half of their diamonds
24/7 Customer Service
100% credit towards future upgrades (must be at least double in value)
Best in class fulfillment

---
Still afraid of getting ripped off?
Before you buy a diamond, get personal buying advice from industry veterans. We'll help you get the best diamond for the money.
Ask your diamond purchase question here
DISCLAIMER: We don't use your email for marketing. Period.