Diamond Pro is reader-supported. When you buy through links on our site, we may earn an affiliate commission. Learn More.
The Diamond Necklace Buying Guide: Best Places To Buy in 2021
Very little compares to the beauty of a fine diamond necklace. Necklaces are among the most elegant and versatile accessories, which make for timeless gifts for someone special in your life, such as a wife, girlfriend, mother or sister. With many different styles, it's not hard to find the perfect diamond necklace to match what she likes.
We've put together a guide to help you pick out the right diamond necklace and a list of top four online stores to buy them from.
How much Does a Diamond Necklace Cost
The cost of a diamond necklace can vary a lot, starting from around $500, to as much as $36,000. You can even pay much more for diamonds that are truly one-of-a-kind.
How much you pay depends on a variety of factors. The most significant factor is the quality of the diamond (or diamonds). Based on the 4 C's of diamonds, one stone's price can differ greatly from the next. Cut, Color, Clarity and Carat make up the assessment criteria for a beautiful diamond versus an average or mediocre one. If you're buying a necklace with a flawless or large diamond, the price is obviously going to be higher.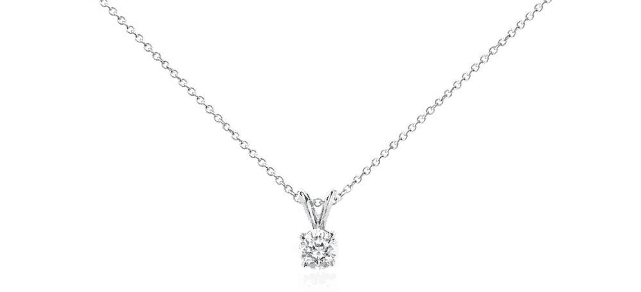 It also depends on the number of diamonds featured in the necklace. Many necklaces are made with several stones, which will often result in a higher price. Examples of such are this three-stone diamond necklace from Blue Nile and this halo pendant from Blue Nile, which features eight diamonds around one center stone.
It is not always the case though, as this single-stone 1.75-carat solitaire pendant necklace from Blue Nile can cost $36,500, due to the size and quality of the diamond.
The quality and material of the chain will make a difference to the final price as well, though not as much as the diamond itself. 14K gold will generally be cheaper, while 18K gold or platinum will add to the cost of the necklace.
To sum up, the cost of a diamond necklace can range quite a bit and depends on your personal budget. But generally speaking, a quality yet affordable necklace will cost somewhere between $1,000 and $6,000.
Best Diamond Necklace
There is truly no shortage of beautiful diamond necklaces to choose from. Here are some favorites we've picked out to make the perfect gift for your loved one.
The Best Place to Buy a Diamond Necklace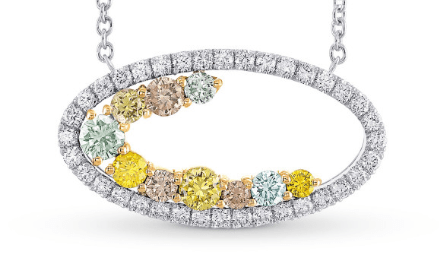 Whenever you buy fine jewelry, such as a diamond necklace, it's vital that you buy it from the right place. Buying from an untrustworthy vendor increases the chances you overpay for low-quality jewelry or diamonds with poor certifications.
Ensure you get your diamond necklace from one of these trusted vendors:
James Allen (Best for overall value)
Blue Nile (Best for variety in style)
Brian Gavin Diamonds (Best for high-end diamonds)
Leibish & Co. (Best for fancy colored diamonds)
James Allen is one of the top online retailers for diamonds and other fine jewelry. They offer high-resolution photography, which you can move around 360 degrees to see a piece of jewelry from all angles. The experience is as good as you can get without being able to actually view the diamond in person.
Blue Nile is another vendor with a big range of high-quality jewelry. Their diamonds are graded with the most trusted certifications, to ensure you're getting quality. Blue Nile also offers a "build your own pendant" tool, which lets you customize each part of your necklace, from the diamond to the style and the setting.
Brian Gavin Diamonds is another vendor renowned for high-quality cuts and beautiful jewelry. They have a good range of quality diamonds and unique designs, and their standing in the industry means you can trust you're buying from a trusted source.
Finally, Leibish & Co are well known for their extraordinary jewelry. While the three vendors mentioned above all offer very high-quality jewelry and diamonds, Leibish has a range of really special pieces you won't find somewhere like James Allen or Blue Nile. 
Leibish is especially renowned for rare Fancy Color diamonds. This is their specialty – if you want a fancy colored diamond necklace, Leibish should be the first place you look.
Types of Diamond Necklaces
There's a style of diamond necklace to suit your loved one, whatever her taste. Along with different diamond shapes (as well as other beautiful gemstones), you can choose from a range of necklace styles.
Here are some curated Diamond Necklaces from our favorite jewelry retailers:
Here are the common styles you'll find from one of the vendors listed above.
Diamond Solitaire Necklace
A solitaire pendant is an elegant, classic style. Consisting of a stone set at the end of the chain in a prong setting (usually four prongs, but six prongs is also a very popular style – look at the one on the left), it matches well with just about everything. The open setting allows a lot of light to get into the diamond, which results in a fantastic brilliance.
Look at the top picks for diamond solitaire necklaces we put together for you:
Diamond Heart Necklace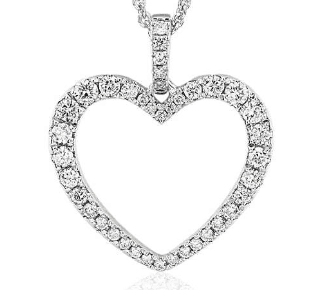 Diamond jewelry is so often a symbol of love, and what represents love better than the shape of a heart. A diamond necklace shaped as a heart (like the one from Blue Nile on the left) is a timeless and moving symbol of affection.
Here are some beautiful heart-shaped diamond necklaces:
Floating Diamond Necklace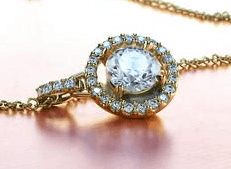 Floating necklaces are similar to the solitaire style, with usually a single stone suspended from a delicate chain. The style is simple yet elegant, and can work with large or small diamonds. If you want something a little more substantial, a halo style can offer a bigger brilliance than just a single diamond on its own.
Top floating diamond necklaces:
Three-Stone Diamond Necklace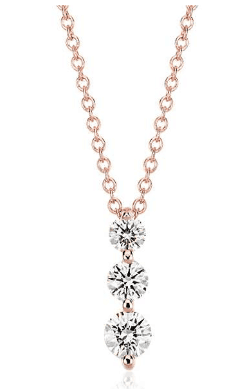 Three-stone styles are similar to a floating necklace but more pronounced. As the name suggests, it's set with three diamonds suspended from the chain, either alongside each other or vertically in a "drop" style. A three-stone necklace with high-quality diamond cuts can be a real showstopper.
Top three-stone diamond necklaces:
Diamond Tennis Necklace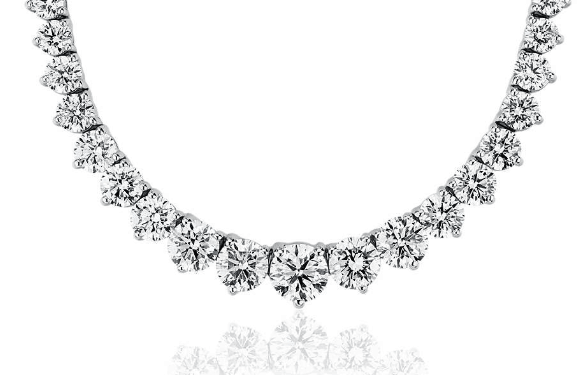 Where a solitaire or floating necklace is centered around one or several gemstones suspended from a chain, a tennis necklace features many diamonds encrusted around the chain, often all the way around. A tennis necklace can be the ultimate in luxurious jewelry, a show-stealing addition to an outfit. 
With as many diamonds as it takes to make up the entire chain, a high-quality tennis necklace will usually come at a significant price – like this 10ct diamond eternity necklace from Blue Nile, or this graduated triple row necklace also from Blue Nile (12 ½ct total). However, little, if anything can beat a beautiful tennis necklace for the wow factor.
Diamond Choker Necklace
The choker style is a more modern one, with the necklace worn to fit tighter around the neck than a tennis necklace. Like a tennis necklace though, a choker fitted with diamonds all around will come at a higher price than your typical pendant necklace.
Dancing Diamond Necklace
"Dancing" jewelry is a unique style, where the diamonds are set in a shape that allows it to catch light from different directions and appear as if it's moving, or dancing. The result is a dazzling piece of jewelry that can easily steal the show.
Diamond Necklace Setting
With the styles above, you can also get different settings, which will make a difference in the appearance of your necklace. 
For a classic solitaire necklace featuring a single stone, a prong setting is popular, as it allows a lot of light to enter the diamond and enhance its brilliance. The prong setting will form a "basket" which holds the diamond, such as this wire basket example from James Allen.
You can also get a scallop basket like this from James Allen, in which the basket is set closer to the diamond.
Also common is a bezel setting, with metal fully encapsulating the diamond, making it more secure and durable. A halo setting is similar, but with smaller diamonds surrounding one center stone, making for a stunning sparkle.
Here is a beautiful bezel diamond pendant from James Allen, and a halo from Blue Nile for comparison .
An Affordable Alternative to the More Expensive Natural Diamond Necklace
If you would love to get a diamond necklace but most of the ones you are looking at are out of your price range, consider Blue Nile's new Lightbox Lab-created Fashion Jewelry Line partnered with DeBeers. They have an amazing selection of white, pink and blue jewelry pieces to choose from.
More Factors to Consider When Buying a Diamond Necklace
As well as what's listed above, you have to consider the chain – length, style and material.
You can get necklaces in 14K gold, 18K gold or platinum. Platinum is more durable, but a higher price and often not worth it. 14K and 18K gold chains are durable enough, more affordable, and still look beautiful. 
You can get a few different options for the chain length too. The most common lengths are 16" or 18", though for certain styles, you might get a necklace as long as 30-36". In most cases, you'll want to stick with a 16" or 18" chain, although you should consider the wearer's style and what type of necklace she usually wears when you make your decision.
How to Find the Right Diamond Necklace
Whatever your loved one's style, there's a diamond necklace to fit. If something subtle yet classy fits the bill, you may look at a classic solitaire necklace. While for something with the "wow" factor, there are stunning three-stone necklaces or unique "dancing" designs.
As with any piece of diamond jewelry, a high-quality diamond bought from a trusted vendor can make all the difference between getting a great deal and overpaying for something mediocre. Ensure you shop with a reputable seller such as James Allen or Blue Nile, and feel free to contact our experts for additional advice.
James Allen

James Allen is the leader in online diamond sales. Their imaging technology is the same as inspecting a diamond with a jeweler's loupe. They have the largest exclusive loose diamond inventory online and fantastic prices. They also have the nicest collection of lab created diamonds online. For a limited time Save 25% on settings and  Save 3% on Earth Diamonds and Save 10% off select Lab Grown Diamonds
What we love about them:
No questions asked returns within 30 days of shipment. James Allen will send you a paid shipping label to return the ring.
Lifetime Warranty
Free International Shipping
Free prong tightening, repolishing, rhodium plating and cleaning every 6 months
Provide insurance appraisals
One free resizing within 60 days of purchase
Free ring inscriptions
Best-in-class high quality imagery of all diamonds in stock
24/7 Customer Service
Best-in-class packaging

---
Blue Nile

Blue Nile is the largest and most well known internet jewelry seller. They have a very large exclusive online inventory. Their high quality images are catching up to James Allens' and their prices are amazing. Blue Nile have generously offered our readers an exclusive one-time use coupon.

(Click Here to save $100 off engagement ring settings)
What we love about them:
No questions asked returns within 30 days of shipment. Blue Nile will send you a paid shipping label to return the ring.
Lifetime Warranty
Free Shipping
Free prong tightening, repolishing, rhodium plating and cleaning every 6 months
Provide insurance appraisal
One free resizing within the first year of purchase
High quality images of about half of their diamonds
24/7 Customer Service
100% credit towards future upgrades (must be at least double in value)
Best in class fulfillment

---
Still afraid of getting ripped off?
Before you buy a diamond, get personal buying advice from industry veterans. We'll help you get the best diamond for the money.
Ask your diamond purchase question here
DISCLAIMER: We don't use your email for marketing. Period.