Diamond Pro is reader-supported. When you buy through links on our site, we may earn an affiliate commission. Learn More.
Deal Alert! 25% off James Allen settings
and
15% off Blue Nile settings!
I2 Diamonds: Not a Smart Buy
Due to the intense heat and pressure that diamonds face during their formation, they all have imperfections. Some imperfections are visible, while others are not. With I2 diamonds, inclusions and blemishes are easily visible under magnification and by the naked eye.
The large and/or many imperfections in I2 diamonds impede how well light travels through and reflects off of the diamond. The level of brilliance and fire suffers—leaving the diamond looking dull. I2 diamonds also have glaring blemishes that you'll see every time you look at the diamond. That's why we strongly advise against I2 diamonds for engagement rings. You're better off spending slightly more to get an eye-clean diamond in the VS2, SI1, or even SI2 grades. You'll save money by not paying for a high-graded diamond, but still get one that's eye-clean.
Read on to learn more about I2 diamonds, their prices, and the best clarity grade for each diamond shape.
What's the meaning of diamond clarity I2?
I2 diamonds are included diamonds to the 2nd degree and have visible imperfections under magnification and to the naked eye. Inclusions and blemishes at this level impact transparency, beauty, and brilliance. Not only do the imperfections impede how light travels through the stone, they are an obvious distraction when looking at the diamond.
Inclusions in an I2 diamond might include black features, carbon clusters, and graining. Even white inclusions at the I2 level are obvious and detract from the diamond's beauty and brilliance. With Included diamonds (I1-I3), you also run the risk of a less durable stone that's more prone to chipping. With imperfections like cavities and feathers, the diamond's composition isn't as solid.
Are I2 diamonds worth buying?
Even if I2 diamonds have a low price, they're not worth buying because they have glaring blemishes that detract from its beauty and brilliance. Prices are low on I2 diamonds for a reason—because they aren't good quality. In fact, most reputable jewelers won't even have I2 diamonds for sale.
The exception is for side stones or the smaller diamonds on a pave band like this one from Blue Nile. Because these diamonds are so small, you won't even notice if they're included. In fact, there's no need to pay for a higher clarity grade because it won't be noticed.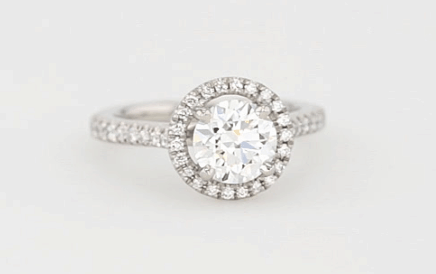 For the center stone on engagement rings, we advise against diamonds in the I1-I3 range. You're better off paying for a VS2, SI1, or SI2 diamond that's eye-clean. You'll pay more than for an I2 diamond, but the difference will be tremendous. You'll still save hundreds or thousands by not buying a higher graded diamond like VVS and FL diamonds.
4 Reasons to Steer Clear of I2 Diamonds
We know that Clarity isn't the most important factor in a diamond's beauty (Cut quality is). But you should still look for a diamond without glaring imperfections.
Here are four main reasons that an I2 diamond is not a smart purchase.
Every time you look at the diamond, you'll see the imperfection(s).
The diamond lacks brilliance because the imperfections block the path of light.
An I2 diamond has little to no trade-in or resale value
Large inclusions weaken the stone—making it more prone to chipping.
I2 Diamond Prices
The price for a well-cut round 1 carat diamond in the G-I color range with I2 clarity is approximately $1,900-$2,800. I2 diamond prices are lower than eye-clean diamonds because they have noticeable blemishes and inclusions. Most reliable jewelers don't have I2 diamonds for sale, though, because the quality is so low.
Even if you'll save money with an I2 diamond, it's not worth it, as you'll have a stone with blemishes. You're better off paying for an eye-clean diamond in the VS2-SI2 range. For instance, this stunning Round 1 carat SI1/I diamond from Blue Nile costs $4,326, and this 1 carat Princess Cut VS2/I color only costs $3,317 at Blue Nile. In other words, you can still save money going for a lower clarity grade—without getting noticeable blemishes like in I2 diamonds.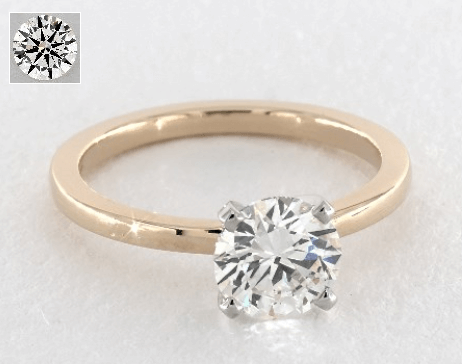 Diamond sellers like James Allen or Blue Nile have HD magnified photos so you can review each diamond up-close to see which ones are eye-clean at the lower clarity grades. You can also have an expert assist you in your search.
Diamond clarity – a quick overview
Before a diamond goes on the market, a gemologist looks at it under magnification to determine its Clarity grade. The grade depends on the size, type, and location of blemishes and inclusions. In general, diamonds with more inclusions, bigger inclusions and darker blemishes have a lower grade.
Here's the GIA's clarity scale from best to worst:
Flawless (FL)
Internally Flawless (IF)
Very Very Small Inclusions 1 (VVS1)
Very Very Small Inclusions 2 (VVS2)
Very Small Inclusions 1 (VS1)
Very Small Inclusions 2 (VS2)
Small Inclusions 1 (SI1)
Small Inclusions 2 (SI2)
Inclusions 1 (I1)
Inclusions 2 (I2)
I1 vs. I2 diamonds
I1 and I2 diamonds are next to each other on the Clarity scale, with I1 diamonds being slightly better. I1 diamonds have noticeable inclusions and so do I2 diamonds, but the imperfections will be even more noticeable in an I2. For example, they might be darker or more clustered together. In general, all Included (I1-I3) diamonds will have obvious imperfections.
Diamond clarity I2-I3
I2 diamonds are one grade better than I3 diamonds. An I3 diamond is the lowest grade on the Clarity scale and will have even more noticeable inclusions than I2 diamonds. Because these imperfections detract from the brilliance and beauty of the diamond, we do not recommend I3 diamonds either.
Diamond inclusions to avoid
You should avoid diamond inclusions that can be seen with the naked eye. Because they are obvious when you look at the stone, they detract from the beauty of the diamond. They can also get in the way of how light passes through and reflects off of the diamond.
There are many kinds of inclusions, from graining to feathers. While there's no best or worst type of inclusion, you typically want to avoid ones that are dark, in the center of the diamond, or ones that are clustered together. These traits usually make them more noticeable.
Best diamond clarity by shape
Getting the best value for Clarity depends on your shape and carat weight.
Round Cuts and Princess Cuts: A VS2 or SI1 clarity will give you an eye-clean diamond. You can sometimes even find an SI2 without visible imperfections. For large diamonds, a VS1-VS2 is more likely to be eye-clean.
Radiant Cuts, Cushion Cuts, Marquise, Oval Cuts, and Pear Shapes: These diamond shapes hide inclusions better than others. Opt for an SI1-SI2 to make the most of your budget.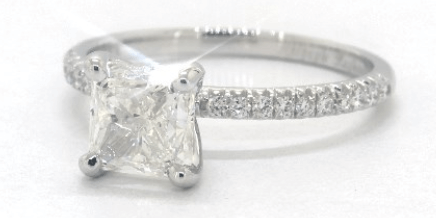 Heart Shaped Diamonds: You should be able to find an eye-clean VS2 or SI1 diamond, because heart shaped diamonds hide inclusions better than Round Cuts, but not as well as Oval or Cushion Cuts.
Asscher Cuts, Emerald Cuts, and Baguettes: A VS2 in these shapes will give you the best value, as step cut diamonds show imperfections more readily.
I2 Diamonds: Not Recommended
You can find eye-clean diamonds at great price points if you shop with a reputable online vendor like Blue Nile or James Allen. There's no reason to reduce the quality of your engagement ring to an I2 diamond.
By choosing an I2 diamond, you'll end up with a less than beautiful stone—defeating the purpose of buying a diamond altogether.
Instead, look for an eye-clean stone in the lowest clarity grade. You'll save hundreds or thousands over a better-graded diamond. You can then spend more of your budget on the most important quality: the diamond's Cut.
For help finding the best value for Clarity and Color, send us a note.
James Allen

James Allen is the leader in online diamond sales. Their imaging technology is the same as inspecting a diamond with a jeweler's loupe. They have the largest exclusive loose diamond inventory online and fantastic prices. They also have the nicest collection of lab created diamonds online. Save 10% off select Lab Grown Diamonds and 25% on setttings!
What we love about them:
No questions asked returns within 30 days of shipment. James Allen will send you a paid shipping label to return the ring.
Lifetime Warranty
Free International Shipping
Free prong tightening, repolishing, rhodium plating and cleaning every 6 months
Provide insurance appraisals
One free resizing within 60 days of purchase
Free ring inscriptions
Best-in-class high quality imagery of all diamonds in stock
24/7 Customer Service
Best-in-class packaging

---
Blue Nile

Blue Nile is the largest and most well known internet jewelry seller. They have a very large exclusive online inventory. Their high quality images are catching up to James Allens' and their prices are amazing. Blue Nile have generously offered our readers an exclusive one-time use coupon.

(Click Here to save $100 off engagement ring settings)
What we love about them:
No questions asked returns within 30 days of shipment. Blue Nile will send you a paid shipping label to return the ring.
Lifetime Warranty
Free Shipping
Free prong tightening, repolishing, rhodium plating and cleaning every 6 months
Provide insurance appraisal
One free resizing within the first year of purchase
High quality images of about half of their diamonds
24/7 Customer Service
100% credit towards future upgrades (must be at least double in value)
Best in class fulfillment

---
Still afraid of getting ripped off?
Before you buy a diamond, get personal buying advice from industry veterans. We'll help you get the best diamond for the money.
Ask your diamond purchase question here
DISCLAIMER: We don't use your email for marketing. Period.