Diamond Pro is reader-supported. When you buy through links on our site, we may earn an affiliate commission. Learn More.
Our Ultimate Tennis Bracelet Buying Guide (Best Places To Buy in 2021)
The tennis bracelet is an iconic fashion piece that can accessorize any style from casual to formal. A gorgeous tennis bracelet like this one from Blue Nile, has incredible brilliance and flash while still maintaining its classy subtleness. Below we will give you everything you need to know to find the perfect bracelet.
Why is it called a Tennis Bracelet?
The name 'tennis bracelet' originates from the 1987 US Open when professional tennis player, Chris Evert, lost her diamond bracelet during a match. Evert asked the officials to pause the game to look for her bracelet, all while spectators and TV viewers watched the search.
Chris Evert was not only a Tennis Superstar, but she was also known as a fashion icon as well. Dubbed "The Ice Maiden", Evert's most nottable style choice was her diamond eternity bracelet.
Since that day, the line diamond bracelet has been referred to as the tennis bracelet. Jewelers instantly started to receive requests for a "tennis bracelet". Decades after the 1987 US Open, viewers, tennis players and the general public alike have been inspired to wear diamond bracelets themselves.
Here are some curated Tennis bracelets from our favorite jewelry retailers:
What is a Tennis Bracelet?
A tennis bracelet is a bracelet that contains small diamonds or gems connected by a thin, precious metal chain. As a piece of elegant jewelry, tennis bracelets are usually made of 14K or 18K gold, platinum or sterling silver.
Originally, tennis bracelets were known as "line diamond bracelets" – a name that's still used on occasion today. Like many other pieces of jewelry, the tennis bracelet has since earned a name that's more the result of a notable public event than its origins or function.
Where to Buy a Tennis Bracelet
Similar to when buying a diamond ring, you want to purchase your tennis bracelet from a reputable and reliable jewelry vendor. Based on our years of experience, we recommend the following vendors for tennis bracelets and other fine jewelry.
James Allen is a well-known online jewelry retailer that sells everything from loose diamonds to engagement rings, bracelets and more. They offer excellent customer service and some of the most competitive prices in the industry. 
Advantages of using James Allen include their high resolution photography, which makes it easy to compare different diamond tennis bracelets and other jewelry online, as well as their selection of different items.
In short, James Allen offers great pricing for tennis bracelets and other jewelry, as well as a vast selection that makes it easy to find something that suits your style. Read our review of James Allen to learn more.
Tennis bracelets from James Allen:
Blue Nile is another online jewelry retailer. Like James Allen, they're well known, with more than 17 years of experience. Blue Nile have a good reputation, offer good customer service and sell their jewelry at competitive prices.
From a selection perspective, Blue Nile has the largest inventory in the industry. They also offer high resolution photos and video for many items, making it easy to compare options online and choose something that suits you.
You can find the usual selection of precious metals offered here, from 14K and 18K yellow gold, rose gold and white gold  to sterling silver and platinum.
As well as tennis bracelets, Blue Nile offer loose diamonds, engagement rings, earrings and a large range of other jewelry pieces. Overall, Blue Nile is a reliable place to shop for any kind of diamond jewelry, including tennis bracelets. Read our review of Blue Nile to learn more.
Tennis bracelets from Blue Nile
With over 20 years of experience, Brian Gavin is known for offering the best cut diamonds. Simply put, their diamonds offer unparalleled brilliance—meaning their stones give off the most sparkle. Consider the Brian Gavin collection for your tennis bracelets, rings and pendants.
Tennis bracelets from Brian Gavin:
Boutique options: If you're looking for something truly unique and have the ability to pay extra, please contact us.
How to Assess the Quality of a Tennis Bracelet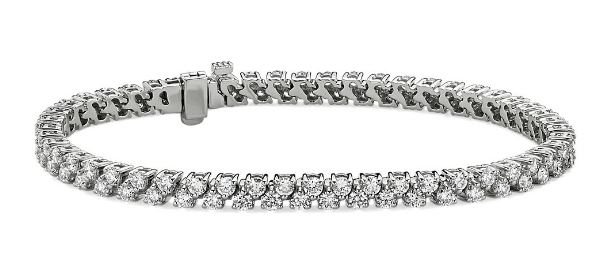 When it comes to assessing the quality of a diamond tennis bracelet, you'll want to pay attention to two factors. The first factor is the type of metal that's used to make the bracelet; the second is the beauty of the diamonds.

We often receive questions about how much a tennis bracelet should cost. A tennis bracelets price is varied based on the metal type, number of diamonds and size of diamonds. Tennis bracelet prices start at roughly $2,500 and can move up significantly from here. You can't really compare the cost of a tennis bracelet containt 1.5 cttw of diamonds to the price of a tennis bracelet containing 3 cttw of diamonds.
Tennis bracelets come in several different metals. The most common are yellow gold, rose gold, white gold, platinum and sterling silver.
There's no "best" metal for a diamond tennis bracelet. Instead, each material offers its own look and feel that can make it more suitable for you. Since you'll usually wear a tennis bracelet fairly often, one factor to consider when choosing a material is its durability.
14K and 18K yellow gold, rose gold and white gold, as well as platinum and sterling silver are all more than durable enough for everyday wear.
For more detailed information on these metals, you can find our guide to platinum and gold here and our guide to 14K gold here.
For the diamonds, you'll want to look at them closely with the naked eye or using high resolution imagery.
When buying an engagement ring, the center diamonds should always be certified to make sure they're of a high quality. However, since the stones used in diamond tennis bracelets are so small, it's not worth the expense of grading the diamonds.
To put this in perspective, to certify the 55 diamonds used in a typical tennis bracelet, you would need to spend close to $5,000 on certifications alone. Because of this huge cost, the diamonds used in tennis bracelets aren't graded or certified.
This makes it essential that you buy your diamond tennis bracelet from a thoroughly vetted and reputable vendor like Blue Nile, James Allen or Brian Gavin. Much of what you're paying for in any tennis bracelet is the craftsmanship and style that went into making it.
In reviewing the diamonds yourself, make sure they offer brilliance (this means that light reflects back to the eye, creating sparkle). You should also check that the diamonds used in the bracelet look eye clean (this means that they don't have any noticeable blemishes) and that the stones look white in relation to the setting.
If you'd like assistance in evaluating the diamonds of a tennis bracelet, please contact us and one of our experts will help you out.
Tennis Bracelet Styles and Settings
Styles of tennis bracelets vary. While most designs contain one row or loop of diamonds, some bracelets have two or even three rows of stones. Most tennis bracelets utilize round cut diamonds, although some styles incorporate emerald cuts like this platinum tennis bracelet from James Allen or princess cuts like this 18K white gold bracelet also from James Allen.
Settings are usually one of three varieties: prong, channel or bezel. Each style securely holds the diamond and offers a unique look. Just like with metals, there's no "best" bracelet design — instead, the design you choose should be based on personal preference.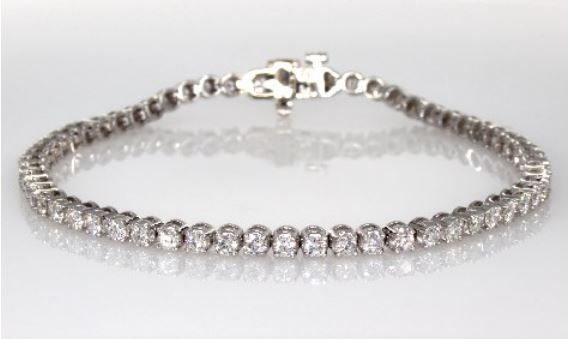 When to Buy Tennis Bracelets
Tennis bracelets make for beautiful and meaningful gifts throughout the year. Because of their classic design and popular appeal, tennis bracelets are often passed down for generations as family heirlooms and keepsakes.
A diamond tennis bracelet can make a great gift for any of the following occasions:
Wedding anniversary (i.e. 5th, 10th, 15th, 25th)
Wedding day gift (for spouse, mother, mother-in-law, grandmother)
Valentine's Day
Birthday
Graduation (high school, college, graduate school, medical school)
Birth of a child
Job promotion
Achievement of an exciting milestone
Retirement
Christmas, Hanukkah, Kwanzaa or other holidays
How to Determine Sizing for a Tennis Bracelet
In general, bracelet sizes don't matter as much as ring sizes do, though you still want to get as close as you can.
One of the easiest way to find the appropriate size for a diamond tennis bracelet is to measure the person's wrist. If you don't have access to a measuring tape, you can wrap a piece of yarn or a ribbon around their wrist, then cut it to size and measure it later.
Regardless of which measuring tool you use, make sure you add between half an inch and one inch to your total measurement to calculate bracelet size. For example, if the wrist measures six inches, consider a 6.5 or 7 inch bracelet.
If you're purchasing the tennis bracelet as a gift and don't know the person's wrist size, start by using 7-7.5 as a starting guide. This is the most popular bracelet size for women. If you think the recipient has smaller or larger wrists than the average person, adjust up or down accordingly.
Tennis bracelets are often easily adjusted by removing a link to shorten the chain, meaning it's less important to get the size exactly perfect than it is for an engagement ring or other pieces of jewelry.
Famous Tennis Bracelets
In addition to Chris Evert—the tennis player who helped give the bracelet its name and popularity—several other celebrities and famous people have showcased tennis bracelets throughout the years.
Queen Elizabeth II. owns a diamond quatrefoil bracelet that was passed down by her mother. Kate Middleton recently wore the special bracelet to a gala dinner.
Penelope Cruz wore a 24-carat heart-shaped tennis bracelet in Rome for the premiere of the film "Nine."
Other celebrities known to wear tennis bracelets: Lady Antebellum, Kate Winslet and Jennifer Lopez.
Finding a Tennis Bracelet
To find a beautiful tennis bracelet that will match the style of your someone special, look through the collections of reputable vendors like Blue Nile, James Allen and Brian Gavin.
Not sure which bracelet to choose? Need help checking a bracelet's diamond? If you need help reviewing diamonds or any other jewelry pieces, please contact us and we'll give you our expert opinion and advice.
Frequently Asked Questions About Tennis Bracelets
How Many Carats is a Tennis Bracelet?
Tennis bracelets use multiple small diamonds, meaning they're measured in total carat weight (find out what total carat weight means) rather than by the size of the largest diamonds. Diamond tennis bracelets can range from one carat in total weight to 11 carats or more, depending on the size and number of diamonds.
Which Wrist Should You Wear a Tennis Bracelet On?
Tennis bracelets are usually worn on the left wrist, since most people are right-handed and tend to use this hand less than their dominant hand. Despite this, there's no specific "rule" regarding which wrist you should wear your tennis bracelet on.
Can You Wear a Tennis Bracelet Every Day?
Tennis bracelets are versatile, meaning you can wear them as everyday pieces of jewelry with a casual outfit or just for special nights out. Remember that Chris Evert, who originally made this type of bracelet famous, felt comfortable enough to wear it during a tennis tournament.
Can You Shorten a Tennis Bracelet?
Just like other pieces of jewelry, tennis bracelets can be adjusted. If your tennis bracelet is too loose, a jeweler can remove one or several links and give it a tighter fit. This means there's less of a need to get the perfect size for a tennis bracelet than for other jewelry.
How Loose Should a Tennis Bracelet Be?
A tennis bracelet should fit comfortable enough that it can move freely on your wrist without any discomfort. However, it shouldn't be so loose that it could potentially slide off and go missing. To check the fit, make sure you can only fit one finger between the bracelet and your wrist.
Can You Shower With a Tennis Bracelet?
Showering with your tennis bracelet on your wrist can result in soaps and other products leaving a film on the diamonds, reducing their brilliance and making them sparkle significantly less than normal. Because of this, it's best to take your diamond bracelet off before showering.
Bottom Line Recommendation
Diamond tennis bracelets are beautiful jewelry pieces often given for anniversaries, holidays and special milestones. Just like other jewelry, buying a tennis bracelet, whether for yourself or as a gift for someone else, can be a little daunting.
Since tennis bracelets are available in yellow gold, rose gold, sterling silver and a large variety of other precious metals, there are a lot of different styles to choose from. Add diamonds into the equation and it's easy to feel overwhelmed. It's hard for a consumer to know how to factor in the right costs for a tennis bracelet.
We recommend reviewing various tennis bracelets to determine which styles and settings are most appealing to you.
Most importantly, be sure to purchase your tennis bracelet from a reputable vendor like James Allen or Blue Nile, both of whom offer broad selections, high quality jewelry and great value for money.
James Allen

James Allen is the leader in online diamond sales. Their imaging technology is the same as inspecting a diamond with a jeweler's loupe. They have the largest exclusive loose diamond inventory online and fantastic prices. They also have the nicest collection of lab created diamonds online. For a limited time Save 25% on settings and  Save 3% on Earth Diamonds and Save 10% off select Lab Grown Diamonds
What we love about them:
No questions asked returns within 30 days of shipment. James Allen will send you a paid shipping label to return the ring.
Lifetime Warranty
Free International Shipping
Free prong tightening, repolishing, rhodium plating and cleaning every 6 months
Provide insurance appraisals
One free resizing within 60 days of purchase
Free ring inscriptions
Best-in-class high quality imagery of all diamonds in stock
24/7 Customer Service
Best-in-class packaging

---
Blue Nile

Blue Nile is the largest and most well known internet jewelry seller. They have a very large exclusive online inventory. Their high quality images are catching up to James Allens' and their prices are amazing. Blue Nile have generously offered our readers an exclusive one-time use coupon.

(Click Here to save $100 off engagement ring settings)
What we love about them:
No questions asked returns within 30 days of shipment. Blue Nile will send you a paid shipping label to return the ring.
Lifetime Warranty
Free Shipping
Free prong tightening, repolishing, rhodium plating and cleaning every 6 months
Provide insurance appraisal
One free resizing within the first year of purchase
High quality images of about half of their diamonds
24/7 Customer Service
100% credit towards future upgrades (must be at least double in value)
Best in class fulfillment

---
Still afraid of getting ripped off?
Before you buy a diamond, get personal buying advice from industry veterans. We'll help you get the best diamond for the money.
Ask your diamond purchase question here
DISCLAIMER: We don't use your email for marketing. Period.