Pavé Diamond Rings: What to Know Before Purchase
Scared of getting ripped off? Don't want to waste your money? Confused by all the choices? Contact us. James Allen has begun their Black Friday sale early this year offering a whopping 25% OFF your setting!
Bottom Line Recommendation:
A pavé engagement ring is a gorgeous option for many styles and personalities. The small diamonds that line the band offer extra sparkle and elegance. Pavé designs include stunning Round Cuts in halo settings and Oval diamonds set with a pavé band. Review our guide below to understand the pros and cons of a pavé setting, and see if it's the right choice for the one you love.
Most importantly, shop for an engagement ring at a reputable diamond vendor. We suggest the James Allen, Blue Nile and Brian Gavin Diamond collections to get the best value and quality.
What is a Pavé Engagement Ring Setting?
A pavé setting, pronounced "pa-vay," originates from the French word "to pave"—as in paved with diamonds. In a pavé setting, small diamonds line the band. The metal prongs or beads that hold the diamonds in place are barely visible. Diamonds are pavé-set when they're as small as .01-.02 carats. Diamonds smaller than that are considered micro-pavé (which are usually set in thin bands).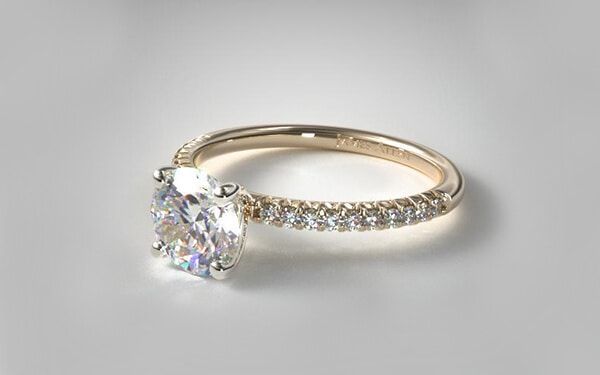 A jeweler typically drills holes into the band and carefully places the small diamonds into the holes. Tiny beads or mini-prongs are formed around each diamond to secure them in place. With a pavé ring, the effect is one of continuous sparkle.
Look through recently purchased pave engagement rings with different shapes of center stone to get some inspiration.
Why Choose a Pavé Engagement Ring?
A pavé setting, like this Oval in white gold, is a stunning choice for someone with an elegant, timeless style. The intricate detail of the additional diamonds adds depth and grandeur to the ring.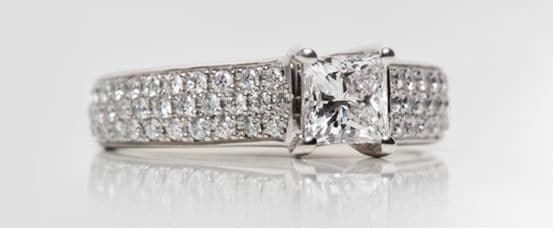 Opting for a pavé setting ensures you have extra personality, without distracting from the center diamond. The best part of a pavé ring? It pairs well with other types of settings, like solitaires, halos and three-stone rings. No matter the style you want, you can almost always add pavé detailing.
Pavé Settings For Every Shape
Pavé settings compliment any Diamond Shape because of their classic design. You can line a twisted Pear Shape ring or a Princess Cut with a pavé band.
Pavé engagement ring examples:
Pros and Cons of a Pavé Setting
When choosing a setting design, consider the style of the wearer but also the level of maintenance required. Review the pros and cons of a pavé setting before making a final decision.
Pros
Brings attention to the center stone
Adds to the ring's overall brilliance and beauty
Offers extra sparkle to a lower-set or less sparkly center stone
Designs are available in a modern or vintage style
Cons
Sizing and resizing can be difficult if the ring is pavé set around the full band
Although highly unlikely, there is minimal risk of losing side stones
We recommend determining his or her ring size early in the design process to prevent resizing issues.
Where to Buy Pavé Diamond Engagement Rings
Identifying the style of your engagement ring is important, but so is choosing where you'll purchase your ring. In order to get the best value for your budget, be selective and choose a highly reputable vendor. After all, jewelry vendors are not created equal.
Throughout over 20 years of experience, we've closely vetted diamond sellers. We have a consistent pulse on the best and most reliable companies in the business.
The diamond dealers below are highly reputable. They offer extensive collections of both beautiful diamonds and settings. All diamonds come with a GIA or AGS certificate—allowing you to trust what they're selling you.
Blue Nile maintains the largest online inventory of diamonds and settings. No matter your style, you'll have a superb selection to choose from. Blue Nile is known for their remarkable diamonds and high-quality jewelry settings.
We recommend James Allen because of their appealing prices, high-quality jewelry and incredible diamond imagery. You can view each diamond closely with photography before making a purchase. They're known for their excellent customer service and return policies.
Brian Gavin is an excellent choice if you're looking for a diamond that's cut incredibly well. Select a diamond from the "Brian Gavin Signature" Hearts & Arrows collection for an exceptional stone.
Leibish is our preferred vendor for gemstone engagement rings and jewelry. A colored gemstone, like an emerald or sapphire, is a unique, lower cost alternative to a diamond. In addition, Leibish & Co. maintains a large collection of fancy color diamonds like purple diamonds and canary yellow diamonds.
If you have any questions about these vendors, don't hesitate to contact us.
Evaluating a Diamond Ring for Beauty and Value
Want the most stunning ring for your budget?
Review our other Diamond Pro resources for tips on selecting the perfect ring for the one you love.
Shop for pavé diamond engagement rings here.
Questions? Send our diamond consultants an email.
James Allen

James Allen is the leader in online diamond sales. Their imaging technology is at the point where it's almost the same as inspecting a diamond with a jeweler's loupe. Their customer experience is best in class, and they have recently upgraded their non-engagement jewelry inventory as well. They have the largest exclusive loose diamond inventory online and fantastic prices. For a limited time, take advantage of their huge 25% OFF holiday sale!!
What we love about them:
No questions asked returns within 30 days of shipment. James Allen will send you a paid shipping label to return the ring.
Lifetime Warranty
Free International Shipping
Free prong tightening, repolishing, rhodium plating and cleaning every 6 months
Provide insurance appraisals
One free resizing within 60 days of purchase
Free ring inscriptions
Best-in-class high quality imagery of all diamonds in stock
24/7 Customer Service
Best-in-class packaging

---
Blue Nile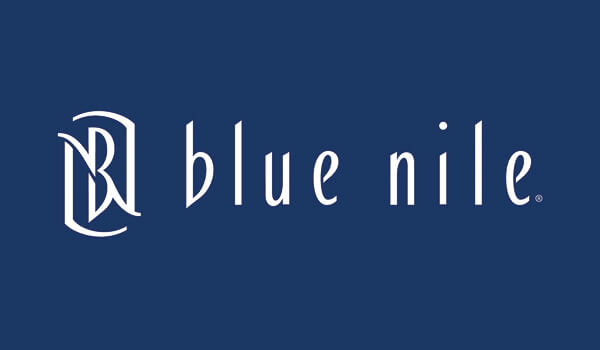 Blue Nile is the largest and most well known internet jewelry seller. They have a very large exclusive online inventory. Their high quality images are catching up to James Allens' and their prices are amazing.

(Pick Up a Blue Nile Coupon Here for $50 off)
What we love about them:
No questions asked returns within 30 days of shipment. Blue Nile will send you a paid shipping label to return the ring.
Lifetime Warranty
Free Shipping
Free prong tightening, repolishing, rhodium plating and cleaning every 6 months
Provide insurance appraisal
One free resizing within the first year of purchase
High quality images of about half of their diamonds
24/7 Customer Service
100% credit towards future upgrades (must be at least double in value)
Best in class fulfillment

---
Still afraid of getting ripped off?
Before you buy a diamond, get personal buying advice from industry veterans. We'll help you get the best diamond for the money.
Ask your diamond purchase question here
DISCLAIMER: We don't use your email for marketing. Period.