We are reader-supported. Buying through links on our site may earn us commissions. Learn More.
Deal Alert! Huge James Allen Sale- 3% off Earth Diamonds AND 25% off settings or

15% off at Blue Nile!



Baguette Diamonds and What You Should Know
Bottom Line Recommendation:
While Baguette Diamonds don't hold up in quality against a classic Brilliant Cut diamond, they work great as Accents, or in eternity rings like this diamond eternity ring from Blue Nile. Their low cost makes them a low-cost alternative to other Step Cut diamonds like the Emerald Cut.
Baguettes are great accompaniments to help showcase a center stone. Tapered Baguettes in a three-stone setting like this one from James Allen are the perfect thing to add to the overall shine and appeal of a ring, without taking attention away from the diamond in the middle.
What Is A Baguette Diamond: A Definition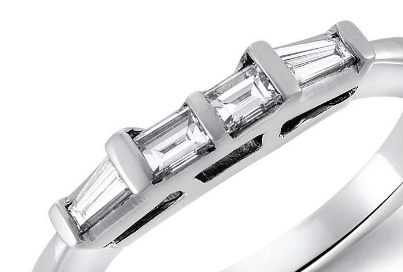 A Baguette diamond is a thin, elongated, rectangular-shaped diamond. Baguettes can be almost square in shape, but are more commonly long and thin, often around 5:1 in length to width. 
Baguette diamonds can have straight edges in a perfect rectangle, or tapered edges that angle in. These are referred to as "straight" or "tapered" Baguettes.
The corners are perfectly square, which is the biggest difference between Baguettes and similar cuts, like the Emerald Cut.
Baguettes have 14 facets, much less than traditional diamond cuts, which will usually have more than 50. They are usually small, and thus often used as side stones for engagement rings, or for eternity rings or wedding rings.
Baguettes are part of the Step Cut family, which also includes Emerald and Asscher Cuts. One of the distinguishing features of Step Cut diamonds is the straight, clearly-defined facets. This gives diamonds like Baguettes a very different appearance to Round Cut diamonds, with less sparkle and brilliance.
While almost all Baguettes are Step Cuts, it is possible to get hybrid Brilliant Cut Baguettes. These have more facets and as a result, have much more dazzling brilliance, as you can see from this Tapered Brilliant Baguette Three-Stone ring on Blue Nile. 
A ring set with Brilliant-Cut Baguettes will come at a much higher price, due not only to the Baguette itself, but the higher quality center stone needed to draw attention.
Baguette vs. Emerald Cut Diamond
The difference between Baguette and Emerald Cut diamonds is the number of facets, and a small difference in shape.
Baguette cuts have 14 facets, while an Emerald cut has 58 facets.
While both cuts can have a similar elongated, rectangular shape, Baguette cuts have square corners, while Emerald Cuts have diagonal corners. Baguettes are longer and narrower than Emerald Cuts.
Typically Baguette Cuts will be sold in lower Carat weights than Emerald Cuts, as they are not often used as center stones, like the Emerald or Asscher Cut.
The lower number of facets on a Baguette means they provide much less shine than an Emerald, and imperfections on the diamond are easier to notice. This is why they're preferred as smaller, "accent" diamonds, used to complement a center stone of any shape.
Baguette Engagement Ring Settings
Baguette diamonds make great choices for side stones in a three-stone setting. The perfect stone and setting will accentuate the center stone and produce a beautiful engagement ring.
Most rings that feature Baguette diamonds have them set horizontally, one Baguette on each side drawing attention to a center stone. It's also common for Tapered Baguettes used in this style of ring, with the narrow end pointing away from the center stone.
Three-Stone Baguette Rings
A Tapered Baguette diamond is a beautiful way to add extra shine to a ring without taking away from the center stone.

One of the most popular styles is a three-stone setting with Tapered Baguettes next to an Emerald Cut. Rings such as this feature perfectly matched Step Cut diamonds in the Emerald and Baguette Cuts that complement each other beautifully.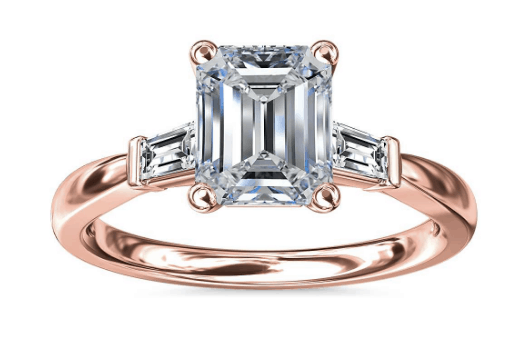 Channel Set Baguette Rings
Baguette diamonds make perfect accents for channel set rings. This setting, with small diamonds set into the metal leading up to the center stone, is a clean and sophisticated look.
As an example, see this Channel Set Ring from James Allen with straight Baguettes set end-to-end halfway along the band, which gives a brilliant overall shine.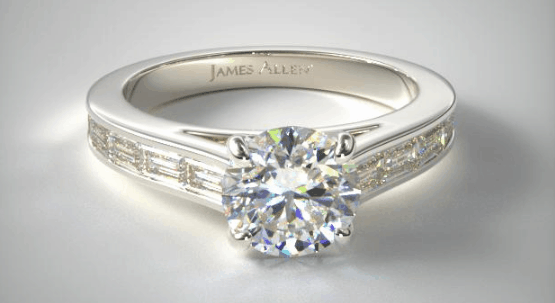 Vintage Baguette Rings
Baguettes are great additions to extravagant vintage settings. For rings with a lot of round diamonds, Baguettes add variety and can take the ring to a new level.
See this Hexagon Baguette ring from Blue Nile, with a collection of straight Baguettes surrounding the center diamond.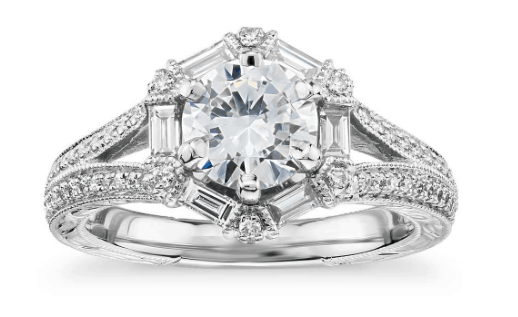 Even more extravagant is this stunning Baguette Halo Ring from Blue Nile. Two rows of Baguettes are set around the center stone, punctuated by round accent diamonds, for a show-stopping look.
Baguette Eternity Bands
Baguettes make great choices for eternity rings. A row of straight Baguette diamonds, channel-set as in this ring from Blue Nile is a clean and elegant look. Using Baguette diamonds also keeps the cost down for a ring such as this, compared to fitting the ring all the way around with high-quality brilliant cuts, which will be largely hidden.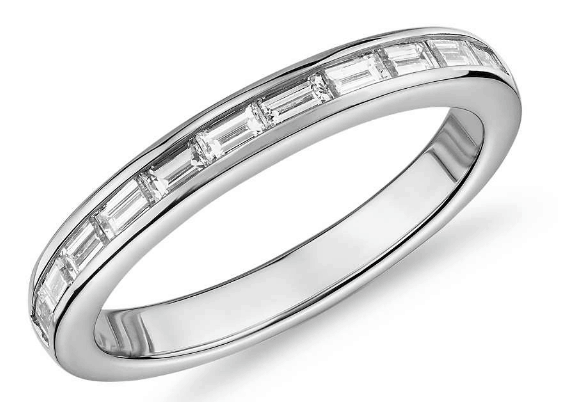 Ballerina Diamond Rings
If you want a ring that really stands out, ballerina halo rings do that and more. Unlike the hexagon style halo, this setting features a ring of Baguette diamonds aligned pointing outwards in a radiant shape. These rings, such as this one from James Allen, deliver a unique and attention-grabbing allure.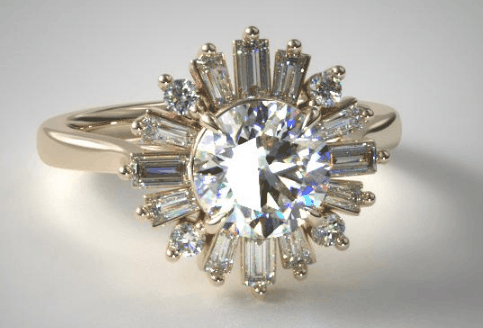 Are Baguette Diamonds Expensive
Baguette diamonds are often less expensive than other diamond cuts. The price per carat for a Baguette diamond is likely to be less than, say, a round brilliant, or an emerald cut, as lower-quality cuts are used.
Baguettes are graded on the 4 C's, as with any diamond. So prices can vary depending on a stone's grade. 
It is possible to get high-grade Baguette diamonds, in which case the price per carat will be similar to more common cuts, if not more due to the increased scarcity of high-quality Baguettes. However, Baguette diamonds are almost always a lower carat weight, so individually they are not as expensive as other diamonds.
Frequently Asked Questions
Do Baguette diamonds break easily?
Baguette diamonds are more vulnerable and chip easier than other diamond cuts. They are most often long and flat, with more surface area exposed. This makes it easier for the diamond to crack, chip or come loose if hit or bumped. The square corners also leave them vulnerable to damage.
For this reason, Baguettes are often set in channel settings, set into the metal where they can be better protected.
Are Baguette diamonds good?
Generally speaking, Baguette diamonds are of lower quality than many other cuts of diamond. They have less brilliance – 14 facets versus 50 or more from other types of cut. Less brilliance makes it easier to notice inclusions and flaws. They often appear cloudy, and as mentioned above, they are easier to damage.
This does not mean you should avoid Baguette diamonds, however. They have their own role as accent diamonds and are beautiful pairings with almost all kinds of cut. Baguettes offer a cheaper way to add volume to a ring, rather than lining a band with high-quality brilliant cut diamonds.
It's also worth noting, you can find brilliant-cut Baguette diamonds, which hold their own against any more popular diamond cut.
Baguette Diamonds: What to Look For
There are a few things to look for in a Baguette diamond. The most important thing when placing them as side stones is that the color matches the center stone.
Brilliant cuts will appear whiter than a Baguette with the same color grade. If you're placing a Baguette next to a brilliant-cut, choose a slightly higher color grade to make sure there isn't a noticeable difference. However, it should not have a color grade so high it overshadows the center stone.
A Baguette doesn't need to be flawless in clarity, but ensure that it is eye-clean. Due to the large surface area, flaws or inclusions will be easier to notice.
It's also worth considering how the Baguette is set. More exposed settings allow more light to pass through the diamond, but Baguettes are easier to break or become dislodged, so a more secure setting may be best for longevity.
James Allen

James Allen is the leader in online diamond sales. Their imaging technology is the same as inspecting a diamond with a jeweler's loupe. They have the largest exclusive loose diamond inventory online and fantastic prices. They also have the nicest collection of lab created diamonds online. Now save 25% off settings AND 3% off Earth Diamonds during James Allen HUGE limited time sale!
What we love about them:
No questions asked returns within 30 days of shipment. James Allen will send you a paid shipping label to return the ring.
Lifetime Warranty
Free International Shipping
Free prong tightening, repolishing, rhodium plating and cleaning every 6 months
Provide insurance appraisals
One free resizing within 60 days of purchase
Free ring inscriptions
Best-in-class high quality imagery of all diamonds in stock
24/7 Customer Service
Best-in-class packaging

---
Blue Nile

Blue Nile is the largest and most well known internet jewelry seller. They have a very large exclusive online inventory. Their high quality images are catching up to James Allens' and their prices are amazing. Blue Nile have generously offered our readers an exclusive one-time use coupon.

(Click Here to save $100 off engagement ring settings)
What we love about them:
No questions asked returns within 30 days of shipment. Blue Nile will send you a paid shipping label to return the ring.
Lifetime Warranty
Free Shipping
Free prong tightening, repolishing, rhodium plating and cleaning every 6 months
Provide insurance appraisal
One free resizing within the first year of purchase
High quality images of about half of their diamonds
24/7 Customer Service
100% credit towards future upgrades (must be at least double in value)
Best in class fulfillment

---
Still afraid of getting ripped off?
Before you buy a diamond, get personal buying advice from industry veterans. We'll help you get the best diamond for the money.
Ask your diamond purchase question here
DISCLAIMER: We don't use your email for marketing. Period.