Cathedral Settings: Impressive, Beautiful and Unique
Scared of getting ripped off? Don't want to waste your money? Confused by all the choices? Contact us. If you're considering buying a ring from Blue Nile, pick up

an exclusive one-time use coupon here for $50 off
Bottom Line Recommendation:
Cathedral settings are beautiful engagement rings with unique characteristics and classic lines. From a stunning solitaire cathedral ring to a cathedral channel set, a variety of designs are available. Choose a cathedral ring that matches the style of your fiancé-to-be.
But most importantly, we recommend purchasing your ring from a reputable vendor. Throughout our years of experience, we've found Blue Nile, James Allen and Brian Gavin Diamonds to offer the best value for the best price. 
What is a Cathedral Engagement Ring Setting?
A cathedral setting mimics the graceful arches of a cathedral building. The metal arches hold the diamond or another gemstone securely in place.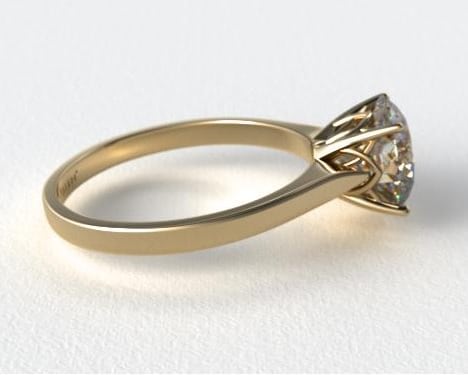 Cathedral engagement rings can be set with prongs, a bezel setting or a tension setting. The defining characteristic of a cathedral ring is not how the diamond is held but rather how it's mounted with arches above the rest of the shank.
Why Choose a Cathedral Engagement Ring?
Cathedral settings are elegant, classic engagement rings. The arches add extra height—making the center stone appear larger and more prominent. Due to their ornate design, cathedral settings are often a cost-saving style as there's little need to buy additional diamonds or features.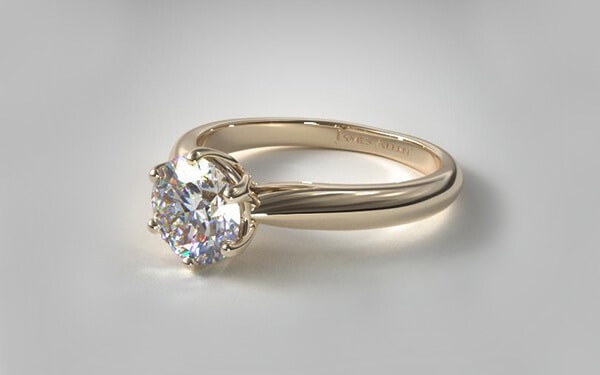 Many choose a cathedral setting because they're gorgeous, timeless and not too decorative. This yellow gold tulip cathedral setting, for example, accentuates the center diamond without overpowering the ring's design. If you're looking for a unique yet simple style, the cathedral setting might be best for you.
Cathedral Settings for Every Shape
While cathedral settings can be designed for any Diamond Shape, they most commonly feature Round, Princess and Cushion Cut diamonds.
In addition to choosing your diamond's shape, decide on additional features, like a pavé band or milgrain detailing.
Cathedral engagement ring examples:
Pros and Cons of a Cathedral Setting
Ensure that the engagement ring you choose fits her style and her lifestyle. Review the pros and cons of a cathedral setting before making a final decision.
Pros
Highlights and accentuates the center stone
Adds height and character with minimal expense
Makes the center stone appear larger and more prominent
Secures the diamond or center gemstone
Cons 
May snag on furniture, clothing and other materials (if high-set)
Requires more time and effort to clean due to the number of crevices
Less streamlined than other styles like the bezel setting
If poorly designed, the curved features can distract from the center stone's beauty
Where to Buy Cathedral Diamond Engagement Rings
Rather than purchasing your engagement ring from any vendor, we encourage you to be selective. There are certain brick and mortar stores and online vendors who will overcharge you while offering you inferior beauty and value. We don't want that to happen to you or any of our readers.
After thoroughly vetting diamond vendors over many years, we've compiled a short list of diamond dealers who are reliable and trustworthy. They offer extensive collections of diamonds and settings at excellent prices. These vendors provide AGS or GIA certificates with all of their diamonds—allowing you to trust what they're selling you. If you have questions about these vendors, please don't hesitate to contact us.
Blue Nile maintains the largest online inventory of diamonds and settings. By going with Blue Nile, you'll have a superb selection to choose from.  Their company focuses on remarkable diamonds and high-quality jewelry.
James Allen offers appealing prices and beautiful jewelry. You can view each diamond closely with their high-tech photography and video before making a purchase. Their emphasis on an excellent customer experience is often noted by our readers.
Brian Gavin Diamonds are known for offering some of the best cut diamonds in the world. Their "Brian Gavin Signature" Hearts & Arrows collection and Brian Gavin Black and Signature diamonds provide stunning brilliance, especially for diamonds weighing more than 2 Carat or 3 Carat.
Leibish provides stunning options for colored gemstones, like emeralds and sapphires. They also maintain a large collection of fancy color diamonds like canary yellow diamonds and purple diamonds.
Evaluating a Diamond Ring for Beauty and Value
Don't just settle for any diamond. Find one that provides maximum beauty for your budget.
Our Diamond Pro resources can help you select the ideal ring for the one you love.
Want to talk to an expert? Send us an email.
Blue Nile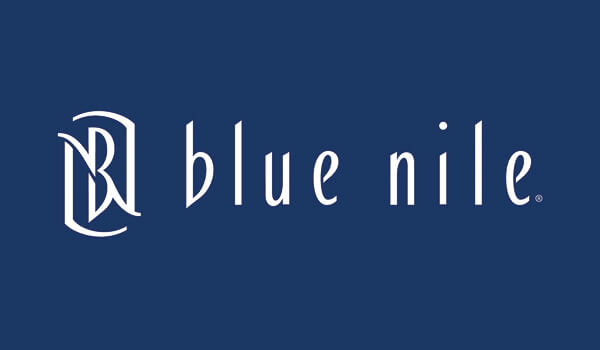 Blue Nile is the largest and most well known internet jewelry seller. They have the industry-leading largest available exclusive online inventory. Their high quality images are catching up to James Allens' and their prices are amazing.

(Pick Up a Blue Nile Coupon Here for $50 off)
What we love about them:
No questions asked returns within 30 days of shipment. Blue Nile will send you a paid shipping label to return the ring.
Lifetime Warranty
Free Shipping
Free prong tightening, repolishing, rhodium plating and cleaning every 6 months
Provide insurance appraisal
One free resizing within the first year of purchase
High quality images of about half of their diamonds
24/7 Customer Service
100% credit towards future upgrades (must be at least double in value)
Best in class fulfillment

---
James Allen

James Allen is the leader in online diamond sales. Their imaging technology is at the point where it's almost the same as inspecting a diamond with a jeweler's loupe. Their customer experience is best in class, and they have recently upgraded their non-engagement jewelry inventory as well.
What we love about them:
No questions asked returns within 30 days of shipment. James Allen will send you a paid shipping label to return the ring.
Lifetime Warranty
Free International Shipping
Free prong tightening, repolishing, rhodium plating and cleaning every 6 months
Provide insurance appraisals
One free resizing within 60 days of purchase
Free ring inscriptions
Best-in-class high quality imagery of all diamonds in stock
24/7 Customer Service
Best-in-class packaging

---
Still afraid of getting ripped off?
Before you buy a diamond, get personal buying advice from industry veterans. We'll help you get the best diamond for the money.
Ask your diamond purchase question here
DISCLAIMER: We don't use your email for marketing. Period.