We are reader-supported. Buying through links on our site may earn us commissions. Learn More.
Deal Alert! Huge James Allen Sale- 3% off Earth Diamonds AND 25% off settings or

15% off at Blue Nile!



Prong Setting: Find The Best Claw Setting for Your Ring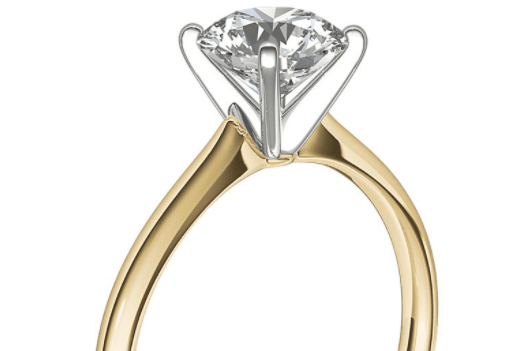 Finding a beautiful engagement ring is about matching the perfect diamond with the right setting.
The right setting will elevate the diamond, and show it off to the world. It should allow the diamond to take center stage, securing it in place on the ring yet not obstructing the passage of light through the diamond.
Of all the engagement ring settings, the prong setting is the most popular. Prong settings are a classic, timeless and elegant style, used to amplify the brilliance and beauty of a high-quality diamond.
Read on to learn all you need to know about the prong setting, and how to choose the best prong setting for your engagement ring.
What is the Prong Setting?
In a prong setting, metal prongs are used to hold up the diamond, securing it while allowing light to freely pass through. Settings usually have either 4 prongs or 6 prongs, which can be rounded, pointed, v-shaped or flat.
The prong setting is sometimes referred to as a claw setting, because of the way the prongs resemble a claw, holding the diamond in place.
Prong settings are a great way to amplify the qualities of a beautiful diamond. The prongs allow a lot of light to pass through, elevating the fire and brilliance given off by the diamond.
The minimally invasive basket (like in this design from Blue Nile) draws attention to the part of your ring you really want people to focus on: the diamond.
If there is any drawback of the prong setting, it is durability. Prong settings hold the diamond quite high, which makes it easier to bump into things, or get caught on material.
If the ring's wearer has an active lifestyle, and you feel this may be a concern, consider lower-set prongs or an alternative setting.
Prong settings can also loosen over time, causing the diamond to be less secure, so it's important to have prong set rings inspected and maintained regularly.
How to Choose a Prong Setting for Your Ring
While the prong setting is, generally speaking, a very simple way to set a diamond ring, there is room for things to go wrong with a low-quality craftsman, or a diamond that doesn't fit right with the setting.
It's important that the prongs adequately protect and secure the diamond, yet at the same time, you don't want the prongs to become the center of attention.
A trusted jeweler like James Allen or Blue Nile will be able to help you select the right prong setting to allow your diamond to flourish.
Here are a couple of things to pay attention to when choosing a prong setting engagement ring:
Finishing work
It's very important that a prong setting is properly finished. The prongs should hold the diamond securely and evenly. You don't want prongs that are too loose, or slightly uneven, like prongs that fit tight to the diamond on one side only. This can result in the diamond coming loose over time, or upon contact.
By gently touching the diamond in its setting, or giving the ring a small shake, you shouldn't be able to notice the diamond moving at all, if it is secured correctly. Also, check the table of the diamond is level, and prongs even on all sides.
Prong size and thickness
Prong settings can be quite delicate. The delicate nature allows more attention for the diamond, yet you need adequate strength and durability from the prongs.
If the prongs are too thin, they will be easy to break over time. While prongs that are too short will not provide enough support for the diamond. You should ensure there is sufficient contact with the diamond from the top of the prong, to reduce the chance of it being pulled away and the diamond coming loose.
On the other hand, you don't want prongs that are too thick or too large, and detract from the beauty of the diamond. Ideally, you should find a balance between prongs that safely protect the diamond, yet allow it to take center stage.
Types of Prong Settings
1. Rounded prong ring
Rounded prongs are the most common and basic of all prong settings. The prongs extend just above the girdle of the diamond, finishing in a rounded head that encloses the diamond and holds it secure. The prongs look like small dots when viewed from above, and are minimally invasive.
A round prong setting is on display with this ring from James Allen, which is simple and elegant and allows the diamond to shine.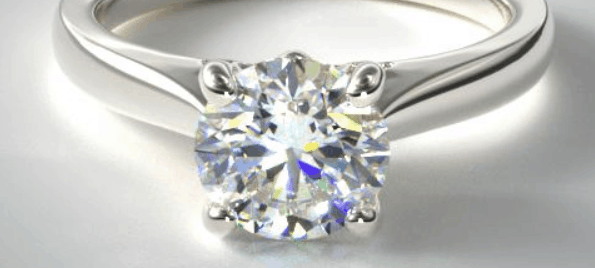 2. Pointed claw ring
Pointed prongs, sometimes called claw prongs, are a sleek and stylish option. Pointed prong settings cover less of the outline of the diamond, yet extend longer than a rounded prong, to secure the diamond while accentuating its beauty.
You can see the appeal of pointed claw prongs in this ring from James Allen, which features petite claw prongs, a less invasive variation that allows more of the diamond to be visible.

3. Flat tab prong ring
Flat tab prongs, or just "tab" prongs, give a uniquely different look to the round or pointed styles. Flat tab prongs are a great choice for security and durability, with a lower profile making it less likely for the prongs to catch or snag on things.
This style from James Allen can fit great with step cut diamonds like emeralds, with the square design matching the long, straight edges of the center stone.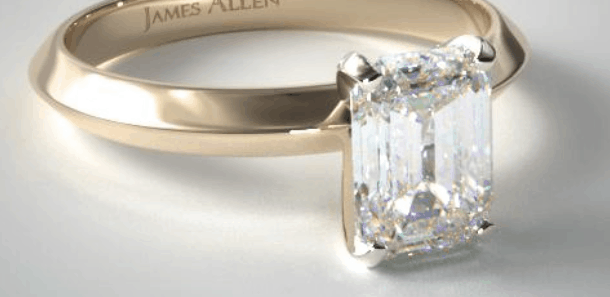 4. Double prong ring
Double prongs hold a diamond more securely. Yet, by using a double prong style, you create the illusion of thinner prongs than if you were to use the same amount of metal for a single prong. This allows you to set a large diamond more safely, without large, overbearing prongs. Double prongs can be round or pointed.
Double prongs can make for a stylish and delicate design, like this design from James Allen, which cathedral setting rising to a double prong finish.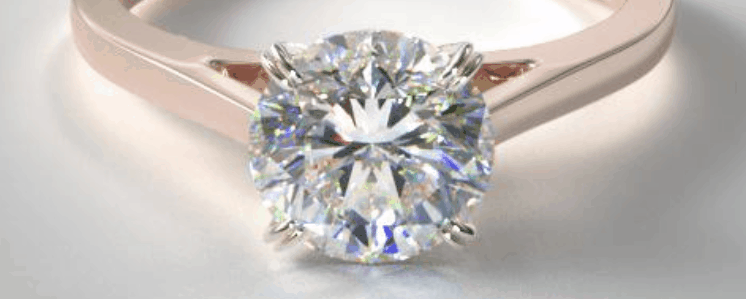 5. V prong ring
V prongs are made to protect the pointed tips of several diamond shapes, such as a pear or marquise cut. The prong fits around the point in a "V" shape, securing the most vulnerable part of the diamond, and protecting it against chipping. This style also blends well with the shape of the diamond, allowing safety with minimal invasion.
A square diamond shape such as a princess cut may feature v-tip prongs on all four corners, while a pear or marquise will be paired with additional round, flat or pointed prongs, as in this design from Blue Nile.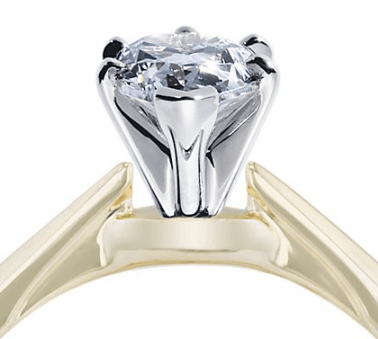 6. Tulip prong ring
For a higher infusion of style with a prong setting, there is the tulip setting, in which the prongs holding the diamond in place form a basket in the shape of a flower. 
While a tulip setting encases the diamond with more metal, reducing the amount of light allowed to reflect through the stone, it offers a unique and stylish take on the classic engagement ring. It also provides more security and safety for the diamond.
Tulip prongs can be 4 prong or 6 prong: the 4 prong tulip fits well with square or rectangular shapes like the emerald, cushion and princess cut, while a 6 prong tulip is great for a round or oval diamond.
See this example of how a simple tulip setting can create a beautiful, elegant style of diamond engagement ring.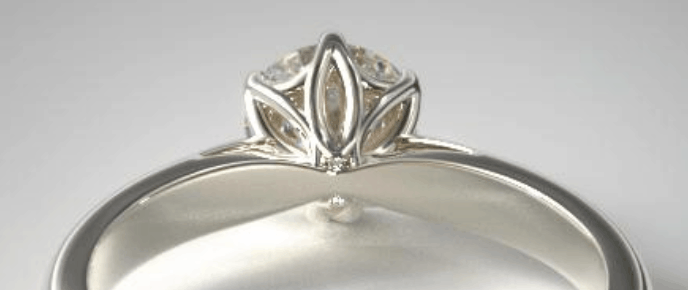 Final Thoughts on Prong Settings for Diamond Engagement Rings
Pairing a beautiful diamond with the right setting is vital, and a simple prong setting fits with just about anything. Prong settings take little attention away from a diamond, allowing light to hit from many angles, reflecting outwards and accentuating the fire and brilliance of the diamond.
When picking a prong setting for your diamond engagement ring, find the balance between style and durability. A trusted jewelry vendor will help you to find a prong style that fits your shape of diamond, looks great, and secures the diamond safely in place.
James Allen

James Allen is the leader in online diamond sales. Their imaging technology is the same as inspecting a diamond with a jeweler's loupe. They have the largest exclusive loose diamond inventory online and fantastic prices. They also have the nicest collection of lab created diamonds online. Now save 25% off settings AND 3% off Earth Diamonds during James Allen HUGE limited time sale!
What we love about them:
No questions asked returns within 30 days of shipment. James Allen will send you a paid shipping label to return the ring.
Lifetime Warranty
Free International Shipping
Free prong tightening, repolishing, rhodium plating and cleaning every 6 months
Provide insurance appraisals
One free resizing within 60 days of purchase
Free ring inscriptions
Best-in-class high quality imagery of all diamonds in stock
24/7 Customer Service
Best-in-class packaging

---
Blue Nile

Blue Nile is the largest and most well known internet jewelry seller. They have a very large exclusive online inventory. Their high quality images are catching up to James Allens' and their prices are amazing. Blue Nile have generously offered our readers an exclusive one-time use coupon.

(Click Here to save $100 off engagement ring settings)
What we love about them:
No questions asked returns within 30 days of shipment. Blue Nile will send you a paid shipping label to return the ring.
Lifetime Warranty
Free Shipping
Free prong tightening, repolishing, rhodium plating and cleaning every 6 months
Provide insurance appraisal
One free resizing within the first year of purchase
High quality images of about half of their diamonds
24/7 Customer Service
100% credit towards future upgrades (must be at least double in value)
Best in class fulfillment

---
Still afraid of getting ripped off?
Before you buy a diamond, get personal buying advice from industry veterans. We'll help you get the best diamond for the money.
Ask your diamond purchase question here
DISCLAIMER: We don't use your email for marketing. Period.