We are reader-supported. Buying through links on our site may earn us commissions. Learn More.
Deal Alert! Huge James Allen Sale- 3% off Earth Diamonds AND 25% off settings or

15% off at Blue Nile!



Halo Diamond Rings: A Beautiful Choice for Engagement
Bottom Line Recommendation:
Halo settings are truly stunning choices for diamond engagement rings (they are one of the top recommended engagement rings in our guide). They offer plenty of style and sparkle. Choose a single halo like this Cushion Cut Diamond ring from James Allen or a double halo like this Oval Diamond ring.
Most importantly, only select a center diamond with an Ideal or Excellent cut, and be sure to purchase the ring from a highly reputable vendor. We strongly recommend Blue Nile, James Allen and Brian Gavin Diamonds for diamonds and other fine jewelry. 
What is a Halo Engagement Ring Setting?
A halo ring is a setting that features a center stone surrounded by a complete loop of smaller stones, usually diamonds. The concentric circle or square diamonds in a halo ring like this beauty on James Allen often make the center stone appear larger and more brilliant.
Halos are commonly paired with pavé bands (example below) but can certainly stand on their own with a simple, unadorned band.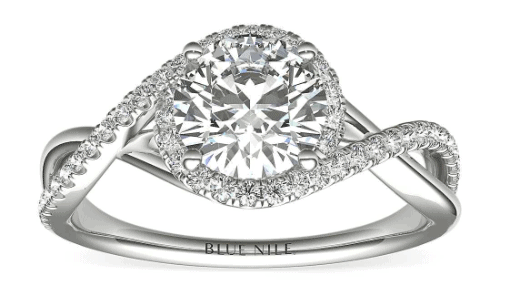 A double halo setting, as the name implies, consists of two concentric circles of gemstones that circle the center stone (example below).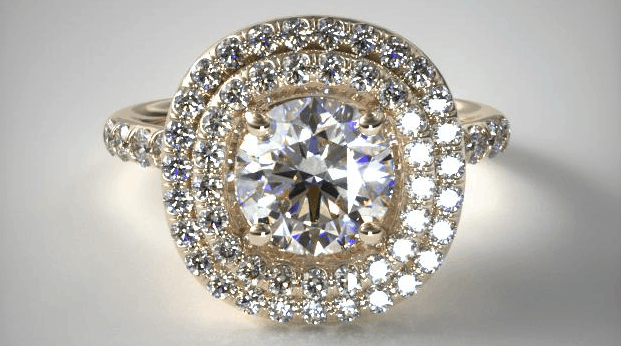 Hidden halo rings are settings that feature a complete loop of gemstones or diamonds that sits below the center diamond (example below). Hidden halos offer the ring extra character and brilliance. On occasion, based on the ring design, hidden halos can also make the center stone appear larger.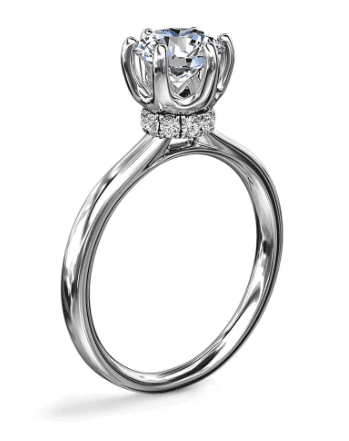 Does a Halo Make a Diamond Look Bigger?
A halo ring can make a diamond look bigger, because of increased brilliance and total surface area of gemstones or diamonds. The surrounding stones boost the appearance of the center diamond.
The amount of size a halo adds to a ring depends on the carat weight and table surface area of the gemstones in the halo. For example, this halo ring on Blue Nile features 42 round diamonds with a total carat weight of at least 0.3. This halo design on Blue Nile, on the other hand, has 48 round diamonds with a total carat weight of at least 0.53. The second halo adds more size to the ring than the first one.
A hidden halo usually doesn't make the diamond look bigger. However, when looking from a side angle, it adds character and brilliance to the ring.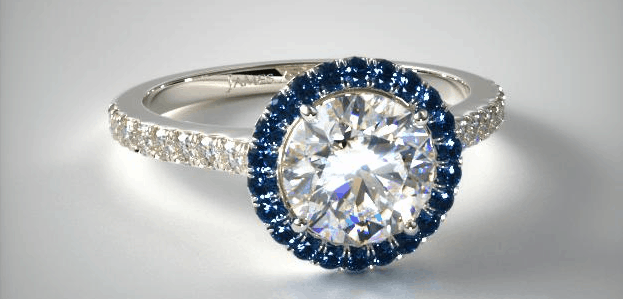 You can also design your halo with colored gemstones to create a contrast in colors like the one in the picture above.
Types of Halo Rings
Halo rings come in a variety of styles, from classic to vintage. Here are the most popular types of halos along with examples of each.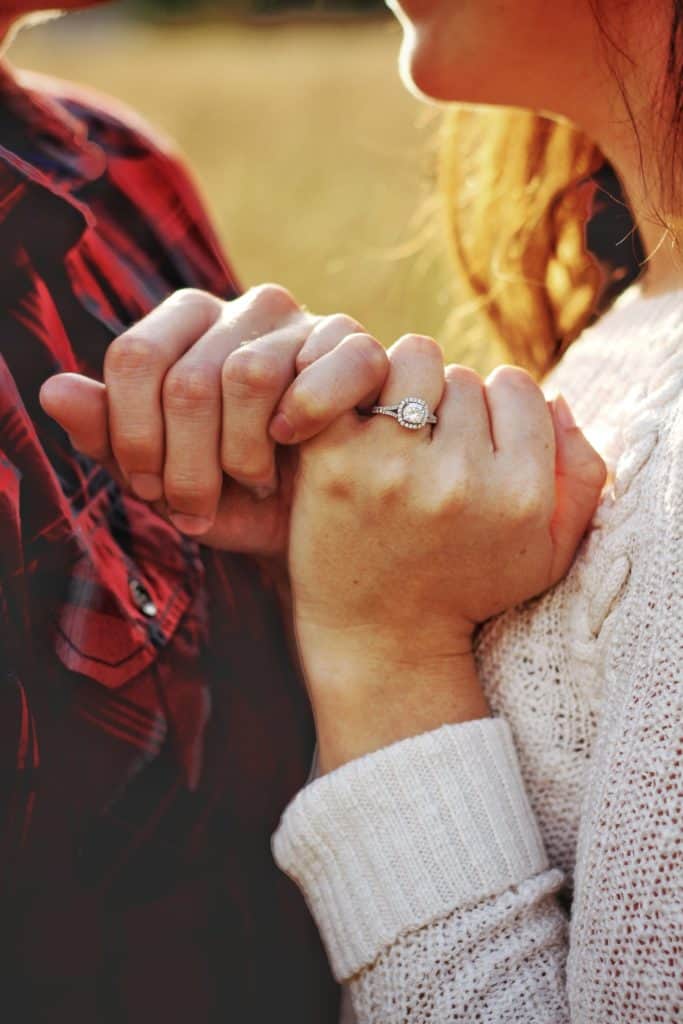 1. Classic halo rings
A classic halo ring has a single loop of diamonds around the center stone. This white gold halo ring from James Allen works best for Cushion, Radiant, and Emerald Cut diamonds, while this plain shank halo from Blue Nile is ideal for Round Cut diamonds. 
2. Gemstone halo rings
These rings feature colored gemstones in the halo, instead of diamonds. This white gold ring on Blue Nile is a beautiful example of a sapphire and diamond double halo. 
3. Vintage halo rings
Vintage halo rings have an antique touch, such as this gorgeous floral halo engagement ring from Blue Nile.
4. Double halo rings
With double halos, there are two loops of gemstones or diamonds around the center stone. Check out this tripel row double halo pavé ring on James Allen. 
5. Floral halo rings
Some ring designs feature a halo that resembles a flower. This floral halo from Blue Nile is a prime example of this nature-inspired style. 
6. Hidden halo rings
With hidden halos, the loop of diamonds sits below the center diamond, such as in this petite pavé crown diamond engagement ring from Blue Nile. 
7. Unique halo rings
Add your own personality to a ring with a unique halo. This marquise cluster style from James Allen is an inspiration for the extraordinary styles you can choose from.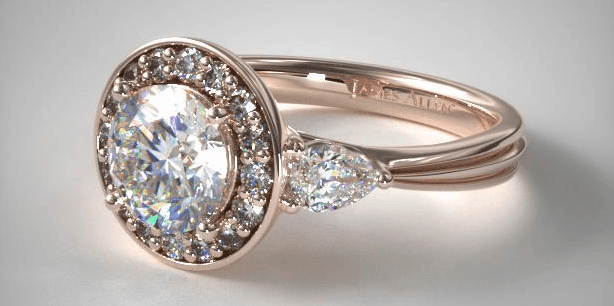 Halo Settings for Every Shape
As a popular diamond engagement ring setting, the halo offers a classic look that can feature any Diamond Shape (although Round, Oval and Cushion Cuts tend to be the favorites).
Halo engagement ring examples:
View more in recently purchased diamond engagement rings from our top-rated retailers here.
Pros and Cons of a Halo Setting
Every setting has its advantages and disadvantages. Halo rings are beautiful choices in many shapes and designs (also check out a special type – flower enagagement ring style). The following list can help you decide if it's the right style for you.
Pros
Boosts the size and appearance of the center diamond
Smaller stones enhance the ring's overall sparkle
Securely holds and protects the center stone
Complements a variety of Diamond Shapes
Options are available to personalize the setting with colored gemstones
Cons
Smaller stones may become loose over time
Resizing can be difficult with a pavé halo ring due to the small stones in the band
How Much Are Halo Rings?
Halo rings cost anywhere from $500 to $15,000 for the setting on average — based on the number of stones, style, and precious metal. After choosing a center diamond, your ring's total cost will be calculated. In general, you can find halo rings for every budget, such as this classic halo setting from Blue Nile for $690 and this twist halo ring from Blue Nile that costs $1,450.
Are Halo Rings Out of Style?
Halo rings are not out of style and have actually gained popularity in the last five years. They usually rank in the top 10 engagement ring trends published by various bridal websites. 
While halo rings are trendy, they also have lasting beauty and value. Halo rings were first created in the 1700s and have been passed down as prized heirlooms for generations. The opposite of cheap, halo rings are considered a luxurious choice. This leaf engagement ring from James Allen is a beautiful example of a timeless halo.
Best Halo Engagement Rings
The best halo engagement rings allow the center stone to stand out, while adding extra brilliance and character to the ring. Depending on your personal style, consider these hand-selected halo engagement rings.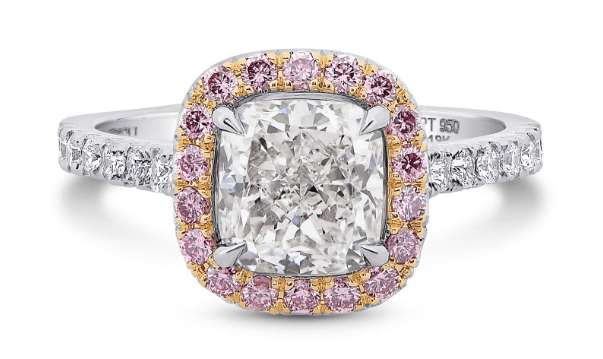 1. Scalloped Floral Halo Diamond Engagement Ring from Blue Nile: This floral-motif halo surrounds the center stone and adds glamour to a timeless design. 
2. Twisting Halo Diamond Engagement Ring from Blue Nile: With a twisting shank, this halo features unique feminine flair along with classic beauty. 
3. Hexagon Diamond Halo Engagement Ring from Blue Nile: Studded with a hexagonal halo, this ring exemplifies distinct and stunning character. 
4. Teardrop Halo Engagement Ring from James Allen: Unique teardrop diamonds surround the center stone for flair that won't go unnoticed.
5. Split Band Halo Engagement Ring from James Allen: With a pavé split shank band, this halo ring is full of brilliance and style.  
Where to Buy Halo Diamond Engagement Rings
Choosing how and where you'll purchase your engagement ring is one of the most crucial decisions of the ring search process. Both brick and mortar stores and online vendors can overcharge you—all while offering inferior beauty and value. We don't want that to happen to you or any of our readers.
Our years in the diamond industry have allowed us to closely vet diamond sellers all over the world. Through multiple interactions and tests, we've determined the best and most reliable vendors in the business.
The online diamond sellers we suggest below are reputable. They offer extensive collections of beautiful diamonds and settings, allowing you to choose exactly the type of ring you want. All diamonds accompany a GIA or AGS certificate—allowing you to trust what they're selling you.
Blue Nile maintains the largest online inventory of diamonds and settings, giving you an excellent selection. They focus on high-quality settings and remarkable, well-cut diamonds.
James Allen's strengths are their appealing prices, incredible diamond imagery and exceptional customer service. Their imagery allows you to view each diamond closely before making a purchase.
We recommend Brian Gavin Diamonds to our readers, as they offer some of the best cut diamonds in the world. Choose a diamond from the "Brian Gavin Signature" Hearts & Arrows collection or the Brian Gavin Black or Signature diamond when searching for a stone that's greater than 2 Carat.
Leibish is our go-to vendor for gemstone engagement rings and jewelry. A colored gemstone, like an emerald or sapphire is a stunning, lower cost alternative to a diamond.
Leibish & Co. also maintains a large collection of fancy color diamonds like purple diamonds and canary yellow diamonds. Gemstones tend to be less expensive than diamonds. On the other hand, most colored diamonds are more expensive than colorless diamonds.
Halo vs. Solitaire
Halo rings feature a complete loop of gemstones around the center stone, whereas solitaire rings only feature one diamond or gemstone. Halo rings can make the center stone appear larger, though some prefer the classic, simple style of the solitaire. When choosing a setting style, consider your personal preference and the shape of your diamond.
Wedding Band for Halo Engagement Rings
There are several types of wedding bands to fit your desired halo engagement ring. Check out our guide to wedding bands for halo engagement rings to find the best matching wedding ring.
Evaluating a Diamond Ring for Beauty and Value
Want to find the most stunning diamond at an exceptional price?
Review our Diamond Pro resources to select the perfect ring for the one you love.
Shop for halo diamond engagement rings here.
Have more questions about engagement rings or diamonds? Send our experts an email.
James Allen

James Allen is the leader in online diamond sales. Their imaging technology is the same as inspecting a diamond with a jeweler's loupe. They have the largest exclusive loose diamond inventory online and fantastic prices. They also have the nicest collection of lab created diamonds online. Now save 25% off settings AND 3% off Earth Diamonds during James Allen HUGE limited time sale!
What we love about them:
No questions asked returns within 30 days of shipment. James Allen will send you a paid shipping label to return the ring.
Lifetime Warranty
Free International Shipping
Free prong tightening, repolishing, rhodium plating and cleaning every 6 months
Provide insurance appraisals
One free resizing within 60 days of purchase
Free ring inscriptions
Best-in-class high quality imagery of all diamonds in stock
24/7 Customer Service
Best-in-class packaging

---
Blue Nile

Blue Nile is the largest and most well known internet jewelry seller. They have a very large exclusive online inventory. Their high quality images are catching up to James Allens' and their prices are amazing. Blue Nile have generously offered our readers an exclusive one-time use coupon.

(Click Here to save $100 off engagement ring settings)
What we love about them:
No questions asked returns within 30 days of shipment. Blue Nile will send you a paid shipping label to return the ring.
Lifetime Warranty
Free Shipping
Free prong tightening, repolishing, rhodium plating and cleaning every 6 months
Provide insurance appraisal
One free resizing within the first year of purchase
High quality images of about half of their diamonds
24/7 Customer Service
100% credit towards future upgrades (must be at least double in value)
Best in class fulfillment

---
Still afraid of getting ripped off?
Before you buy a diamond, get personal buying advice from industry veterans. We'll help you get the best diamond for the money.
Ask your diamond purchase question here
DISCLAIMER: We don't use your email for marketing. Period.