Diamond Pro is reader-supported. When you buy through links on our site, we may earn an affiliate commission. Learn More.
Deal Alert! 25% off James Allen settings
and
15% off Blue Nile settings!
Here's How Much to Spend on an Engagement Ring
Bottom Line Recommendation:
Overall, you should determine how much to spend on an engagement ring by looking at your financial situation along with the desires and style of your fiance-to-bé. You should not follow certain rules, like spending two month's salary, because those "rules" are often created by diamond marketers and sellers.
To ensure you get the best value and the most beauty for your diamond, purchase your engagement ring from a reputable vendor like James Allen or Blue Nile. You'll be able to find a stunning diamond engagement ring like this 1.04 Carat Princess Cut in a white gold pave setting from James Allen or a 1.4 Carat Round Cut in a platinum halo setting from Blue Nile at excellent prices.
If you really want to maximize your budget, consider getting a lab grown diamond from James Allen or Clean Origin. There are pluses and minuses (which you can read about here) but there is no question that you will get a much larger diamond within your budget. Take a look at this amazing one carat round diamond from Clean Origin for $1,125. That is almost 60% less than a comparable natural diamond.
For help in finding a beautiful ring or comparing two options, please reach out to our diamond experts. They're always happy to assist our readers in any way they can.
Preparing for your proposal is an exciting time and you want a beautiful ring to make it all happen (check out our tips on how to choose one). It's true that an engagement ring is one of the most special gifts you'll ever buy. It symbolizes your love and your commitment to a life together. If you're wondering, "How much should I spend on an engagement ring?," you'll find plenty of helpful insight in this article.
We'll walk you through:
Why certain rules (i.e. spending two month's salary) should not guide your spending decision
A few things you should consider when setting your budget
How much engagement rings cost
Getting the best value for your budget
If you'd like personalized help at any time, please contact us.
How Much Should You Spend on an Engagement Ring?
Although there's no precise average amount spent on an engagement ring, most surveys of engagement ring buyers tend to produce an average in the $5,000 to $7,500+ range. 
Now, this doesn't mean that you need to spend $5,000+ on an engagement ring. In reality, the average amount spent on an engagement ring is pushed upwards by big spenders, including people who spend $20,000 or more on their engagement ring.
According to the NY Times, which quoted a Morning Consult survey, the median amount that's spent on an engagement ring is about $1,900, with most couples spending less than $3,000 for their ring. You can look at our guide for engagement rings under $2,500 here. 
There's also a generational gap when it comes to how much people spend on an engagement ring. Although the average amount spent is over $5,000, most millennials spend an average of $3,000 for an engagement ring.
Although these figures can be useful as a ballpark range, we don't recommend setting a budget for your fiancé-to-be's engagement ring by looking at what other people spend. Instead, it's best to look at personal factors, from your personal financial situation fiancé-to-be's expectations and the style of engagement ring you think she will like most. 
We've covered these factors, and more, in detail below. 
How Much Did Engagement Rings Cost in 2019?
The price for an engagement ring can vary dramatically depending on the type of diamond and setting you'd like.
As we mentioned above, the average amount spent on an engagement ring in the United States is about $6,350. However, this is skewed by the cost of very expensive engagement rings. Once these are removed from the equation, the average couple spends about $1,000 to $5,000 (check out our guide for engagement rings between $3-5,000). 
This average can also vary depending on where you live. In general, those who reside in more expensive cities like New York City (you can check out our NYC guide) or Los Angeles (see our LA review) will likely spend more on a ring than those in less expensive cities. 
To provide an example of how much prices can vary based on the type of diamond and setting you choose, you can find a stunning 1 Carat Diamond Ring like this from James Allen for $5,070 or a beautiful 3 Carat Diamond Ring like this one from James Allen for $25,995. 
While it can be interesting to learn about the average amount spent on an engagement ring by others, remember to stick to your own situation and not get caught up in comparing yourself to others.
There's no specific amount that an engagement ring is supposed to cost. Everyone is different, meaning that your fiancé-to-be's tastes and expectations could be totally different from those of another person. 
By shopping around with reputable vendors like James Allen and Blue Nile, you can get a sense of the prices for rings that meet your requirements. A brick and mortar store will always be more expensive than what you can find online.
For help in estimating the cost of the engagement ring, try our Diamond Price Calculator.
There Is No 2 Month Salary Rule for Buying an Engagement Ring
You may have heard that in order to determine how much to spend on an engagement ring, you need to look at how much money you make. More specifically, you might have read somewhere that you should spend two months of your salary on your fiancé-to-be's ring. 
This guideline, known as the "two months rule" or "engagement ring price rule," began as a very crafty advertising campaign by the diamond industry. 
In the 1980s, diamond marketers, specifically the gigantic international diamond corporation De Beers, launched targeted ad campaigns—specifically one that suggests you should spend two months' worth of your gross income on an engagement ring. 
The original advertisement, which you can find here, was designed to take advantage of men's collective insecurities. It essentially states that buying a large diamond ring will keep other men away from your fiancé-to-be and that spending two months of income "won't break [the] budget."
These ad campaigns were intended to increase the amount of money the average person spent on a diamond, thus increasing the company's revenue. The entire campaign and the two-month rule it spawned were based on nothing more than driving sales for diamond manufacturers.
Like most "rules" established by marketers, you can safely ignore the old engagement ring price rule when you're shopping for a diamond ring. 
Beyond the fact that it was started by marketers, there are lots of problems with the two months rule for buying an engagement ring. 
Gross income doesn't take into account your taxes and health care costs. It doesn't factor in any debt or student loans. And although it should go without saying, the size and price of a diamond doesn't equate the amount of love you have for someone (you can also check what the average diamond size people purchase is here).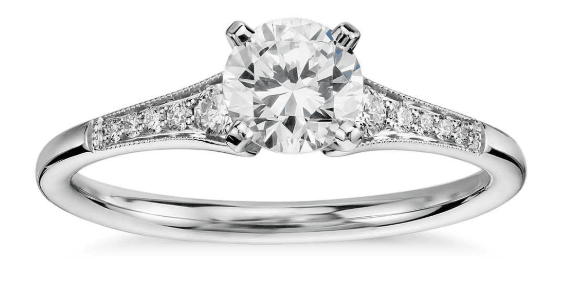 How to Determine Your Engagement Ring Budget
So, how many months worth of your salary should you spend on an engagement ring? However much you feel is appropriate. This is your decision, not a marketing department's decision, and you ultimately know your fiancé-to-be and their needs better than anyone else. 
With this said, there are a few factors that you should look at before you start engagement ring budgeting. We've listed these below, along with how each factor should determine the amount you set aside for the engagement ring.
Understand His or Her Expectations
An engagement ring represents your love and commitment—and your investment in the future. The ring you give your soon-to-be fiancé does indeed matter.
Many women have dreamed about their proposal and engagement ring since they were a child. Choosing a ring that meets their expectations is important—ensuring your special moment is nothing less than spectacular. If you feel comfortable, have an open and honest conversation together about finances and ring expectations. It's usually helpful to be on the same page, and understand how you each feel about spending money on jewelry.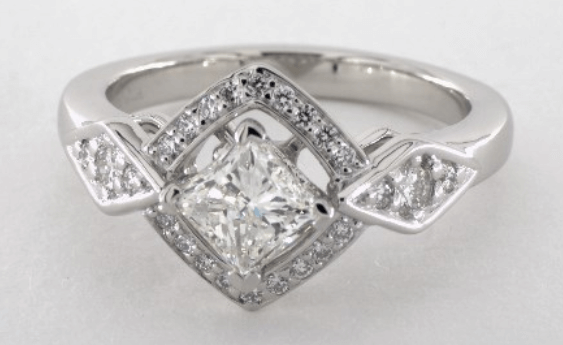 When it comes to ring expectations, consider the following:
The

shape of the diamond

they most desire

The

color of jewelry setting

(white gold, yellow gold, rose gold or platinum)

The

type of setting

that matches their style (i.e. solitaire, vintage or halo)

If there are family heirlooms, rings or diamonds to incorporate

How they'll show off the ring to family, friends and social media

How often they'll wear the ring: every day
If you don't know the details on the style of ring or diamond they desire, try to have a family member or close friend find out for you. When in doubt, look at several options and listen to your intuition.
Consider Your Financial Situation
Remember that you're not just planning for a beautiful engagement, but a wedding (check out the prices of wedding rings in our guide so you have a better idea about what is coming) and a future together, too. You'll want to think about what you can reasonably afford—setting you up for the most favorable financial position for your marriage.
You want to make sure you don't go into a lot of debt to purchase a ring. Think about the following when it comes to your financial situation:
Your income minus taxes and health care
Your monthly expenses like rent, car payment or insurance
The amount of savings you have
What you can afford (at a minimum: be sure you can pay off the amount in a couple of months)
With these factors in mind, estimate how much you can reasonably spend on an engagement ring. You want to be able to purchase a ring without financing. If you do need to borrow some money or pay with a credit card, be sure you can pay off the amount in a couple of months.
Remember That 'Thoughtful' Doesn't Mean 'Expensive'
The size of the ring you buy doesn't equal the size of your love. An expensive ring doesn't mean you're more thoughtful. You can choose a stunning engagement ring—whether it's a beautiful 0.9 Carat Round Diamond in a vintage white gold setting like this one from James Allen or this 2.01 Carat Round Diamond in a white gold halo setting from Blue Nile. There are plenty of options to get the ring you want for less than what you would expect.
The thoughtfulness you put into designing a ring for your special someone will be noticed—no matter the carat weight or how large your budget is. Taking the time and effort to choose the most beautiful, personalized ring will pay off far more than anything else.
Also, eye-cleanliness is paramount. Even though this article is about the whole ring price, eye-cleanliness is an important part of picking out a diamond for the ring. In our opinion, a consumer's goal should be to find the cheapest (in regards to clarity; other factors matter as well) "eye-clean" diamond you can find. We use "eye-clean" to describe diamonds that may have inclusions if you look at them with a magnifying glass (or microscope or loupe), but the typical person can't see the inclusion with their naked eye.
We have recently developed Ringo, a patented artificial intelligence model, that can examine videos of diamonds and determine if they are eye-clean. Ringo will also filter for other parameters like making sure the diamond is well-cut, doesn't have fluorescence issues and will match the style setting you choose.
Ringo™ Approved Eye Clean Diamonds
Load More
Financing Options for Engagement Rings
Financing options are available to help fund your ring purchase, though we don't always recommend them.
For instance, Blue Nile offers a credit card  that allows you to pay over time with no annual fee. James Allen financing also offers payment options for 6 or 24 months.
If you don't qualify for the financing at Blue Nile or James Allen, you should reconsider the ring you're planning to purchase. Going with a worse value only because they offer financing is not a smart decision when it comes to selecting a diamond.
Where To Buy a Diamond Engagement Ring
Finding an exceptional engagement ring starts with finding an exceptional diamond vendor. You want to purchase your ring from a dealer you can trust: one that offers well-cut diamonds at excellent prices. Also, being able to design your own engagement ring can save you a lot.
Throughout our years of experience, we've vetted several diamond dealers. We have a consistent pulse on the companies you can trust.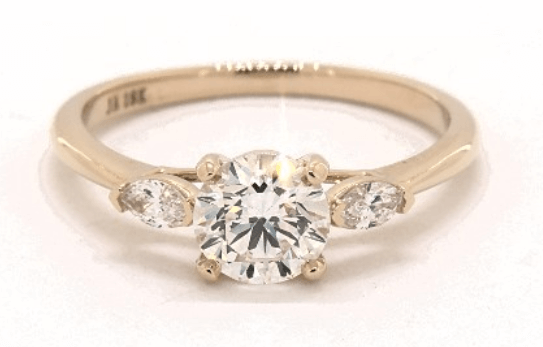 For the best diamond cuts at an exceptional value, we recommend:
Brian Gavin offers super-ideal cuts with the "Brian Gavin Signature" Hearts & Arrows collection. They're known for selling for the best cut diamonds—all of which have a high quality certificate from GIA or AGS. Learn more about Brian Gavin in our full review.
James Allen focuses on the customer experience and offering appealing prices. Their website is equipped with incredible diamond imagery and each diamond comes with a high quality certification (GIA & AGS). Read our James Allen review.
Blue Nile maintains the largest online inventory of diamonds and settings, while emphasizing remarkable diamond and jewelry quality. All diamonds come with high quality certification (GIA & AGS). Check out our Blue Nile review.
Leibish is our recommended vendor for gemstone engagement rings. A colored gemstone, like a sapphire or ruby, is a beautiful, lower cost alternative to a diamond. Leibish & Co. also maintains a large collection of fancy color diamonds like purple diamonds and canary yellow diamonds. Gemstones tend to be less expensive than diamonds, while most colored diamonds are more expensive than white, colorless diamonds. You can read our full review of Leibish & Co. here.
Finding the Perfect Ring: Getting the Best Value for Your Budget
Our goal is for you to find the most exceptional diamond engagement ring at a price that's within your budget. We want you to spend in the areas that greatly impact a diamond's beauty and scale back in the areas that will go unnoticed (also check which shape is most affordable).
To find the most beautiful engagement ring within your budget, follow these expert recommendations and review our additional Diamond Pro resources:
Engagement Ring Buying Guides
We strongly recommend only looking at diamonds with a GIA or AGS certificate. If a seller is suggesting you purchase a diamond with a different certificate, it's best to steer clear. No matter what the report states, the actual quality of the diamond is far less than what they're claiming.
Choosing your Diamond Shape is dependent on what's most appealing to you and the wearer. Shape is usually decided based on personal preference.
Carat weight is not the same as size. For example, a 1 Carat Diamond refers to the weight of the diamond only. How large a diamond appears depends on how it's cut and its shape.
Only consider diamonds with an ideal cut or an Excellent grade on the GIA scale. An exceptionally cut diamond will maximize the fire and brilliance of the diamond more than any other factor.
Search for diamonds with VS1 and VS2 Clarity grades. VS1 and VS2 diamonds offer the greatest value for what can be seen with the naked eye. Blemishes and inclusions will be unnoticeable.
Consider diamonds that are graded in the nearly colorless range of G to I. These diamonds will appear just as clear as diamonds in the D to F range but will cost much less.
Above all, we recommend reviewing the diamond yourself or having an expert assist you. Contact us to start a complimentary search process.
James Allen

James Allen is the leader in online diamond sales. Their imaging technology is the same as inspecting a diamond with a jeweler's loupe. They have the largest exclusive loose diamond inventory online and fantastic prices. They also have the nicest collection of lab created diamonds online. Save 10% off select Lab Grown Diamonds and 25% on setttings!
What we love about them:
No questions asked returns within 30 days of shipment. James Allen will send you a paid shipping label to return the ring.
Lifetime Warranty
Free International Shipping
Free prong tightening, repolishing, rhodium plating and cleaning every 6 months
Provide insurance appraisals
One free resizing within 60 days of purchase
Free ring inscriptions
Best-in-class high quality imagery of all diamonds in stock
24/7 Customer Service
Best-in-class packaging

---
Blue Nile

Blue Nile is the largest and most well known internet jewelry seller. They have a very large exclusive online inventory. Their high quality images are catching up to James Allens' and their prices are amazing. Blue Nile have generously offered our readers an exclusive one-time use coupon.

(Click Here to save $100 off engagement ring settings)
What we love about them:
No questions asked returns within 30 days of shipment. Blue Nile will send you a paid shipping label to return the ring.
Lifetime Warranty
Free Shipping
Free prong tightening, repolishing, rhodium plating and cleaning every 6 months
Provide insurance appraisal
One free resizing within the first year of purchase
High quality images of about half of their diamonds
24/7 Customer Service
100% credit towards future upgrades (must be at least double in value)
Best in class fulfillment

---
Still afraid of getting ripped off?
Before you buy a diamond, get personal buying advice from industry veterans. We'll help you get the best diamond for the money.
Ask your diamond purchase question here
DISCLAIMER: We don't use your email for marketing. Period.