Diamond Pro is reader-supported. When you buy through links on our site, we may earn an affiliate commission. Learn More.
Deal Alert! 25% off James Allen settings
and
15% off Blue Nile settings!
NYC Diamond District Review: Why Buy Them at Street Value?
The Famed NYC Diamond District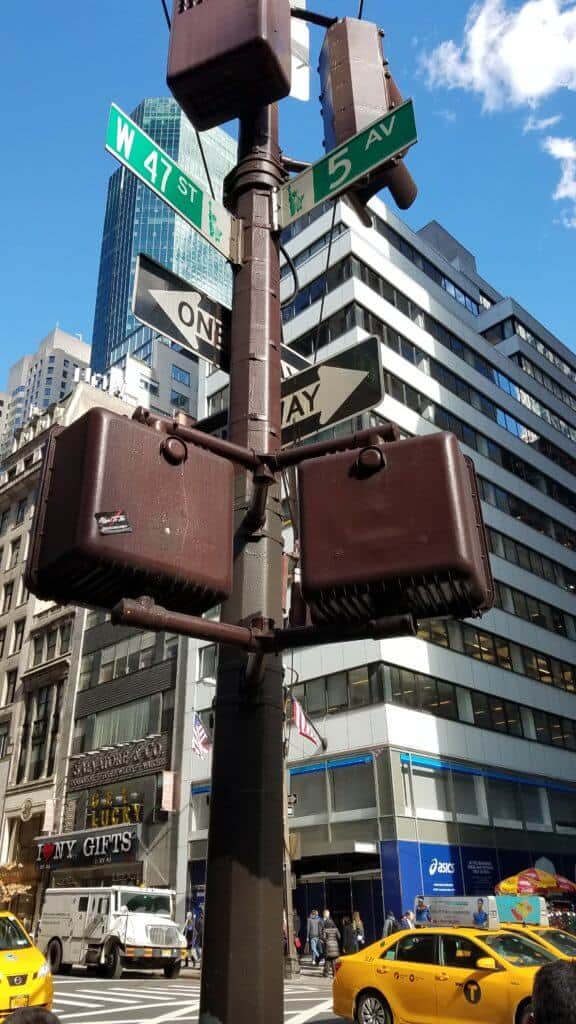 Some places conjure up fantastic images of grandeur in our heads. The Taj Mahal in India, the strip in Vegas and Rodeo Drive in LA all leave an indelible imprint on our minds. The New York Diamond District has a similar reputation. Just one city block of 47th street, the towering buildings whose street-level edifices are festooned with sparkling earrings, elegant rings and flashy accessories lure tourists in by the busload and even attract New Yorkers (no small feat).
As iconic as the Diamond District is, 47th street wasn't even the original hotspot for jewelers in NYC. In the 1800s, the jewelry hotspot was centered, coincidentally I'm sure, around Maiden Lane and Canal St, just a few blocks from Wall Street. In 1924, the New York Times stated that "the bride-to-be who could show a ring from Maiden Lane was thrice happy."
Rising rents and other factors forced jewelers to look upwards and eventually they settled on one long block of 47th street between Fifth Avenue and Avenue of the Americas. Many of the buildings housed "exchanges" on the ground floors, where you can go from counter to counter looking at different offerings of gold, diamonds and other metals and gems. You could have your watch fixed on one counter, pick out a pair of diamond earrings across the aisle and have your emerald reset into a different ring two counters down.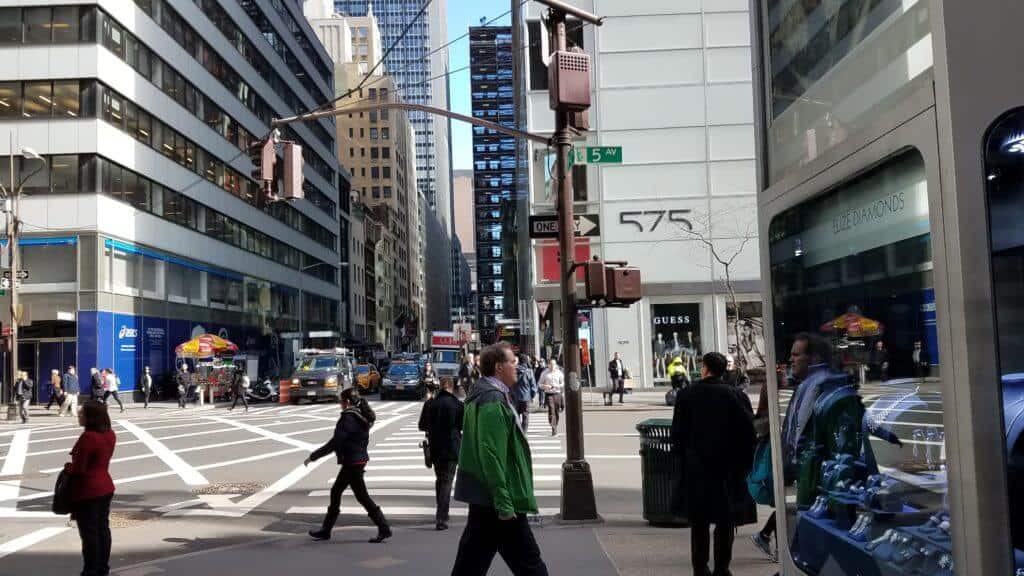 The Diamond District in NYC has a special hold on me. My first job in the industry was working for Leo Schachter, one of the largest diamond manufacturers at the time. Our offices were on the corner of Fifth Avenue and my subway stop was on Sixth Avenue. Every day, to and from work, I would walk that street. Sure, I was a local and didn't stop and stare, but to this day I still feel a rush walking down that street.
47th Street is a fascinating place. Most of the shop owners and workers are Hassidic Jews, Russians or Indians (three groups that dominate the diamond trade on the wholesale and manufacturing level as well). Walking down the street you will also notice plenty of armed guards for the shipping companies and police officers patrolling. And if you are thinking of pulling off a heist, there are plenty of undercover officers as well. You'll also have people up and down the street paid to get you to visit one of the shops on the street.
Where Is The Diamond District in New York?
The Diamond District in New York is located on West 47th Street between Fifth Avenue and Avenue of the Americas in Midtown Manhattan. The Diamond District is one block off of Madison Avenue, famous for the iconic fashion houses' flagship stores. It's a stone's throw from Times Square and is home to over 2,500 jewelry stores. Some are standalone shops while others host dozens of jewelry counters vying for attention.
A Premier Spot: Buying and Selling Diamonds in the NYC Diamond District
There are plenty of cities which have diamond districts, but New York City is unique. Places like Mumbai and Ramat Gan are exclusively designed for the wholesale level of the business while Jewelers rows in Philadelphia, Chicago or London (Hatton Garden) are just there for the consumer with almost no presence of major diamond trading companies. Antwerp used to have a nice mix of both, but the diamond industry has been dying off there on both the wholesale and retail levels.
New York City, on the other hand, is one of the premier locations for consumers as well as one of the largest wholesale markets in the world. While Hong Kong has been growing in stature, the US market is still the largest, by far, for diamonds and jewelery. Virtually all of the major companies use NY as their entry point. This provides an extraordinary concentration of product into one area.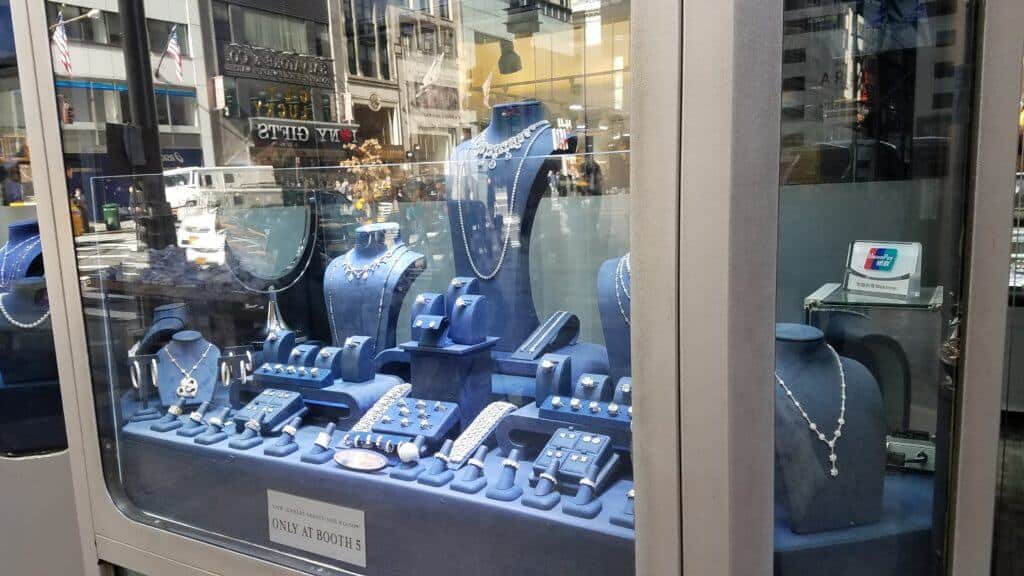 The retail and wholesale businesses seem (at least from the consumers' perspective) to mesh together on 47th street. The most notable quirk is the language use. I remember the first time I heard an Indian guy use Yiddish terms to describe the diamond. Chazarei (crap) and Strop (a lemon) are common terms people use for bad diamonds. And you will constantly hear the phrase "mazal u bracha" (luck and blessings) when people handshake on a deal. It certainly adds flavor to the experience.
Buying Diamonds on 47th Street
So what does this mean to you, the consumer? I mean nostalgia of a bygone era and the multinational flavor of a street like this are nice. At the end of the day, however, your goal is to get the best deal for your money.  Is it a place that gives you that bang for your buck? Is it a place where you can get screwed left and right. My amazing friend Ariella joined me for a stroll through the area.
One thing that strikes someone like me (someone who worked there for 8 years and has been visiting for the last 10 years) is how it seems to have hit hard times. I am not the only one noticing as I just noticed an article in the NY Post on the matter.
After my second secret shopping in the area, I came away with mixed feelings. To be clear, I did not find any deals that made it seem worthwhile to shop there. The few times I was shown nice diamonds, the prices did not seem to be in line with what I found on the web. I will get into specifics later, but I just couldn't find a diamond to warrant the trip to the diamond district for this purchase.
On the other hand, I was impressed that most of the slimy tactics I saw on hand in the past weren't being used. The last time I secret shopped the diamond district, I was helping my sister get a pair of earrings. I was overwhelmed by the number of schemes people tried to pull. Virtually no diamonds had legitimate certification (I should note that I was buying large diamonds, not smaller diamonds where certification is not as important) and many of them appeared to be artificially enhanced without them mentioning it to me.
This time around, I was happy to see that district cleaned themselves up. The overwhelming majority of diamonds we were shown had GIA certificates. Many of the diamonds shown to us were obviously "strops" that they were trying to get rid of. But overall the quality of the diamonds was ok.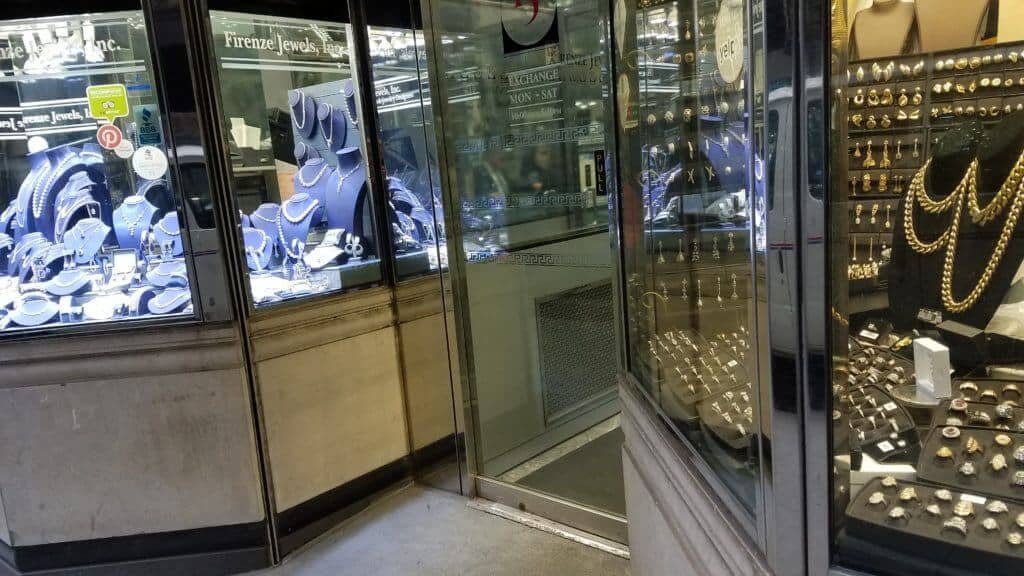 As expected, there is very little "added value" to the experience. It's not a luxurious experience. There is no brand recognition or upscale in-store experiences. They have one angle to sell you one: price.
What was unexpected was that the people were not as aggressive as the last time I visited the street. In fact, we were generally met with very little enthusiasm or even antipathy. Also, there were quite a few empty counters and storefronts. Even some whole exchanges seemed to have closed.
The Value of Shopping in the NYC Diamond District
Ariella and I visited about 15 counters or shops in several of the exchanges (as well as some standalone shops). For the purpose of this article, I will focus on the three best options I found. All of them were GIA certified and excellent cuts.
The first choice was at one of the counters in an exchange. After going back and forth, they showed us a nice 1.07ct G SI2 in a pave setting for $8,500. The inclusion wasn't particularly great (I noticed it easily and Ariella, a novice, noticed it after a little inspection), so I will try to compare apples to apples here. I found a similar setting on Blue Nile for $1,330. I added this 1.05 G SI2 from Blue Nile for comparison. Adding them together and your bill comes out to about $6,111. So you are looking at a savings of almost 30% buying online over buying here.
After wandering a bit more, we ended up in a standalone store. Here we were shown a 1.53 E SI1 in a very simple pave setting for $15,800 (after some negotiating). There was a small black inclusion, but otherwise the diamond looked fantastic. The setting was similar to this one from James Allen. Adding this comparable diamond and you'll price out at $12,930 or about 20% cheaper.
The last shop we visited before calling it quits had some nice diamonds. The first they showed us was a 2.00 F SI1. The cut was a bit off (a little deep and the angles are off as you can see from the GIA report) but the inclusions were nice. Another issue was the medium fluorescence. The price though, was a very steep $22,000. Here is a nicer diamond from Blue Nile coming in more than $4,000 cheaper.
The other diamond they pushed very hard was a 1.65ct H VVS2 for $16,632. This diamond was actually gorgeous. But again, the price is very high. Here is an identical diamond from Blue Nile for only $13,679.
It just seems like they don't bring enough to the table. They are not a rip-off, but you seem to be paying a premium for no added value.
Tips for Shopping in the NYC Diamond District
As you shop for a diamond, keep a few tips in mind to find the most stunning diamond for the best price. Head into the store confidently with these pointers.
Verify the Certification – Diamonds are evaluated and graded by third-party labs. But not all labs are created equal. We strongly recommend only purchasing GIA and AGS certified diamonds. These two are the most reliable and consistent lab entities in the world. Less stringent laboratories, on the other hand, will inflate quality claims—leaving you with a diamond that's worth less than what you paid for it. As you shop the NYC Diamond District, be sure to verify the certification of every diamond you consider. In most cases, we found GIA diamonds, but be sure to double-check.
Choose a Well-Cut Stone – A diamond's cut is the quality that most greatly impacts a diamond's beauty. Most of the round diamonds in the Diamond District are Excellent or Ideal cut diamonds—which is a great start. But to make sure you maximize brilliance, keep the depth percentage below 62.5% and the table percentage below 60%. If you're buying a different shaped diamond, consult our shapes guide.
Aim for Eye Clean – Clarity is one of the easiest aspects to evaluate, but many people don't know what to look for. You should aim for a diamond without any noticeable imperfections. For example, when you look at the stone, you shouldn't see any inclusions. In most cases, you can find an eye-clean diamond at a VS1 or VS2 Clarity grade, like this diamond in a yellow gold setting from James Allen. Instead of paying more for a VVS or FL graded diamond, you'll have an eye-clean stone that costs much less. When in the store, move the diamond away from the bright lights, because the lights induce more sparkle and hide inclusions. Look at the diamond closely under normal lighting to see if there are any imperfections.
We have recently developed Ringo, a patented artificial intelligence model, that can examine videos of diamonds and determine if they are eye-clean. Ringo will also filter for other parameters like making sure the diamond is well-cut, doesn't have fluorescence issues and will match the style setting you choose.

 

Ringo™ Approved Eye Clean Diamonds

Load More

Ensure the Diamond Appears White – With a colorless diamond, it's important to look for a stone that appears white in relation to its setting. In general, a diamond in the G-I range will look white, like this G colored stone from James Allen. Sometimes though, you can find a J or K color diamond that still appears white when placed in rose gold or yellow gold. For example, this K colored diamond in a yellow gold solitaire ring from James Allen appears white. Rather than paying more for a better color grade, you can spend more of your budget on Cut quality or carat weight.
Take your time – It's easy to get excited when we think we've found the "perfect ring." But salespeople, especially those working on commission, can be very pushy. They may put you in a position to make a rash decision—a decision you may regret later. Take your time when ring shopping. Sleep on it and make sure to compare the ring to online options to ensure you're getting the best deal. You can also contact us

and we'll look over the details. If you can, write down the GIA certificate number of the diamond.  
Should you buy diamonds from the Diamond District?
The New York Diamond District is a great tourist place to visit. It's a unique experience where you can people watch and window shop at the same time. There is something alluring to sounds of the negotiations in the exchanges. But when you get down to it, there just doesn't seem to be much of a reason to buy a diamond there.
As we explained above, the companies were not competitive on price. Why go through the headaches of shopping around in an area that has no frills and the best deal you are going to get is still 20% more expensive than you can find online. It just seems like the best way to maximize your budget would be to shop online at a reputable retailer like Blue Nile or James Allen.
James Allen

James Allen is the leader in online diamond sales. Their imaging technology is the same as inspecting a diamond with a jeweler's loupe. They have the largest exclusive loose diamond inventory online and fantastic prices. They also have the nicest collection of lab created diamonds online. Save 10% off select Lab Grown Diamonds and 25% on setttings!
What we love about them:
No questions asked returns within 30 days of shipment. James Allen will send you a paid shipping label to return the ring.
Lifetime Warranty
Free International Shipping
Free prong tightening, repolishing, rhodium plating and cleaning every 6 months
Provide insurance appraisals
One free resizing within 60 days of purchase
Free ring inscriptions
Best-in-class high quality imagery of all diamonds in stock
24/7 Customer Service
Best-in-class packaging

---
Blue Nile

Blue Nile is the largest and most well known internet jewelry seller. They have a very large exclusive online inventory. Their high quality images are catching up to James Allens' and their prices are amazing. Blue Nile have generously offered our readers an exclusive one-time use coupon.

(Click Here to save $100 off engagement ring settings)
What we love about them:
No questions asked returns within 30 days of shipment. Blue Nile will send you a paid shipping label to return the ring.
Lifetime Warranty
Free Shipping
Free prong tightening, repolishing, rhodium plating and cleaning every 6 months
Provide insurance appraisal
One free resizing within the first year of purchase
High quality images of about half of their diamonds
24/7 Customer Service
100% credit towards future upgrades (must be at least double in value)
Best in class fulfillment

---
Still afraid of getting ripped off?
Before you buy a diamond, get personal buying advice from industry veterans. We'll help you get the best diamond for the money.
Ask your diamond purchase question here
DISCLAIMER: We don't use your email for marketing. Period.