We are reader-supported. Buying through links on our site may earn us commissions. Learn More.
Deal Alert!
FREE engagement ring from James Allen
with any diamond purchase above $30,000.
7 Carat Diamond Ring: The Ultimate Buying Guide
Bottom Line Recommendation:
7 Carat diamond rings are extremely rare, and can be equally beautiful. To make sure the fire and sparkle of your diamond matches its size, don't settle for poor grades in Cut, Color and Clarity.
We recommend sticking to Ideal or Excellent cut 7 Carat diamonds. For Color, look for a grade between G and I, and aim for VS1 or VS2 for Clarity.
For the best value and shopping experience, buy only from a reputable dealer that carries diamonds with a GIA or AGS certification. Our recommended stores to purchase a 7 Carat diamond ring are James Allen, Blue Nile or Abe Mor.
7 Carat Diamond Ring Price
A 7 carat diamond can cost anywhere from $10,000 to $30,000 per carat, taking into account minimum grades of K for Color and SI2 for Clarity. Truly exquisite, highly graded 7 carat diamonds may even cost up to $50,000 or more per carat.
For an idea of the price range for 7 carat diamonds, here are some of the diamonds listed on Blue Nile: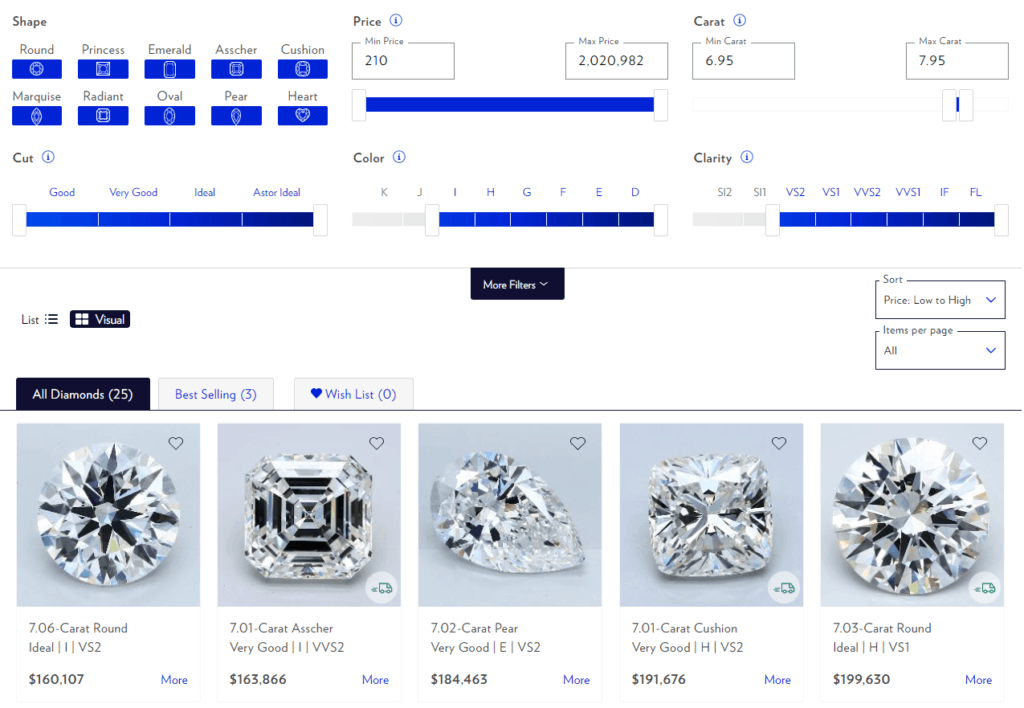 7 carat diamonds are extremely rare, and thus valuable. The "per carat" price of diamonds does not stay the same as we go higher in carat weight. The heavier a diamond, generally the rarer it is, and as such there is a premium on price applied.
At this price range, you can expect a big difference from one grade to the next, in terms of Color, Cut and Clarity. Let's look at some examples.
This 7.01 carat K/SI1 round diamond on James Allen is $90,960 ($12,976 per carat). Its Color and Clarity grades are relatively low (you'll notice a subtle but noticeable yellow tinge to the diamond).
If we go up a little in color grade, this 7.06 carat I/VS2 round diamond from Blue Nile is priced at $160,107 ($22,678 per carat). Two grades higher in color and one grade higher in clarity results in a $69,147 increase in price.
Where To Buy 7 Carat Diamond Rings
The best places to buy a 7 carat diamond ring are James Allen, Blue Nile and Abe Mor Diamonds. Not only are these stores the most likely to actually carry diamonds of 7ct and above, they are also trusted vendors that won't rip you off.
As 7 carat diamonds are exceptionally rare, it's unlikely you'll find any at your local jeweler. Even if you did and the diamonds carried a high-quality grade from a trusted grading entity, the price will be astronomical.
We've established the importance of ensuring your diamond is accurately graded, as a mistake (for example a diamond graded G for Color which should really be an H) can cost you thousands of dollars more than is necessary. The three stores above offer the means to closely examine a diamond before making a purchase and/or expert assistance to help with your buying decision.
James Allen and Blue Nile are the gold standard for online jewelry stores, thanks to their high-quality product images and impressive range. They also offer a 360° inspection tool, which is invaluable when shopping for a rare 7 carat diamond.
In addition, wherever you choose to purchase a diamond, make sure the diamond carries a certificate from a reputable grading entity such as the GIA or AGS.
The one other option we'd recommend is Leibish & Co if you're in the market for a fancy colored 7 carat diamond. Leibish are the leaders for colored diamonds and have a decent range in the 7-8 Carat range – such as this beautiful 7.08 Carat fancy intense yellow radiant cut.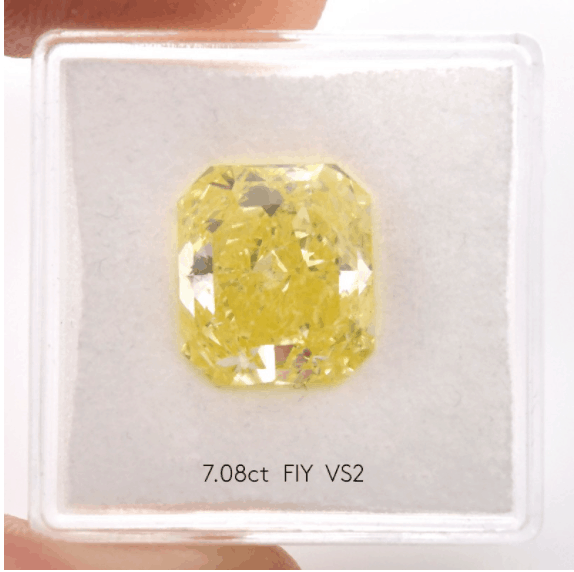 Diamond Size vs Carat: How Big is a 7 Carat Diamond Ring?
A common misconception is that carat refers to the size of a diamond. Carat is actually a measurement of weight. Each carat is equivalent to 0.2 grams. So a 7 Carat diamond weighs 1.4 grams.
The actual size of a 7 Carat diamond varies depending on its shape and the cut. A 7 Carat round brilliant diamond has measurements of approximately 12.2mm in diameter. It's around twice as big as a 1 Carat diamond – despite being 7x the weight.
You can check out our comparison image below where we lined up the average sizes of the most common shapes in 5ct next to a US quarter.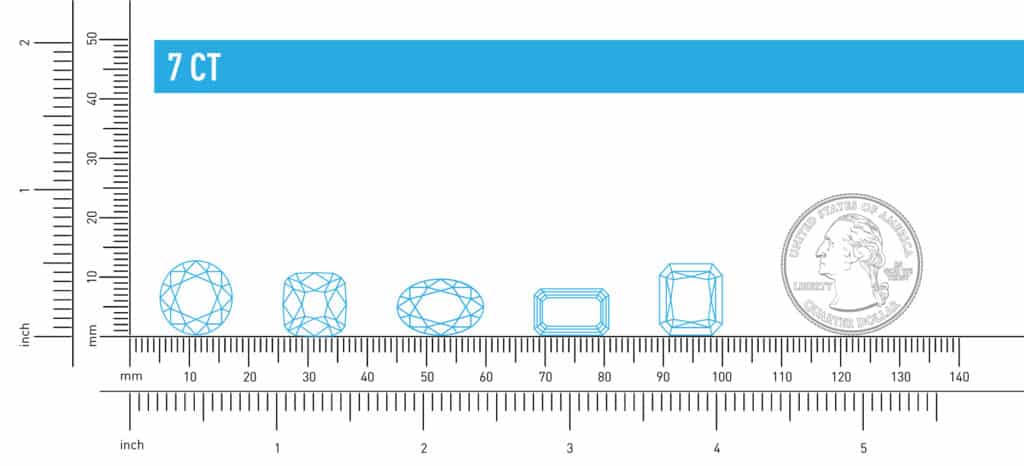 Clarity Rating for 7 Carat Diamond Rings
As with any diamond, the 4 C's (Cut, Color, Carat and Clarity) are extremely important. These grades separate a run-of-the-mill diamond from a truly stunning stone, which is going to turn heads wherever the wearer goes.
Diamond Clarity is a metric that grades how many and what blemishes or inclusions are present in the diamond. The higher the grade, the cleaner the diamond appears.
We recommend only looking at diamonds that are graded by a reputable grading entity, such as the AGS or the GIA. The GIA's clarity scale is as follows:
Flawless (FL)
Internally Flawless (IF)
Very Very Small Inclusions 1 (VVS1)
Very Very Small Inclusions 2 (VVS2)
Very Small Inclusions 1 (VS1)
Very Small Inclusions 2 (VS2)
Small Inclusions 1 (SI1)
Small Inclusions 2 (SI2)
Inclusions 1 (I1)
Inclusions 2 (I2)
Something to consider with clarity is that, above a certain threshold, there is no difference to the naked eye. Generally speaking, once you get to VS1 or VS2, the diamond should appear "eye-clean", and any inclusions won't be noticeable without specialized equipment.
When we're looking at larger diamonds, however, it becomes easier to spot inclusions. So while for a smaller diamond an SI1 grade may appear eye-clean, it may not hold true for a 7 carat diamond. We'd recommend looking for a VS2 or VS1 diamond (be sure to have it inspected to verify it is eye-clean, though).
7 Carat Diamond Ring Shapes
Beautiful diamonds come in a variety of gorgeous shapes. Your choices are a little more limited when looking at 7 carat diamonds, as even the most common round brilliant diamonds are very rare. However, there should be a decent range to choose from, for you to pick out a unique and stunning diamond.
When it comes to shape, one shape isn't "better" than another. It comes down to personal preference, and what suits the style and taste of the wearer. 
Round brilliant diamonds are a classic look that you can never go wrong with. Alternatively, elongated shapes like pear, oval or emerald cuts tend to give a larger perceived appearance due to a bigger surface area of the table (the top of a diamond, facing up).
Here are a few of the different shapes you can get at 7ct and above:
7 Carat Diamond Ring Colors
Alongside clarity, Diamond Color is a factor that will make a big difference in the appearance of your diamond ring, as well as the price.
Diamond Color is graded from D to Z, depending on how clear or yellow the diamond is. A diamond with a D grade for color is colorless, while a Z has a distinct yellow or brown tint.
Much like clarity, color grades also carry a big difference in price. For example, this 7.43 Carat VVS2 diamond from Blue Nile with a J color grade is $136,261 ($18,339 per carat). When we match this against this diamond from Blue Nile with the same cut and clarity, but a G color grade, the price per carat more than doubles to $43,612. Not for no reason – a G color diamond is significantly whiter and more desirable than a J color.
You want to make sure the diamond you purchase appears colorless to the naked eye. Lower color grades become more noticeable in larger diamonds (such as 7 carat diamonds), but anything H or above should still appear colorless. As long as it appears so, you can save a little money here, as there is unlikely to be a noticeable difference between a D and an F color (to the naked eye that is).
Another tip that can help you save on color is picking a color grade relative to your setting. Darker settings, such as yellow gold or rose gold, will contrast with the diamond and make it appear whiter. If you buy a 7 carat diamond ring with a setting like this from James Allen, you may be able to get away with a slightly lower color grade. The same diamond in a platinum or white gold setting, though, will likely give off a distinct yellowish tint.
How to Get the Best Value for a 7 Carat Diamond Ring
Any half-decent 7 carat diamond ring is going to cost significantly more than a smaller, more common diamond. That being said, you can end up overspending if you focus too much on the wrong aspects of the diamond.
Here are some recommendations when shopping for a 7 carat diamond ring:
Shape: the shape of your diamond shouldn't have much of an impact on the price or value of the ring. Round brilliant diamonds are most common, so give you the best chance of finding a beautiful diamond for good value. However, a longer diamond like an oval or pear shape can give the appearance of a bigger diamond for the same carat weight and price as a round diamond.
Cut: your diamond should have an Ideal or Excellent cut (as graded by the AGS and GIA) to ensure maximum brilliance and fire.
Color: look for a diamond with a grade from G to I in color. These grades should appear colorless to the naked eye. Anything higher, and you're paying a premium for something that may not be clearly noticeable.
Clarity: at such a high carat, small imperfections may be more noticeable, so it's not advisable to settle for a low clarity grade. However, like with color, an extremely high grade will come with a premium price point, but no significant increase in appearance. Look for VS1-VS2 as the sweet spot between appearance and cost.
Vendor: make sure you shop with a reputable vendor, such as James Allen, Blue Nile Abe Mor, or Leibish & Co (the latter for fancy colored 7 carat diamonds). If the diamond doesn't have a certificate from a top grading entity, and if you can't have the diamond inspected by an expert before your purchase, you're at risk of overpaying.
A 7 carat diamond ring is incredibly rare, and should be equally beautiful. Many people will never see a diamond this large in their life. But carat isn't everything. You could save on your purchase by settling for a diamond with low grades in Cut, Color and Clarity, but then this is what everyone will notice – not the weight of your diamond.
In this case, you'd be better served buying a diamond with a lower carat weight, but higher grades in other areas to ensure it has the fire, brilliance and clean sparkle that diamonds are known for.
Famous 7 Carat Diamond Engagement Rings
Rare and beautiful 7 carat diamond rings are the kind that are often sought after by the rich and famous. In one such example, George Clooney proposed to his second wife, Amal, with a huge 7 Carat emerald cut diamond ring in 2014. With baguette diamonds on either side in a platinum setting, the ring is said to have cost around $750,000.
Final Thoughts
A 7 carat diamond ring is going to be the talking point in any room its wearer enters. Diamonds this large are rarely seen, so you can be sure to gift the love of your life a ring that is truly one of a kind.
Make finding the perfect 7 carat diamond ring easier by reaching out to us, so we can provide assistance and offer our years of experience to help.
Related articles:
James Allen

James Allen is the leader in online diamond sales. Their imaging technology is the same as inspecting a diamond with a jeweler's loupe. They have the largest exclusive loose diamond inventory online and fantastic prices. They also have the nicest collection of lab created diamonds online. Now save 25% off settings AND 3% off Earth Diamonds during James Allen HUGE limited time sale!
What we love about them:
No questions asked returns within 30 days of shipment. James Allen will send you a paid shipping label to return the ring.
Lifetime Warranty
Free International Shipping
Free prong tightening, repolishing, rhodium plating and cleaning every 6 months
Provide insurance appraisals
One free resizing within 60 days of purchase
Free ring inscriptions
Best-in-class high quality imagery of all diamonds in stock
24/7 Customer Service
Best-in-class packaging

---
Blue Nile

Blue Nile is the largest and most well known internet jewelry seller. They have a very large exclusive online inventory. Their high quality images are catching up to James Allens' and their prices are amazing. Blue Nile have generously offered our readers an exclusive one-time use coupon.

(Click Here to save $100 off engagement ring settings)
What we love about them:
No questions asked returns within 30 days of shipment. Blue Nile will send you a paid shipping label to return the ring.
Lifetime Warranty
Free Shipping
Free prong tightening, repolishing, rhodium plating and cleaning every 6 months
Provide insurance appraisal
One free resizing within the first year of purchase
High quality images of about half of their diamonds
24/7 Customer Service
100% credit towards future upgrades (must be at least double in value)
Best in class fulfillment

---
Still afraid of getting ripped off?
Before you buy a diamond, get personal buying advice from industry veterans. We'll help you get the best diamond for the money.
Ask your diamond purchase question here
DISCLAIMER: We don't use your email for marketing. Period.