We are reader-supported. Buying through links on our site may earn us commissions. Learn More.
Deal Alert! Huge James Allen Sale- 3% off Earth Diamonds AND 25% off settings or

15% off at Blue Nile!



10 Carat Diamond Ring: The Complete Buying Guide
Bottom Line Recommendation:
A 10 carat diamond is a rare and beautiful gem. It's important to take care in your buying decision for a diamond of this size, to ensure you can find a gorgeous diamond for a fair price.
Your aim should be to pick out a superbly cut, eye-clean diamond that appears colorless, without overpaying for grades that won't be noticed by the naked eye. We suggest looking in the G to I range for color and around VS1 for clarity. For diamond cut, don't settle for anything less than Excellent or Ideal.
At this carat weight, the difference between a diamond with poor grades and another, higher quality diamond, is immense. A 10 carat diamond ring should be a one-of-a-kind piece of jewelry, so don't compromise for a dull, lifeless diamond. 
If you're ready to start your search, contact us and we'll help you pick out a stunning 10 carat diamond.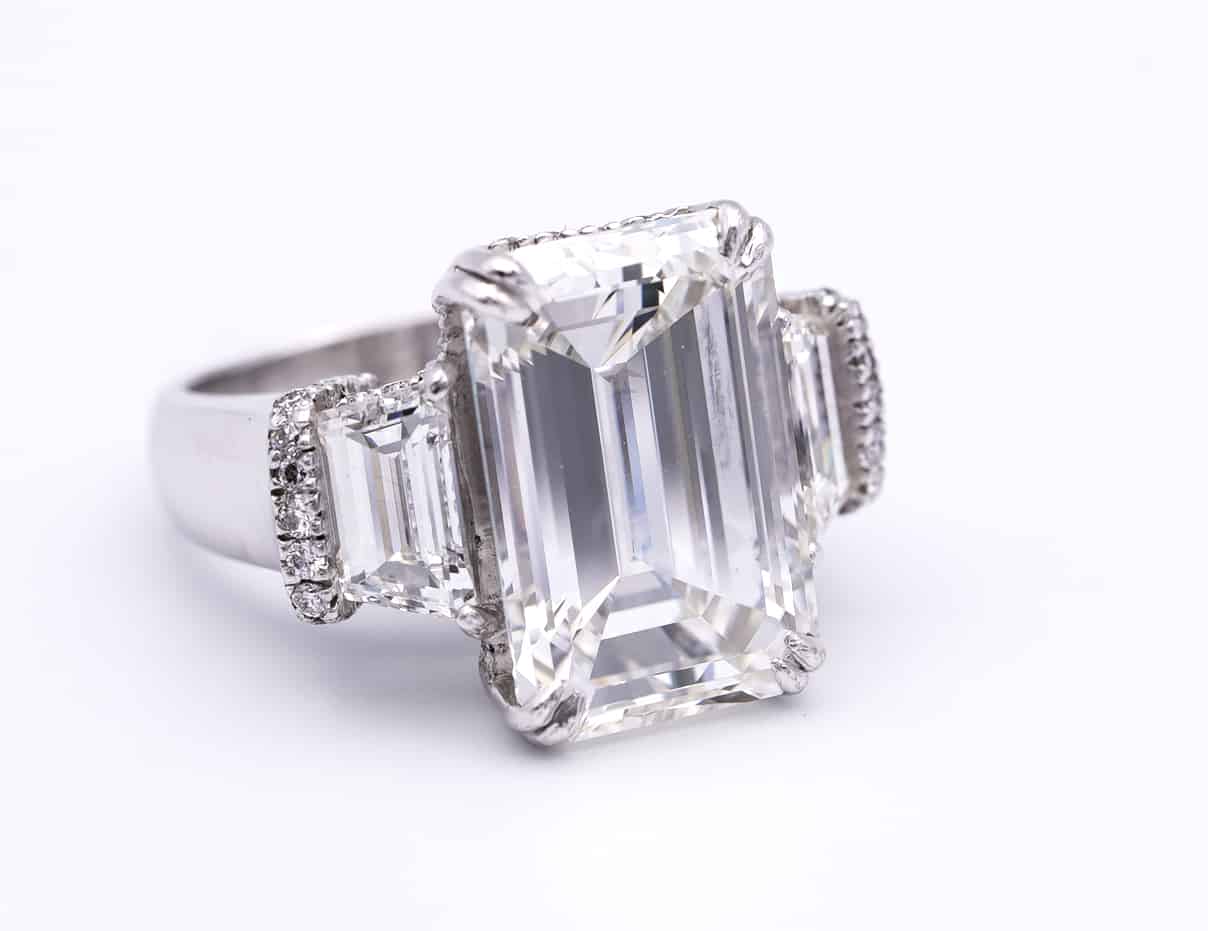 10 Carat Diamond Ring Price
The price of a 10 carat diamond ring will vary dramatically based on its grades. A diamond with low grades in color and clarity can cost between $15,000 and $20,000 per carat. For a higher quality diamond, with the minimum grades we are looking for, you can expect the price to be around $25,000 to $45,000 per carat.
A truly spectacular 10 carat diamond may be even more expensive. High grades (F or greater in color, VVS2 or higher in clarity) are likely to cost more than $500,000 for a 10ct diamond.
Here are two examples to give you an idea of the cost of a 10 carat round diamond:
Both of the diamonds above fit the criteria we're looking for in cut, color, and clarity. It's possible to buy a 10ct diamond for a lower price, but you're almost certainly going to sacrifice some of the beauty of the diamond. You'll get a huge diamond, but it won't shine quite like you'd expect a diamond to.
If these diamonds are out of your price range, try dipping down a little in carat, so you can put more of your budget into areas that allow you to get a truly brilliant diamond.
Where To Buy 10 Carat Diamond Rings
Well-cut, highly graded 10 carat diamonds are extremely rare, and unlikely to be found in any ordinary jewelry store. It's also imperative that you stick to diamonds with certificates from reputable grading entities like the GIA or AGS. This again is going to narrow your choices of places to buy from.
We've reviewed and vetted numerous diamond vendors, and there are several we recommend to anyone in the market for a diamond or any other fine piece of jewelry. With the price point of a diamond as rare and as beautiful as a 10ct diamond, it's even more important to stick with one of these recommended retailers.
James Allen
Online jewelry store James Allen are the gold standard for diamonds and diamond jewelry. They have a fantastic range of GIA-certified diamonds, which even includes some 10 carat and above.
If you think rare diamonds like these aren't sold online, think again. James Allen even carries diamonds as rare and massive as this 20.28 Carat Round Brilliant Diamond, worth nearly $2 million.
Along with their range, one of the biggest reasons to shop with James Allen is their product imagery and 360° inspection tool. This lets you closely inspect any diamond before making a purchase, helping you pick out a truly stunning diamond.
Blue Nile
Blue Nile are the largest online diamond retailer, and as with James Allen, carry high-quality diamonds with GIA or AGS certificates.
The range of diamonds on Blue Nile is seriously impressive. Even their range of rare 10ct diamonds is quite decent. This includes this nearly million-dollar 10.01 Carat Diamond.
The majority of their diamonds come with 360° technology as well, which we've established is a big plus, particularly when shopping for diamonds this rare and this expensive.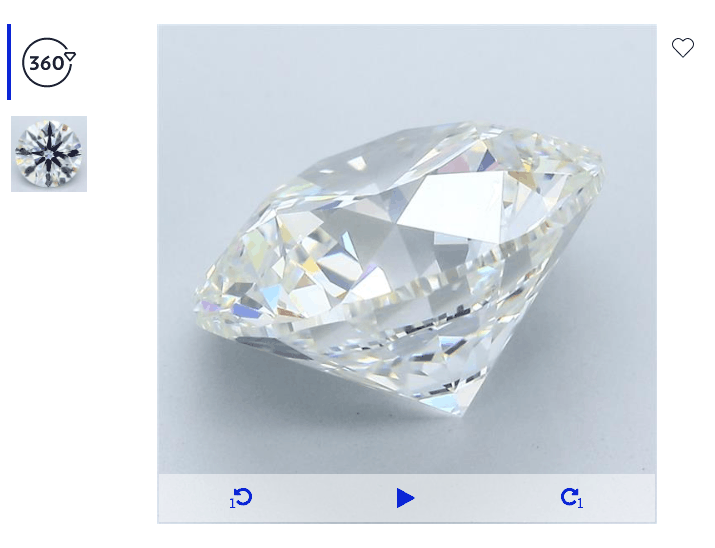 Abe Mor Diamonds
One of the best brick and mortar options for a 10 carat diamond ring is Abe Mor Diamonds in New York City. Wholesaler Abe Mor specializes in large and rare diamonds, and has provided phenomenal service and assistance for many of our readers in their search for one-of-a-kind diamonds in the past. No matter where you are in the States, Abe Mor can work with you remotely no problem.
Leibish & Co
The best option for fancy colored diamonds is Leibish & Co. They offer an amazing range of high-quality, certified fancy colored diamonds, even as large and rare as 10ct and above. The range includes several beautiful fancy yellow diamonds (the most common type of fancy colored diamond), as well as captivating fancy black diamonds, and even this incredibly rare 10.33 carat light pink diamond, worth just under $2 million.
Diamond Size vs Carat: How Big is a 10 Carat Diamond?
The most common misconception with diamond carat is that it refers to the size of a diamond. Diamond carat actually refers to weight. A 10 carat diamond weighs 2.0 grams (each carat is equal to 0.2 grams).
There is a correlation between diamond size and carat. Any diamond as high as 10ct or above is certainly going to be much larger than your average diamond. The exact size depends on the cut and the shape. Different shapes will have different dimensions, and along with that may have more or less face-up area (the area visible from the top, when it's set in a ring). 
A 10 Carat round brilliant diamond, the most common diamond shape, has a diameter of approximately 14mm. If you want a diamond that appears larger at the same carat weight, elongated shapes like oval, pear or marquise cuts have a larger face-up area. A 10ct marquise, for example, has approximately 16% more face-up area visible than a round brilliant.
You can check out our comparison image below where we lined up the average sizes of the most common shapes in 10ct next to a US quarter.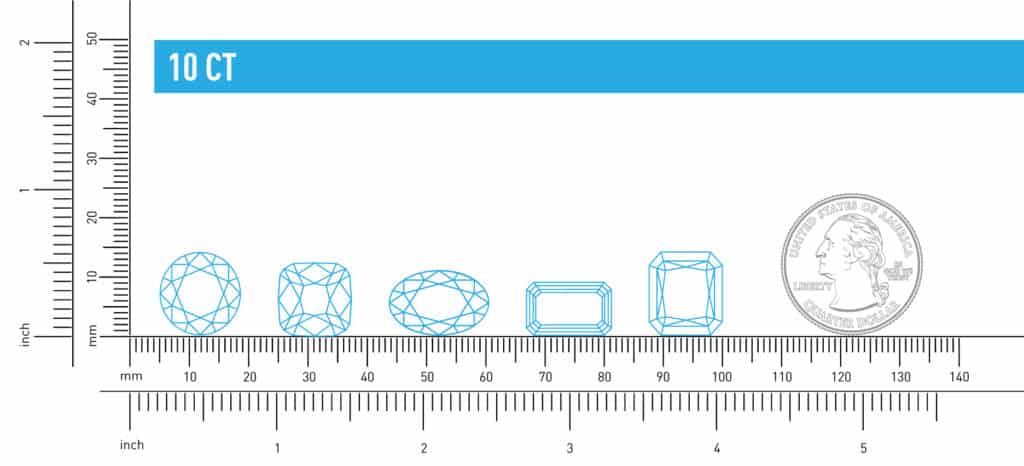 Clarity Rating for 10 Carat Diamond Rings
There are a few grades you should take notice of whenever you buy a diamond (especially one as rare and expensive as a 10 carat diamond). These grades make all the difference as to whether you purchase a dull, lifeless diamond, or one that shines as you'd expect a diamond should.
Diamond clarity grades affect the visual appearance of a diamond and indicate how many blemishes or imperfections are noticeable within that diamond. At the highest grade, a diamond is flawless – no inclusions whatsoever – and at the lowest grade, there are obvious marks that are noticeable to the naked eye.
The GIA's scale for diamond clarity is as follows:
Flawless (FL)
Internally Flawless (IF)
Very Very Small Inclusions 1 (VVS1)
Very Very Small Inclusions 2 (VVS2)
Very Small Inclusions 1 (VS1)
Very Small Inclusions 2 (VS2)
Small Inclusions 1 (SI1)
Small Inclusions 2 (SI2)
Inclusions 1 (I1)
Inclusions 2 (I2)
Flawless (FL) is the highest grade, while I2 is the lowest. These grades have a huge impact on the price of a diamond, as well as its beauty. This price difference is all the more significant at higher carat weights, where the overall price per carat of a diamond is much more.
As an example, the two diamonds mentioned below have the same grade for color and cut and almost identical carat weight.
The first from James Allen is SI1 for clarity, meaning small noticeable inclusions. The second from James Allen has a VS2 grade, one grade higher. The second diamond is $60,000 more expensive, thanks to this difference in clarity.
If you're going to buy a diamond as big as 10ct, you shouldn't go too low for clarity. Any imperfections that may not quite be noticeable in a smaller diamond will be much more so for a 10 carat diamond. At the same time, it's often not worth it to buy a diamond with the highest grade in clarity. Above a certain level, there's no discernible difference to the naked eye. Instead of spending a premium for a grade no one is going to notice, you can put your budget into other more important areas.
We'd recommend a minimum of VS2-VS1 in clarity, though be sure to inspect it closely to ensure the diamond is eye-clean.
10 Carat Diamond Ring Colors
Much like diamond clarity, a diamond's color grade makes a big difference in both beauty and price.
Diamond color is a grade that shows how clear or yellow the diamond is. The GIA gives a grade from D to Z for color. D is the highest grade, and represents the most clear, colorless diamonds. The lowest grade is Z, given to diamonds with an obvious yellow or brown tint.
The difference from one color grade to the next is almost impossible to tell. The difference in price is quite noticeable though. Let's take these two 10ct diamonds from Blue Nile as an example.
Diamond 1: 10.14 Carat, G Color, VS1 Clarity, $533,425.
Diamond 2: 10.12 Carat, F Color, VS1 Clarity, $698,899.
The second diamond, one color grade higher, has a $165,000 difference in price. This should give you an idea how valuable diamond color is, especially at the price bracket of 10 carat diamonds.
Your aim for diamond color should be to find a diamond that appears colorless. This doesn't mean you need the highest color grade there is. You just need a grade high enough to the point where any color isn't noticeable to the naked eye. Generally speaking, this is in the G-I range. Anything above this won't appear much different (if at all), but you'll be paying significantly more.
You also want to consider a setting in regards to the diamond color. A darker setting, such as rose gold or yellow gold, will make a diamond with a lower color grade appear whiter. So, by selecting a setting like this from James Allen, you can get away with a lower grade in color (such as this one from James Allen), whereas the same diamond in a platinum or white gold setting may have a more noticeable yellow coloration.
10 Carat Diamond Ring Cut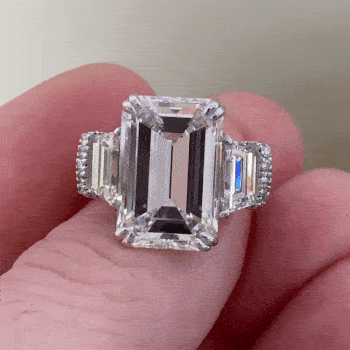 While clarity and color are all about finding the sweet spot between quality and price, it's much more important to focus on the highest grade possible for a diamond cut. The difference between a poorly cut diamond and one with a high grade in this area is immense, even more so when we're looking at diamonds 10ct and above.
Diamond cut refers to how well cut the diamond is. This affects its symmetry and proportions, which in turn impacts how brilliant it is, and how well the diamond reflects light.
The GIA grades diamonds on a scale of Poor to Excellent for cut, while the AGS gives a grade from Poor to Ideal. We strongly recommend you only consider diamonds with an Excellent (GIA) or Ideal (AGS) grade for cut.
10 Carat Diamond Ring Shapes
Beautiful diamonds can be found in a number of unique shapes. The options are more scarce for huge, rare gems like 10 Carat diamonds, but you should still have sufficient choices for shape.
The most common diamond shape is a round brilliant cut. This shape is classic and timeless, and fits just about anyone's taste. Here are two examples:
If you want something more unique, here are some other diamond shapes that can help you stand out:
10 Carat Cushion Cut Diamond
10 Carat Emerald Cut Diamond
10 Carat Pear Shape Diamond
For colored diamonds, Leibish & Co's variation in diamond shape is quite impressive, even at higher carat weights, like this 10.02ct Cushion shaped fancy yellow diamond.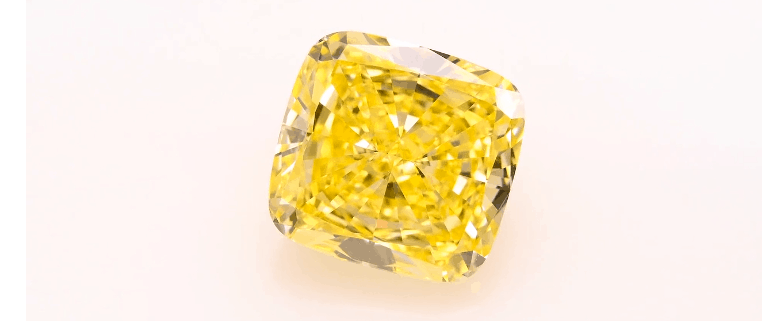 How to Get the Best Value for a 10 Carat Diamond Ring
When you set out to buy a 10 carat diamond ring, you should expect to pay a premium price. Diamonds of this size are extremely rare, equally beautiful, and have a price tag that reflects this.
It is, however, possible to save a significant amount of money by prioritizing certain grades and shopping with a reputable retailer. By doing so you ensure you're not overpaying for a poor quality diamond, or paying for grades that aren't eminently noticeable.
Here's what we recommend you look for when shopping for a 10 carat diamond ring:
Cut: only buy a diamond with an Excellent (GIA) or Ideal (AGS) grade for cut (round cut) or ideal proportions for all the other shapes.
Color: look for a grade between G-I for color, and inspect the diamond closely to ensure it appears colorless to the naked eye.
Clarity: aim for VS2-VS1 in clarity, and again inspect the diamond to be sure there are no noticeable inclusions.
Shape: choose the shape that best appeals to you and your loved one. You'll have greater choice in round brilliant shapes, but an elongated shape like an oval or marquise diamond gives a larger face-up area and appearance.
Vendor: your best options for 10 carat diamonds are James Allen, Blue Nile, Abe Mor, or Leibish & Co (for fancy colored diamonds).
Famous 10 Carat Diamond Engagement Rings
A gem as rare and exquisite as a 10 carat diamond is the type you'd expect to see on a celebrity's finger. Indeed, there are plenty of examples of famous 10 Carat diamond engagement rings from the rich and famous.
One example is from Heidi Klum's engagement to Seal. Seal popped the question with a 10 carat yellow diamond center stone, set in a spectacular pavé setting. 
Another classic ring is Grace Kelly's 10.48 Carat Cartier ring from her 1955 engagement to Prince Rainier III of Monaco. The ring, featuring an emerald center stone with two baguette side stones, is one of the most beautiful and iconic of all time, valued at more than $5 million.
Final Thoughts
A 10 carat diamond ring promises to command attention anywhere it goes. A diamond of this size is extremely rare, and many people will go their whole life without seeing a jewel this rare and beautiful in person.
For this reason, 10 carat diamonds are not cheap, and the difference in price between low and high grades is often significant. Follow our recommendations to find the sweet spot between value and quality for your 10ct diamond ring, and feel free to contact us for help starting your search.
Related articles:
James Allen

James Allen is the leader in online diamond sales. Their imaging technology is the same as inspecting a diamond with a jeweler's loupe. They have the largest exclusive loose diamond inventory online and fantastic prices. They also have the nicest collection of lab created diamonds online. Now save 25% off settings AND 3% off Earth Diamonds during James Allen HUGE limited time sale!
What we love about them:
No questions asked returns within 30 days of shipment. James Allen will send you a paid shipping label to return the ring.
Lifetime Warranty
Free International Shipping
Free prong tightening, repolishing, rhodium plating and cleaning every 6 months
Provide insurance appraisals
One free resizing within 60 days of purchase
Free ring inscriptions
Best-in-class high quality imagery of all diamonds in stock
24/7 Customer Service
Best-in-class packaging

---
Blue Nile

Blue Nile is the largest and most well known internet jewelry seller. They have a very large exclusive online inventory. Their high quality images are catching up to James Allens' and their prices are amazing. Blue Nile have generously offered our readers an exclusive one-time use coupon.

(Click Here to save $100 off engagement ring settings)
What we love about them:
No questions asked returns within 30 days of shipment. Blue Nile will send you a paid shipping label to return the ring.
Lifetime Warranty
Free Shipping
Free prong tightening, repolishing, rhodium plating and cleaning every 6 months
Provide insurance appraisal
One free resizing within the first year of purchase
High quality images of about half of their diamonds
24/7 Customer Service
100% credit towards future upgrades (must be at least double in value)
Best in class fulfillment

---
Still afraid of getting ripped off?
Before you buy a diamond, get personal buying advice from industry veterans. We'll help you get the best diamond for the money.
Ask your diamond purchase question here
DISCLAIMER: We don't use your email for marketing. Period.