We are reader-supported. Buying through links on our site may earn us commissions. Learn More.
Deal Alert! Huge James Allen Sale- 3% off Earth Diamonds AND 25% off settings or

15% off at Blue Nile!



Best Places to Buy Diamond Engagement Rings: Top Rated Online Diamond Retailers in 2022
We've visited and reviewed many diamond retailers, online and offline. In the process, we've come across several diamond vendors that consistently outperform the competition.
Buying a diamond ring for your engagement is a tricky process that can feel overwhelming at times. We have many articles that help you with the 4Cs and more. This article will help you with one of the most fundamental questions; Where should I buy my engagement ring from?
Let's get the obvious out of the way. We think you are far better served shopping online than buying in a store. We explain the fundamental advantages of buying online in this article.
There are plenty of options to sift through online. We go more in depth on our favorites below, but the best way for us to help you settle on the right company and diamond would be via our personal help. Feel free to contact us for personal help.
The Gold Standard
This one is a no-brainer. We have loved James Allen for years and they are one of the industry leaders. Their customer service is fantastic and they offer all the necessary tools to buy a diamond online. They are the pioneers of bringing high quality videos to the online consumer.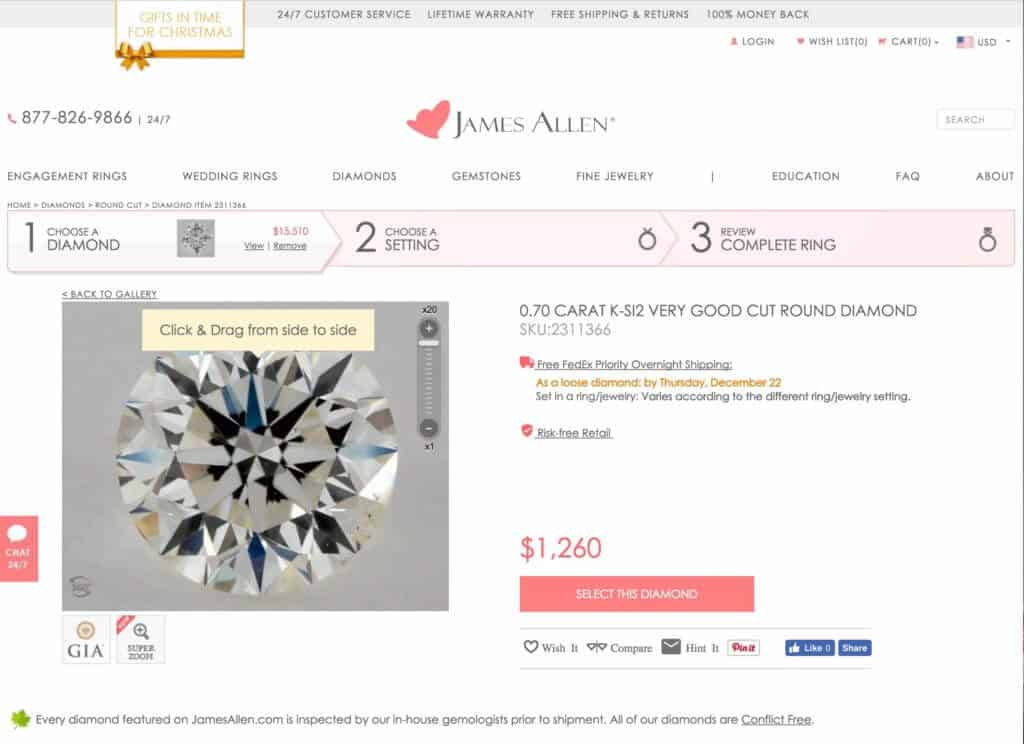 James Allen's video technology, fantastic customer service, broad selection of well crafted settings and excellent prices have made them one of our favorite companies to recommend. Hundreds of our readers purchase from James Allen every month and hear rave reviews back from them.
Despite other companies catching up a bit on the technology side (see above), James Allen still has the best videos out there. That is advantageous when selecting any diamond and a must when you a picking fancy shaped diamonds (like ovals, pears and marquise).
As James Allen's stature has grown, they've been able to partner with some fantastic designers as well. This has allowed them to add some gorgeous rings like this stunner from Verragio and this unique take on a halo from Danhov.
The high quality imagery that James Allen provides is what enabled us to develop our industry first Ringo AI tool that can identify and make recommendations of eye-clean diamonds. Below you can see some of the latest recommendations generated by Ringo.
Ringo

™

Approved Eye Clean Diamonds
Click here for our full James Allen review
Blue Nile (← Click to Visit Site And Click HERE for a Coupon for 15% off engagement ring settings)
Online diamond shopping and Blue Nile have by synonymous for years. They literally built the market. They were the first company to develop the concept of removing all middle-men and virtually listing diamonds direct from the manufacturers.
To date, Blue Nile has far better relationships with diamond and jewelry vendors than anyone else and are able to offer the largest selection of diamonds and settings.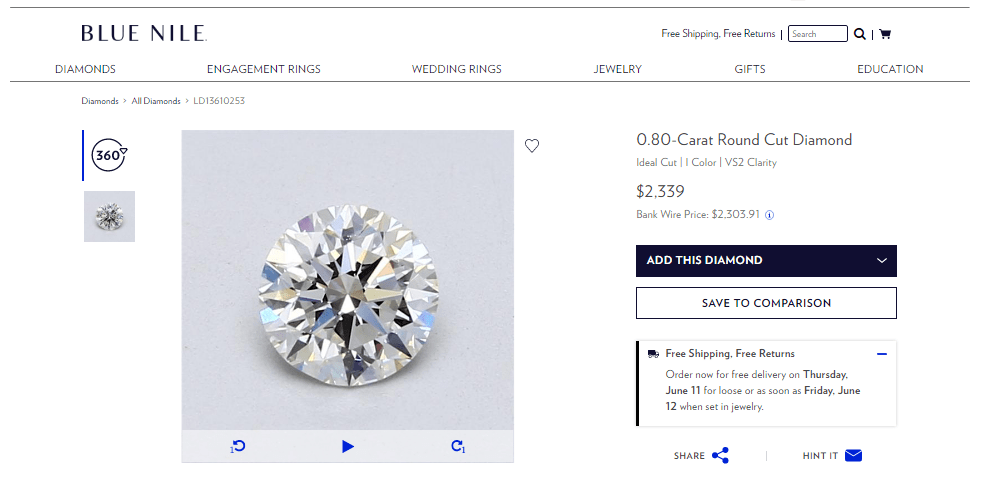 While they allowed James Allen to take the lead in technology the last five years, they have taken great strides in closing that gap. They have recently introduced their own video technology to rival James Allen. They have also taken an almost maniacal approach to fulfillment that has vastly improved their quality control and speed of delivery
Their place as the industry leader has allowed them to cultivate relationships with some great designers as well. Most prevalent is their relationship with Monique Lhuilier. I adore this take on the classic baguette engagement ring.
Couple that with their strong relationships with vendors and a streamlined business model (which means they are often better priced than their competitors) and they have earned our seal of approval for our readers.
Ringo

™

Approved Eye Clean Diamonds
Click here for our full review of Blue Nile
The Niche Market
---
While James Allen also has a fantastic line of lab-grown-diamonds, Clean Origin focuses exclusively on the lab grown market. Clean Origin is a newcomer to the diamond industry, starting up in 2017. But they have quickly learned to impress diamond experts and wow consumers.
Many of our readers looking to go the lab grown diamond route have raved about Clean Origin. Your buck can go much further shopping with them as this stunning one carat diamond at an incredible price can attest to.
They also have a fantastic line of diamond jewelry made exclusively with lab grown diamonds.
Brian Gavin's Signature and Black lines have been quite popular for a certain segment of our readers. For those readers who are hyper-focused on cut and looking to find a truly spectacular diamond in terms of brilliance, Brian Gavin Diamonds is the way to go.
Brian Gavin is one of the industry leaders when it comes to diamond cutting. Speaking honestly, his knowledge of cut is far superior to mine. Their Signature and Black diamonds will be more brilliant than anything else you can find.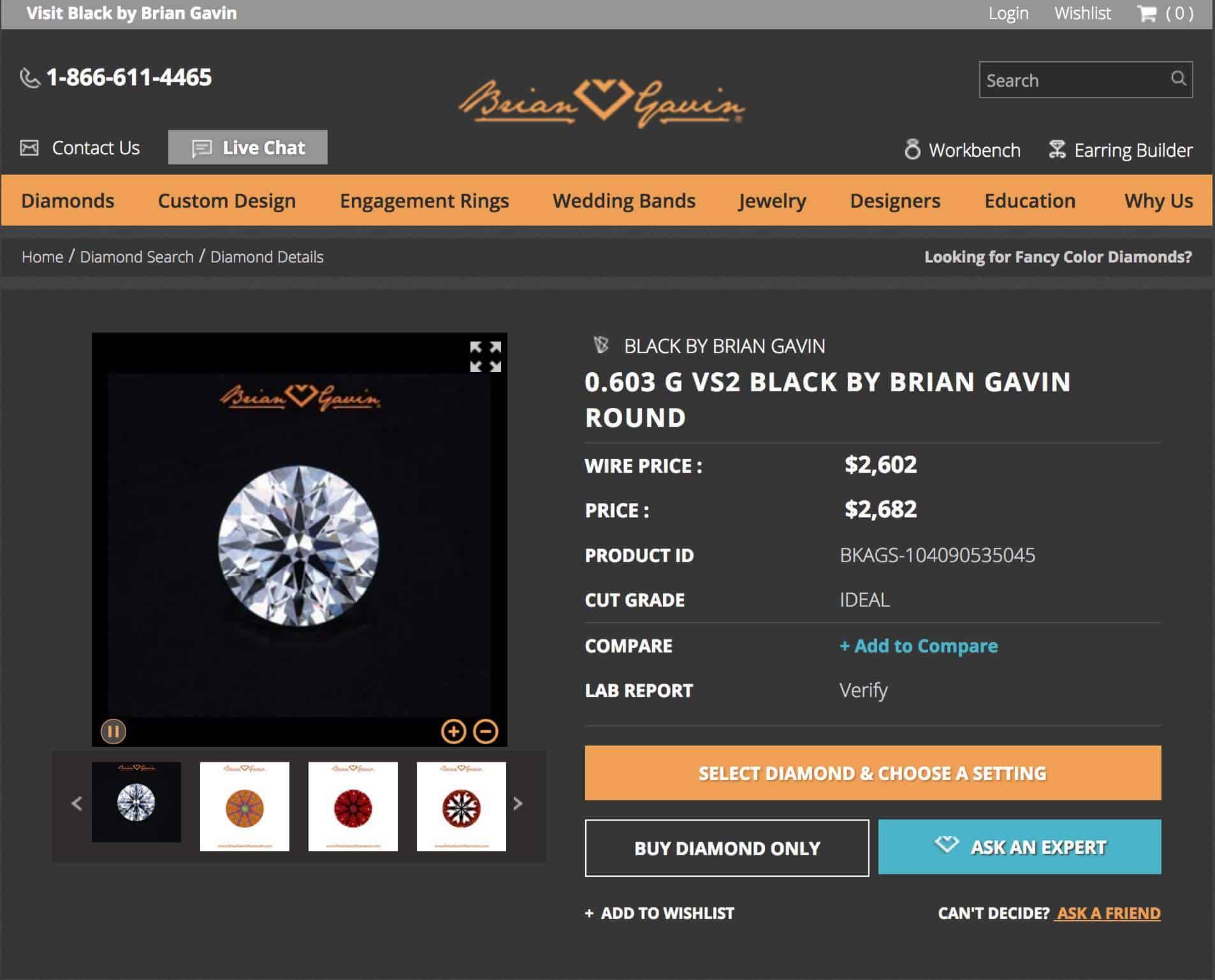 BGD's customer service and jewelry craftsmanship matches the quality of their product. There is a premium for such high quality craftsmanship and in Brian Gavin's case, its 100% justified. That doesn't mean its for everyone. Most of our readers prefer to go for the bigger diamond and sacrifice a bit on cut. But for those who want to make brilliance their target, Brian Gavin is the way to go.
Click here for a full review of Brian Gavin Diamonds
Abe Mor (← Click to Visit Site)
Our next top recommended vendor is Abe Mor. This is an interesting option for people with a budget of $50,000 or more.
We began working with Abe Mor in March 2016. We started out working with them when we discovered that they were offering our readers the best prices (by far) for their diamonds they wanted to sell.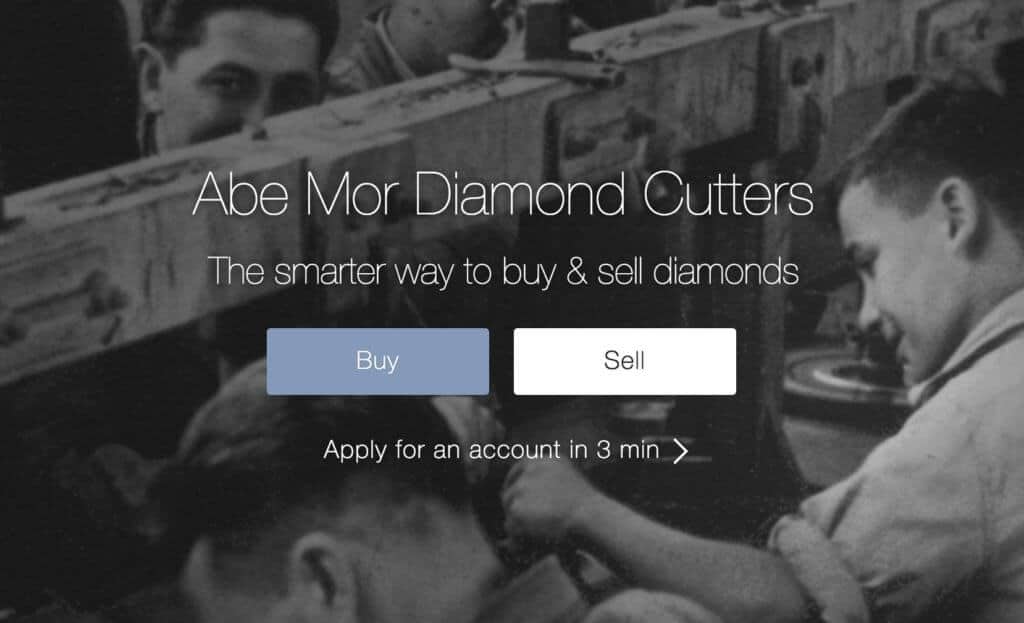 Recently, though, we have expanded our relationship with them to include readers of ours who are looking for a more customized bespoke shopping experience buying a high-end diamond and/or expensive piece of fine jewelry.
Abe Mor is one of the most well respected "upstairs" diamond wholesalers in New York's famous Diamond District. By "upstairs," of course, I mean that they are not just a retail shop on the street level masquerading as a wholesale operation.  They are the real thing. Everybody we have sent to Abe Mor has been blown away by the personal attention they have received from the entire team at Abe Mor, including CEO Eric Mor – both on the phone and in person.
Click here for a full review of Abe Mor
Leibish (← Click to Visit Site)
Our go to company for fancy color diamonds is Leibish. They are the best. Period. End of story. They are one of the biggest purchasers at the Argyle auctions and have a stunning array of fancy color diamonds like black diamonds in all budget ranges.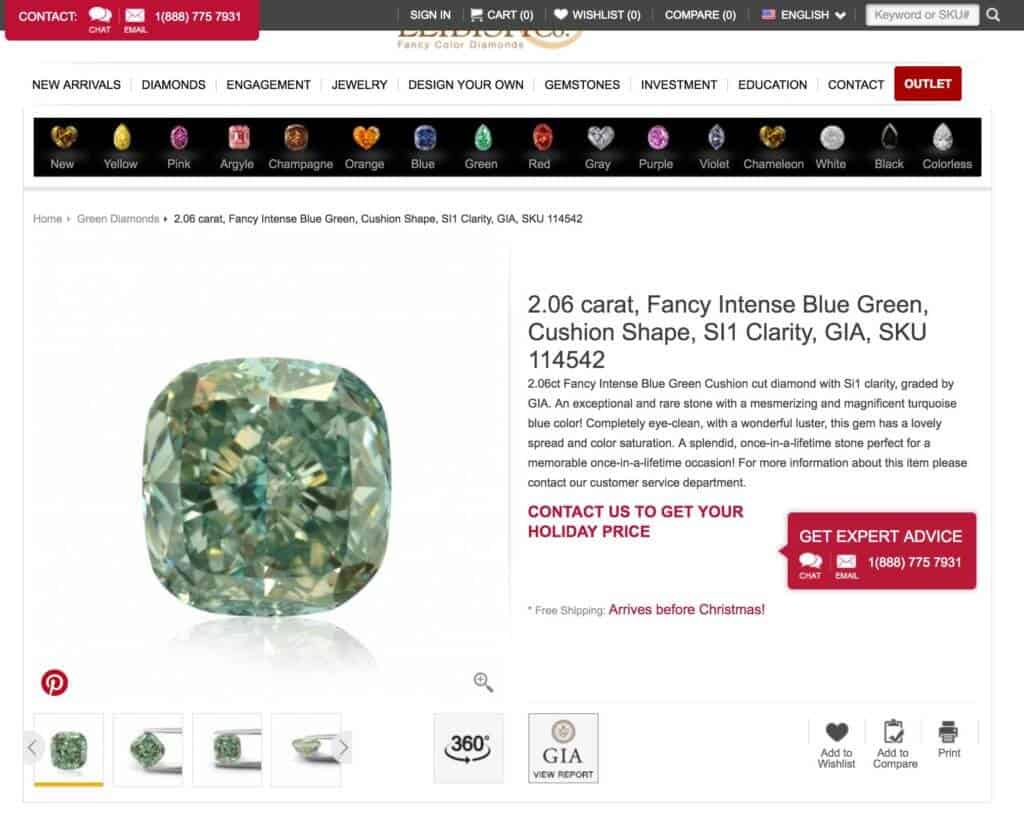 Many of our readers have purchased diamonds and jewelry from Leibish, and all of them have been ecstatic with the end result. Not only do they have an amazing selection of diamonds, but they are also the masters of building the jewelry piece around the diamond to bring out the color in the best way possible.
There are other options for fancy colors. But we have found Leibish to be head and shoulders above the competition.
Click here for a full review of Leibish
Tips For Buying Diamond Engagement Rings
Shopping for diamond rings can be exciting. Yet it can be also stressful, dealing with a purchase of this magnitude.
To help you enjoy the process, and get the best value out of your purchase, here are some tips to follow when buying a diamond engagement ring.
Buy only from reputable jewelry stores
The best way to ensure you get a high-quality diamond for the best price is to shop at a trusted jewelry store. Online diamond retailers like James Allen and Blue Nile not only have the best range and prices, they also provide stellar customer service to assist you on your journey.
You also want to look for stores that offer peace of mind in the form of a lifetime warranty and insured shipping, both of which you can get when shopping with the jewelers mentioned above.
Inspect each diamond up close
Close inspection is vital to ensure your diamond lives up to its grades. The best online retailers give you the ability to magnify and examine each diamond in 360° HD, which will help you look for any imperfections, and pick out the perfect diamond.
Check the diamond's certification
Ensure your diamond is real and graded fairly by checking it has a certificate from a trusted grading entity, such as the GIA or AGS.
Focus on cut
Cut is the most important quality for a diamond, bar none. A low-quality cut will greatly reduce the beauty of your diamond, even if its other grades are exemplary. When buying a diamond engagement ring, make sure you choose a diamond with an Excellent or Ideal cut.
Find a diamond that's colorless and eye-clean
On color and clarity, you should be aiming for colorless and eye-clean diamonds. For most diamonds, this means a color grade in the range of F to H, and a clarity grade around VS2. Aiming for these grades mean you get a beautiful diamond, without overpaying for grades you're not going to notice.
Get a second opinion
A diamond engagement ring is a big purchase, so make use of other peoples' opinions, particularly diamond experts. This is especially important for picking out a diamond and an engagement ring setting that pair well together.
The customer service experts at retailers like James Allen and Blue Nile are incredibly helpful, and you can reach out to us for assistance and with any questions you have, before you make a purchase.
Final Thoughts: Best Places For Diamond Engagement Rings
Of these top diamond retailers, James Allen and Blue Nile are hard to beat. Both offer everything a customer needs when buying an engagement ring online: broad selection, low prices, and modern technology like high-quality imagery and 360 degree inspection tools. Both James Allen and Blue Nile also provide top-tier customer service, which contributes to a superb customer experience every time.
Other diamond vendors we recommend are Brian Gavin Diamonds, Abe Mor and Leibish & Co. These retailers each offer special expertise and specialize in specific areas. Brian Gavin is one of the best diamond retailers for high-quality diamond cuts. Abe Mor is the best for high-quality, rare and expensive diamonds, while Leibish & Co is the number one fancy colored diamond vendor.
Now you know what places we think have the best service and quality and you can start browsing their sites. And if you need some guidance on how to choose a perfect ring, you can check out our useful tips or contact us directly and one of our diamond experts will be happy to answer your questions.
James Allen

James Allen is the leader in online diamond sales. Their imaging technology is the same as inspecting a diamond with a jeweler's loupe. They have the largest exclusive loose diamond inventory online and fantastic prices. They also have the nicest collection of lab created diamonds online. Now save 25% off settings AND 3% off Earth Diamonds during James Allen HUGE limited time sale!
What we love about them:
No questions asked returns within 30 days of shipment. James Allen will send you a paid shipping label to return the ring.
Lifetime Warranty
Free International Shipping
Free prong tightening, repolishing, rhodium plating and cleaning every 6 months
Provide insurance appraisals
One free resizing within 60 days of purchase
Free ring inscriptions
Best-in-class high quality imagery of all diamonds in stock
24/7 Customer Service
Best-in-class packaging

---
Blue Nile

Blue Nile is the largest and most well known internet jewelry seller. They have a very large exclusive online inventory. Their high quality images are catching up to James Allens' and their prices are amazing. Blue Nile have generously offered our readers an exclusive one-time use coupon.

(Click Here to save $100 off engagement ring settings)
What we love about them:
No questions asked returns within 30 days of shipment. Blue Nile will send you a paid shipping label to return the ring.
Lifetime Warranty
Free Shipping
Free prong tightening, repolishing, rhodium plating and cleaning every 6 months
Provide insurance appraisal
One free resizing within the first year of purchase
High quality images of about half of their diamonds
24/7 Customer Service
100% credit towards future upgrades (must be at least double in value)
Best in class fulfillment

---
Still afraid of getting ripped off?
Before you buy a diamond, get personal buying advice from industry veterans. We'll help you get the best diamond for the money.
Ask your diamond purchase question here
DISCLAIMER: We don't use your email for marketing. Period.