Engagement Ring Trends of 2021 Are Stunning and Unique
Scared of getting ripped off? Don't want to waste your money? Confused by all the choices? Contact us.
For the first time in our memory, James Allen is offering sales on both loose diamonds (10% off select Lab Grown Diamonds) and settings (25% on your setting) at the same time. What makes this sale HUGE is that James Allen is allowing you to double dip and save on both the diamond and setting in the same purchase. If you were considering Lab Grown Diamonds, this combination can save you thousands of dollars.
Blue Nile, one of our favorite vendors, is running an "Anniversary Sale" and offering savings of 15% on select engagement ring settings. Use code 2021NILE at checkout.
We get commissions for purchases made from our affiliates through links in this article. Learn More.
Bottom Line Recommendation:
The 2021 engagement ring trends can help you decide on a ring style. Stunning designs are rising in popularity—making the engagement rings in this guide truly excellent choices. With unique settings like this gorgeous halo in a twisted pavé band, the engagement ring trends of 2021 will blow you away.
When choosing an engagement ring, keep in mind your significant other's style and preferences. Be sure to select a well-cut diamond, because Cut quality is the characteristic that most greatly impacts a diamond's beauty. Get some tips on how to choose a perfect ring here. 
Each year, certain ring styles increase in popularity. And 2021 is no different. We're noticing strong trends for engagement rings in 2021, and we think you'll like what we're seeing.
Specifically, we're noticing an increase in beautiful, classic settings that include a unique touch. The timeless ring designs are maintaining their elegance, but have more personalized features than ever. This makes choosing an engagement ring more exciting and more individualized.
Watch our video on ring trends, and keep reading below for the top 8 engagement ring trends of 2018.
2021 Engagement Ring Trend #1: Pavé
While pavé settings have long been a favorite, we're still seeing an increase in their popularity. In addition to classic pavé settings, like this 1.46 Carat micropavé ring, we're noticing prevalence of more unique pavé settings. For example, engagement rings like this 1.53 Carat with the pavé metal twist, are topping the charts.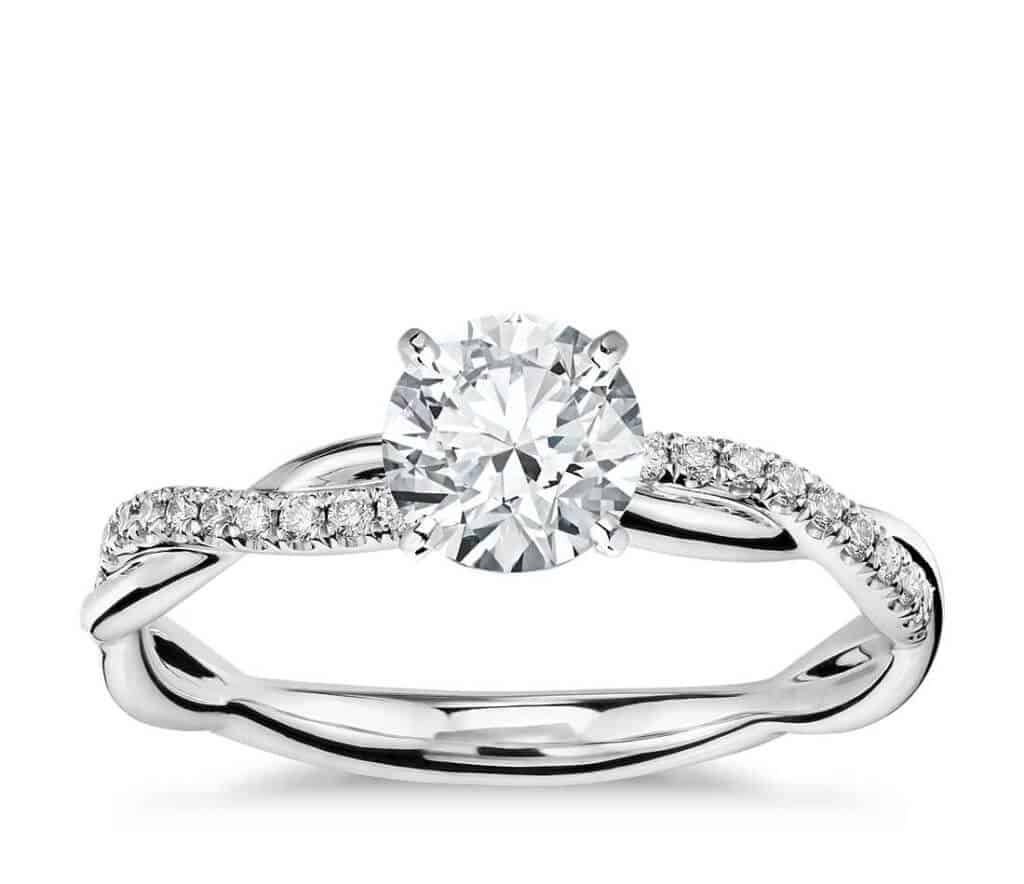 You can tell a ring has a pavé setting if there are several small diamonds embedded around the band held by tiny metal beads or prongs that are barely visible.
A pavé setting compliments every Diamond Shape, with Oval, Round and Cushion Cut being the most popular for 2021. We're seeing most pavé settings being made with white gold, opposed to yellow gold or rose gold.
The effect of a pavé setting is one of continuous sparkle. Overall, pavé settings are stunning, without overpowering the center diamond.
Pavé engagement ring inspiration:
2021 Engagement Ring Trend #2: Milgrain
Milgrain (or millgrain) settings are taking center stage in 2021. Made of a row of small metal beads, milgrain creates detailing around diamonds and on the borders of rings.
We're particularly seeing a lot of petite milgrain rings, with a tapered pavé side enveloped with milgrain, like in this heirloom ring. The milgrain design makes for a stunning backdrop to an otherwise simple design.
Similar to pavé settings, milgrain designs work well with many Diamond Shapes. You can also pair it with another setting style like a halo or three-stone ring. A milgrain setting done right is elegance and simplicity at its finest.
Milgrain engagement ring inspiration:
2021 Engagement Ring Trend #3: Halo
Halo settings continue to be a major driver in engagement ring collections. They're changing in subtle ways, however, becoming more unique and eye-catching. For instance, a drop halo—with an extra ring or row of pavé diamonds—has become an engagement ring trend in 2021. We're also seeing more shield halos, like this vintage engagement ring, along with floral motifs like this white gold scalloped halo.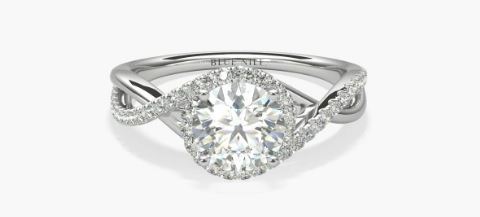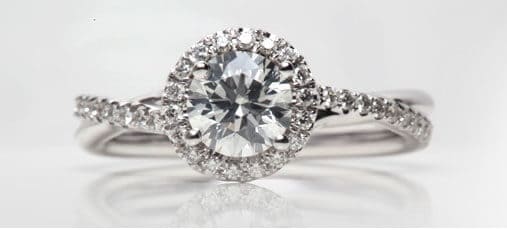 In a halo setting, smaller diamonds surround the center stone in a concentric circle (or whatever shape the diamond is). With these additional stones, the center diamond often appears larger.
Halo engagement ring inspiration:
2021 Engagement Ring Trend #4: Solitaire
It's not surprising to see solitaire engagement rings near the top of the list. Solitaires are truly timeless: they never go out of style. This six-prong solitaire, for example, is one of the most popular engagement rings of 2021.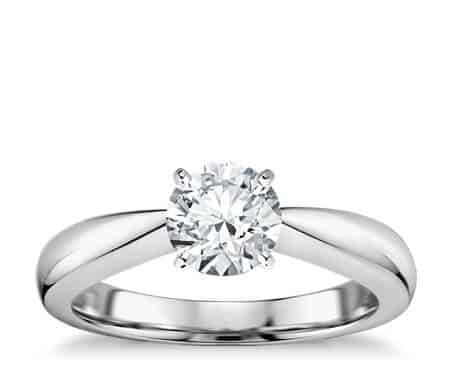 Solitaire settings are designed with a singular diamond or stone in the center. The solitaire is a classic engagement ring, ideal for wearers with a traditional or simple style. You can design a solitaire ring with any diamond shape—from Round Brilliant rings like this to Cushion Cut rings like this one.
Solitaire engagement ring inspiration:
2021 Engagement Ring Trend #5: Three-Stone
As its name indicates, three diamonds (or gemstones) are set closely together in this type of engagement ring. Usually the side stones are half, or one quarter the size of the center stone like in this case.
For 2021 engagement rings, we're seeing a number of Radiant Cut diamonds flanked with tapered Baguettes on either side, like this 0.91 Carat ring. We're also seeing Emerald Shape diamonds with Baguettes, like this 0.96 Carat ring. Many of these popular three-stone rings are made with white gold, and include a pavé band.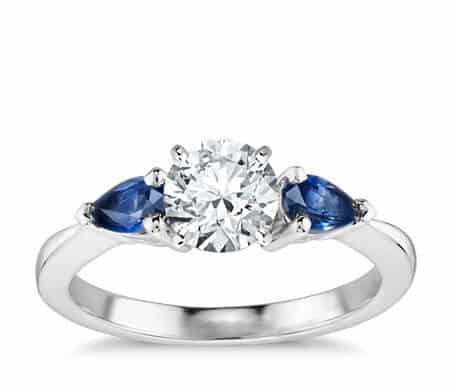 With three-stone engagement rings, you can add additional sparkle and personalized features. For instance, you can choose a mix of diamond shapes or keep them the same. You can also choose to flank the sides of your diamond with other diamonds, or with colored gemstones like sapphires and emeralds.
Three-stone engagement ring inspiration:
2021 Engagement Ring Trend #6: Vintage
As we've mentioned, the top engagement rings for 2021 include intricate details and accents. Vintage settings are a stunning way to design a ring with unique traits while still maintaining timeless beauty.
Like the other ring styles, we're seeing most vintage rings in white gold settings, like this floral engagement ring or this hand-engraved halo ring.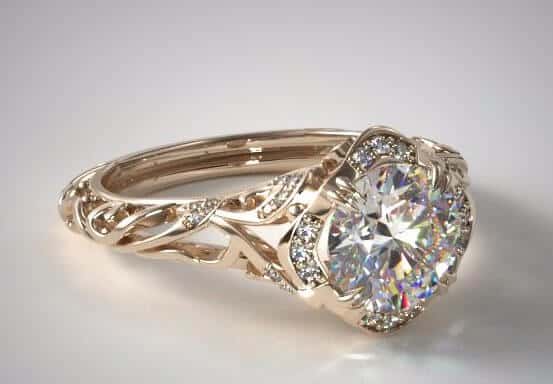 Wondering what classifies as a vintage ring? Most settings mirror the styles of the Edwardian, Victorian and Art Deco time periods. Vintage rings tend to feature detailed work and are intricate in nature.
Vintage engagement ring inspiration:
2021 Engagement Ring Trend #7: Colored Gemstone
While most women prefer a diamond for their engagement ring, many women gravitate toward a colored gemstone instead. By choosing a color for the center stone, the ring has a personal touch and stands out from the crowd.
In 2021, we're seeing the majority of colored gemstone engagement rings with blue sapphires and green emeralds. This blue sapphire double halo ring, for instance, is an example of a popular alternative to a diamond.
Like with a diamond ring, you can choose the setting style and color of your precious metal. From Pear Shaped sapphire rings to Oval emerald rings, the options are endless.
Colored gemstone engagement ring inspiration:
2021 Engagement Ring Trend #8: Cathedral
Both an elegant and unique setting, this design is meant to resemble the arches of a cathedral. In this setting, the center diamond is mounted with arches above the shank. A large amount of light is able to pass through the diamond, giving it increased brilliance and fire.
We're primarily seeing cathedral settings in white gold, although there are yellow and rose gold rings as well. The cathedral setting is most popular with the Round Brilliant Cut, but other shapes can be supported by this design as well.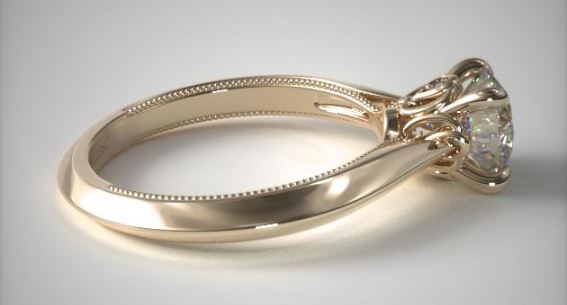 Cathedral engagement ring inspiration:
Want assistance in finding the best engagement ring for your budget?
James Allen

James Allen is the leader in online diamond sales. Their imaging technology is the same as inspecting a diamond with a jeweler's loupe. They have the largest exclusive loose diamond inventory online and fantastic prices. They also have the nicest collection of lab created diamonds online. Save 25% off Engagement Rings during James Allen Summer Vibes Sale.
Save 10% off select Lab Grown Diamonds
What we love about them:
No questions asked returns within 30 days of shipment. James Allen will send you a paid shipping label to return the ring.
Lifetime Warranty
Free International Shipping
Free prong tightening, repolishing, rhodium plating and cleaning every 6 months
Provide insurance appraisals
One free resizing within 60 days of purchase
Free ring inscriptions
Best-in-class high quality imagery of all diamonds in stock
24/7 Customer Service
Best-in-class packaging

---
Blue Nile

Blue Nile is the largest and most well known internet jewelry seller. They have a very large exclusive online inventory. Their high quality images are catching up to James Allens' and their prices are amazing. Blue Nile have generously offered our readers an exclusive one-time use coupon.

(Click Here to save $100 off orders of $1000 or more)
What we love about them:
No questions asked returns within 30 days of shipment. Blue Nile will send you a paid shipping label to return the ring.
Lifetime Warranty
Free Shipping
Free prong tightening, repolishing, rhodium plating and cleaning every 6 months
Provide insurance appraisal
One free resizing within the first year of purchase
High quality images of about half of their diamonds
24/7 Customer Service
100% credit towards future upgrades (must be at least double in value)
Best in class fulfillment

---
Still afraid of getting ripped off?
Before you buy a diamond, get personal buying advice from industry veterans. We'll help you get the best diamond for the money.
Ask your diamond purchase question here
DISCLAIMER: We don't use your email for marketing. Period.