We are reader-supported. Buying through links on our site may earn us commissions. Learn More.
Deal Alert! Huge James Allen Sale- 3% off Earth Diamonds AND 25% off settings or

15% off at Blue Nile!



Best Engagement & Wedding Rings Designer Brands 2022
A great way to pick out a stunning, unique engagement ring is to buy a designer ring from a world-class jewelry designer. Today there are numerous designer brands creating beautiful, timeless engagement rings.
A ring from one of these designers, like this stunning two-toned couture engagement ring from James Allen is sure to stand out from the crowd and stand the test of time. Or perhaps your are more interested in a more understated style like this braided abbraccio swirl from James Allen.
Best Diamond Ring Designers
In this article, we have a list of the best brands to choose from for designer bridal jewelry. Each of these designers have something special that sets them apart from the rest.
To ensure you get the best value for these designer brand rings, buy from a reputable merchant. Most of these brands are available from trusted companies such as James Allen, Blue Nile or Brian Gavin. The other option is to buy directly from the brand themselves. Just be sure not to buy from an untrusted store, as you could end up spending too much or purchasing a cheap knock-off.
1. Verragio
The catchphrase of Barry Verragio's company is "unlike any other ring". This is absolutely true when you see their range of stunning, unique jewelry. In the years Barry Verragio has been making jewelry (since the age of 14!), he has perfected an elegant, European-inspired style for his engagement rings.
Verragio's designs have a signature Lumino setting, which is designed to enhance the center diamond to make it truly stand out. This style of setting suspends a diamond in mid air, with few metal obstructions, to allow a greater amount of light to hit the diamond's facets.
The result is a unique diamond ring, with unrivaled fire and brilliance.
Verragio rings often feature elaborate accent diamonds which make the entire ring pop, such as this white and rose gold halo ring from James Allen, and this white gold oval halo ring.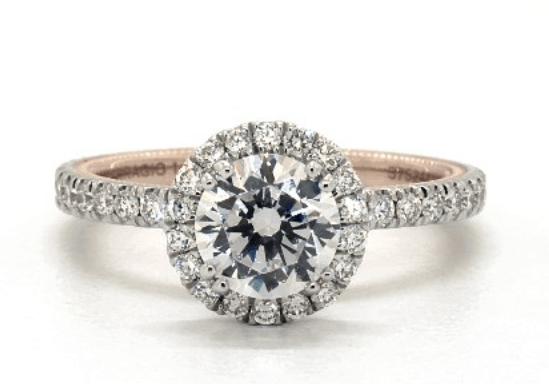 You can buy Verragio engagement rings at James Allen.
2. Danhov
Danhov produces award-winning designer jewelry, with a varied range of captivating engagement rings.
The company was founded by Jack Hovsepian in 1984 and has since developed a reputation for innovative design and a unique look for every piece.
Perhaps the trademark of Danhov engagement rings is their spiral designs. This ring from the Abbraccio collection on James Allen, for example, has a stunning all-round sparkle thanks to the 0.35 ct accent diamonds (see image below).
Another, also from the Abbraccio range, features an even more extravagant and captivating swirl setting, unlike anything you'll find from any other designer.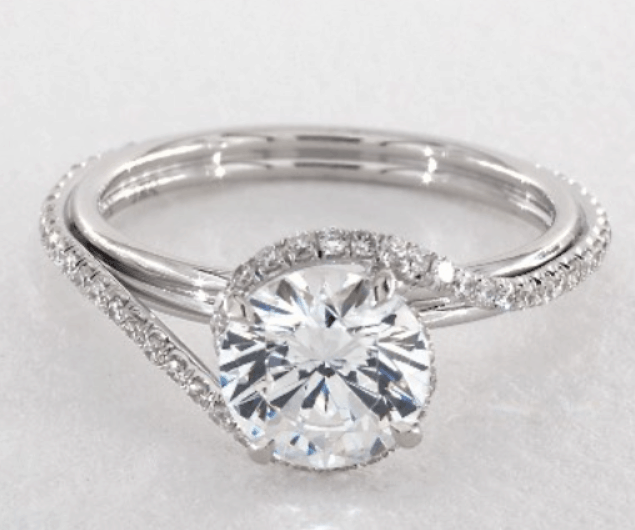 Danhov rings are available at James Allen.
3. Jeff Cooper
Jeff Cooper has more than 40 years' experience creating bridal jewelry. It's this experience that allows his designs to reach an understated elegance that will remain classic for years to come.
The trademark of Jeff Cooper rings is a "less is more" philosophy. The designs don't try to do too much, instead achieving the classy, beautiful aesthetic that makes diamond jewelry so sought-after for so many years.
The Greta engagement ring from Brian Gavin is a fine example of the classic Jeff Cooper design. The center stone is the star of the show, beautifully supported by a simple pavé lattice underneath.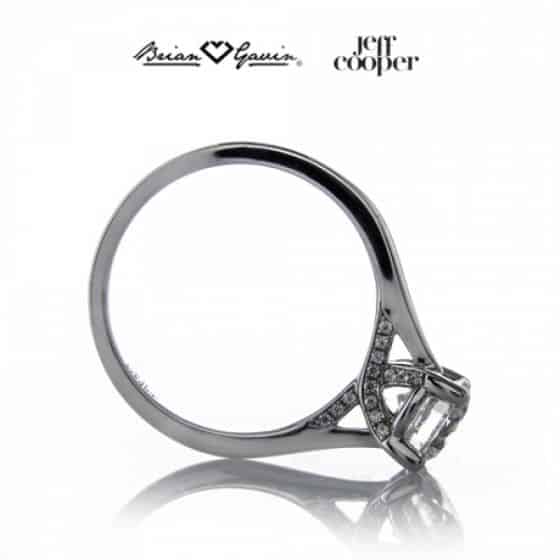 Jeff Cooper rings can be found at James Allen and Brian Gavin Diamonds.
4. Zac Posen
For a stylish design that combines modern flair and vintage grace, look to the engagement rings of fashion designer Zac Posen.
As someone who is more widely known for designing wedding dresses, Zac Posen's take on bridal jewelry is fresh and unique. See this semi-bezel pavé ring from Blue Nile as an example. The unique setting, which includes ⅓ ct total of accent diamonds along the band, is one you are unlikely to see anywhere else.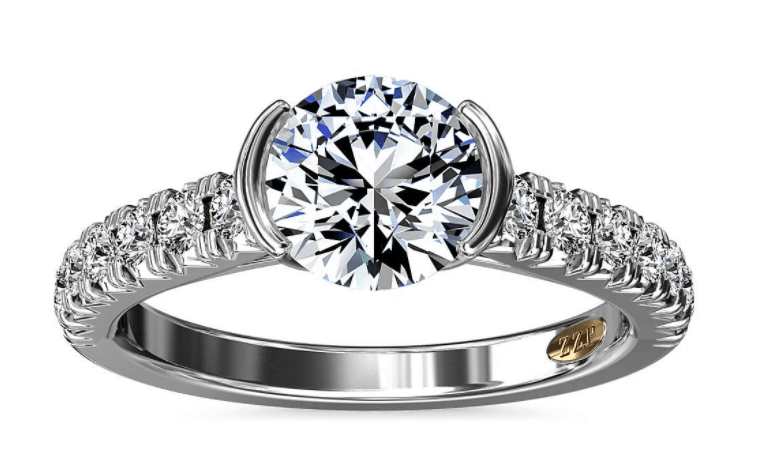 Zac Posen engagement rings are available from Blue Nile.
5. Monique Lhuillier
Though mostly known for her dresses, Monique Lhuillier knows what it takes to design beautiful engagement rings and wedding bands that make a bride (or bride-to-be) stand out.
As with Zac Posen rings, Monique Lhuillier designs have an innovative look, that combines the classic beauty of diamond jewelry with a modern flair.
Particularly stunning is this hexagon baguette diamond ring from Blue Nile set with ½ ct of baguette and round brilliant accent diamonds, along with a pink sapphire just below the center stone.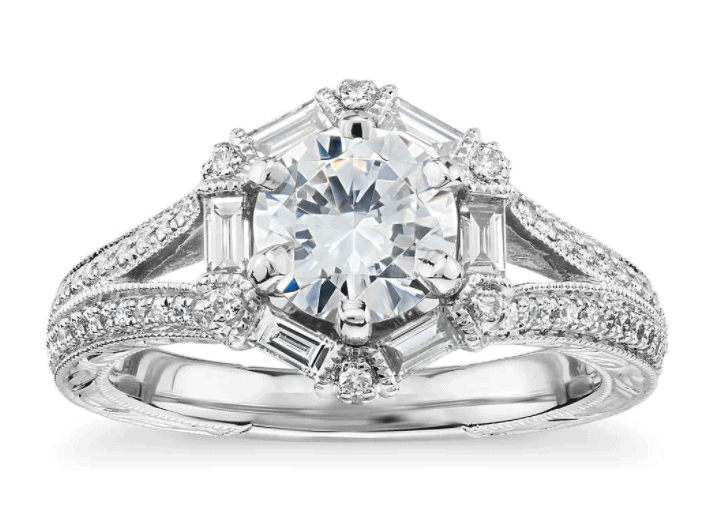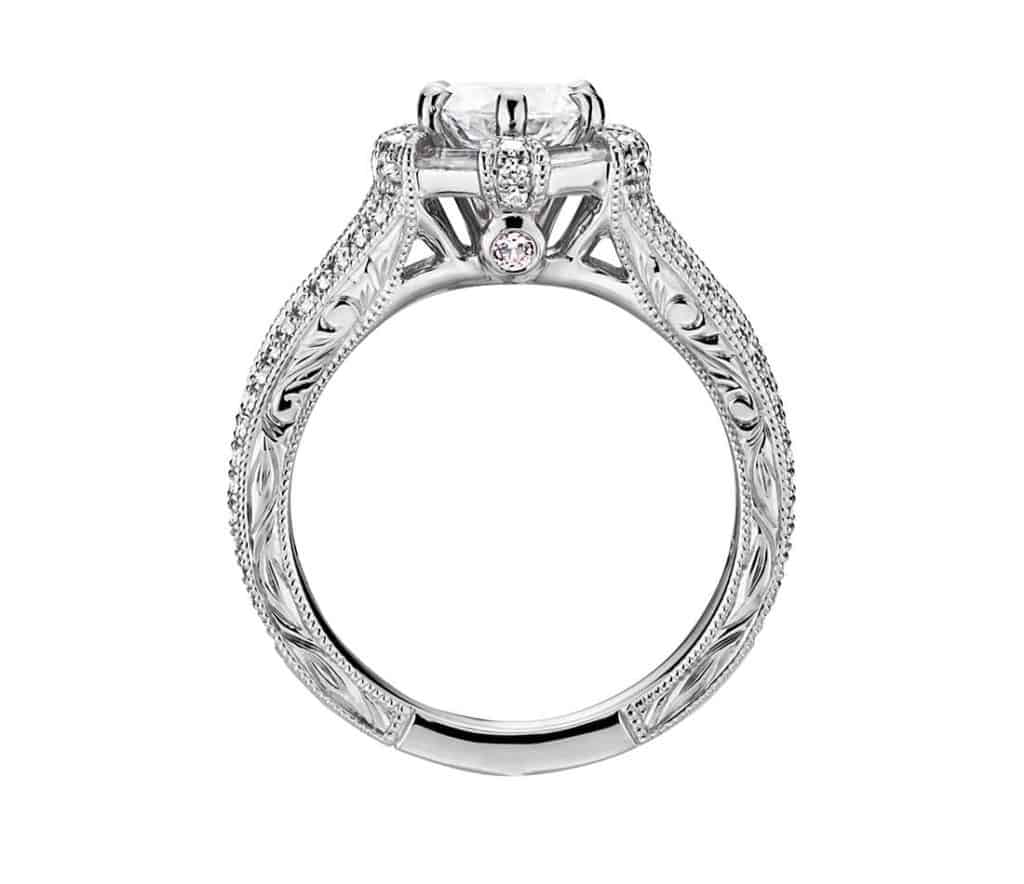 You can buy Monique Lhuillier engagement rings from Blue Nile.
6. Martin Flyer
A family business, designing jewelry since 1945, Martin Flyer makes classic, elegant engagement rings. With Martin Flyer jewelry there is a focus on high-quality materials, great service and education for their customers, and designs that stay beautiful throughout the years. Think of an heirloom ring that can be passed down to the next generations.
A great example of the grace and elegance that is Martin Flyer is this three-stone engagement ring on James Allen with pear-shaped side stones.
For a little more style, see this romantic white gold pavé infinity ring from James Allen, set with 60 round brilliant diamonds to really stand out.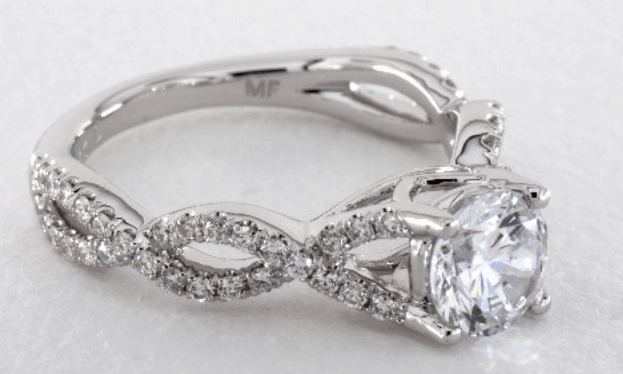 Martin Flyer rings are available from James Allen.
7. Forevermark
Forevermark is a high-end brand, whose name carries a premium price tag. While it's questionable whether the price is justified over cheaper, better-value online sellers, there's no denying that Forevermark is a great brand.
The big name behind Forevermark is De Beers, the world's biggest name in diamond sourcing and marketing. This is why their brand commands such a high price. It's not unjustified, though, as the pull and resources De Beers has means the diamonds and materials used in Forevermark jewelry are top-quality and conflict-free.
As for the designs, Forevermark produces anywhere from clean, elegant rings, to extravagant designs such as this five-band pavé solitaire ring.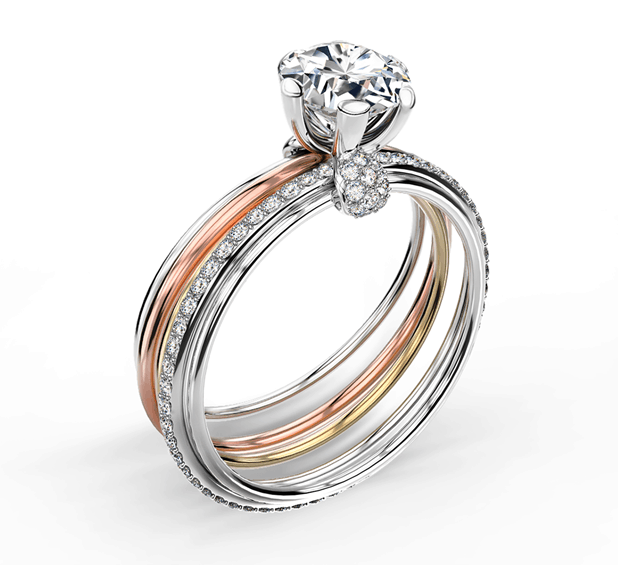 If you choose to buy a ring from a physical retailer, Forevermark is a great designer brand to consider – if the premium price doesn't put you off.
Read our in-depth review on Forevermark diamond rings here.
8. Tiffany & Co
Tiffany & Co is another option, like Forevermark, that would rate at near the top of all designer brands if quality was the sole consideration. However, like the previous option, it's somewhat hard to justify spending the premium when there are many other phenomenal designer brands available for less in online jewelry stores.
That's not to say Tiffany & Co engagement rings are not up there as some of the highest quality rings you can get. The design is classic and iconic, none more so than the "Tiffany" setting.
Tiffany have been in the business since 1886, and as such know how to create a diamond ring that maintains its "wow" factor for generations. Add in expert craftsmanship and high-quality, responsibly sourced diamonds, and a diamond ring from Tiffany & Co will stand up in quality against any in the world.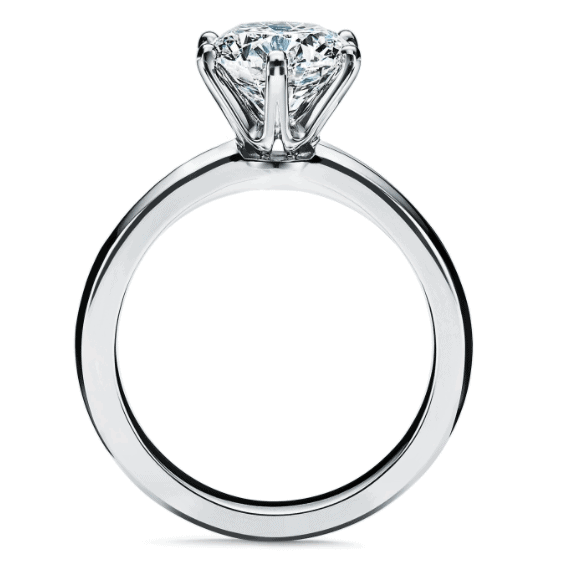 See our full review of Tiffany & Co here.
9. Tacori
California-based brand Tacori is one of the biggest names in bridal jewelry and engagement rings, thanks to their handcrafted artisan designs. The trademark is their classic crescent design elements, which find a perfect median between modern and vintage.
Here is an example of the way Tacori uses the crescent shape in their settings to create a unique design with a full, all-round shine.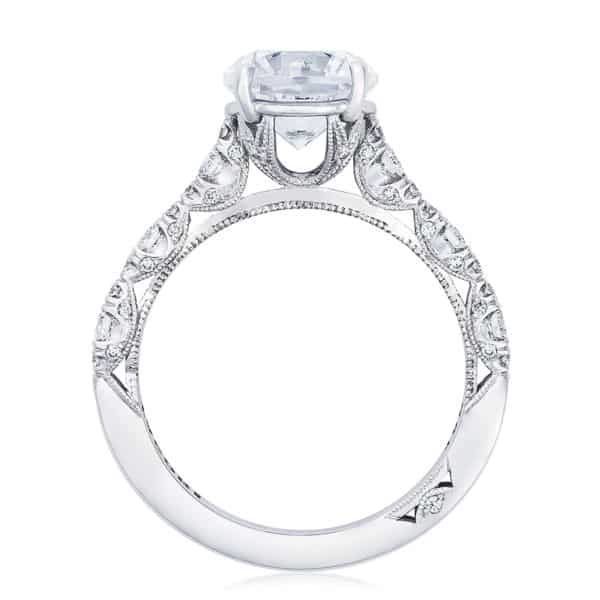 All Tacori designs have a classic, vintage touch, which sets their rings apart and makes for beautiful heirlooms to be handed down through the next generations.
Find a retailer to buy Tacori engagement rings here.
10. Sholdt
Sholdt Jewelry Design has been producing beautiful diamond jewelry, handmade in Seattle, since 1935. With four generations of experience, Sholdt knows what it takes to create a unique, elegant diamond engagement ring.
Engagement rings from Sholdt today have a fascinating mixture of vintage class and modern experimentalism. See the "Aubrey" on Brian Gavin – a North/South half bezel design with tapered channel set accent diamonds.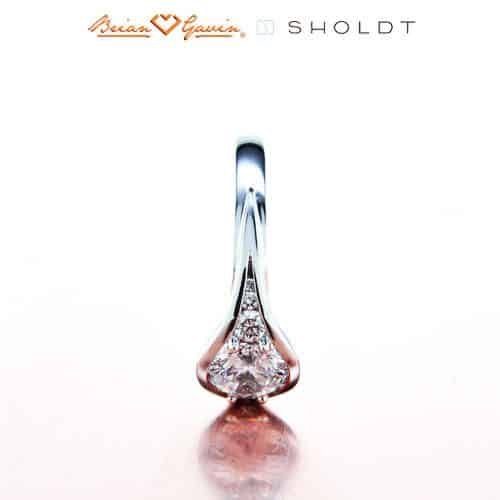 Find Sholdt engagement rings at Brian Gavin Diamonds.
Why Should You Buy Designer Brand Engagement Rings?
A lot goes into your decision to pop the question. Do you really need to add the stress of trying to pick out the perfect setting, diamond and design to that list?
Luckily, there are professionals who have a special talent for the craft of jewelry design. Trusting one of these designers is a much more efficient way to come out with a beautiful engagement ring for the love of your life.
These designers excel at what they do. When you get a high-quality designer brand engagement ring, you can be confident the highest level of craftsmanship and best materials are going into your design.
There's nothing worse than a beautiful diamond that's let down by a low-quality or mismatched setting. Similarly, a dazzling setting paired with a poorly graded diamond. Designer brands affix their name to their designs, which means they have as much invested in creating a perfect engagement ring as you do.
These designs are not only beautiful, they are unique. Designer brand rings have their design trademarked, which means you're not going to see the same design replicated by the mom and pop store down the road, or on Amazon. Your partner is one in a million, and so her ring should be too.
Plus, all the best engagement ring brands have rings from some of these designers in their store, so you can find them easily.
Final Thoughts
A designer brand engagement ring is a great way to show affection to the one you love with a unique, timeless piece of jewelry. When you buy a ring from a designer brand, you're getting something the designer is willing to stake their name on. If they are one of the top designers we've recommended, you can be confident you're getting a masterfully crafted engagement ring.
For the best designer brand engagement rings, look to the flair of Verragio or Danhov designs. Jeff Cooper is another fine option for those who prefer a more subtle, classic look.
Alternatively, if you're looking to buy your ring from a physical retailer, and don't mind paying a premium, Forevermark and Tiffany & Co are among the best in the business.
James Allen

James Allen is the leader in online diamond sales. Their imaging technology is the same as inspecting a diamond with a jeweler's loupe. They have the largest exclusive loose diamond inventory online and fantastic prices. They also have the nicest collection of lab created diamonds online. Now save 25% off settings AND 3% off Earth Diamonds during James Allen HUGE limited time sale!
What we love about them:
No questions asked returns within 30 days of shipment. James Allen will send you a paid shipping label to return the ring.
Lifetime Warranty
Free International Shipping
Free prong tightening, repolishing, rhodium plating and cleaning every 6 months
Provide insurance appraisals
One free resizing within 60 days of purchase
Free ring inscriptions
Best-in-class high quality imagery of all diamonds in stock
24/7 Customer Service
Best-in-class packaging

---
Blue Nile

Blue Nile is the largest and most well known internet jewelry seller. They have a very large exclusive online inventory. Their high quality images are catching up to James Allens' and their prices are amazing. Blue Nile have generously offered our readers an exclusive one-time use coupon.

(Click Here to save $100 off engagement ring settings)
What we love about them:
No questions asked returns within 30 days of shipment. Blue Nile will send you a paid shipping label to return the ring.
Lifetime Warranty
Free Shipping
Free prong tightening, repolishing, rhodium plating and cleaning every 6 months
Provide insurance appraisal
One free resizing within the first year of purchase
High quality images of about half of their diamonds
24/7 Customer Service
100% credit towards future upgrades (must be at least double in value)
Best in class fulfillment

---
Still afraid of getting ripped off?
Before you buy a diamond, get personal buying advice from industry veterans. We'll help you get the best diamond for the money.
Ask your diamond purchase question here
DISCLAIMER: We don't use your email for marketing. Period.