We are reader-supported. Buying through links on our site may earn us commissions. Learn More.
Deal Alert! Huge James Allen Sale- 3% off Earth Diamonds AND 25% off settings or

15% off at Blue Nile!



Engagement Rings for Nurses and Doctors
Shopping for engagement rings for nurses or doctors is no easy feat. As well as finding a diamond and setting your girlfriend will love, you need to take into account the conditions she works in every day. The ring needs to be safe, for both your spouse and her patients. It has to be set so as to avoid snags and hold up to the regular activities of your spouse's profession.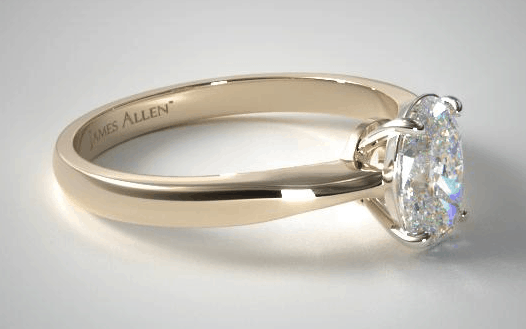 Luckily, you don't have to compromise and buy a boring ring. There are plenty of engagement ring styles that are suitable for nurses or doctors. As such, you should be able to find a beautiful, practical ring that aligns with your girlfriend's taste.
Low-profile engagement rings are a great choice for nurses, as are bezel set rings. Both are unobtrusive and robust, offering fewer opportunities to tear gloves or snag on equipment, and less chance of damaging. 
What if you and your partner are enamored with rose gold pavé rings, but are concerned about wearing it regularly with gloves. This ring from Blue Nile, while stunning, may be set too high. On the other hand, this setting from Blue Nile, which is incredibly similar, would be perfect.
Multi-row diamond bands are another option which, while less traditional, has much less chance of causing damage than a traditional high-set ring. Alternatively, medical-grade silicone rings are a less flashy choice, but easy for an RN to wear throughout the workday.
Once you know what to look for, you'll be able to find the perfect ring for your perfect significant other.
Tips for Buying Engagement Rings for Medical Professionals
As a medical professional, your future spouse needs a ring that can hold up in a busy, hands-on workplace. As such, there are several points to take into consideration before you buy an engagement ring. 
First is the setting. Many engagement rings have a high setting, with the diamond held well above the band. While this shows off the diamond very clearly, it presents issues for people who work with their hands. 
High-set rings are easier to get caught or snagged. This can break holes in the latex gloves worn by medical professionals, which presents a health and safety risk, and costs time for the nurse or doctor to re-sterilize.
Engagement rings with a high setting also damage easier. They can knock against tools or equipment when you're moving fast. When this happens, there is a risk of the diamond breaking loose from its setting.
The other key point to consider is the engagement ring metal. The ring has to hold up to constant hand washing and being present in environments with a lot of chemicals, which can degrade low-strength metals very quickly.
To avoid this, you might want to stay away from rings made from silver or gold. These metals are quite soft and weak and will wear down or scratch easily. This is true specifically for 18K gold. Gold of 14K or lower purities will provide more durability.
Platinum, however, is much stronger and more durable than all forms of gold, which makes it the best choice if you anticipate your spouse to be quite active while wearing their engagement ring.
Ringo

™

Approved Eye Clean Diamonds
Best Engagement Rings for Nurses 
It might seem like an added hassle to check all the boxes required for finding a ring that suits your girlfriend's profession. It could also have you thinking you need to settle for a boring ring. Thankfully, that's not the case, and it's quite easy to find a beautiful ring that will also hold up in your girlfriend's line of work.
Here are some of the best engagement rings that suit the busy working environment of a nurse.
Low-Set Engagement Rings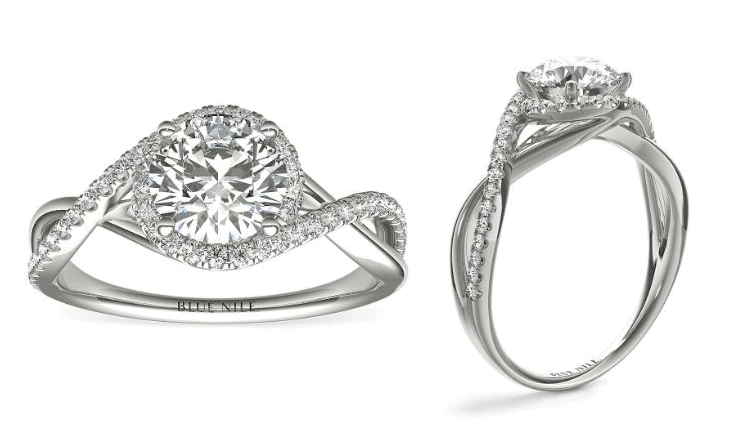 The best advice is to look for engagement rings that are set low. These will present a much lower risk of breaking latex gloves, knocking against equipment or scratching patients, as the diamond setting doesn't protrude as much (look at the Petite Twisted Halo setting from Blue Nile above).
While the diamond in a low-set ring isn't as prominent as a traditional high-set ring, many styles make up for this with additional, smaller diamonds set around the band. This gives a stunning appearance and sparkle. It can actually be more beautiful and attract attention better than a ring with a traditional band.
Channel set rings are a style that finds a great balance between beauty and practicality. They're secure and safe, while the layout of diamonds on the band gives an extra level of sparkle and style.
See this Channel Set Princess Cut from Blue Nile and this Round Cut from James Allen as examples of how stunning a channel set can be.
Bezel-Set Engagement Rings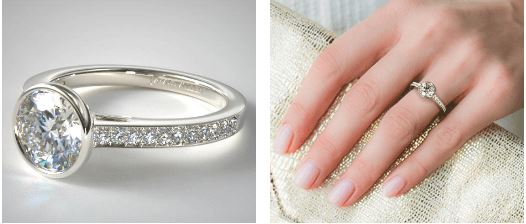 Another style of ring that is suited perfectly for doctors and nurses is a bezel setting. This is where the diamond is held in place by a thin metal rim, instead of prongs.
This type of setting is much more secure, making it less likely for the diamond to come loose. It also protects the diamond from damage. The lack of prongs and lower setting means a reduced chance of snags or scratches. There's very little chance of a bezel-set ring getting caught on clothing or gloves.
Bezel-set engagement rings are most common for Round Cut diamonds, but can be made for any shape. The two pictures above are great examples of a bezel setting from James Allen.
Diamond Bands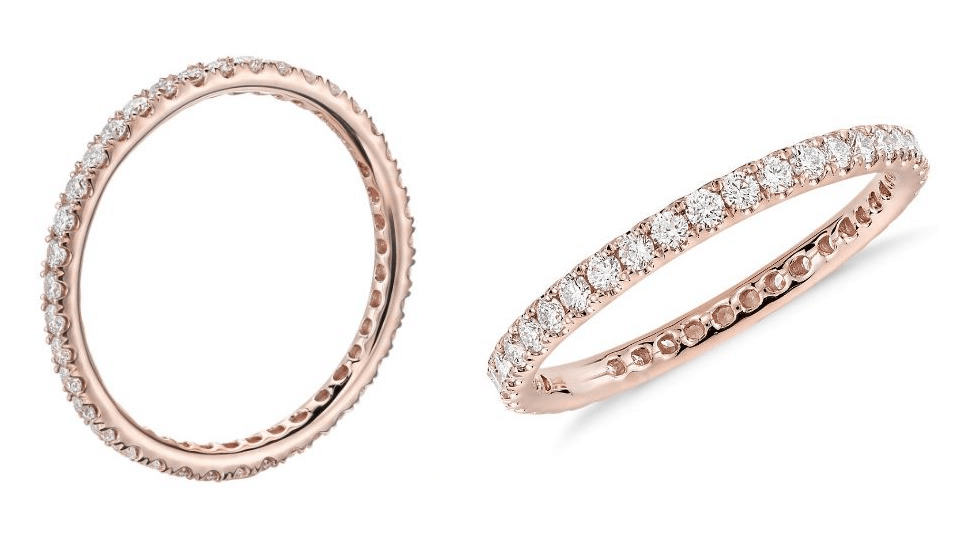 While not traditional as engagement rings, multi-row diamond bands or eternity bands (look at the example above – Riviera Pavé Diamond Eternity Band from Blue Nile) are a much more practical choice for women working in medical professions.
Instead of presenting a single diamond in a prominent setting, diamond bands have a number of smaller stones laid out over all or part of the ring, presenting much less risk of damage. Compared to a traditional engagement ring, diamond bands have a bigger sparkle, due to diamonds encircling the whole finger. 
You could go with an eternity band, such as this one from James Allen, which gives an all-round shine without any protrusions. This style of ring is more common to see in wedding rings, or rings for anniversaries or other special occasions. However, depending on your girlfriend's taste and the importance of adhering to tradition, it can make a fine choice as an engagement ring as well.
Alternatively, you can meet in the middle between a diamond band and a traditional ring with a pavé setting, which pairs a single diamond in the main setting with rows of diamonds laid into the band. This is a great way to make up for what you lose in a low-set ring.
Here is an example of a pavé style engagement ring with a triple row of diamonds encrusted on the band.
Best Wedding Rings for Nurses & Doctors
The same tips laid out above also apply when buying a wedding ring for your nurse spouse-to-be. However, since they are generally less prominent than engagement rings, it's easier to shop for wedding bands for medical professionals. The diamond setting on the engagement ring is the hardest part to plan around for a doctor or nurse.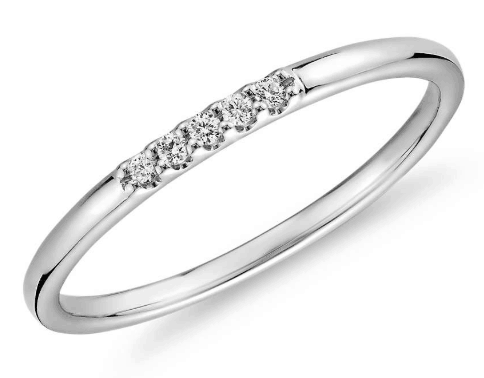 The best wedding rings for nurses should be able to hold up to a lot of water and chemicals with no issue. White gold is a popular metal for wedding rings, but platinum is a better choice, as it is more robust and holds up better.
You can go with a classic low-profile wedding band like this one from Blue Nile. Alternatively, if you want a more pronounced appearance from the wedding ring, eternity rings like this pavé set eternity ring from James Allen stand out beautifully.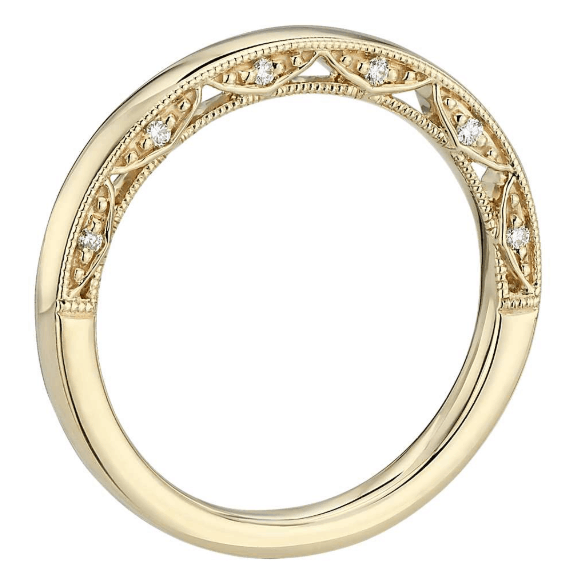 Many medical professionals may also opt for medical-grade silicone wedding rings. These are a more modern, less traditional choice, and a more practical option if your spouse works with their hands all day. Silicone holds up better than metal, and poses no risk of ripping gloves or causing any other kind of damage.
As an added bonus, silicone wedding bands are much cheaper than those made from traditional metals, allowing you to cut down cost while increasing practicality.
Whichever style of wedding and engagement ring you choose, just know that there is no need to settle for a boring ring. There are more than enough styles that are both beautiful and practical.
Need more personalized advice? Contact our experts, and we'll be happy to help you find the highest quality ring to suit your budget and requirements.

James Allen

James Allen is the leader in online diamond sales. Their imaging technology is the same as inspecting a diamond with a jeweler's loupe. They have the largest exclusive loose diamond inventory online and fantastic prices. They also have the nicest collection of lab created diamonds online. Now save 25% off settings AND 3% off Earth Diamonds during James Allen HUGE limited time sale!
What we love about them:
No questions asked returns within 30 days of shipment. James Allen will send you a paid shipping label to return the ring.
Lifetime Warranty
Free International Shipping
Free prong tightening, repolishing, rhodium plating and cleaning every 6 months
Provide insurance appraisals
One free resizing within 60 days of purchase
Free ring inscriptions
Best-in-class high quality imagery of all diamonds in stock
24/7 Customer Service
Best-in-class packaging

---
Blue Nile

Blue Nile is the largest and most well known internet jewelry seller. They have a very large exclusive online inventory. Their high quality images are catching up to James Allens' and their prices are amazing. Blue Nile have generously offered our readers an exclusive one-time use coupon.

(Click Here to save $100 off engagement ring settings)
What we love about them:
No questions asked returns within 30 days of shipment. Blue Nile will send you a paid shipping label to return the ring.
Lifetime Warranty
Free Shipping
Free prong tightening, repolishing, rhodium plating and cleaning every 6 months
Provide insurance appraisal
One free resizing within the first year of purchase
High quality images of about half of their diamonds
24/7 Customer Service
100% credit towards future upgrades (must be at least double in value)
Best in class fulfillment

---
Still afraid of getting ripped off?
Before you buy a diamond, get personal buying advice from industry veterans. We'll help you get the best diamond for the money.
Ask your diamond purchase question here
DISCLAIMER: We don't use your email for marketing. Period.