We are reader-supported. Buying through links on our site may earn us commissions. Learn More.
Deal Alert! Huge James Allen Sale- 3% off Earth Diamonds AND 25% off settings or

15% off at Blue Nile!



Unique Engagement Rings: What's Trending in 2022
There's a broad range of unique engagement ring styles, from vintage designs like this hexagon baguette diamond engagement ring from Blue Nile to tension settings like this intricate round cut engagement ring from James Allen. The most popular unique engagement ring settings are vintage and halo rings. You can also find designer engagement rings. Unique engagement rings may also feature colored diamonds or gemstones, like this fancy yellow cushion cut engagement ring from Leibish & Co. or this double ruby oval ring.
To find beautiful unique engagement rings, handpick your gemstones and setting. Depending on your budget, you can also request that a designer make you a one-of-a-kind ring.
For another example of a unique stone engagement ring, check out this stunner of a bezel set pavé halo engagement ring at James Allen: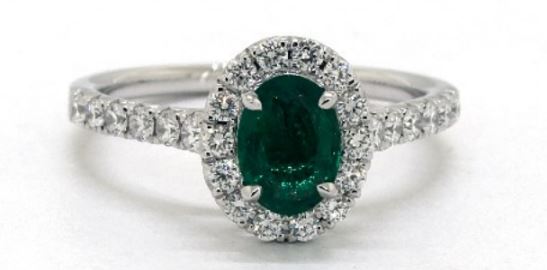 The oval 0.67 carat green emerald is surrounded by diamonds forming a simple halo in addition to a diamond-lined shank. What we love is that even though the setting itself is not that unique, the emerald in the middle gives it a far less traditional look. It's a great example of how even the simplest change can be thoughtfully arranged into something completely original.
HOW TO CHOOSE A UNIQUE ENGAGEMENT RING
To determine which unique engagement ring is the best fit for you, consider a few main factors: 
Your partner's personal style: Does your partner enjoy extra sparkle or a more antique look? Consider their other jewelry pieces and wardrobe to hone in on what style they'd appreciate the most. 
What you want the focal point to be: Do you want to be drawn to the center diamond or the intricacy of the setting? Whatever element your eye initially notices, that's the focal point of the ring. 
Long-term wear: Try to put aside what's popular now and think about how the ring will look in 10 or 20 years. While you don't need a standard or classic design, opt for a ring that will stand the test of time for you and your partner.
Your diamond shape: Each diamond shape offers something different. If you're going for a diamond with pointed edges, like the marquise cut, be sure the setting holds the diamond's ends safely. If you want a round brilliant, accentuate the ring with a halo or vintage setting. 
Here's a breakdown of the most unique styles of Engagement Rings (with their features). These features will help you narrow down on the style you prefer and look for Engagement Rings in that Category.

Vintage engagement rings
Offers an antique flair
Draws inspiration from art deco and other time periods
Usually includes intricate detailing
Halo engagement rings
Helps the center stone look larger
Adds character to the ring with a circle of smaller diamonds around the center stone
Tension engagement rings
One of the most uncommon settings
Uses pressure to hold the diamond in place
Stands out from the crowd 
Three-stone engagement rings
Offers the opportunity to add other diamond shapes and gemstones for personalization and character
Designer engagement rings
Similar to furniture and clothing designers, there are top-tier ring designers that create ring settings you can't find anywhere else
COST OF UNIQUE ENGAGEMENT RINGS
The cost of unique engagement rings can be anywhere from $1,200 to $20,000 or more, based on your carat weight, setting style and other features. The prices for unique engagement rings can be similar to conventional engagement rings, but can also be more depending on the design. For example, if the setting is more intricate, you have big diamond halos, or include expensive side stones, your ring cost goes up. For example, this floral halo engagement ring from James Allen costs $1,730 while this larger carat weight designer ring costs $6,670. 
The average amount a couple spends on an engagement ring remains the same with unique engagement rings: somewhere between $5,000-$7,500. Choosing a unique engagement ring is more about design preference than paying more. As with any engagement ring, the price depends on the diamond and its cut quality, precious metal, and setting design.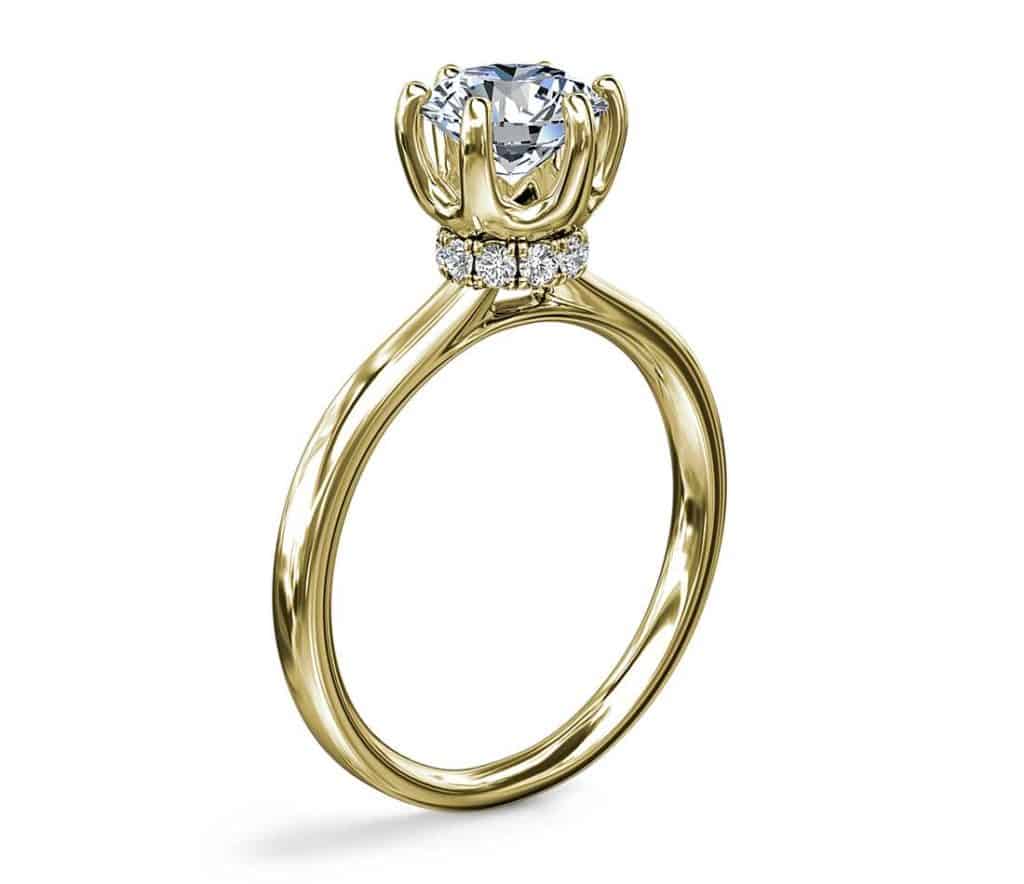 UNIQUE ENGAGEMENT RINGS BY STYLE & PRICE
To help you narrow down unique engagement rings to choose from, we compiled a list of setting styles with price ranges. The price categories are based on the average amount a couple spends on an engagement ring, including the minimum and maximum costs for each setting type. No matter your budget, you can find an extraordinary engagement ring that matches your partner's style. 
From solitaire to vintage designs, here are the most unique engagement rings by price. For each ring, you can change the precious metal to white gold, yellow gold, rose gold, or platinum.
Note: Prices reflect the setting only. You'll need to choose a specific diamond or gemstone to complete the ring and determine the total cost.
Unique Engagement Rings
WHERE TO BUY UNIQUE ENGAGEMENT RINGS
The best place to buy unique engagement rings is from a reputable online vendor. These vendors offer the lowest prices because they have low overhead costs. Throughout our years of experience, we've vetted several online and bricks and mortar vendors. The companies we recommend below offer top-quality diamonds, gemstones, and settings at excellent prices.
While it may seem trendy to find unique engagement rings on sites that sell vintage rings, the quality will simply not be there. With unique engagement rings, you want to be sure each component is built to last, especially with multiple diamonds or a pavé band. 
Here are the top vendors for unique engagement rings: 
James Allen (← Click to Visit Site)
An industry leader in unique diamond engagement rings
Well-crafted settings at excellent prices
Fantastic customer service
High-quality imagery of diamonds and settings
Blue Nile (← Click to Visit Site)
Largest selection of diamonds and ring settings
High-quality photos and videos 
Maintains great relationships with ring designers
Streamlined business model with great prices
Brian Gavin Diamonds (← Click to Visit Site)
An industry leader in diamond cutting
Offers signature lines of diamonds and engagement rings
High-quality jewelry craftsmanship
Abe Mor (← Click to Visit Site)
Customized shopping experience
High-end diamonds and fine jewelry
Excellent option for those with a $50,000+ budget
Leibish (← Click to Visit Site)
The go-to company for fancy color diamonds and gemstones
Masters of building jewelry to bring out the most color in your gemstone
DON'T SKIP THE BASICS
Your ring choice may not be basic, but it's still critical you follow all the proper steps, according to our experts. Time-tested advice holds true no matter the ring, stone or era:
Know your vendors. Just like you wouldn't buy a cheap car off the Internet without a test drive first, you don't want to buy an engagement ring from someone untrustworthy.
Say no to pressure. No reputable seller of rings will pressure you to make a sale before you are ready. If it feels uncomfortable, walk away.
Understand expectations. Carat weight, a key consideration, still applies, even with other gemstones or unusual settings or materials. If your better half believes bigger is always better, then a speck of a gem isn't going to cut it.
APPRAISING THAT ONE-OF-A-KIND GEMSTONE
While we certainly support taking a step off the beaten path, it's still vital to stick with trusted retailers. No one wants to find out that perfect Art Deco piece is actually worthless. Have the ring appraised by a professional. James Allen is one such retailer who packages your ring with a lab report and appraisal.
Related content: Everything you need to know about diamond appraisals.
INCREASING DEMAND FOR UNIQUE ENGAGEMENT RING
A new wave of ring buyers are seeking something more unique and personal without compromising on quality. Jewelers are responding, showcasing more varied, antique and vintage rings — or just plain one-of-a-kind rings — for every taste and budget.
For example, shoppers with online jeweler Blue Nile can now choose between a range of memorable details, from beaded-edge milgrain to hand-engraved elements. Even a quick tour of their site shows that while rose gold is an easy trend to scoff at, it's still holding firm throughout 2018. There seems no better representation of this unusual color choice than Blue Nile's Monique Lhuillier (of wedding dress fame) Petal Garland diamond engagement ring in 18k Rose Gold (1/2 ct. tw).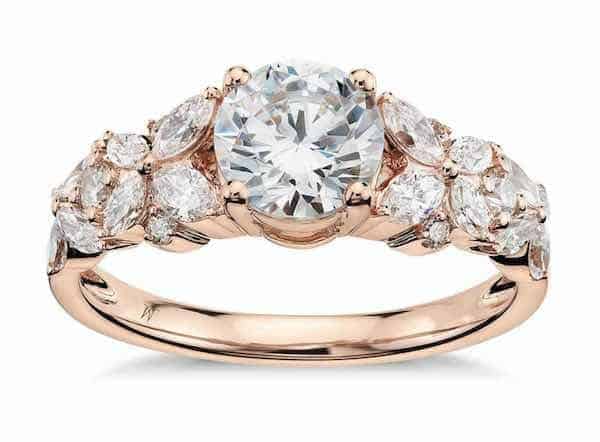 Related content: More vintage engagement ring choices at Blue Nile.
Joanna Hardy, a UK-based expert, tells the Telegraph newspaper that millennial ring buyers are driving the trend toward more unique engagement pieces, seeking greater individuality. The same shift has been noted among older couples who are getting married for the second time. With more maturity behind the buying process, these couples are also driving the need for more breadth of choice.
Still, traditionalists need not fear. "Brides aren't necessarily pulling away from tradition, but more so are making tradition their own," Gurki Basra, senior buyer of jewelry and watches at Barneys New York, explains to Glamour magazine.
Even Princess Diana, considered by many to be the ultimate storybook bride, wore a completely original — and even controversial — engagement ring.
Instantly recognized across the globe and now gracing Duchess Kate Middleton's ring finger, Diana chose an iconic ring with 14 solitaire diamonds, a 12-carat blue Ceylon sapphire with an oval shape, and a distinctive white gold band.
What's so interesting here to diamond experts is that it actually wasn't custom made for the late Princess of Wales. It was expensive, to be sure, but in reality was simply "off-the-shelf" — featured in the ring maker's catalogue — which really set royal tongues a-wagging.
TREND ALERT IN DIAMOND ENGAGEMENT RINGS FOR WOMEN
When thinking ahead to what trends will be meaningful in 2021, we're expecting many brides-to-be to show off more unusual shapes than colors like this 7.25 ct black and pave diamond flower ring at Leibish — a completely unique alternative to the typical solitaire.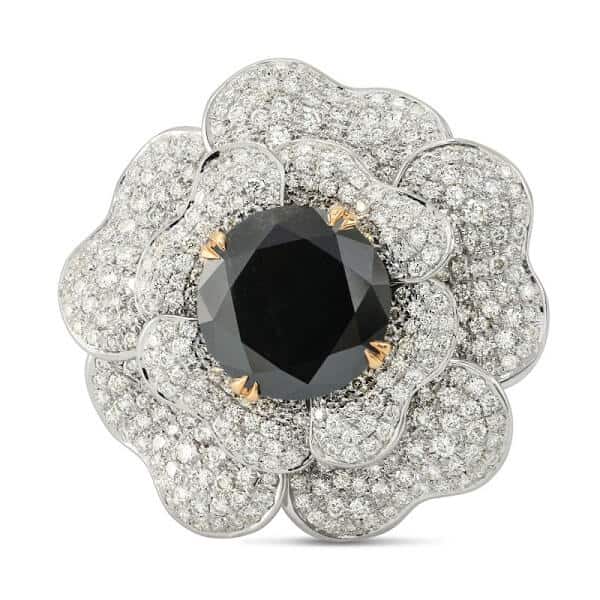 And since we know that celebrity proposals (and rings!) make a lot of headlines and launch trends, we too watched as pop icon Justin Bieber proposed to model Hailey Baldwin. The 6 to 10 carat ring, according to People magazine, was custom made to best show off the shape of Hailey's hands.
UNIQUE ENGAGEMENT RINGS FOR UNDER $1,000

We've all heard the saying money can't buy love, yet we tend to completely stress out when it comes to budgeting for engagement rings.
You definitely do not have to spend a mint to get a show-stopping ring. One way to find an affordable one-of-a-kind engagement ring is to build your own. This way you can focus more of your budget on the elements you and your partner actually care most about.
At Leibish & Co color is one element that is full display leading into 2019, from "argyle" to "chameleon" and many more options, including several for single diamonds under $1,000. In all, don't be afraid to buck the phrase that you need two months salary in order to make a ring purchase.
Shape is also a factor you won't necessarily need to compromise on when it comes to the ring of your dreams. You can also consider how the ring might interact with the wedding band, like an antique halo design that is "stackable" which allows it to fit snugly against the band for less than a grand.
On James Allen or Blue Nile you can browse endlessly for options, from heart shapes to euro cuts. We're currently big fans of the yellow diamonds at Leibish, like this yellow cushion cut diamond pave style.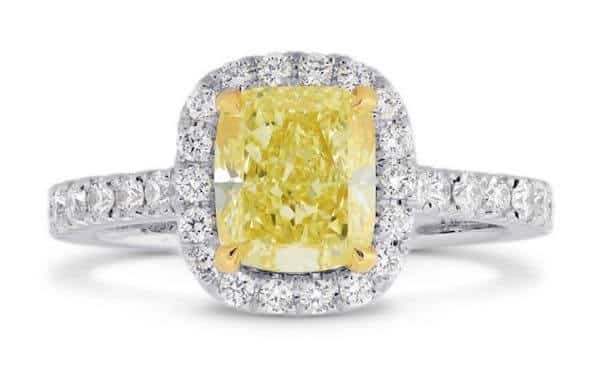 It manages to be slightly on the classic side but with a strong modern element reflected in the choice of color.
FINAL THOUGHTS
Unique engagement rings are here to stay. From east-west settings to unusual color choices, there's never been a better time to step outside of the mainstream and focus on pairing your ring selection with deeply personal creative expression. And again, don't be afraid to ask questions and insist on the same level of quality you'd expect from any gem-based transaction. Like your love, you'll want this investment in time and money to last a lifetime.
James Allen

James Allen is the leader in online diamond sales. Their imaging technology is the same as inspecting a diamond with a jeweler's loupe. They have the largest exclusive loose diamond inventory online and fantastic prices. They also have the nicest collection of lab created diamonds online. Now save 25% off settings AND 3% off Earth Diamonds during James Allen HUGE limited time sale!
What we love about them:
No questions asked returns within 30 days of shipment. James Allen will send you a paid shipping label to return the ring.
Lifetime Warranty
Free International Shipping
Free prong tightening, repolishing, rhodium plating and cleaning every 6 months
Provide insurance appraisals
One free resizing within 60 days of purchase
Free ring inscriptions
Best-in-class high quality imagery of all diamonds in stock
24/7 Customer Service
Best-in-class packaging

---
Blue Nile

Blue Nile is the largest and most well known internet jewelry seller. They have a very large exclusive online inventory. Their high quality images are catching up to James Allens' and their prices are amazing. Blue Nile have generously offered our readers an exclusive one-time use coupon.

(Click Here to save $100 off engagement ring settings)
What we love about them:
No questions asked returns within 30 days of shipment. Blue Nile will send you a paid shipping label to return the ring.
Lifetime Warranty
Free Shipping
Free prong tightening, repolishing, rhodium plating and cleaning every 6 months
Provide insurance appraisal
One free resizing within the first year of purchase
High quality images of about half of their diamonds
24/7 Customer Service
100% credit towards future upgrades (must be at least double in value)
Best in class fulfillment

---
Still afraid of getting ripped off?
Before you buy a diamond, get personal buying advice from industry veterans. We'll help you get the best diamond for the money.
Ask your diamond purchase question here
DISCLAIMER: We don't use your email for marketing. Period.