Mother's Day Jewelry Gift Ideas for Every Style
Scared of getting ripped off? Don't want to waste your money? Confused by all the choices? Contact us. For a limited time only, take advantage of James Allen's Valentine's Day sale and get 25% OFF!
We get commissions for purchases made from our affiliates through links in this article. Learn More.
Bottom Line Recommendation:
Above all, we recommend purchasing Mother's Day jewelry from a highly reputable vendor. For diamond jewelry, choose James Allen, Blue Nile or Brian Gavin. For colored gemstone jewelry, consider Blue Nile, Leibish & Co. and James Allen.
By selecting a bracelet, ring, pendant or set of earrings that matches mom's style, you're giving her a gift that she'll cherish forever. Check out all of the options and Mother's Day gift ideas below.
It's undeniable: moms are incredibly special. They've been with us from the very beginning, and have loved us through it all. Mother's Day is the perfect opportunity to show your appreciation for all that mom has done. A stunning piece of jewelry is something she'll cherish for years to come.
If you want an unforgettable gift for mom, grandma or your wife, check out our Mother's Day jewelry gift ideas below. We have everything from diamond necklaces to colored gemstone bracelets. There is truly something here for every style. If you want to increase your budget, consider going in on a gift with your siblings or other family members.
Most Popular Mother's Day Gifts

Leading up to Mother's Day, we always receive a large amount of questions about
diamond studs
. Earrings can be designed to fit any personality, and are both simple and timeless. While diamond studs are one of the most popular gifts, it turns out that
diamond pendants
have been the most popular Mother's Day gifts
in Nevada
. You can design a pendant that mom will be proud and excited to wear. Overall, choose what matches your mom's style, using the ideas below.
Diamond Jewelry Gifts for Mother's Day
A diamond is a beautiful, classic gift that can be set in any type of precious metal. Choose a piece that fits your mom's personality and style. Look through the suggestions below to get a sense of the design options available.
Diamond Necklaces and Pendants
With a pendant, your mom can wear her special gift close to her heart.
Consider a wire basket diamond pendant to allow light to pass through the diamond for maximum brilliance. Or choose a six prong pendant like this 14K white gold pendant with a 0.5 Carat diamond.
Additional necklace and pendant options:
For a full jewelry set, find a complimentary pair of earrings to complete mom's outfit.
Diamond Earrings
Whether your mom prefers stud or drop earrings, there are plenty of quality options available. The earrings we suggest here are from the best vendors in the industry. Their settings and jewelry are made with precision and care.
Try petite hoop earrings for something dressy but chic or princess cut studs for a timeless look.
Additional diamond earring options:
Diamond Bracelets
Give mom something she can wear with almost any outfit: a beautiful diamond tennis bracelet. Consider a bar bracelet with 13 diamonds or a tennis bracelet with 54 diamonds.
Mom can wear her gift on special occasions like anniversaries, birthdays, weddings, and of course: future Mother's Days.
Additional diamond bracelet options:
Diamond Rings
Though diamond rings are often associated with engagement, they make beautiful gifts for other occasions, too.
With styles like an eternity ring and a unique halo ring, you can find a piece for mom or grandma that will become a keepsake.
Additional diamond ring options:
Colored Gemstone Jewelry Gifts for Mother's Day
Looking for a unique alternative to a diamond? Choose a colored gemstone like sapphire, opal or topaz. Gemstones are eye-catching and tend to be less expensive than diamonds. For mom or grandma, consider her birthstone and place it in a stunning piece of jewelry.
Gemstone Necklaces and Pendants
Design a remarkable, colorful pendant to match mom's personality. It will stand out when she wears it on occasions like birthdays, anniversaries, weddings and dinner parties.
Choose a simple style like this aquamarine cushion cut pendant or this sapphire solitaire pendant. Or select a design that's more intricate like an amethyst halo pendant.
Additional necklace and pendant options:
Choose the same gemstone to create a pair of earrings that match her pendant. Mom will now have a complete jewelry set for any outfit.
Gemstone Earrings
Colored gemstones earrings often steal the show. Their vivid colors draw attention and add a spark of personality to any outfit.
Styles and shapes vary greatly: from magnolia ruby earrings to blue topaz drop earrings. Check out several options before making a purchase—or design your own studs with James Allen.
Additional gemstone earring options:
Gemstone Bracelets
Add some color to mom's wrist with a lovely gemstone bracelet. Choose a single gemstone for your design or go for a multi-colored look like this round rope bracelet. Almost every gemstone can be used in a bracelet setting, from emeralds to amethysts.
Additional gemstone bracelet options:
Gemstone Rings
Every time mom looks at her hand, she'll think of you. Find a ring for mom that will make her feel extra special.
Options include designs like a sapphire and diamond ring and an amethyst and diamond and halo ring.
Additional gemstone ring options:
Where to Purchase Your Mother's Day Gift
The biggest recommendation we can give you for purchasing a Mother's Day gift is to choose a highly reputable vendor. Our years of experience in the industry have given us a consistent pulse on which vendors you can trust.
The vendors below offer stunning diamond and gemstone options. All jewelry is made with high quality metal and stones. By going with one of these vendors, you'll have a gift that will last for years and even generations.
Offers the largest online inventory of diamonds, with an emphasis on remarkable quality and jewelry settings. They offer a range of both diamond and colored gemstone designs. Check out our full Blue Nile review.
Focuses on the customer experience, appealing prices and incredible  imagery to help you select the best diamonds and gemstones. Read our James Allen review here.
Leibish is our recommended vendor for fine gemstone jewelry. Leibish & Co. also maintains a large collection of fancy color diamonds like green diamonds and canary yellow diamonds. Gemstones tend to be less expensive than diamonds, while colored diamonds are often more pricey than colorless diamonds. Read our full review of Leibish & Co. here.
Offers super-ideal cuts with the "Brian Gavin Signature" Hearts & Arrows collection. They feature only the best cut diamonds. Read our Brian Gavin review here.
Why You Shouldn't Purchase Substandard Jewelry for Mother's Day
Several jewelers, like Zales and Kay Jewelers, offer seemingly great gifts for holidays like Mother's Day and Valentine's Day. Their advertisements usually target a particular line of jewelry or even a specific item. While these may seem like wonderful gift ideas for mom, the jewelry is often poorly made and of low quality.
In other words, she'll receive a substandard piece of jewelry that won't maintain its beauty or value (rather than a timeless piece she can pass down for generations).
That's why we only recommend high-quality jewelry from reputable vendors (see our list above). By purchasing something from a trusted vendor, you'll give mom a truly remarkable gift.
Final Thoughts on Mother's Day Jewelry
No matter which bracelet, ring, pendant or set of earrings you decide on, know that a thoughtful gift from the heart is what matters most. Mom will appreciate the care and love you put into her gift—and she'll think of you every time she wears it.
If you'd like assistance in reviewing diamonds or gemstones, please contact us so we can start your search.
James Allen

James Allen is the leader in online diamond sales. Their imaging technology is at the point where it's almost the same as inspecting a diamond with a jeweler's loupe. Their customer experience is best in class, and they have recently upgraded their non-engagement jewelry inventory as well. They have the largest exclusive loose diamond inventory online and fantastic prices. They also have the nicest collection of lab created diamonds online. For a limited time only, take advantage of James Allen's Valentine's Day sale and get 25% OFF!
What we love about them:
No questions asked returns within 30 days of shipment. James Allen will send you a paid shipping label to return the ring.
Lifetime Warranty
Free International Shipping
Free prong tightening, repolishing, rhodium plating and cleaning every 6 months
Provide insurance appraisals
One free resizing within 60 days of purchase
Free ring inscriptions
Best-in-class high quality imagery of all diamonds in stock
24/7 Customer Service
Best-in-class packaging

---
Blue Nile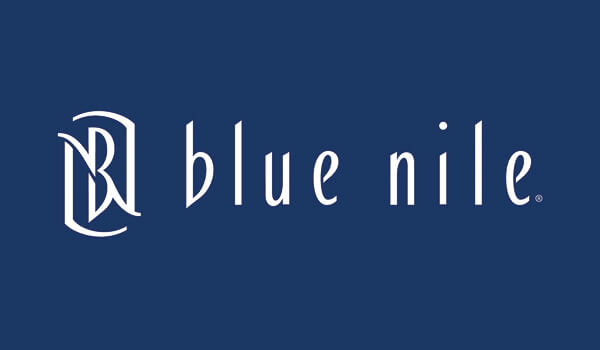 Blue Nile is the largest and most well known internet jewelry seller. They have a very large exclusive online inventory. Their high quality images are catching up to James Allens' and their prices are amazing.

(Pick Up a Blue Nile Coupon Here for $50 off)
What we love about them:
No questions asked returns within 30 days of shipment. Blue Nile will send you a paid shipping label to return the ring.
Lifetime Warranty
Free Shipping
Free prong tightening, repolishing, rhodium plating and cleaning every 6 months
Provide insurance appraisal
One free resizing within the first year of purchase
High quality images of about half of their diamonds
24/7 Customer Service
100% credit towards future upgrades (must be at least double in value)
Best in class fulfillment

---
Still afraid of getting ripped off?
Before you buy a diamond, get personal buying advice from industry veterans. We'll help you get the best diamond for the money.
Ask your diamond purchase question here
DISCLAIMER: We don't use your email for marketing. Period.