October Birthstones: Opal and Tourmaline
Scared of getting ripped off? Don't want to waste your money? Confused by all the choices? Contact us.Blue Nile, one of our favorite vendors, is currently running the biggest sale we have seen in the 10 years running this site! Click here for details.
We get commissions for purchases made from our affiliates through links in this article. Learn More.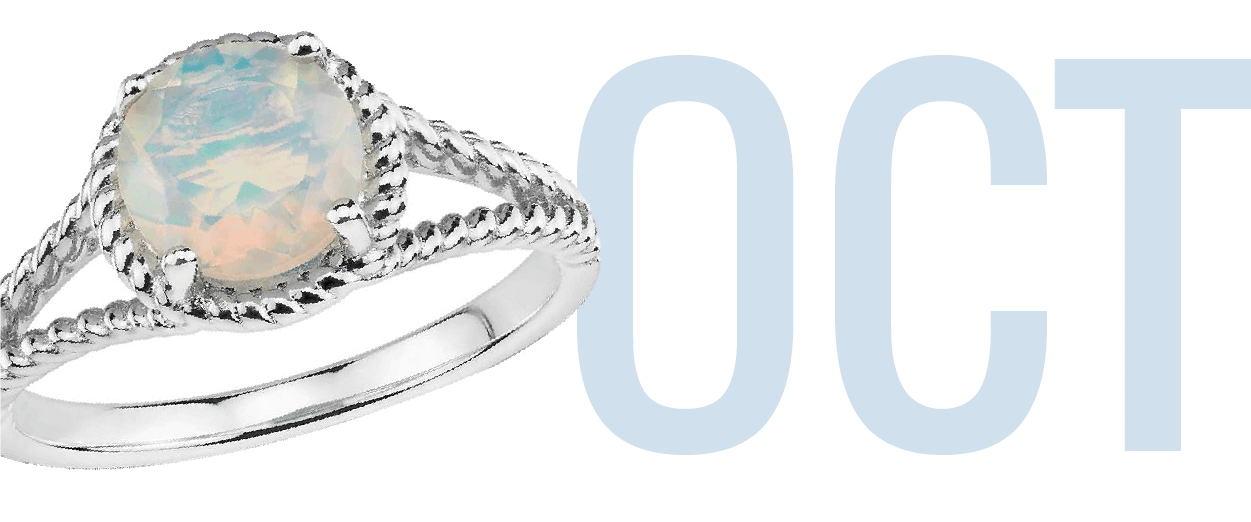 If you had the privilege of being born in the month of October, then you will find that you have two different birthstones for the month. These two stone are Opal and Tourmaline. Opal is also a stone that is typically given in the form of a gift to celebrate the fourteenth anniversary of marriage.
Opal Symbolism and Meaning
Arabic legend attests that opals fell from the sky during lightning storms, while Australian aborigines thought the creator visited the earth in a rainbow and imparted opals as a colorful gift.
Nearly 100 B.C., a Roman scholar by the name of Pliny compared opal gemstones to volcanoes and colorful artwork, realizing that opals have the ability to reflect the hues of any gem. Because of these colorful reflective qualities, during the Middle Ages, it was thought that opals harnessed immense power and luck.
Throughout time, opals have been regarded as a gem full of good luck and fortune, especially for those with October birth months.
How to Choose Opal Birthstone Jewelry
When it comes to purchasing opals, you will find that no two are exactly the same in color, pattern, or other defining characteristics. They are all unique and because of this make a very thoughtful gift.
For black opals, you may find more of a floral pattern where the colors will multiply through the surface of the gemstone more erratically. The black opal, is by far, one of the rarest opals you can find, and they also boast of some of the most intricate and unique patterns.
When determining the value of a diamond, it is a pretty straightforward process. You check the color, clarity, and faults and you can get to an average value of the stone. With opal, however, the luminosity of the stone is what you will find to be the most important aspect to consider before purchasing opal birthstone jewelry.
The more color that the stone contains, the more valuable the stone may end up being. The pattern is also another determinant of its value.
Opal Color
Opals have a primary color of either white or black, and many people find both appealing. The opal's most defining quality is its kaleidoscope character that radiates all the colors of the rainbow. Microscopic silica, a crucial component to opal composition, diffracts light in a way that displays this colorful spectrum. Opals that contain microscopic silica are referred to as "precious opals," and are usually found in Australia. Opals that don't maintain this particular characteristic are considered "common opals."
Along with the silica elements, opals are generally comprised of 6% to 10% water. As such, their Mohs scale rating is 5.5 to 6, making them less durable than other stones like rubies and diamonds. However, with extra care, such as avoiding extreme temperatures or direct sunlight, opals are exquisite gems that can be worn somewhat regularly or for special events.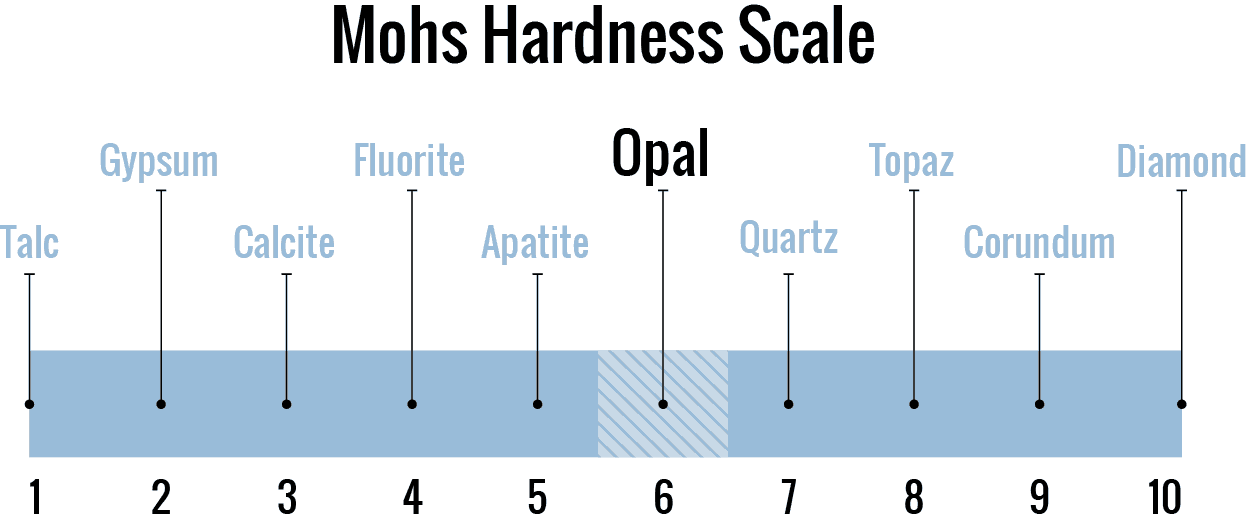 Caring for Your Opal
Opal, like many other gemstones, will last a long time if it is properly cared for and maintained. To prevent any scratches or other damage to the opal, you will want to handle the stone with care and never keep it around any oils or other chemicals.
Opals also contain water (sometimes almost as much as twenty percent), and because of this, they should never be kept in small and confined spaces such as a vault at the bank for long amounts of time because most vaults employ dehumidifiers, and this can seriously damage the opal.
You will find that if an opal begins to get too dry, it will start to crack. This cracking is also referred to as crazing and will seriously deteriorate the value of the stone.  One tip to keep the opal hydrated is to immerse it into water for a couple of hours at a time every once in a while.
Opal Origins
Some records indicate that opal may have been discovered in parts of Northern Africa in 4000 B.C. Modern record shows that around 1850, a large deposit was uncovered in Australia. It remains the largest source of opal in the world.
This major opal deposit was formed by intense seasonal rains in Australia which soaked the ground, forcing silica deposits through the earth and down to the crevices in rock layers. After the water evaporated, the deposits formed opal.
Since the discovery in Australia, other opal deposits have been found in Ethiopia, Mexico, Brazil, Honduras, the Czech Republic, Nevada and Idaho. Natural, untreated opal is becoming more rare, as Australia's deposit diminishes. Australia has accounted for over 90% of the precious opal supply in the world.
Tourmaline: Secondary Birthstone
Tourmaline is a colorful alternative birthstone for those born in October, due to its complex composition of a multitude of minerals. Trace amounts of certain elements dictate the color of a tourmaline stone—and the selection is quite wide.
In ancient Egypt, it was believed that tourmaline passed through a rainbow as it emerged through the earth to the surface. The Sinhalese, or Sri Lankan, words "tura mali" are the root of the gemstone's name, literally meaning the "stone of mixed colors."
Though tourmaline left traces throughout history, the earliest records confirm that tourmaline was discovered in the 16th century in Brazil, though this wasn't confirmed until the 19th century. Tourmaline deposits can now be found worldwide in countries like Australia, Myanmar (Burma), Nepal, Russia, Sri Lanka, Afghanistan, Tanzania, Pakistan and the United States.
Over the centuries, tourmaline has been regarded as a symbol of power, protecting against toxins, pollutants and negative thoughts and emotions. It rates a 7 to 7.5 on the Mohs scale of hardness, making it a durable gem, fit for everyday wear.
How to Choose a Tourmaline Stone
A tourmaline's most common method of treatment or enhancement is via heat. The heat will allow the color of the stone to shine through brilliantly and will be a lot more vivid and have a much deeper hue than if it were left untreated.
When the stone is heated, the overall value and durability of the stone are not hindered in any way. It is simply to enhance the colors already present within the stone.
The most preferred cut for a tourmaline stone would be a rectangular cut because it is a longer cut and captures more of the stone's brilliance and beauty. However, for better color depth, you may want to examine the angle of the cuts as well.
Tourmaline is also a stone known widely for its small inclusions, otherwise known as imperfections. When you are looking for characteristics that negatively affect the price, however, you will not be looking to the inclusions. Rather, you will look closely at the tourmaline gemstone's hue. If you find that it encompasses a white hue, then you will know immediately that the price will be greatly reduced.
The clearer a tourmaline gemstone is, the higher the value of the stone. The most crucial element to consider when purchasing tourmaline is the color because each color will carry its own price tag and this factor can hinder your budget.
Red tourmaline is a popular choice, and if you are looking for a sophisticated alternative to emeralds, the green tourmaline is perfect. The most expensive tourmaline you can find will be the Brazilian Paraiba Tourmaline because it is clear with a neon blue or green color. The rarer the color of the stone, the higher that price tag will climb.
Fun Facts
In 1956, the world's largest and most valuable opal was found in Coober Pedy, Australia. It is named "Olympic Australis" in honor of the Melbourne Games that were occurring at the time. The 17,000 Carat gemstone is valued at over $2.5 million.
Opal deposits have been found on the planet Mars, as it was uncovered by NASA in 2008 that a fallen meteorite from nearly a century before contained opal.
Queen Victoria of the United Kingdom was an avid lover of opals. Among all of the royal gemstones, opal was her favorite.
The Chinese found great value in tourmaline, so much that when the Chinese government suffered a collapse in 1912, tourmaline trade was affected worldwide.
Gift Ideas
Due to the colorful spectrum of opals, the gemstone works well in collaboration with many varieties of jewelry and settings. Those born in October are lucky to have a birthstone that has a universal look along with an interesting history. Opals make stunning gifts for birthdays, anniversaries and other special celebrations.
For necklaces, consider a solitaire pendant like this or a charm pendant like this one from Blue Nile.
For earrings, choose a simple stud in 14K white gold, ones in a halo setting, or the more elaborate drop earring design.
For rings, opals can be placed in a simple setting like this Cushion Cut or one that's surrounded by diamonds like this.
If you're hoping for the tourmaline alternative, there are pink gemstone options like the one in this ring or the light turquoise one in this design.
Choosing and designing an October birthstone piece will be a cherished gift this year, and all the years to come.
Blue Nile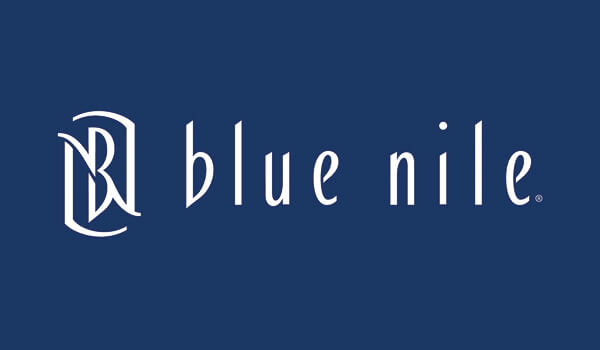 Blue Nile is the largest and most well known internet jewelry seller. They have a very large exclusive online inventory. Their high quality images are catching up to James Allens' and their prices are amazing. Blue Nile is currently running their biggest sale ever! (Click here for details)
What we love about them:
No questions asked returns within 30 days of shipment. Blue Nile will send you a paid shipping label to return the ring.
Lifetime Warranty
Free Shipping
Free prong tightening, repolishing, rhodium plating and cleaning every 6 months
Provide insurance appraisal
One free resizing within the first year of purchase
High quality images of about half of their diamonds
24/7 Customer Service
100% credit towards future upgrades (must be at least double in value)
Best in class fulfillment

---
James Allen

James Allen is the leader in online diamond sales. Their imaging technology is the same as inspecting a diamond with a jeweler's loupe. They have the largest exclusive loose diamond inventory online and fantastic prices. They also have the nicest collection of lab created diamonds online.
What we love about them:
No questions asked returns within 30 days of shipment. James Allen will send you a paid shipping label to return the ring.
Lifetime Warranty
Free International Shipping
Free prong tightening, repolishing, rhodium plating and cleaning every 6 months
Provide insurance appraisals
One free resizing within 60 days of purchase
Free ring inscriptions
Best-in-class high quality imagery of all diamonds in stock
24/7 Customer Service
Best-in-class packaging

---
Still afraid of getting ripped off?
Before you buy a diamond, get personal buying advice from industry veterans. We'll help you get the best diamond for the money.
Ask your diamond purchase question here
DISCLAIMER: We don't use your email for marketing. Period.