August Birthstones: Peridot and Sardonyx
Scared of getting ripped off? Don't want to waste your money? Confused by all the choices? Contact us.Blue Nile is one of our favorite vendors and they have generously offered our readers an exclusive one-time use coupon.

(Click Here to get $50 off)
We get commissions for purchases made from our affiliates through links in this article. Learn More.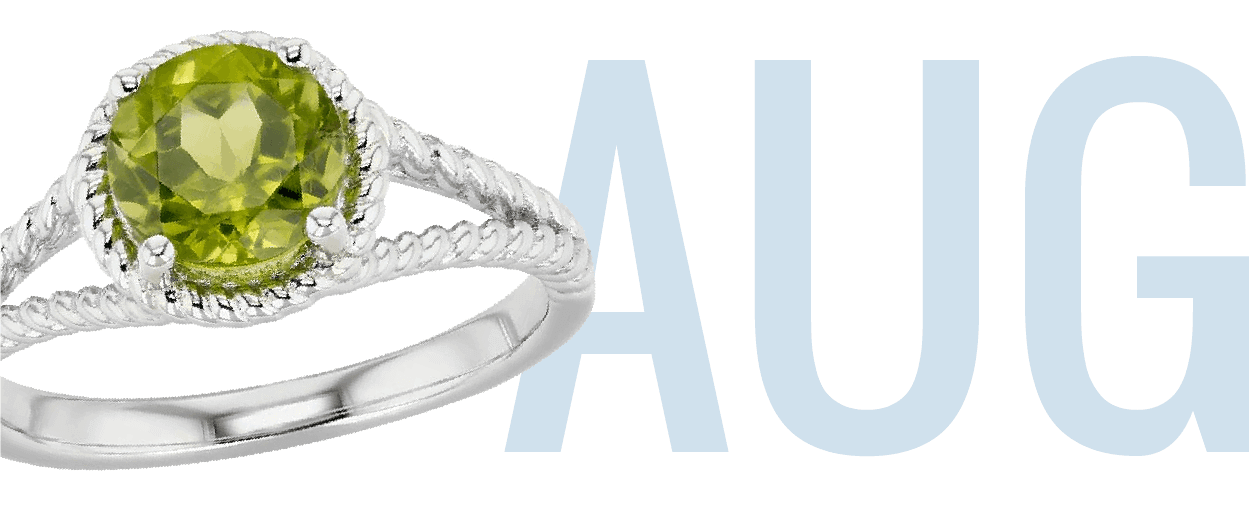 Do you have an August birthday and find yourself curious about your birthstone options? Well, you're in luck. August is one of those great months for birthstone jewelry because you have not one, but two options of gemstones. For an August birthstone, you can find both peridot gemstones and sardonyx gemstones to choose from, along with several beautiful jewelry options.
Peridot Symbolism and Meaning
Dating as far back as 2000 B.C., the peridot gem has been a beloved and admired gemstone. Ancient Egyptians found peridots on the volcanic island in the Red Sea, the island now known as Zabargad or St. John's Island.
Holy men of ancient Egypt embedded peridots into their goblets, as it was thought peridots held the power of nature. According to some historians, Cleopatra's famous jewelry collection was made of peridots instead of emeralds. Throughout medieval times, emeralds and peridots were often confused for one another.
The stone was named the "gem of the sun" because it was believed to offer protection from nightmares and evil terrors. Peridots were also believed to harness healing properties and ward off negative emotions—bringing peace and calm happiness to all those who wear it.
The Peridot is a special birthstone for those born in August, because it is a gemstone that's known to bring calmness and serenity.
Peridot Color
Radiating a lime colored glow, the peridot is an exquisite green gem made of magnesium-rich mineral olivine. In ancient Rome, the peridot had the nickname "evening emerald" because it shows bright green when held close to light.
Peridots are formed deep in the earth's mantle and only emerge to the earth's surface through volcanoes. On rare occasion, peridots are also found in meteorites.
The richness of green color depends on how much iron is present in the composition. Peridots range from yellowish green like the stone in this ring to brownish green.
Less durable than diamonds and rubies, peridot still maintains a 6.5 to 7 on the Mohs scale, making them durable enough for frequent or everyday wear.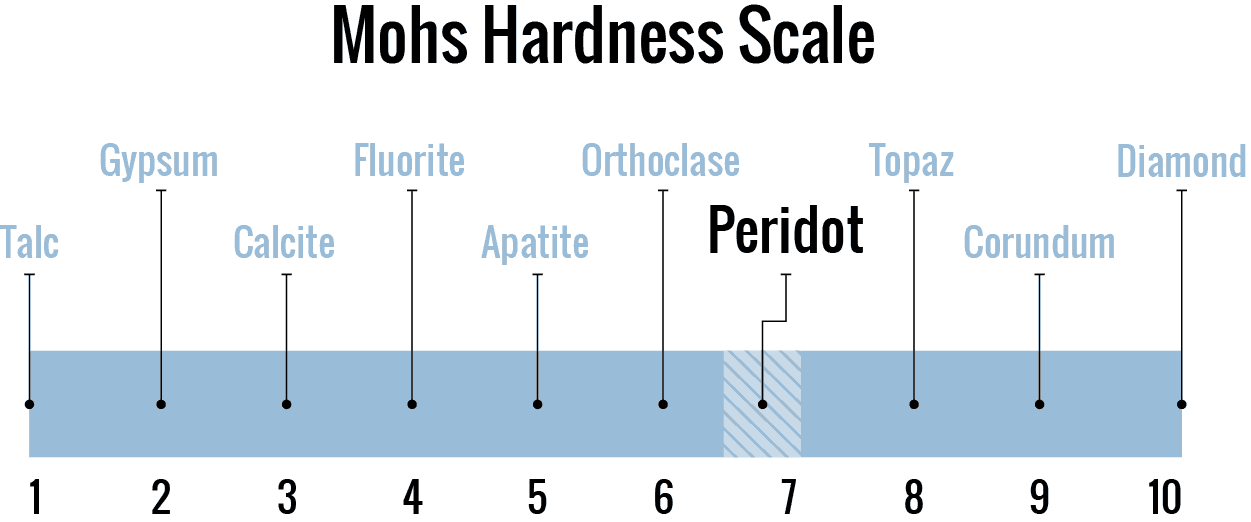 Peridot Origins
Though St. John's Island was the first known source of peridot, the largest deposit is located in Arizona's San Carlos Reservation. Over 80% of the world's current supply of peridot is found in this southeast region of Arizona.
Peridot deposits are also present in Myanmar (Burma), China, Africa and, most recently, Pakistan. Some of the most stunning peridots have been mined in Pakistan. They've been given the name "Kashmir peridots" and weigh more than 100 Carat.
Choosing the Perfect Peridot Engagement and Wedding Ring
Due to its beautiful and rich coloring and the fact that it is a birthstone for August, makes it a very special and thoughtful choice as an engagement ring or wedding ring and it goes brilliantly with sterling silver and yellow gold birthstone jewelry.
Since the Peridot can resemble emeralds, the colors of each gemstone may range from yellow-green colors to green and gold tones, olive tones, or even a bright and lighter green color as well as resembling a deeper chartreuse like color.
Depending on the size of the peridot gemstone, you may be able to see some imperfections and flaws in the gem. Many times, a certain resin or oil can be used on the gemstone if this is the case to help enhance its overall appearance and enhance its beauty just a bit more.
When choosing peridot, you will want to steer clear of white gold and instead opt for a yellow gold alternative. If it has a rhodium coating, you will also want to stay away from silver as well. The coating of the stone will have to be redone every few years because the rhodium coating can cause pits over an extended amount of time.
The biggest factor to take into consideration when purchasing a peridot engagement ring or wedding ring is the quality cut and the brilliance of the stone. Diamonds are also a good enhancement to have along the band.
The peridot makes a visually stunning alternative to the traditional diamond wedding bands and engagement rings you will typically find. It is especially thoughtful if your love has an August birthday, so they can see that you took the time to carefully and thoughtfully incorporate this small detail into the ring on their very special day.
The peridot also makes great birthstone jewelry in the form of necklaces, stud earrings, and even men's jewelry. For men, it is an excellent accouterment for men's rings.
A peridot and diamond ring combination is sure to be a stunning choice for both his and her bands on their wedding day.
Sardonyx: Secondary August Birthstone
Those born in August benefit from having an alternative birthstone to choose from.
Sardonyx was originally discovered in an ancient Persian city called Sardis, the region now known as Turkey. The stone has a unique composition, with layers of sard—which comes from the city name Sardis—and onyx, both varieties of mineral chalcedony.
The gem ranges in hue from a yellow-tinted red to a reddish brown, dependent on the amount of iron oxide present in the stone's composition. Generally, sardonyx gemstones also contain white bands, a visual representation of the sard and onyx layers.
Since around 2000 B.C., sardonyx has been regarded as a precious and important gemstone. Ancient Romans and Greeks adorned themselves with sardonyx pendants and rings before heading into battle, believing the stones brought them courage and protection. Sardonyx remains a symbol of strength, happiness and courage.
Sardonyx deposits are present in Germany, Madagascar, Brazil, Czechoslovakia, the United States and Uruguay.
Sardonyx Facts and Buying Information
The sardonyx is a semi-precious gemstone with reddish brown and white colored bands. This stone contains several miniscule quartz fibers that can be found in multiple layers deposited one onto the other to form the appearance of a banded look. The layers are typically translucent to opaque.
Sardonyx can also be found in other colors such as yellow, brown, white, purple, gray, black, pink, and green with more naturally colored bands that you could usually see in nature.
There are usually very few imperfections on these gemstones, and they usually come in larger sizes. It can be shaped into a variety of different shapes as well including oval, pear, and round but the most common and most popular shape would be the shape of the eyes to enhance the different colored bands.
The sardonyx makes for magnificent jewelry pieces as well. You can find stunning necklaces, engagement rings, earrings, and pendants and can be made with yellow or white gold, and sterling silver.
This particular gemstone is affordable for many and has since become a favorite choice. For enhancement, the gemstone can be dyed or stained to help improve its overall color and appearance.
It is important to pay attention to the smaller details, especially the enhancements, to be sure you are not misled regarding the value of the gemstone. You want to be sure you are purchasing the genuine sardonyx gemstone and not just paying the price of one.
Fun Facts
Over 300 Carat in weight, the world's largest peridot stone is housed in the Smithsonian Museum in Washington, D.C.
Stories reference that Napoleon gave his wife, Josephine, a peridot to demonstrate his love.
Several celebrities have been known to wear peridots, including Lucille Ball, Drew Barrymore and Angelina Jolie.
Gift Ideas
Peridots make for outstanding and unique gifts for birthdays, holidays and other special occasions. Due to large deposits worldwide, peridots are affordable in a variety of jewelry settings. Peridots are also traditionally given as 16th wedding anniversary gifts.
For peridot rings, consider one in a Cushion Cut or one that's set alongside other gemstones like in this colorful band.
For a set of peridot earrings, choose from a glowing pair like these classic studs or these vintage-inspired ones—or opt for a multi-colored hoop set like these.
If you're looking for a pendant or necklace, consider any of the following styles:
In the world of bracelets, a full circle of peridots are available or wrist pieces with other colored stones.
Whether you decide on a peridot or a sardonyx for an August birthstone piece, know that the jewelry you choose is filled with true thoughtfulness and love.
James Allen

James Allen is the leader in online diamond sales. Their imaging technology is the same as inspecting a diamond with a jeweler's loupe. They have the largest exclusive loose diamond inventory online and fantastic prices. They also have the nicest collection of lab created diamonds online.
What we love about them:
No questions asked returns within 30 days of shipment. James Allen will send you a paid shipping label to return the ring.
Lifetime Warranty
Free International Shipping
Free prong tightening, repolishing, rhodium plating and cleaning every 6 months
Provide insurance appraisals
One free resizing within 60 days of purchase
Free ring inscriptions
Best-in-class high quality imagery of all diamonds in stock
24/7 Customer Service
Best-in-class packaging

---
Blue Nile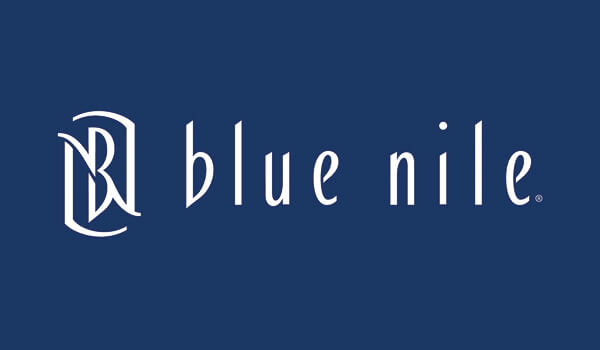 Blue Nile is the largest and most well known internet jewelry seller. They have a very large exclusive online inventory. Their high quality images are catching up to James Allens' and their prices are amazing.

(Pick Up a Blue Nile Coupon Here for $50 off)
What we love about them:
No questions asked returns within 30 days of shipment. Blue Nile will send you a paid shipping label to return the ring.
Lifetime Warranty
Free Shipping
Free prong tightening, repolishing, rhodium plating and cleaning every 6 months
Provide insurance appraisal
One free resizing within the first year of purchase
High quality images of about half of their diamonds
24/7 Customer Service
100% credit towards future upgrades (must be at least double in value)
Best in class fulfillment

---
Still afraid of getting ripped off?
Before you buy a diamond, get personal buying advice from industry veterans. We'll help you get the best diamond for the money.
Ask your diamond purchase question here
DISCLAIMER: We don't use your email for marketing. Period.