We are reader-supported. Buying through links on our site may earn us commissions. Learn More.
Deal Alert! Huge James Allen Sale- 3% off Earth Diamonds AND 25% off settings or

15% off at Blue Nile!



Peridot Gemstone: Detailed Buyer's Guide
Bottom Line Recommendation:
Peridot jewelry can look absolutely stunning, all while costing significantly less than jewelry featuring other gemstones.
When buying a peridot, look for an eye-clean stone that doesn't have any visible inclusions. The most popular color for peridot is a richly saturated to slightly yellowish green. Check carefully for brown tints, as these can affect the appearance of the gemstone. 
To get the best deal on peridot jewelry, we recommend buying from a trusted vendor. Blue Nile and James Allen both sell high-quality peridot rings, earrings and other jewelry, with competitive pricing and excellent customer service.
---
Peridot Gemstone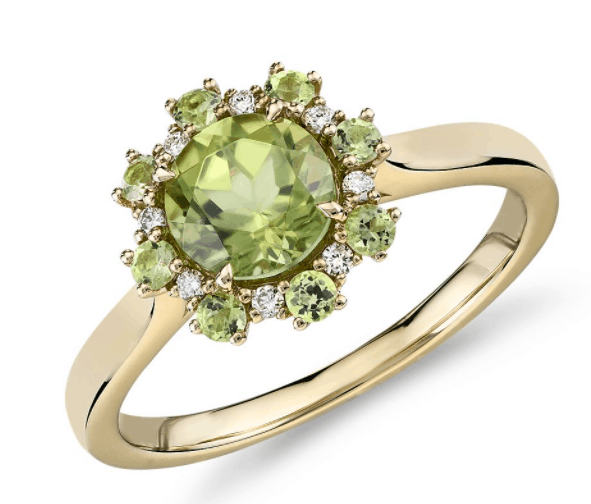 Peridot is an ancient gemstone that consists of the mineral olivine. It has a stunning pure green color that makes it stand out from other gemstones. Peridot is often associated with purity, with peridot jewelry said to purify the heart of its wearer.
The beautiful green color of peridot is caused by the presence of the elements magnesium and iron. Peridot can range in color from pure green to brown-green or yellowish-green, the latter of which is the most common peridot color used for rings and other jewelry.
Peridot is often associated with calmness, purity and serenity and is the most popular birthstone for the month of August. 
Unlike many other colored gemstones, which predominantly form in earth's crust, peridot forms much deeper in the earth's upper mantle. After it's formed naturally deep in the earth, peridot is transported towards the surface of the earth through volcanic activity. 
Peridot has been used in jewelry for thousands of years. In ancient Egypt, holy men embedded peridot into their goblets due to a belief in the stone's possession of the power of nature. It was widely believed that peridots offered protection from nightmares and evil. 
Peridots were also commonly associated with healing and were thought to promote peace and calmness while warding off negative emotions.
Today, peridot is a beautiful and popular gemstone that's used in rings, earrings, bracelets and numerous other types of jewelry. Below, we've provided more information on how to buy peridot jewelry, from working out how much to spend to buying the highest quality peridot stone.
How Much to Spend on Peridot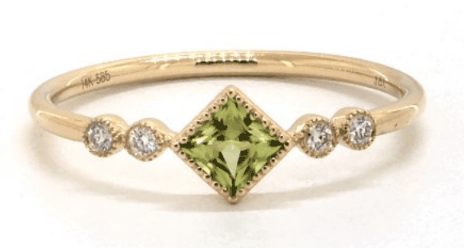 Peridot is quite an affordable gemstone, meaning you can often purchase peridot jewelry for significantly less than jewelry featuring rubies, sapphires or diamonds.
For example, this pair of peridot stud earrings from Blue Nile, which features two eye-clean peridots of 7mm diameter (roughly equivalent to two 1.25 carat diamonds), only costs $195. 
In comparison, the same earrings featuring aquamarine are $405, while a smaller pair of sapphire stud earrings from Blue Nile costs close to $1,000. A pair of diamond stud earrings of approximately the same size could easily cost close to $10,000. 
Even large peridot rings are very affordable in comparison to rings featuring other gemstones or diamonds. For example, this beautiful yellow gold halo 1.60ct peridot ring from James Allen is available for $1,350 –  far less than for example this similar halo ring featuring a 1.20ct ruby from Blue Nile that costs $6,000.
In summary, peridot is very affordable. You can find beautiful peridot jewelry for well under the $500 mark, while stunning peridot rings featuring pavé or halo diamonds are often available for less than $2,000. 
This affordability makes peridot a great option to consider if you're looking for an alternative to diamonds for an engagement ring or other special jewelry.
How to Determine if a Peridot is Real
As with other gemstones, peridot is occasionally faked. Imitation peridot is usually made using glass, making it relatively simple to detect imperfections and separate a fake period from a real one. You can identify authentic peridot by:
Performing an eye test. Check the peridot's color. A real peridot will have a pure green color with tints of either yellow or brown. If you detect other colors in the stone, it may be an imitation.
Check for double refraction. Peridot has a very high double refraction, meaning you'll be able to see two of each pavilion facet when you examine the gem closely. To check if a peridot is real, hold it against a light — if there's no double refraction, it's likely fake.
Check for imperfections. Period scores 6.5-7 on the Mohs scale, meaning it's possible to scratch a peridot gemstone. Check the surface of the gemstone for cracks — if it looks too perfect, it's unlikely to be real.

You can also look inside the gemstone for inclusions. Natural peridots will almost always display some inclusions when they're examined under magnification. If you see bubbles in the gemstone, it's likely a fake peridot made from glass.
Check its color under different lighting. Peridot is a unique gemstone in that its color doesn't change under light. Real peridot will stay the same color when it's exposed to natural or artificial light, while a fake may show a different color.
Where to Buy Peridot
Like with other gemstone jewelry, we recommend buying peridot jewelry online. As we explain in our guide to the evolution of the diamond market, online vendors have several advantages that allow them to offer higher quality jewelry at more competitive prices.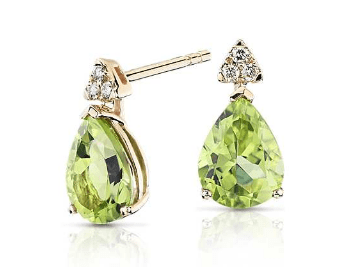 You can buy high-quality peridot jewelry from Blue Nile and James Allen. Both of these vendors offer excellent customer service and competitive pricing. They also have highly detailed product photos, making it easy to see what you're purchasing before you order.
Tips for Buying Peridot Jewelry
Consider the cut quality. Peridot looks gorgeous when it's cut to a high standard. Look for a well-cut, brilliant stone. There's no "best" shape for a peridot, so choose the shape that you think looks the best.
Check that it's eye-clean. Like other gemstones, peridot often have inclusions. Look for a stone that's eye-clean, meaning its inclusions and blemishes aren't visible to the naked eye.
Look for pure green color. The most desirable peridot stones are green in color, with no hints or brown or yellow. Avoid brownish peridot stones, which are considered low in quality and less appealing.
Opt for yellow gold over white metals. The color of peridot looks particularly beautiful next to yellow or rose gold, making either of these metals a good choice for peridot rings and other jewelry.

We suggest choosing one of these metals instead of white gold, as white gold and other rhodium-coated metals can cause pits in peridot. These metals also need to be cleaned and plated every few years.
Consider peridot rings with pavé and/or halo diamonds. Pavé or halo diamonds can significantly enhance the appearance of a peridot ring, adding extra brilliance and giving the ring a more eye-catching look.
Frequently Asked Questions About Peridot
Where is Peridot Mined?
Peridot is mined in several different countries and locations. Most peridot is mined in Arizona on the San Carlos Apache Indian Reservation. The San Carlos Reservation is believed to possess over 80 percent of the world's peridot supply. 
Other modern peridot mining locations include China, Vietnam, Pakistan, Myanmar, Finland, and the Zabargad group of islands in Egypt.
Is Peridot Rare?
Peridot isn't a particularly rare mineral. Peridot deposits are found around the world, and a fairly large quantity of peridot are mined every year. 
However, gem-quality peridot — the type of peridot that commands the highest price — is quite a rare mineral. Pure green peridot is especially rare. Most of the pure green, finely-colored peridot available today is sourced from mines in Pakistan and Myanmar. 
Like with diamonds and other gemstones, peridot can vary in clarity as well as color. Fine quality peridot that's pure green in color and free of visible inclusions is quite rare and valuable, making it a desirable type of gemstone.
What is Peridot Used For?
Peridot is largely used for jewelry. It's especially popular as a birthstone for August, with peridot rings, earrings, pendants and other types of peridot jewelry a great gift option for people born in this month. 
Like other gemstones, peridot also has industrial uses. It has a high melting point (between 1,200 and 1,900 degrees Celsius) and as such is occasionally used in casting.
In What Forms Can You Wear Peridot?
Peridot is used for a large range of jewelry pieces, from rings to earrings, pendants, necklaces, bracelets and more. Some jewelry contains peridot as well as other gemstones. You can wear peridot jewelry the same way that you'd wear any other type of gemstone jewelry.
What is the Clarity of Peridot?
Like other gemstones, peridot can display inclusions and blemishes. Peridot stones with visible inclusions are generally considered to be less desirable than eye-clean stones and command a lower value on the market.
What Cuts and Shapes is Peridot Sold In?
Peridot is available in a variety of cuts and shapes. The most common cuts for peridot are the oval and cabochon cuts. It's also common to see round, cushion, emerald, baguette, princess and trillion cut peridot jewelry.
Are Peridot Stones Imitated?
Yes. As valuable gemstones, peridot stones can and often are imitated. Most imitation peridot stones are made from glass and, upon close examination, will usually display signs that show that they aren't real gemstones. 
We've listed several techniques that you can use to identify a fake period further up the page, under the heading "How to Determine if a Peridot is Real."
How Does Lighting Affect Peridot?
As we mentioned above, the color of peridot generally isn't as affected by light as that of other gemstones. This means that peridot jewelry maintains a similar color in daylight, artificial light or in environments without a strong light source.
James Allen

James Allen is the leader in online diamond sales. Their imaging technology is the same as inspecting a diamond with a jeweler's loupe. They have the largest exclusive loose diamond inventory online and fantastic prices. They also have the nicest collection of lab created diamonds online. Now save 25% off settings AND 3% off Earth Diamonds during James Allen HUGE limited time sale!
What we love about them:
No questions asked returns within 30 days of shipment. James Allen will send you a paid shipping label to return the ring.
Lifetime Warranty
Free International Shipping
Free prong tightening, repolishing, rhodium plating and cleaning every 6 months
Provide insurance appraisals
One free resizing within 60 days of purchase
Free ring inscriptions
Best-in-class high quality imagery of all diamonds in stock
24/7 Customer Service
Best-in-class packaging

---
Blue Nile

Blue Nile is the largest and most well known internet jewelry seller. They have a very large exclusive online inventory. Their high quality images are catching up to James Allens' and their prices are amazing. Blue Nile have generously offered our readers an exclusive one-time use coupon.

(Click Here to save $100 off engagement ring settings)
What we love about them:
No questions asked returns within 30 days of shipment. Blue Nile will send you a paid shipping label to return the ring.
Lifetime Warranty
Free Shipping
Free prong tightening, repolishing, rhodium plating and cleaning every 6 months
Provide insurance appraisal
One free resizing within the first year of purchase
High quality images of about half of their diamonds
24/7 Customer Service
100% credit towards future upgrades (must be at least double in value)
Best in class fulfillment

---
Still afraid of getting ripped off?
Before you buy a diamond, get personal buying advice from industry veterans. We'll help you get the best diamond for the money.
Ask your diamond purchase question here
DISCLAIMER: We don't use your email for marketing. Period.