Channel Set Diamond Rings: The Pros, Cons & Where to Buy
Scared of getting ripped off? Don't want to waste your money? Confused by all the choices? Contact us.For a limited time, take advantage of James Allen's 25% OFF Pre-Black Friday Sale!
Bottom Line Recommendation:
A channel setting provides a diamond ring with additional sparkle and personality. For example, this Round Cut channel set engagement ring showcases a beautiful row of diamonds along the band. No matter the Diamond Shape, a channel setting is beautiful and securely holds the diamonds.
When deciding on an engagement ring, choose a reputable vendor like Blue Nile, James Allen or Brian Gavin Diamonds. You'll end up with a beautiful ring at the best value for your budget.
What is a Channel Engagement Ring Setting?
A channel setting is similar to a pavé setting but uses thicker metal to secure the diamonds that line the band. Because there are no prongs holding the stones, the setting is a snag-free design.
Channel settings often have center stones, like in this bow-tie engagement ring, but can also be made solely of smaller stones, like in this channel set eternity band.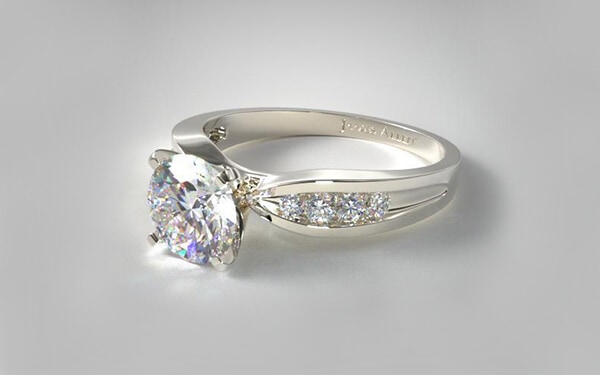 A channel setting is a secure way to set smaller diamonds into the band—creating a sparkling row that's flush with the shank. The smaller diamonds are set closely together in the grooves of the channel. They can either decorate a smaller portion of the band like in this Cushion Cut ring, or almost the entire surface as in this Round Cut engagement ring.
Why Choose a Channel Engagement Ring?
A channel setting adds visible style and sparkle to your ring. Because there are no prongs, this setting provides a snag-free and secure design. As shown in the image below, the diamonds in the shank are channel-set.
Because of the additional diamonds, a channel setting tends to draw more attention than a solid band. Channel settings are also popular for wedding bands and stackable rings that feature smaller stones without a center stone.
Channel Settings For Every Shape
The classic design and secure support of a channel set ring make it a stunning option.
Channel settings compliment many Diamond Shapes. You can also order a channel setting in white gold, platinum, yellow gold or rose gold.
Channel engagement ring examples:
Pros and Cons of a Channel Setting
As with any ring setting, there are certain advantages and disadvantages. Look through the pros and cons of a channel setting before making a final decision.
Pros
Securely holds diamonds and protects them from outside forces
Enhances the ring's sparkle with side stones
Maintains a sharp design without losing stability
Is unlikely to snag on clothing and other materials
Cons
Often requires more time and effort to clean (dirt can become trapped in the channels)
Can sometimes hide diamonds slightly more than prong settings
Can be challenging to repair and resize due to the numerous channels (it's possible the channels will become bent or misaligned, or that the side stones will loosen during the repair process)
Try to determine his or her ring size before purchase to reduce the need for resizing.
Where to Buy Channel Diamond Engagement Rings
It's important to not only find the style of the ring he or she wants, but to find the right place to buy the ring. There are many vendors, including brick and mortar and online dealers, that will offer you a poor price for inferior quality. At Diamond Pro, our goal is to help you avoid those scenarios. That's why we vet diamond vendors, and inform our readers of the most reliable companies.
Throughout our years of experience, we've found the diamond dealers below are consistently the best in the business. They offer high-quality diamonds and settings at excellent prices. These vendors also provide legitimate certificates with every diamond, coming from either the AGS or GIA. We strongly recommend choosing a diamond ring, or any fine jewelry, from the vendors below.
James Allen offers appealing prices and incredible diamond imagery (so you can see every diamond up-close before purchase). They also provide excellent customer service and great return policies for buying online.
We recommend Blue Nile because they focus on remarkable diamond and jewelry settings. They maintain the largest online inventory of diamonds and settings—giving you a superb selection to choose from.
Brian Gavin offers some of the best cut diamonds in the world. Choose a diamond from the "Brian Gavin Signature" Hearts & Arrows collection or the Brian Gavin Black or Signature collections for a truly exceptional stone.
Leibish is our go-to vendor for gemstone engagement rings and fine jewelry. A colored gemstone is a beautiful, lower cost alternative to a diamond. Leibish & Co. also maintains a large collection of fancy color diamonds like canary yellow diamonds and purple diamonds.
Evaluating a Diamond Ring for Beauty and Value
A little research goes a long way when it comes to selecting a diamond that's both beautiful and well-priced. Check out our other Diamond Pro resources for tips in selecting the best ring for your budget.
Have questions about diamonds or engagement rings? Send our experts an email.
James Allen

James Allen is the leader in online diamond sales. Their imaging technology is at the point where it's almost the same as inspecting a diamond with a jeweler's loupe. Their customer experience is best in class, and they have recently upgraded their non-engagement jewelry inventory as well. And for a limited time, take advantage of their 25% Off pre-Black Friday Sale!
What we love about them:
No questions asked returns within 30 days of shipment. James Allen will send you a paid shipping label to return the ring.
Lifetime Warranty
Free International Shipping
Free prong tightening, repolishing, rhodium plating and cleaning every 6 months
Provide insurance appraisals
One free resizing within 60 days of purchase
Free ring inscriptions
Best-in-class high quality imagery of all diamonds in stock
24/7 Customer Service
Best-in-class packaging

---
Blue Nile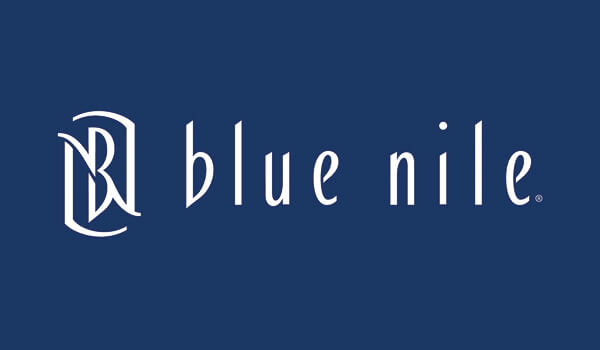 Blue Nile is the largest and most well known internet jewelry seller. They have the industry-leading largest available exclusive online inventory. Their high quality images are catching up to James Allens' and their prices are amazing.
What we love about them:
No questions asked returns within 30 days of shipment. Blue Nile will send you a paid shipping label to return the ring.
Lifetime Warranty
Free Shipping
Free prong tightening, repolishing, rhodium plating and cleaning every 6 months
Provide insurance appraisal
One free resizing within the first year of purchase
High quality images of about half of their diamonds
24/7 Customer Service
100% credit towards future upgrades (must be at least double in value)
Best in class fulfillment

---
Still afraid of getting ripped off?
Before you buy a diamond, get personal buying advice from industry veterans. We'll help you get the best diamond for the money.
Ask your diamond purchase question here
DISCLAIMER: We don't use your email for marketing. Period.