We are reader-supported. Buying through links on our site may earn us commissions. Learn More.
Deal Alert! Huge James Allen Sale- 3% off Earth Diamonds AND 25% off settings or

15% off at Blue Nile!



Our Ultimate Christmas Gift Buying Guide for Jewelry
Bottom Line Recommendation:
This Christmas, show your love and appreciation for the special people in your life. Whether it's your fiancé, wife, mom or best friend, a beautiful piece of jewelry makes for an unforgettable gift. 
Our Christmas jewelry gift guide below includes bracelets, pendants, earrings and rings from highly recommended vendors. Look through the suggestions to see what matches your loved ones' personalities the best.
Most importantly, we recommend purchasing your Christmas jewelry from a reputable vendor. For colored gemstone jewelry, consider Blue Nile, Leibish & Co. and James Allen. For diamond jewelry, choose Blue Nile, James Allen, or Brian Gavin. 
Finding a meaningful Christmas gift is well worth the effort. Rather than a gift that they'll forget in a year, a piece of jewelry will be remembered and cherished for years to come.
When selecting jewelry for a loved one, take into account their personal style. Do you often see them with a colorful necklace or a pair of dangly earrings? Do they prefer bracelets or pendants? Choose something unique to make them feel extra special.
Our guide includes over 40 Christmas jewelry gift ideas. For mom, grandma or your girlfriend, choose holiday jewelry that will become a keepsake. From necklaces to bracelets, there's something here for every style.
An extra perk of buying online? Avoiding the holiday crowds and busy shopping centers.
Diamond Jewelry Christmas Gifts For Women
If you're looking for jewelry Christmas gift ideas for her this year, very little comes close to diamond jewelry. Diamonds make for a stunning, timeless gift, perfect for any woman in your life. Look through the suggestions below for an unforgettable jewelry gift for your wife, girlfriend, mother or daughter.
1) Diamond Bracelets
Bracelets are beautiful holiday jewelry that can be worn all year long. Styles range from tennis bracelets to gemstone designs made of sapphires, rubies, and emeralds. You can find modern bracelet styles, like this bangle, that make great jewelry for your wife for Christmas or traditional pieces like this mini diamond bar for someone who prefers a classic look.
Looking for timeless Christmas jewelry? Consider a tennis bracelet with 54 diamonds like this one from Blue Nile or a bar bracelet with 13 diamonds that's also available on Blue Nile.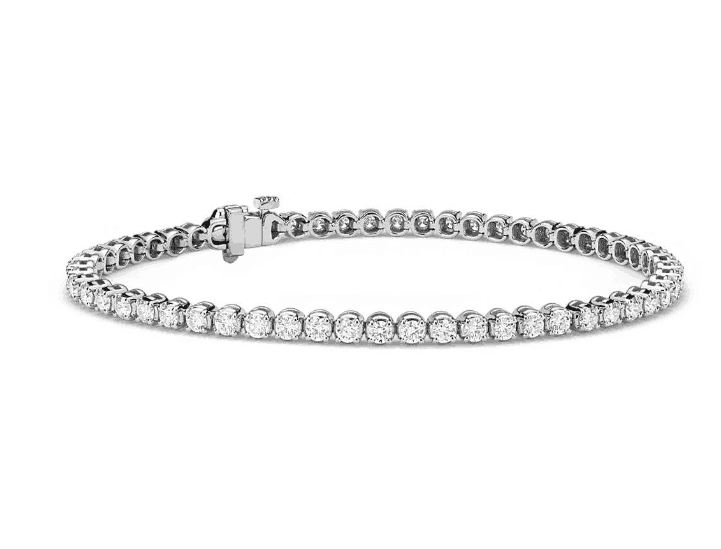 Diamond bracelet Christmas gift ideas:
2) Diamond Earrings
Give her something unforgettable to unwrap this Christmas with a stunning set of diamond earrings. Earrings are a perfect way to show your love and appreciation for your partner, mother, or grandmother.
From studs to hoops and floral patterns, you can handpick a pair that matches her style. You can choose a simple pair for everyday wear or a more unique set for special occasions. Online vendors like Blue Nile and James Allen offer options for you to design your own earrings as gifts for her. The best part about diamond earrings is that they can be worn with outfits on many festive occasions, such as an upcoming New Year's party or graduation.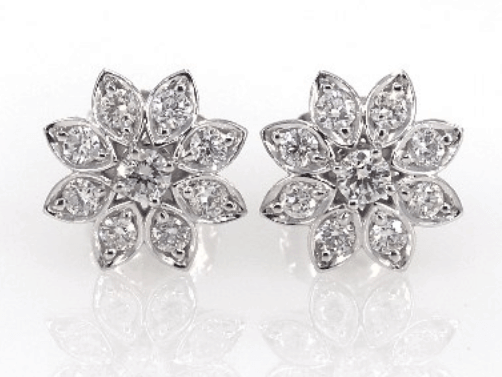 The earrings we suggest are from the best diamond vendors in the industry. Their jewelry and settings are made with precision and care.
Diamond earring Christmas gift ideas:
3) Diamond Necklaces and Pendants
Diamond necklaces are holiday jewelry often given as a symbol of love, particularly eternal love. A diamond pendant is special because it's worn close to the heart. Consider designing a pendant for your partner this Christmas.
Choose a solitaire necklace featuring one diamond or other styles with more diamonds, like halo necklaces, three-stone necklaces, and unique designs. You can choose 14K or 18K gold in colors such as rose, yellow, and white. You can also design a pendant with platinum, but it costs more and usually isn't necessary for a pendant or necklace.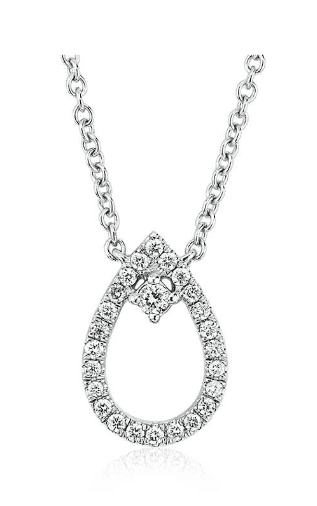 Think about getting a heart pendant like this one from Blue Nile or a six prong pendant like this 14K white gold necklace from James Allen for her this Christmas. These pendants are designed to allow maximum light to pass through the diamond, providing plenty of brilliance and sparkle.
Necklaces are perfect Christmas gifts for a girlfriend, daughter, wife, or any other special woman in your life.
Pendant and necklace Christmas gift ideas:
For a full jewelry Christmas gift ensemble, build a set of complementary earrings on Blue Nile.
4) Diamond Rings
Diamond rings aren't just for engagement. They make stunning gifts for other celebrations too, like Christmas. With styles like this unique halo ring from James Allen and this twist diamond eternity band from Blue Nile, your gift is likely to become a keepsake.
Consider an eternity ring to celebrate an important anniversary or other relationship milestone. Or choose a fun cocktail diamond ring to bring a festive spirit to her jewelry collection. Rings like this crossover diamond ring from Blue Nile and this diamond bow ring from James Allen offer you the chance to add plenty of personality to your jewelry Christmas gifts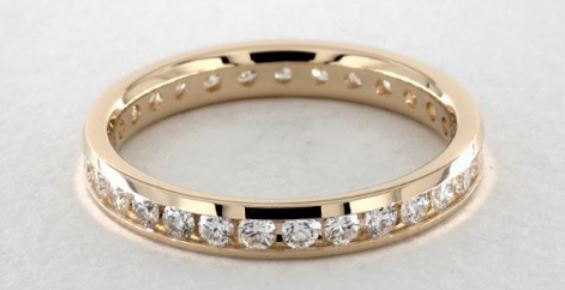 Diamond ring Christmas gift ideas:
Disney Jewelry Collection
If you and your loved ones are Disney fans, you might want to consider an item from Disney jewelry collection (more specifically – Enchanted collection).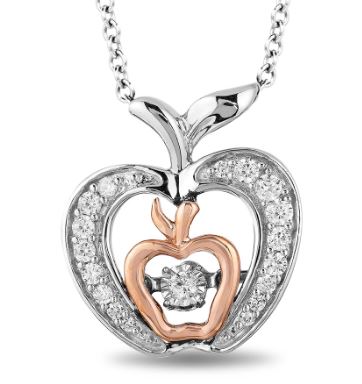 Disney's jewelry range is fun, stylish and affordable, making it great for younger people (or the young at heart). The range includes Disney rings, earrings, pendants and other jewelry themed on famous Disney princesses and villains. 
Many of the pieces in Disney's collection feature colored gemstones and eye-catching designs inspired by classic Disney movies, making it easy to choose something that matches a person's favorite color or fictional character. 
While the quality isn't comparable to offerings from James Allen or Blue Nile, Disney's range of fantasy-inspired jewelry makes for great Christmas gifts for friends and family.
Here are some gift ideas from Disney's Enchanted Collection:
Christmas Gemstone Gifts
Want a unique, colorful alternative to a diamond? Opt for a gemstone like an opal, ruby, emerald or sapphire. These gemstones are natural stones and have a unique color that gives them their beauty and appeal. Opal is a birthstone and is usually black or white. Rubies are from the corundum family and have a red hue that varies from faint to vivid. Emerald is green but can have other undertones like yellow and blue. Sapphires come in a variety of colors but are most often blue gemstones. 
The best news about gemstone gifts? There are hundreds of stones and color variations, so you can truly design something that is one-of-a-kind for your partner. You can create gemstone rings, earrings, necklaces, bracelets, and more. You can choose from yellow gold, white gold, rose gold, and platinum settings. Gemstones are perfect for holiday jewelry that will stand out and be a prized possession.
Gemstones are eye-catching and often cost less than diamonds. Consider his or her birthstone, or their favorite color when designing a truly personalized piece of jewelry.
5) Gemstone Bracelets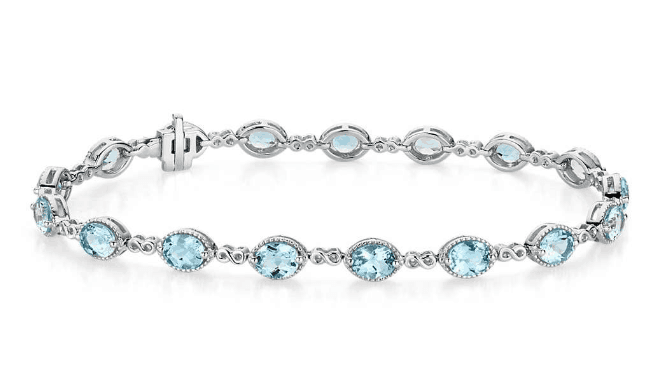 Add color to her wrist with a sparkly gemstone bracelet. Choose a single gemstone or a multi-colored design like this round rope bracelet from Blue Nile.
Bracelets can be made with almost every gemstone—from emeralds to sapphires.
Gemstone bracelet Christmas gift ideas:
6) Gemstone Earrings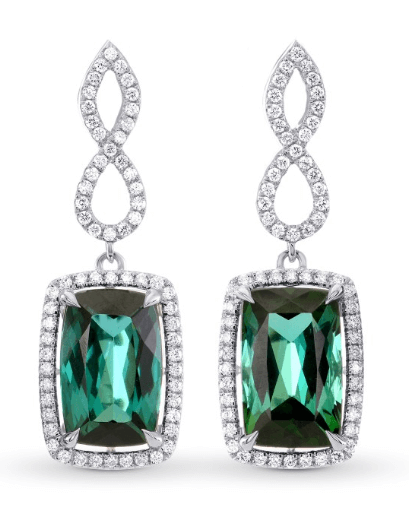 Colored gemstones earrings are bound to draw attention. The vivid colors add character and personality to any outfit.
Styles and shapes for earrings vary greatly, from these topaz drop earrings from Blue Nile to these magnolia ruby earrings from James Allen. You can even design your own studs with James Allen.
Gemstone earring Christmas gift ideas:
7) Gemstone Necklaces and Pendants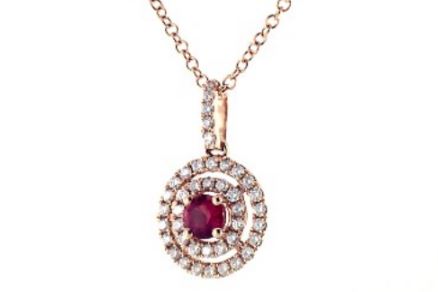 Colorful pendants are standouts in the world of Christmas gifts. Whether it's a sapphire solitaire pendant like this one from Blue Nile or this ruby drop pendant from Leibish & Co., it will steal the show with its remarkable color.
Choose a simple style like this aquamarine cushion cut pendant from Blue Nile or this sapphire solitaire pendant also from Blue Nile. Or select a design that's more intricate like an amethyst halo pendant.
Gemstone pendant and necklace Christmas gift ideas:
8) Gemstone Rings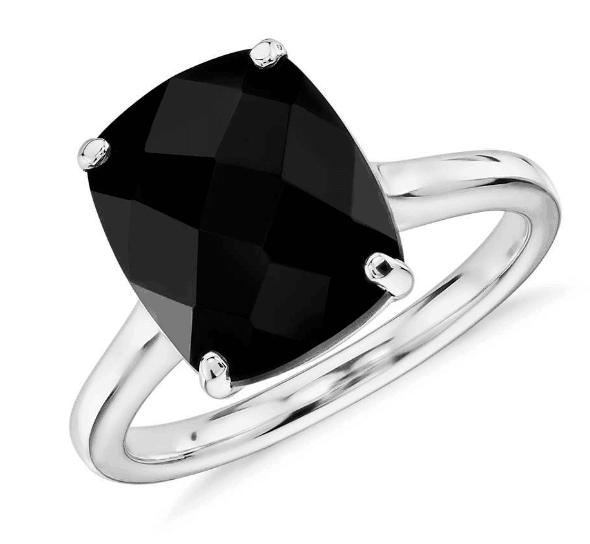 Any ring, especially a colored gemstone ring, represents passion and beauty. Design one that will make him or her feel extra special.
Choose a birthstone or favorite color to create your rings, like this amethyst and diamond halo ring from Blue Nile.
Gemstone ring Christmas gift ideas:
Where to Purchase Your Christmas Jewelry
The most important recommendation we can give you when purchasing jewelry for Christmas gifts is to choose a highly reputable vendor. Rather than ending up with jewelry that's of inferior quality, you'll have a gift that's high-quality and can last for generations.
The vendors below offer beautiful diamond gifts and gemstone options at excellent prices. Our years of experience in the industry have given us a consistent pulse on which vendors you can trust.
All jewelry is made with high-quality metal and stones. Not only will you end up with beautiful, durable jewelry, but you'll get it at an excellent price, too.
Focuses on the customer experience
Offers appealing prices
Provides photo imagery to help you select the best diamonds and gemstones
Emphasizes remarkable quality and jewelry settings
Offers the largest online inventory of diamonds
Maintains an inventory of diamond and colored gemstone designs
Offers super-ideal cuts with the "Brian Gavin Signature" Hearts & Arrows collection
Features some of the best cut diamonds in the world
Maintains an extensive inventory of gemstone and colored diamond jewelry
Creates their jewelry with high-quality metal and settings
Why You Shouldn't Purchase Substandard Jewelry For Christmas
Many jewelers offer seemingly great gifts for holidays like Christmas. Their advertisements target a particular line of jewelry or even specific items. While these companies may seem reliable, the jewelry is often poorly made. The pieces are often crafted quickly or without the best tools, materials, and talent. 
We recommend steering clear of sterling silver jewelry and jewelry made with base metals like copper, brass, and aluminum. These metals won't be nearly as durable or long-lasting. Instead, look for fine jewelry made of 14K or 18K gold. 
You also want to avoid paying high prices for costume jewelry and fashion jewelry that may have simulated stones or gemstones that aren't rare. High-quality jewelry has real gemstones and diamonds. Real gemstones look beautiful and last much longer. 
In other words, if you're not careful, you can purchase substandard jewelry that won't maintain its beauty or value. Although the price tag is tempting, you're not getting nearly the value of what you're paying.
That's why we recommend only choosing high-quality jewelry from reputable vendors (see our list above). By purchasing something from a trusted vendor, you'll give a remarkable and lasting Christmas gift.
FAQs about Christmas Jewelry
What jewelry should I get my girlfriend for Christmas?
If you're not ready to propose, you can get your girlfriend a pair of earrings, a pendant, or a bracelet for Christmas. Choose from diamonds and gemstones to design a unique gift that will show her how much she means to you.
Does jewelry go on sale after Christmas?
Gold and silver jewelry tends to go on sale after Christmas as stores try to offload their holiday inventory. However, vendors might offer discounts on everything from rings and earrings to necklaces and bracelets even before Christmas to give you a chance to have something pretty under the tree. Otherwise, you might consider a New Year's gift for your partner or purchasing jewelry after Christmas to save for an upcoming milestone like Valentine's Day or your anniversary.
Is a ring a good Christmas present?
A ring makes for a great Christmas present if it's an engagement ring for your girlfriend or a ring for your wife. Eternity bands are great for milestone anniversary years and gemstone cocktail rings are fun and special. Giving a ring to your girlfriend when it's not an engagement ring is bound to send mixed messages.
Email Our Experts For Assistance With Christmas Jewelry
Our experts know how to tell a stunning diamond from a mediocre one. They know when a reader is getting a great deal and when they're getting ripped off.
By contacting our experts, you'll get one-on-one advice on what diamonds, gemstones, and jewelry to choose—based on your tastes. If you're looking for a timeless diamond pendant for under $1,000, we'll help you find the best one. If you want to design an antique engagement ring, we'll help you design one of your dreams. Above all, we are committed to helping you find long-lasting, beautiful jewelry at the best price.
No matter which pendant, ring, bracelet or necklace you put under the tree, know that a thoughtful gift is what matters most. Jewelry gifts represent love, care and appreciation. And your loved one will think of you every time they wear it.
For assistance in choosing diamond or gemstone jewelry, email our experts.
James Allen

James Allen is the leader in online diamond sales. Their imaging technology is the same as inspecting a diamond with a jeweler's loupe. They have the largest exclusive loose diamond inventory online and fantastic prices. They also have the nicest collection of lab created diamonds online. Now save 25% off settings AND 3% off Earth Diamonds during James Allen HUGE limited time sale!
What we love about them:
No questions asked returns within 30 days of shipment. James Allen will send you a paid shipping label to return the ring.
Lifetime Warranty
Free International Shipping
Free prong tightening, repolishing, rhodium plating and cleaning every 6 months
Provide insurance appraisals
One free resizing within 60 days of purchase
Free ring inscriptions
Best-in-class high quality imagery of all diamonds in stock
24/7 Customer Service
Best-in-class packaging

---
Blue Nile

Blue Nile is the largest and most well known internet jewelry seller. They have a very large exclusive online inventory. Their high quality images are catching up to James Allens' and their prices are amazing. Blue Nile have generously offered our readers an exclusive one-time use coupon.

(Click Here to save $100 off engagement ring settings)
What we love about them:
No questions asked returns within 30 days of shipment. Blue Nile will send you a paid shipping label to return the ring.
Lifetime Warranty
Free Shipping
Free prong tightening, repolishing, rhodium plating and cleaning every 6 months
Provide insurance appraisal
One free resizing within the first year of purchase
High quality images of about half of their diamonds
24/7 Customer Service
100% credit towards future upgrades (must be at least double in value)
Best in class fulfillment

---
Still afraid of getting ripped off?
Before you buy a diamond, get personal buying advice from industry veterans. We'll help you get the best diamond for the money.
Ask your diamond purchase question here
DISCLAIMER: We don't use your email for marketing. Period.