We are reader-supported. Buying through links on our site may earn us commissions. Learn More.
Deal Alert! Huge James Allen Sale- 3% off Earth Diamonds AND 25% off settings or

15% off at Blue Nile!



September Birthstone: Sapphire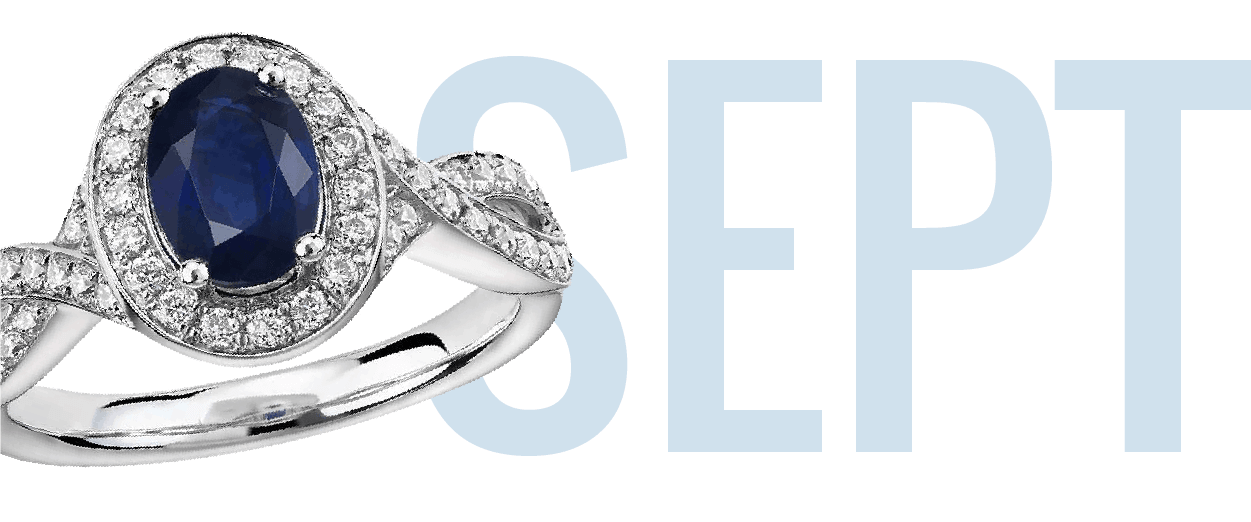 Sapphire happens to be the birthstone for September and is also given as a gift for couples celebrating their fifth or forty-fifth anniversaries. Second to diamonds, they are one of the world's strongest and most natural gemstones currently in existence. If you are lucky enough to have the September birthstone sapphire for your birthday, there are many ways you can adorn this stunning birthstone in the form of birthstone jewelry.
Sapphire Symbolism and Meaning
Popular across continents for centuries, sapphires are a well-loved gemstone symbolizing wisdom, nobility and enlightenment.
Many cultures and religions have found unique power and value in sapphires. During the Middle Ages, a blue sapphire represented heaven and was thought to harness divine blessings. In Ancient Greece, sapphires were worn to attract wise answers from the oracle. For Buddhists, sapphires granted enlightenment. For Christian royalty, sapphires gave protection and were adorned in their ecclesiastical rings. For Hindus, it was important to integrate sapphires into worship services and decoration.
No matter which belief system, sapphires have always been prized possessions with rich meaning to those who surrounded themselves with the stone.
As September's exquisite birthstone, sapphire is thought to assist the mind with focusing, help foster self-disciple and attract powerful healing energy.
Sapphire Color
Though generally recognized as a vivid blue gemstone, sapphires occur naturally in a variety of colors. Outside of red gems, which are considered rubies, sapphires can be any color of the rainbow, including yellow, green and pink. White sapphires are also possible to find. Blue sapphires, however, tend to be most popular and typically acquire more value the bluer they are. When sapphires contain a hue other than blue, they are referred to as "fancies."
Sapphires are part of the corundum family of minerals, and contain traces of titanium, iron, magnesium, copper and chromium. Each mineral present in the composition helps designate the stone's color. Some sapphires change color based on lighting, and heated treatment is frequently used to enhance a sapphire's Color or improve its Clarity. Natural sapphires without treatment tend to be rare, and their cost reflects such.
The original name "sapphire" likely comes from the Hebrew word "sapir," or the Latin word "sapphirus," both meaning blue stone. Sapphires achieve a 9 on the Mohs scale of hardness, making them a durable choice for active, everyday wear.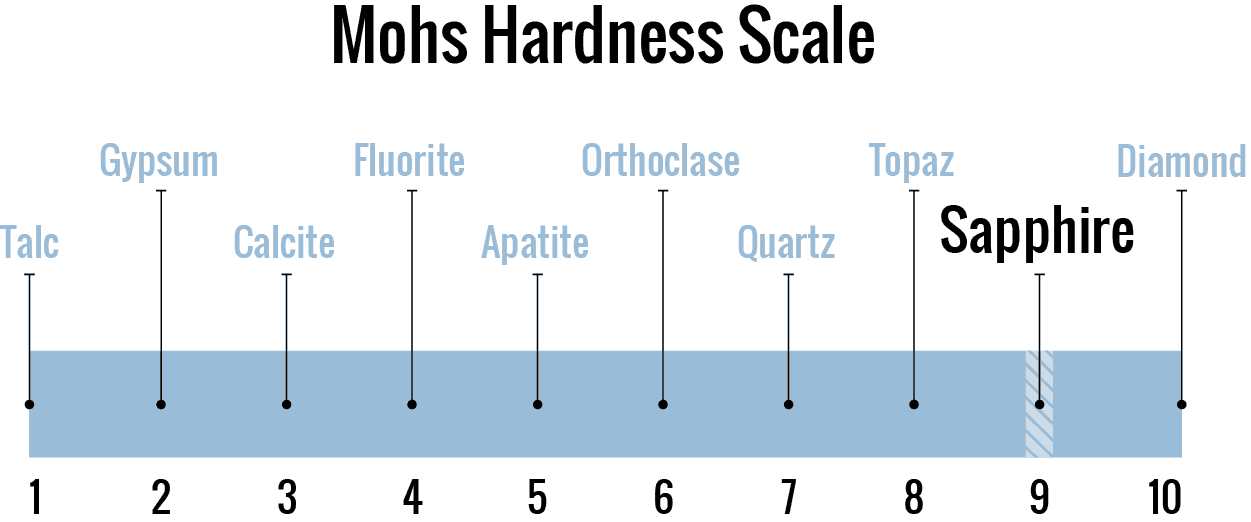 Sapphire Origins
The classic "true" blue sapphire, inclusive of a purple tint, originates from India's Kashmir region. Sapphire deposits are now found in many parts of the world, including Thailand, India, Myanmar (Burma), China, Brazil, Africa, Australia and North America.
Though Australia was the largest source in the late 20th century, Madagascar is now the world's leading producer of sapphire. The location where a sapphire is mined plays a role in its value, similar to aspects like Cut, Color and Carat weight. The most prized sapphires and, therefore, the ones with the highest value, come from India's Kashmir region, Myanmar (Burma) and Sri Lanka, respectively.
Legend of the Sapphire
Ancient Persians once believed that the earth rested on top of a giant sapphire and the color of the sapphire was then reflected which made the sky the blue color we typically see. It is also said that the ten commandments were made of sapphire because it was such a strong gem that it couldn't be broken into pieces if it were ever struck.
When we think of sapphires, the most commonly known sapphires are of the blue variety. However, there are other colors available.
Tips on Buying Sapphire
When you begin your search for the perfect sapphire, you will want to keep in mind the same recipe that applies when you are shopping for diamonds: color, cut, clarity, and carat weight. These 4 C's will all affect the price of the sapphire in some way.
We are most drawn to the color of the gemstone initially, and when we discuss the color, we are referring to the hue, saturation, and tone of the sapphire. If the gemstone did not carry these characteristics, then it would be nothing but a drab, lifeless, dull, and colorless stone.
One thing to note that you wouldn't take into much consideration with a diamond, however, is the color of the sapphire. The color is probably the most essential element to look at when purchasing a sapphire gemstone.
In addition to the 4 C's, you will also want to research the treatment and the location of the sapphire you are purchasing as well. The treatment of the sapphire is talking about the process that is taken to help improve upon the color, clarity, and overall value of the gemstone.
The different sapphire treatments you may find include untreated, heated, beryllium treatment, surface diffusion, and fissure filling with glass. These treatments are all performed outside of the typical cutting of the stone and the type of treatment the sapphire experiences will greatly affect its price.
When purchasing a sapphire, you will also want to consider the cut of the gem because, other than the inclusions, it is the most obvious characteristic. The cut you choose can make a difference in the color depth of the stone as well as the brilliance.
Sapphire Engagement Rings
The sapphire happens to be the gemstone of choice for many that are out choosing their perfect engagement ring. One of the most popular sapphire color choices for an engagement ring is blue because it offers both uniqueness and elegance to the overlook look of the engagement ring.
The blue sapphire also makes stunning birthstone jewelry in other forms like necklaces, bracelets, stud earrings, and pendants.
While it may seem like it, blue sapphires are definitely not uncommon. Typically, the lowest price on the spectrum you may expect for a blue sapphire would be in the $850 range, and that is for one carat and can go as high as $21,000. A three-carat blue sapphire can start around $6,000 and steadily increase in price to be as much as $75,000.
For a sapphire engagement ring, you will want to choose the cut that best suits you. It is a very personal choice and can range from a more rounded stone to even a heart-shaped gemstone. When choosing the cut, just be sure that it highlights the particular sapphire you have chosen.
Sapphires also make other great September birthstone jewelry such as birthstone earrings or a birthstone necklace, and even makes attractive men's jewelry such as men's rings.
Fun Facts
Prince Charles proposed to Lady Diana with a 18 Carat blue sapphire engagement ring, which Prince William later used to propose to Kate Middleton. This royal ring was originally mined out of Sri Lanka.
In October 2015, a sapphire from India's Kashmir region was sold for over $240,000 per Carat, totalling over $6.7 million.
Weighing over 61,000 Carat, the Millennium Sapphire is the world's largest cut and polished sapphire. It was mined in Madagascar and is valued at over $100 million U.S. dollars.
Celebrities who were given sapphire engagement rings include Penelope Cruz, Victoria Beckham and Elizabeth Taylor.
Gift Ideas
Blue sapphires and other fancy colored sapphires make for exceptional jewelry. For those with a September birth month, these exquisite stones carry extra meaning.
For necklaces and pendants, consider this oval pendant from Blue Nile, a sapphire set inside a diamond of hearts or a pendant intertwined with diamonds like this from James Allen.
For rings, the styles vary significantly, and can be personalized with a halo setting like this one from James Allen—or can come in a band studded with sapphires like this one from Blue Nile.
Sapphire earrings make a perfect gift that can be worn again and again. Choose a simple pair of studs like these from James Allen or these drop earrings from Blue Nile.
For bracelets, consider one with halo settings like here from Blue Nile or something that's more simple like this sapphire and diamond piece.
Select a special sapphire for a gift that will be kept forever, and passed down for generations.
James Allen

James Allen is the leader in online diamond sales. Their imaging technology is the same as inspecting a diamond with a jeweler's loupe. They have the largest exclusive loose diamond inventory online and fantastic prices. They also have the nicest collection of lab created diamonds online. Now save 25% off settings AND 3% off Earth Diamonds during James Allen HUGE limited time sale!
What we love about them:
No questions asked returns within 30 days of shipment. James Allen will send you a paid shipping label to return the ring.
Lifetime Warranty
Free International Shipping
Free prong tightening, repolishing, rhodium plating and cleaning every 6 months
Provide insurance appraisals
One free resizing within 60 days of purchase
Free ring inscriptions
Best-in-class high quality imagery of all diamonds in stock
24/7 Customer Service
Best-in-class packaging

---
Blue Nile

Blue Nile is the largest and most well known internet jewelry seller. They have a very large exclusive online inventory. Their high quality images are catching up to James Allens' and their prices are amazing. Blue Nile have generously offered our readers an exclusive one-time use coupon.

(Click Here to save $100 off engagement ring settings)
What we love about them:
No questions asked returns within 30 days of shipment. Blue Nile will send you a paid shipping label to return the ring.
Lifetime Warranty
Free Shipping
Free prong tightening, repolishing, rhodium plating and cleaning every 6 months
Provide insurance appraisal
One free resizing within the first year of purchase
High quality images of about half of their diamonds
24/7 Customer Service
100% credit towards future upgrades (must be at least double in value)
Best in class fulfillment

---
Still afraid of getting ripped off?
Before you buy a diamond, get personal buying advice from industry veterans. We'll help you get the best diamond for the money.
Ask your diamond purchase question here
DISCLAIMER: We don't use your email for marketing. Period.